10 Simple Steps to Get a Mortgage Preapproval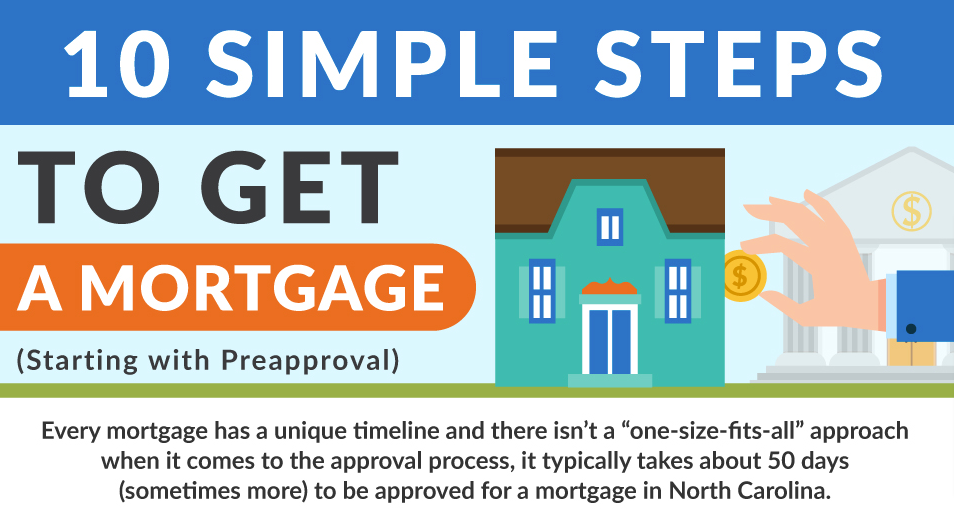 10 Simple Steps to Get a Mortgage (Starting with Preapproval) 

The home buying process will vary state-by-state, but North Carolina is one of the most "buyer friendly" states in the U.S. In this article, we will cover the step-by-step mortgage process, starting with preapproval as step one. As with anything related to buying a home, applying for a mortgage can be an involved process, so it is important to speak with your real estate agent and gather his/her thoughts on the best loan officers in your area. 
Although every mortgage has a unique timeline and there isn't a "one-size-fits-all" approach when it comes to the approval process, it typically takes about 30-45 days (sometimes more) to be approved for a mortgage here in Raleigh, North Carolina. There are several factors impacting this, so give yourself some extra wiggle room to ensure you're not in a time crunch. 
So, without further ado, let's dive into the 10-step process involved in obtaining a mortgage on a home: 
Mortgage Preapproval and Loan Processing Checklist
You may have heard the terms 'preapproval' and 'prequalification' being used interchangeably in the past. However, there are some important differences between preapproval prequalification. Prequalification can be done very quickly online or over the phone and involves submitting your debt, income, and assets to get an estimation of the loan amount you may be approved for. Prequalification is typically free and doesn't take a hard look at your credit or any other important financial information. 
Getting preapproved, on the other hand, is more involved. Getting preapproved for a mortgage is the best way to let sellers know that you are serious about making a purchase on a home and will set you apart from competing buyers who do not have mortgage preapproval. The first step in getting preapproved involves filling out an official application and providing the lender with financial documents. They will also run a credit report. 
Unlike prequalification, there is typically a fee involved in getting preapproval. After obtaining preapproval, you will have a much stronger sense of the mortgage you will qualify for and the interest rate that will come with it. Depending on the situation, you may even be able to lock in that interest rate.
This will be extremely helpful when looking for homes to buy, because it will help you know which price range you should be targeting as you begin your search. This also helps sellers know that you are serious about buying because obtaining preapproval puts you one step closer to getting an actual mortgage.
Mortgage Loan Processing Checklist:  
When obtaining mortgage preapproval in North Carolina, there are several documents you will be asked to provide. These include (but are not limited to) the following:
Bank statements from the past several months (including investment accounts)

Statements that detail outstanding loans, lines of credit, rent payments, etc. from the past several months

Tax returns from the past two years

Recent pay stubs from current employer 

Any other supporting financial information such as explanations regarding cash gifts or large deposits, explanation of credit inquiries, and marriage licenses, divorce settlements, child support, bankruptcies, etc.
House Hunting and the Mortgage Application Process
After you have been pre-approved, you can officially begin the house-hunting process. When you find the home you wish to purchase, you will need to fill out a mortgage application. You will submit the loan application to your lender directly or through a mortgage broker. Once you are under contract on the home it is now up to you to secure financing and this is why the home will go from an active listing to a contingent listing.
Most lenders use the same standardized form, which is called a Fannie Mae form 1003 (also known as a Uniform Residential Loan Application (URLA), which makes the process fairly straightforward regardless of the state in which you are submitting an application. Click HERE for a sample of what a loan application typically looks like. The application will ask for information regarding the property being purchased, details about you as the borrower, and which loan type you are using. 
Receive Good Faith Estimate
Within three days of submitting the loan application, you will receive a "Good Faith Estimate" (GFE) which will break down the estimated closing costs. This is not an exact list – closing costs will typically deviate a bit from this breakdown – but it will help you get a better sense as to what your closing costs will be.
Mortgage Processing
After completing the loan application, the file will then be moved into the processing stage. In this phase, the loan processor will collect several documents relating to you and the property you wish to purchase. Some of the documents that they may request include tax records, employment letters, bank statements, the purchase agreement for the house you wish to buy, and more. 
After the mortgage is moved into the processing stage, the underwriting process will begin – which is one of the most critical steps in the approval process. 
Mortgage Loan Underwriting Process 
In this stage, the underwriter will take a careful look at the documentation that has been prepared by the loan processor to ensure it is in compliance with lending guidelines. The underwriter is ultimately the person who will decide whether or not you are approved for a loan, and they have the authority to reject a loan as well if it doesn't meet certain standards. The underwriter is responsible for considering the level of risk that is being brought about with your loan. In doing so, the underwriter will take a careful look at how much debt you have, your income, assets, credit history, and any other financial details that may come into play when assuming whether or not you should qualify for a loan. 
Most underwriters will consider three primary details: 
 Capacity: An underwriter will consider whether or not you have the means to pay off your mortgage and will carefully consider your income history, length of time you have been with your employer, and any outstanding debt when determining how likely you are to pay off your mortgage in the amount of time that has been allotted. 

Credit: Your credit history is an extremely important aspect when obtaining mortgage preapproval. They will want to see that you have a strong credit score, have historically paid off your credit card, and have lengthy credit history. 

Appraisal: The underwriter will request an appraisal to ensure that the amount of the loan being requested is equivalent to the amount that the house is actually worth. I delve into this in a bit more detail below.
If any problems occur during the underwriting process, they may give the borrower a list of conditions that need to be resolved (which is a conditional approval). For example, an underwriter might ask you to provide additional information regarding a specific withdrawal or deposit in your bank account. 
The Appraisal
The loan commitment letter states that the lender is willing to fund the mortgage, but certain conditions will often need to be met. These conditions typically include an appraisal, which involves having a licensed appraiser come to the home you wish to purchase and provide an assessment of the property's value. The mortgage broker or lender will typically order the appraisal through a central directory (often called an Appraisal Management Company or AMC).
Why is an appraisal necessary? If you seek to purchase a home that is listed for $250,000 but the appraisal reveals that the home is only worth $200,000, the mortgage lender may only approve you for a $200,000 loan. Mortgage lenders want to ensure that they are providing adequate funds based on the home's true value, and an appraisal will help them know that. If the appraisal comes in lower than the purchase price, the buyer can walk away from the deal (if the due diligence period hasn't expired) or they can ask the seller to reduce the purchase price. The appraisal is an important step when under contract on a home as is your home inspection which may have different requirements depending on your type of loan.
Receive Approval Decision
Every borrower will vary when it comes to receiving approval. Some may glide right through the underwriting process and will not need to submit additional documentation, whereas others will be asked for insight into their financial history. Your loan officer will be able to guide you through the process of completing the application and submitting required documents to an underwriter. The underwriter will then respond back with one of four decisions regarding your mortgage application: 
If you are approved for a mortgage, you will receive a loan commitment letter in writing that specifies the exact loan amount that you qualify for.
This is a very common form of mortgage approval. Your loan officer will help you sort through the conditions that are being requested and will be available to navigate through the process.  
This means that more documentation is required before the underwriter can make a decision. 
If the borrower has questionable credit, employment history, etc., they may be rejected entirely.
Lock in Rate and Terms
After you have been approved for a loan, it is imperative that you lock in an interest rate and loan terms. This includes how long the loan will last (20 years, 30 years, etc.) and whether the interest rate is adjustable or fixed. With a fixed rate mortgage, your interest rate is set and will not change. An adjustable rate mortgage will have a fluctuating interest rate that is tied to something called an 'index.' As the rate of interest rates (or index) increases, your interest payment will increase as well. If the index goes down, your interest payment will also go down. However, there are some adjustable rate mortgages that will set a cut-off point for how high or low your interest rate can go.  
Without locking in an interest rate with your lender, you run the risk of interest rates rising significantly. It is also important to note that you do not need to move forward with the lender you obtain preapproval from. If you are unhappy with working with them for any reason, you can switch lenders. If you are happy with them, it may be easier to stick with that company since they have all of your financial information, credit report documentation, etc. 
It is standard that the lender will provide the loan terms in writing along with a time limit as to how long the terms and conditions will be valid. You must finalize the loan before the terms expire to lock in the rate and terms. 
Mortgage Loan Approval
If you receive mortgage approval and the underwriter agrees to let you purchase the home, that means the property has been "cleared-to-close." This specifies that all requirements have been met and you can move forward with purchasing the home.
Closing on the Home
Before the day of the closing, all loan documents are sent to the title company that will handle the closing. On the day of the closing, you and the seller will review any documents that pertain to the loan. In some states, buyers and sellers can close on their home separately or with different title companies, but in North Carolina the buyer and seller sit at the same closing table. 
Before the day of the closing, you will receive a form titled a "Closing Disclosure," which is a standardized form that provides details regarding the mortgage loan such as the projected monthly payments, loan terms, fees, closing costs, etc. 
What can I do to prepare for the mortgage process?
There are several steps that can be taken to prepare for the mortgage process. When preparing to purchase a home, it is important that you do not make any large, costly purchases such as buying a car or other expensive items. 
With regard to credit, you will need a credit score of at least 580 to be eligible for a loan. Many other loan types require much higher credit scores that typically exceed 600 or even 700. To improve your credit score, work on paying off any outstanding debt. It is also advisable not to do anything that will run a hard check on your credit, such as opening a new credit card. 
It is advisable to carefully consider what you can comfortably borrow. Bear in mind that you do not need to take on the full amount that you are pre-approved for – you can borrow far less than that amount. For example, although you may be pre-approved for borrowing $250,000, you may be better off buying a home that is closer to $200,000 to alleviate some of the financial burden. Take careful inventory of what you spend on a daily, weekly, and monthly basis – car payments, private school education, general expenses, etc. – and create a budget to assess how much you can comfortably spend on a mortgage each month without breaking the bank.
In conclusion, there are several aspects of the mortgage process that should be considered when planning to buy a home. It is always advisable to work with a real estate agent and a mortgage broker who can guide you through the complicated mortgage process and help alleviate much of the stress. There are many different types of loans and requirements from conventional loans to FHA loans, to VA or even USDA loans. Beyond the process of being approved for a mortgage, there are also several different types of mortgages you can consider, so it is important to work with a trustworthy professional who can explain each loan type to you and help you understand the positives and negatives of every loan type that you are eligible for.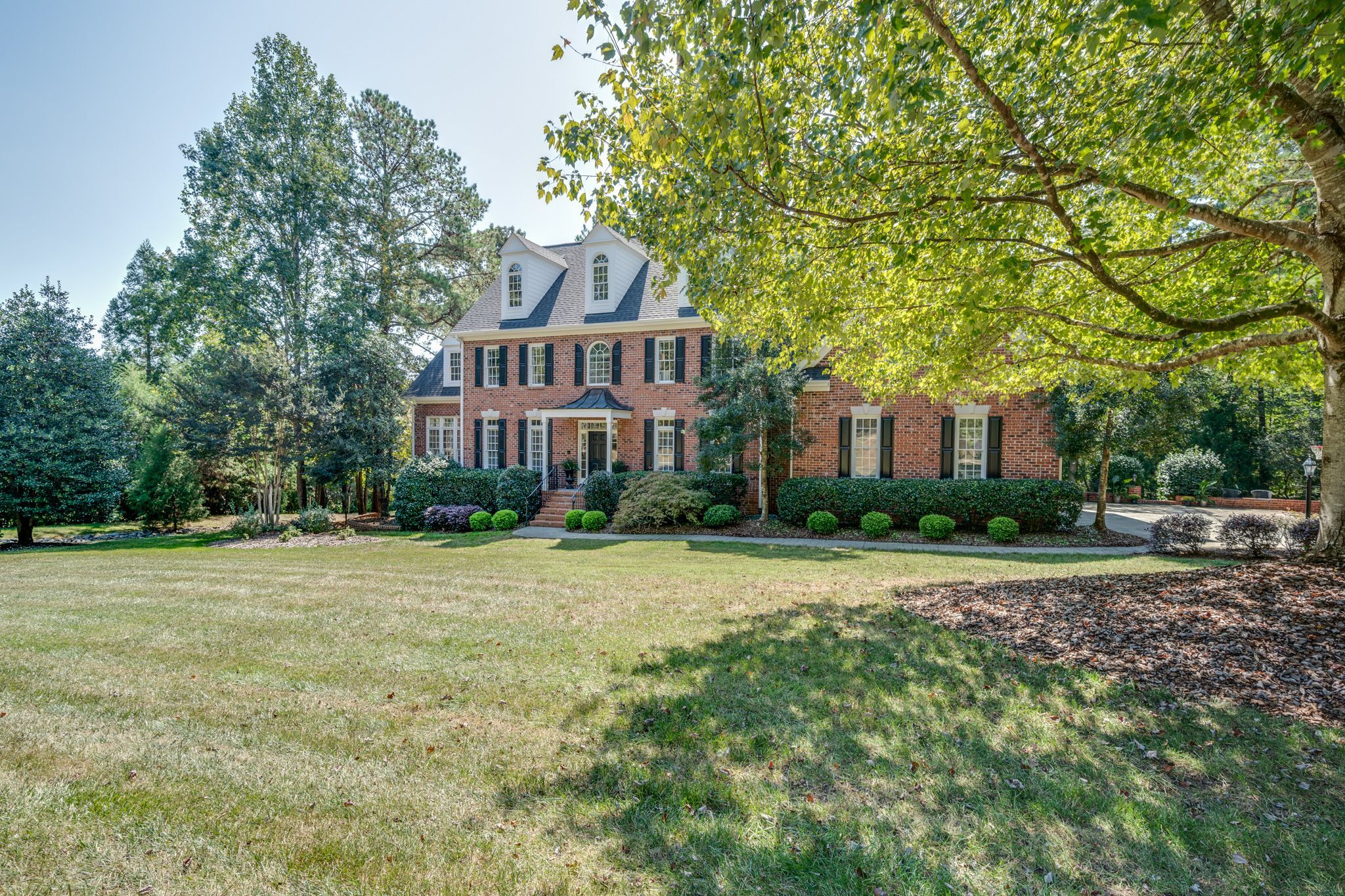 Find your new home
Search real estate and homes for sale