The Best Coffee Shops In Morrisville, NC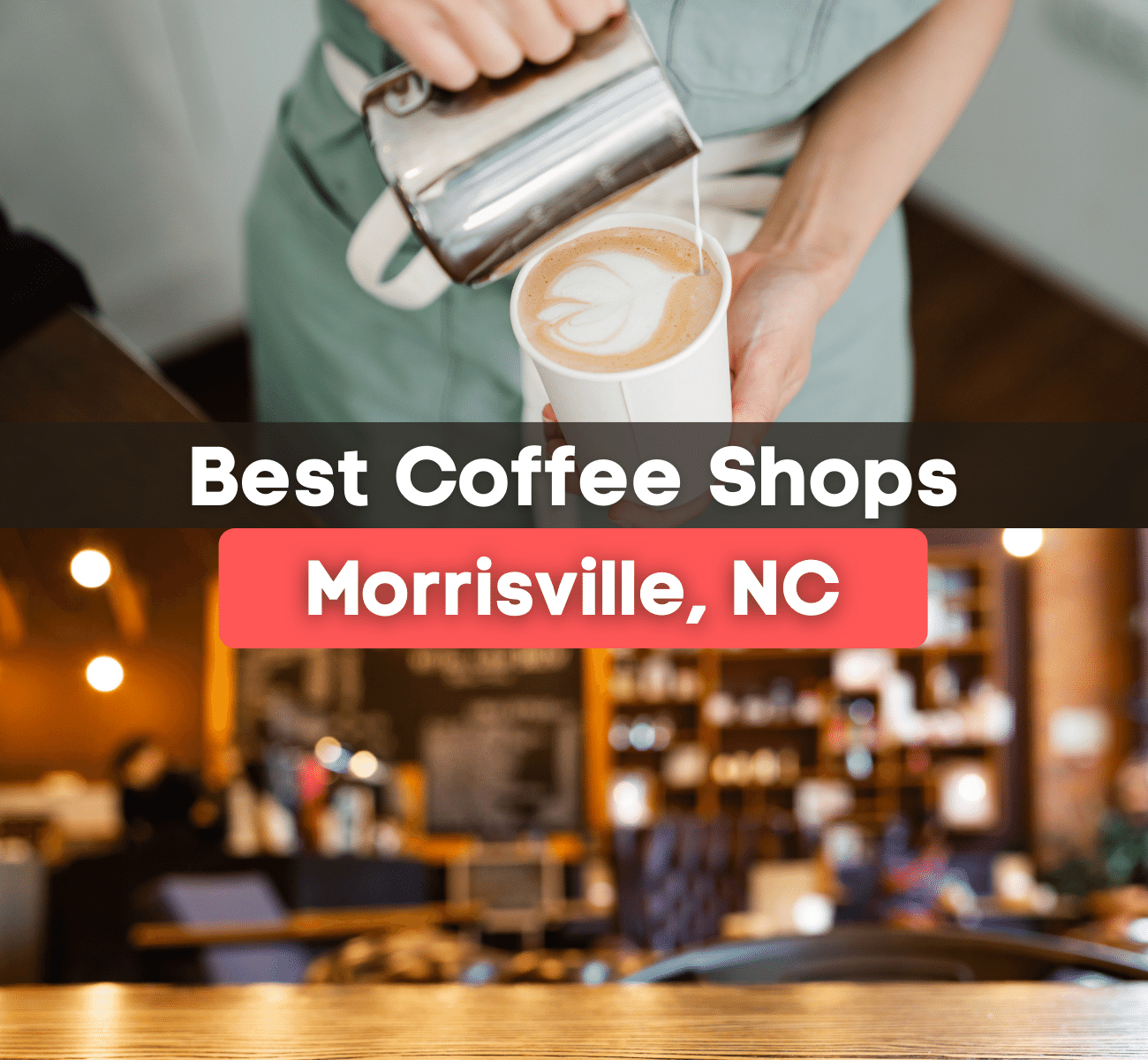 The Best Coffee Shops In Morrisville, NC
Do you currently live in Morrisville, NC, or plan to move to the area and are looking for a great coffee? Check out our list of the best coffee shops in Morrisville, NC! 
While our real estate website focuses on helping people buy and sell homes, we love bringing great local content to our audience!
If you live in the surrounding areas, check out our list of the best coffee shops in Cary, Apex, and Holly Springs! 
Raleigh Realty is a local real estate company that takes pride in providing outstanding service to home buyers and sellers. While we mainly focus on helping those with real estate needs, we also enjoy assisting newcomers navigating the area. We create articles for you ranging from real estate tips to the best restaurants, things to do in the area, real estate trends, and more! 
Real estate is our main focus, but we are here to help with any of your moving needs! So, have you been hunting for the best coffee shops in Morrisville, NC? Continue reading to be taken on a caffeinated journey through the town.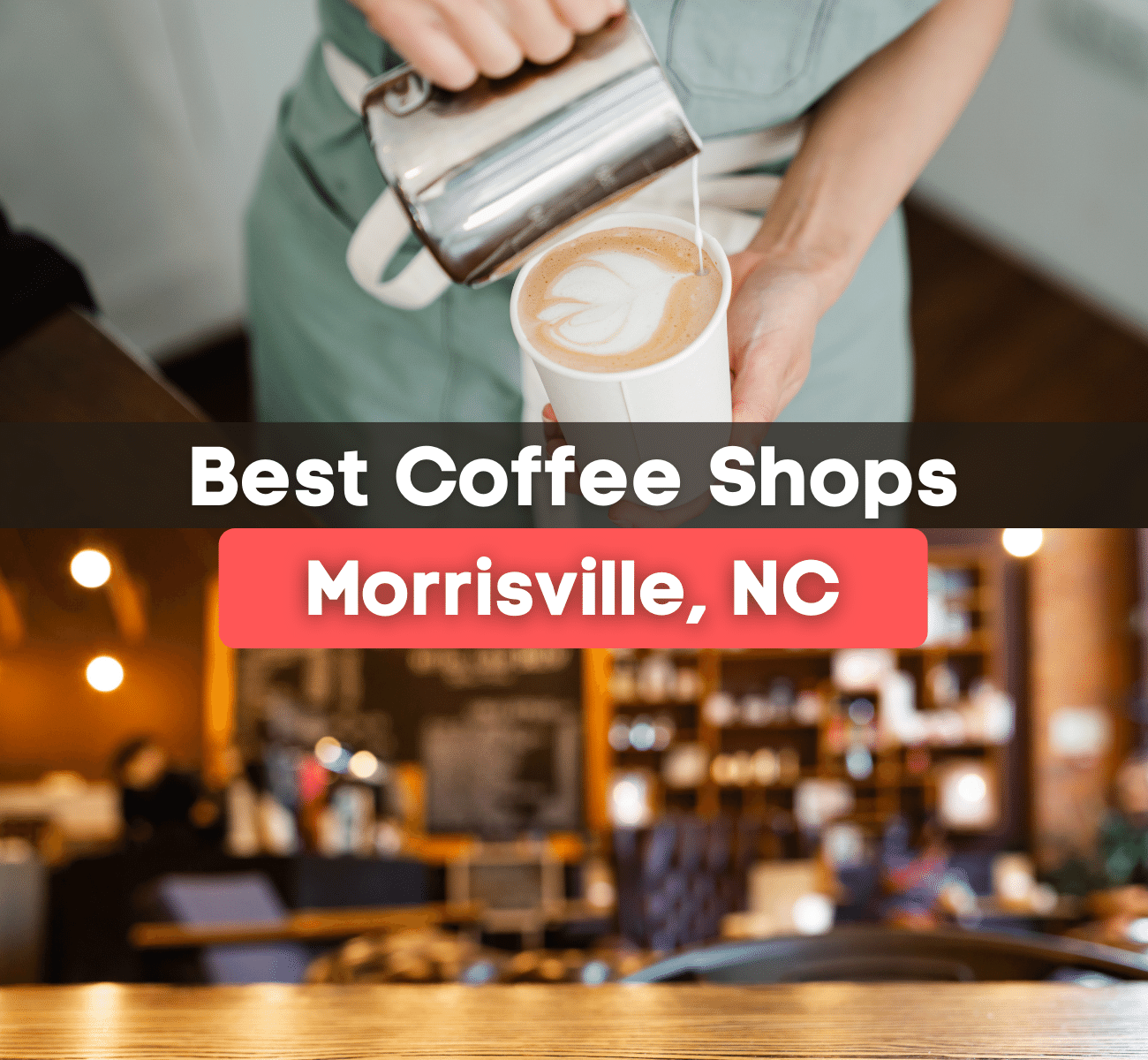 The Perk Cafe
The Perk Cafe is conveniently located in Perimeter Park, the region's premier office park. The park is campus-like and is home to many businesses that enable a diverse workforce. 
The cafe offers a welcoming environment where people can come to get work done, escape from work, or simply relax and enjoy a nice cup of coffee. They serve a wide range of coffee and drinks along with several food options. 
Their menu includes sandwiches, salads, coffee cakes, oatmeal, bagels, and more! 
Located at 3025 Carrington Mill Blvd
The hours are as follows: 
Sunday: CLOSED 
Saturday: CLOSED 
Monday - Friday: 8:00 AM - 2:00 PM 
Fount Coffee + Kitchen 
Fount is a locally owned coffee shop and kitchen located in the heart of Research Triangle Park. Their convenient location makes it a great gathering place for friends and family, local workers, and more. They are partnered with Counter Culture coffee to ensure you receive your new best cup of coffee! At Fount Coffee + Kitchen, they celebrate craft, quality, and community. 
While they serve great coffee, you can also visit this location in the afternoons for locally brewed beer and wines that pair perfectly with their selection of small plates. 
Coffee options include batch brews, cappuccinos, americanos, our-overs, cortado, and more. If you're not a fan of coffee, they serve mimosas, chai lattes, hot chocolate, kombucha, etc. Their menu includes smoothie bowls, salads, snacks, and small plates. All of the food served at Fount Coffee and Kitchen is 100% gluten-free, and they also have vegetarian, vegan, and dairy-free options. 
If interested, Fount also has a coffee cart you can rent for events! The coffee cart brings their specialty coffee to you with an experienced barista and customizable options. 
Check out their website here! 
Located at 10954 Chapel Hill Rd
The hours are as follows: 
Sunday: CLOSED 
Monday - Saturday: 7:00 AM - 4:00 PM 
Meeple's Brew
Eat, drink, and play! Meeple's Brew is also simultaneously a board game lounge! You can choose to visit Meeple's in the mornings to start your day off with one of their craft coffees or stop by in the evening with friends and family to enjoy over 850 board games and a variety of food and drinks. 
Their drink menu consists of hot brews, including drip, lattes, espresso, americano, etc. Their cold brews include iced lattes, iced americano, iced teas, cold brew, frappes, and more! They also serve delicious smoothies and milkshakes. 
Their breakfast is a hit amongst customers as well. One of the most popular items is the proteinthesys which includes crispy bacon and a hard-boiled egg overtops well-seasoned pieces of avocado toast. Other options are breakfast sandwiches, yogurt, waffles, oats, and more. 
On the gaming side, they offer $5 day passes to play as many games as you'd like, game rentals, $25 monthly passes, weekly free-to-play days, bring your own game, and reserved tables! 
Meeple's is definitely a fun place to visit whether you enjoy coffee, board games, or both! 
Check out their website here! 
Located at 9545 Chapel Hill Rd
The hours are as follows: 
Sunday - Thursday: 8:00 AM - 6:00 PM
Friday & Saturday: 8:00 AM - 10:00 PM 
Muddy Dog Roasting Company 
If you prefer to make your coffee at home, then Muddy Dog Roasting Company has got you covered! Muddy Dog Roasting Company is a small-batch artisan coffee roaster that focuses on quality, freshness, and customer service! The Muddy Dog Company first started in the garage of owner Jim Pellegrini. He was tired of the same old coffee at grocery stores and decided he was going to make his own. As friends and family continuously raved about the quality and taste, he decided that starting a business and selling his blends what his next plan. 
At Muddy Dog, they take pride in knowing where the coffee comes from, that it was produced sustainably, and that it was harvested with care. They source the best coffee from the growers themselves and produce single-origin and specialty blends. To ensure you're getting the best, they visit the farmers that they source from. They have been all over the world, including Ethiopia, Costa Rica, Nicaragua, Kenya, India, Mexico, and Honduras. 
Muddy Dog's coffees consist of blends, espresso, decaf, flavored, and single-origin. You can check out their website to see all the available purchases within these categories. They also offer dog teas, gifts, and gift cards. 
Check out their website here! 
Located at 280 Town Hall Dr at the Western Wake Farmers Market
The hours are as follows: 
Saturdays: April - November, 8:00 AM - 12:00 PM 
December - March: 9:30 AM - 12:00 OM
Shop Hours: Monday - Friday, 10:30 - 6:30 PM 
Rise 
Rise in Morrisville is mainly known for its specialty breakfast ... but customers constantly rave about their coffee! They source from Counter Culture Coffee and have two options: 
16 ounces with free refills: $3.00
The coffee traveler: 96 ounces for $21.50
They also serve an assortment of beverages if you prefer something other than coffee! Let's get into the food you can pair with your coffee. 
Their menu consists of a variety of biscuits and options. To start off, they have their southern biscuits category. A fan favorite is the Fried Green Tomato Biscuit which has crispy fried green tomatoes with house-made southern pimento cheese on the biscuit. They also have customizable boxes and donuts. To customize, you build your own sandwich and choose from biscuit or bun, various types of meat or veggies, eggs, cheese, and spreads and sauces. 
Check out their website here! 
Located at 1100 Market Center Dr 
The hours are as follows: 
Every Day: 7:00 AM - 2:00 PM 
NC Bagel Cafe and Deli 
Have you been looking for a delicious cup of coffee in Morrisville to pair with a NY-style bagel? Well, then, Nc Bagel Cafe and Deli is the perfect place for you. They serve Peet's hot drip coffee, cold brew, and The Black Tie. The Black Tie is a delicious combination of Bold Peets Baridi cold brew and a hint of chicory, layered over sweetened condensed milk and topped with a float of half and half. They also offer smoothies, sodas, matcha iced teas, and more. 
They serve a variety of specialties and create your own bagels, breakfast sandwiches, vegan breakfast items, breakfast wraps, breakfast platters, pancakes and french toast, lunch sandwiches, parties, sides, and more! 
Check out their website here! 
Located at 3108 Grace Park Dr
The hours are as follows: 
Every Day: 7:00 AM - 2:00 PM 
Starbucks
I'm sure everyone reading this article has heard of the popular coffee chain Starbucks. We chose to mention Starbucks due to the various locations in Morrisville and the possibility of introducing this excellent chain to someone new! 
Starbucks was first introduced to the world in Seattle's Pike Place Market in 1971. With the booming success, they were able to open locations in Chicago, Canada, California, Washington, DC, and New York. By 1996, Starbucks was international, opening a store in Japan, Europe, and China. 
The mission at Starbucks is to inspire and nurture the human spirit - one person, one cup, and one neighborhood at a time. 
The coffee at Starbucks is sourced from around the world and picked for the season. If you like coffee at home, they have a variety of K-cups for purchase, along with premium instant coffee. Their drink menu consists of hot coffees, hot teas, hot drinks, frappuccino blended beverages, cold coffees, iced teas, and cold drinks. They also offer a variety of breakfast items, including sandwiches, bagels, pastries, snack boxes, oatmeal and yogurt, and more!
To show the depth of options at Starbucks, cold coffees consist of cold brews, nitro brews, iced americano, a variety of iced coffees, iced shaken espresso, iced flat whites, iced lattes, iced macchiatos, iced mochas, etc. Cold drink options that aren't coffee include a variety of refreshers, and juices, including energy drinks and immunity shots, milk, sparkling and still water, etc. 
The hot breakfast items are various breakfast sandwiches, wraps, and flavored egg bites. 
Check out their main website here!
One of the Morrisville locations is 3037 Village Market Pl. 
The hours are as follows:
Sunday - Wednesday: 5:30 AM - 9:00 PM 
Thursday: 5:30 AM - 10:30 PM 
Friday: 6:30 AM - 10:30 PM 
Saturday: 6:30 AM - 9:30 PM 
Feng Cha 
Straying slightly away from coffee, Feng Cha is a popular tea house in Morrisville, NC, that also serves delicious coffee. While their menu and the main focus are primarily on tea, they strive to create the best coffee, drinks, and atmosphere for their customers. They focus on providing a comfortable environment for customers to wind down and relax at their shop. They offer customizable drinks right down to the smallest detail to ensure you're getting exactly what you want. And lastly, they provide a space for social hangouts like gathering with friends and family, studying, etc. 
Their coffee menu includes a coconut latte, coffee milk tea, dirty caffe latte, Vietnamese coffee, and cold brew coffee. They also serve specialty drinks! One of the favorites is the creme brulee dirty boba which has crispy creme brulee and chewy brown sugar boba. Additionally, they serve your favorite classics, fresh fruit tea, refreshers, and milk foam tea. 
If you're in the mood for something sweet, enjoy one of their delicious foam cakes topped with creamy milk foams!
Feng Cha also offers catering if you're hosting an event in the future. When placing your order, you can choose to pick it up or have it delivered. For a more personalized experience, you can also choose to have your event catered on-site, where a barista will join you and set up as well as prepare all drinks. With catering, they offer mini cakes that are always a fan favorite! 
Check out their website here! 
Located at 3037 Village Market Pl 
The hours are as follows: 
Sunday - Thursday: 11:00 AM - 9:00 PM 
Friday - Saturday: 11:00 AM - 10:00 PM
Best Coffee Shops in Morrisville, NC - Final Thoughts 
Morrisville, NC, is a town full of continuous growth, including businesses, homes, shopping centers, restaurants, and coffee shops. If you're searching for homes in Morrisville, we are here to help!
The coffee shops in Morrisville are conveniently located so that you can enjoy an amazing cup of coffee no matter what part of town you're in. With a quick drive or a walk through the perimeter park, you will be met with delicious coffee, excellent food and pastries, and exceptional environments for relaxation, work, or gathering with friends and family. At Raleigh Realty, we love exploring the surrounding towns in the Triangle and supporting local businesses, especially coffee shops, to fuel our days! 
If you found our list useful or have any coffee shop suggestions, please leave us a comment and let us know!
If you're interested in real estate in Morrisville, NC, contact us or visit our website to be connected with an agent to assist you or answer any questions.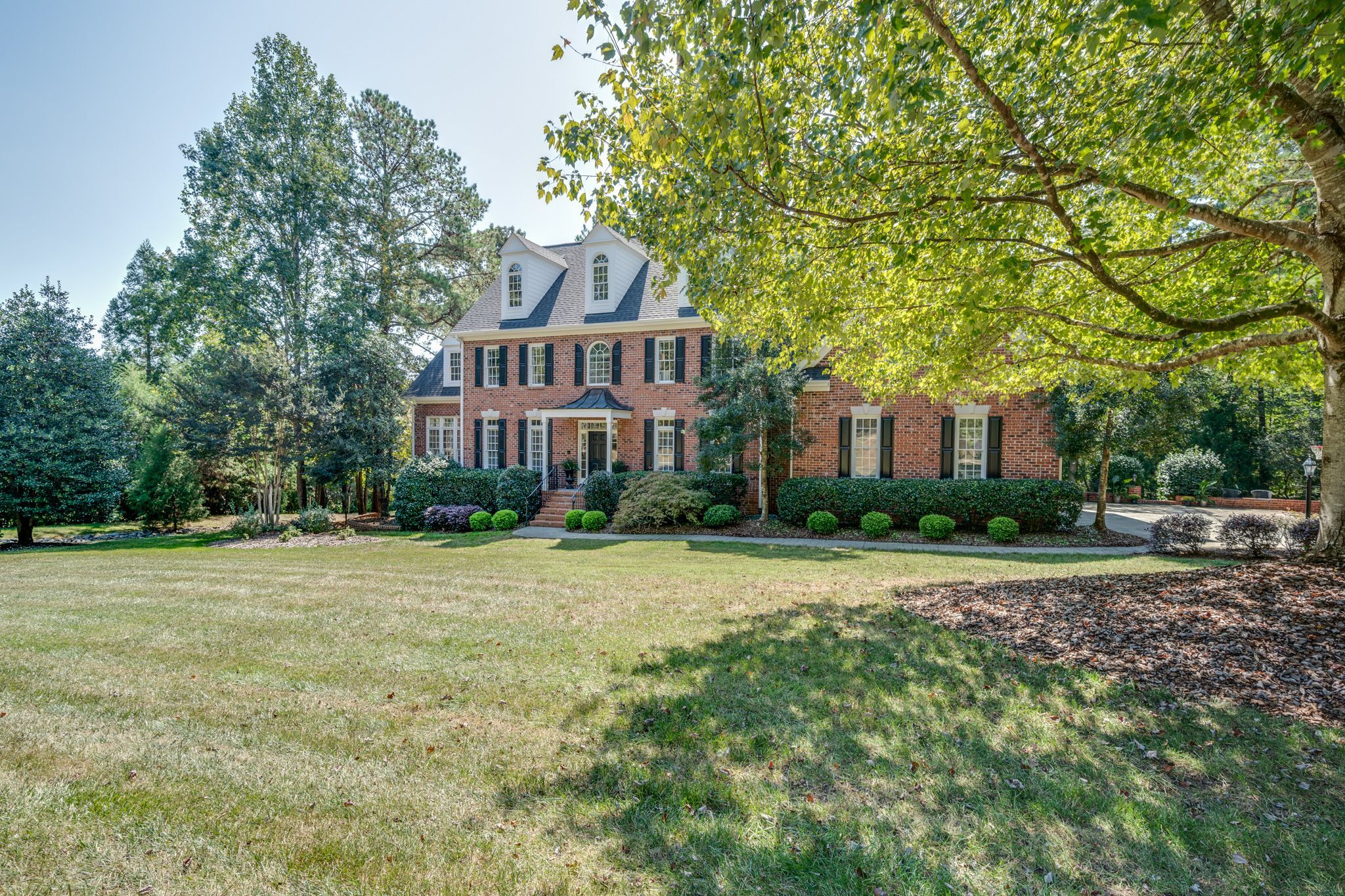 Find your new home
Search real estate and homes for sale