11 Best Neighborhoods in Franklinton, NC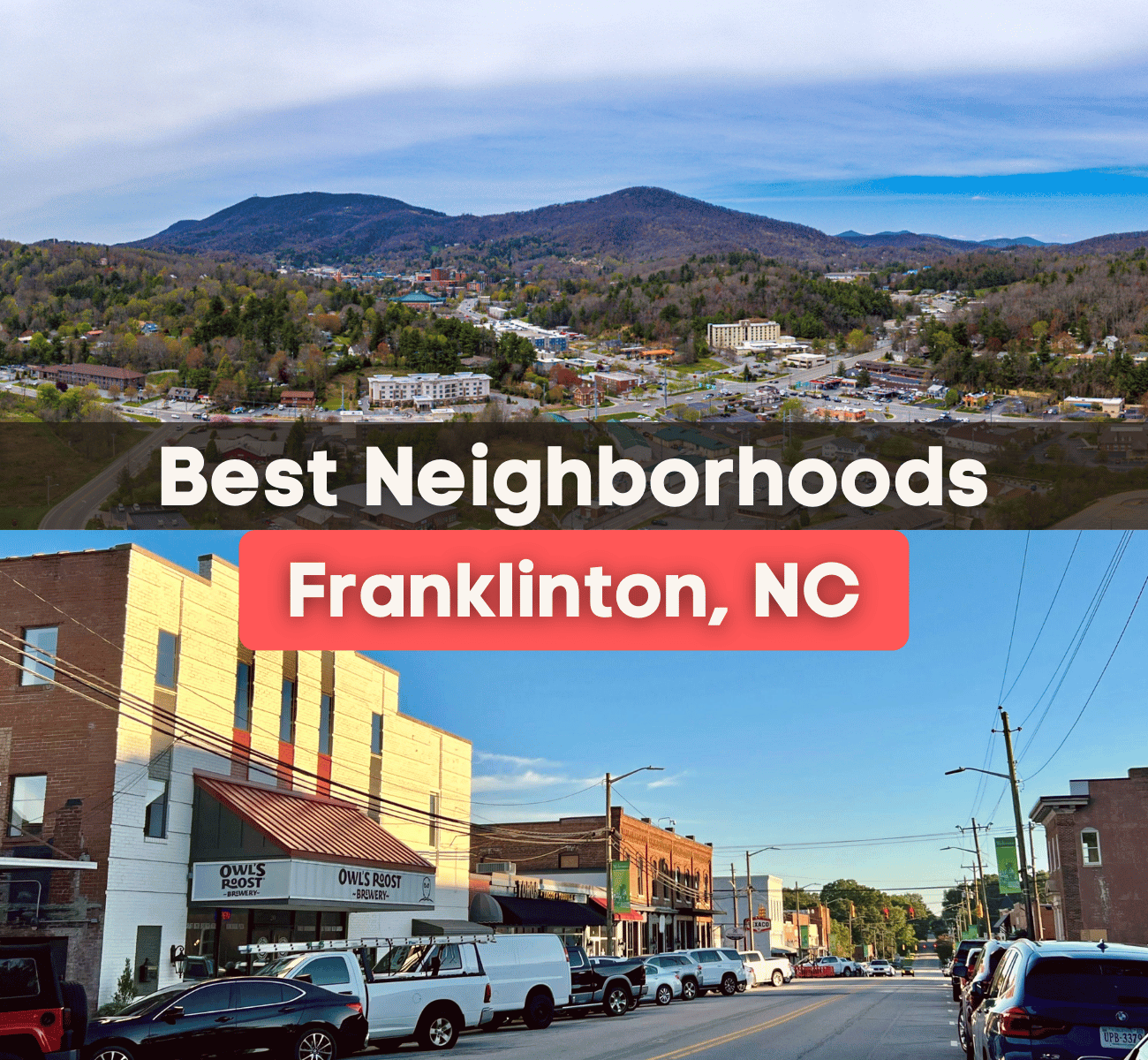 Best Places to Live in Franklinton
Are you considering moving to Franklinton, NC? Follow along as we discuss the best neighborhoods and everything the area offers! 
Franklinton is a town in Franklin County, North Carolina. The county included Franklinton, Louisburg, Youngsville, Bunn, and more! The county is also located within the research triangle region of North Carolina, home to the world-renowned research triangle park. Research triangle park is the largest research park in the United States, which brings many residents to Franklinton since the commute is easy and safe.
Residents have easy access to bigger cities such as Raleigh, Durham, and Chapel Hill, without having to endure the hustle & bustle and cost of living in a bigger city. Residents in Franklinton also enjoy a welcoming, relaxing, and friendly community.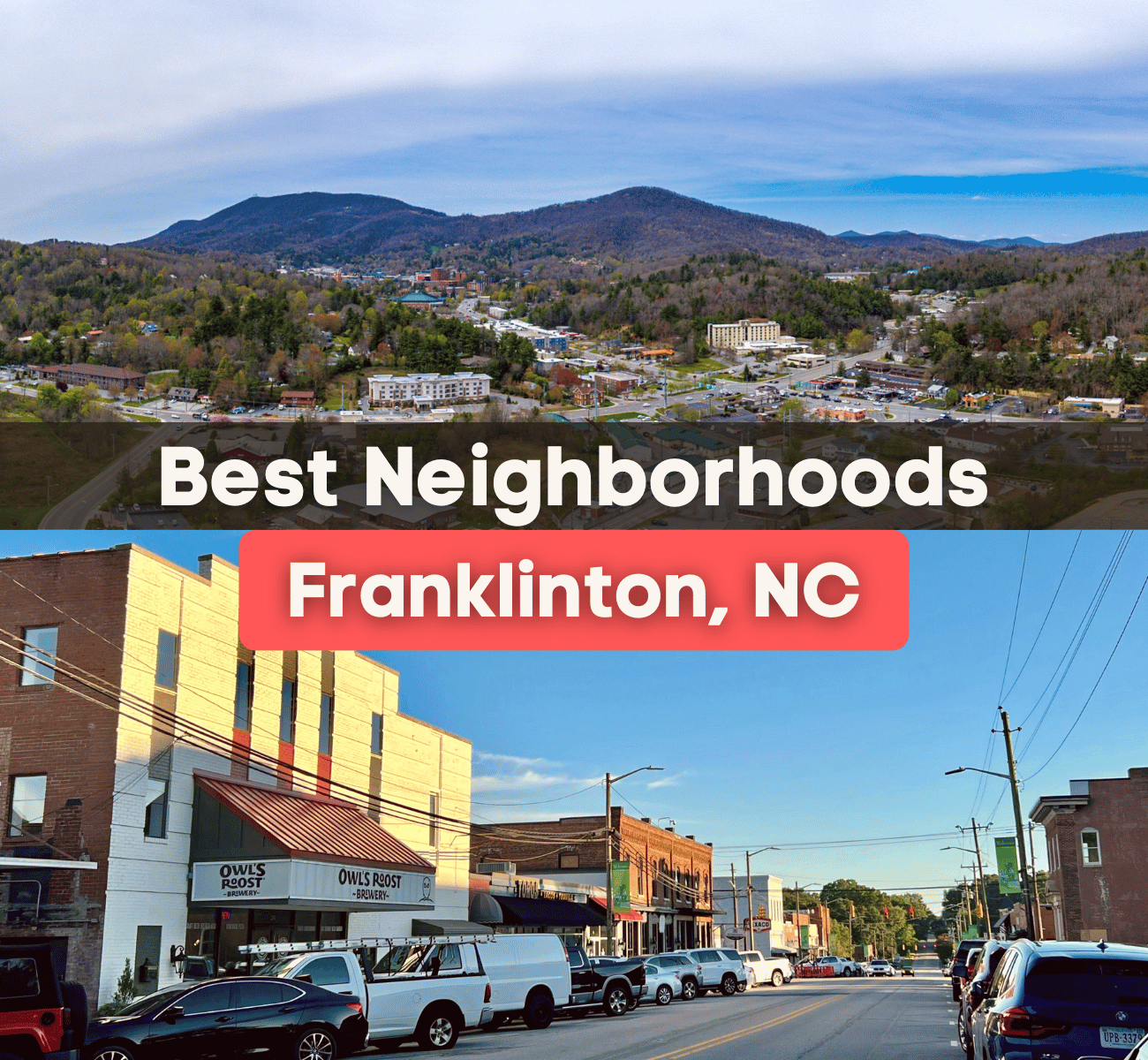 Part of the reason the community in Franklinton is so tight-knit and friendly is the neighborhoods. The neighborhoods in Franklinton are family-friendly, calm, and close to many schools. If you're considering moving to Franklinton, you will find an area that fits all your wants and needs. So, follow along as we deep dive into some of the best neighborhoods in Franklinton! 
Before diving in, there are a few rules you can keep in mind to know if Franklinton is affordable for you. The first rule is the 28% rule, meaning your monthly rent or the sum of your monthly mortgage, property taxes, and insurance should be at most 28% of your gross income. Another rule you can use is the 50-30-20 rule, which says that 50% of your net income (income after tax) should be spent on needs, 30% on wants, and 20% on savings and investments. 
History of Franklinton, NC
Franklinton, NC, was first established as Franklin Depot in 1839 on land owned by Shemuel Kearney, the son of Crawford Kearney and Nancy White. Originally located south of town was a home that was constructed by grandfather Shemuel Kearney in 1759 and is currently the second oldest residence in Franklin County. In 2009, the building was purchased and moved to Louisburg for restoration. From then, Franklin Depot changed its name to Franklinton in 1842, when the town was officially incorporated. The town of Franklinton was named after Benjamin Franklin. 
Like many other towns, Franklinton owed its existence primarily to the railroad. The 10 acres of land owned by Shemuel Kearney was deeded in the 1830s to establish the onside depot. When the railroad was under construction, Thomas Howerton, Thomas Crocker, and William R. Hargrove realized the potential for a town around the depot. 
The depot was located near the new railroad crossing and Hillsborough Rd., which ran between the county-seat town of Louisburg and Hillsborough. The three men then purchased seventy acres surrounding the depot in 1839. The tract was then divided into three lots, one purchased by Benjamin Jones, which later became the location of the Franklinton Hotel. As previously said, it was in 1842 when the NC General Assembly came together to incorporate the town, and Franklin Depot officially became the town of Franklinton. 
Franklin County is located in the Northeast Piedmont Region of North Carolina. The county was formed during the American Revolutionary War, abolished Bute County, and was established in 1779. Tuscarora Indians were the earliest inhabitants, followed by English, Irish, and German settlers. Franklin has always been a rural county with an economy based on agriculture, lumber, and textiles. It has recently begun to grow in population due to the proximity of research triangle park, the small-town feel, and affordable housing. 
Essex Village 
Essex Village is a new Franklinton community offering single-family homes ranging from 1,579 to 2,026 square feet. Residents are conveniently located just minutes from Capital Plaza shopping center and Wegman's grocery store in Wake Forest. Nearby schools in the neighborhood are Franklinton Elementary, Cedar Creek Middle, and Franklinton High. Essex Village offers four different floor plans to choose from, which are three to four bedrooms. Homes in the neighborhood start at $299,990. 
Oaks at Ironwood 
The Oaks at Ironwood features large single-family homes that range from $500,000 and up. This neighborhood offers country quiet-living, forest views, rolling terrain, and natural 360-degree surroundings. At the Oaks at Ironwood, you can choose your home site and build your own custom home of your dreams. While residents experience a slower-paced lifestyle, you are also minutes away from shopping, restaurants, and services.
You can choose from many floorplans when living at the Oaks at Ironwood. These floorplans include the popular ranch-one level with or without finished upstairs bonus, bedroom(s), etc., or the first-floor main bedroom and laundry. If you enjoy the outdoors, you will only be approximately 15 minutes away from Falls Lake and many recreational areas or boating docks. 
Neighbors selected these businesses as their neighborhood favorites: 
Discount tire
Lowes home improvement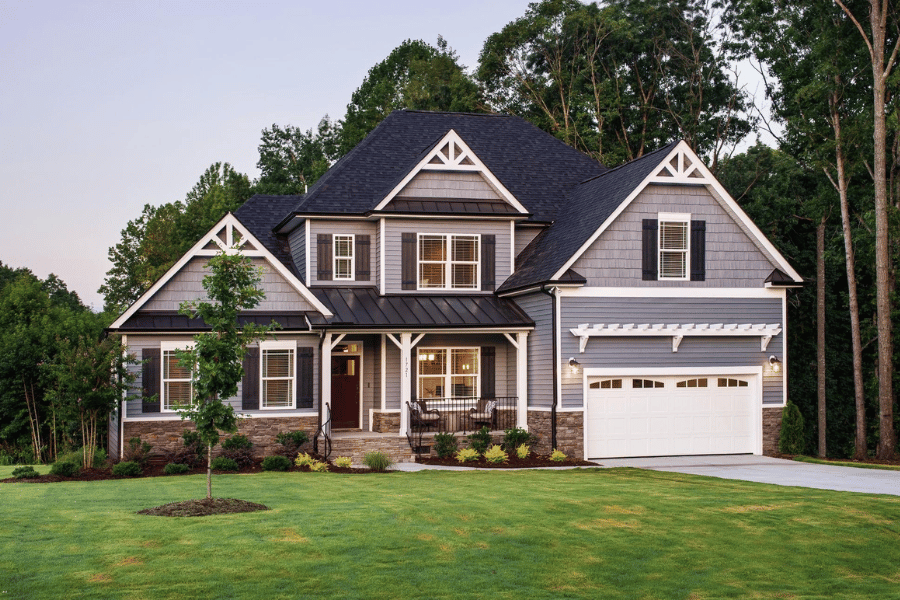 Gill Farms 
Gills Farms is another popular neighborhood in Franklinton. Homes range from 1,548 to more than 2,800 square feet and have up to six bedrooms and a two-car garage. Floor plans can include flex spaces, lots, and primary downstairs suites. Most floor plans can also include a designated home office, flex or bonus room, or an extra bedroom! The homes in the neighborhood are affordable and have easy access to the Triangle, US-1, and Hill Ridge Farms. Nearby, you will find golf courses, hospitals, parks, restaurants, schools, and more. 
Clearwater Creek 
Clearwater Creek is a new subdivision in Franklinton that offers brand-new, personalized homes. Homes are from the mid-400s, and the neighborhood offers many amenities. Residents are close to several cities yet are surrounded by calmness. The community is just 10 minutes northeast of Wake Forest and convenient to downtown Franklinton and Youngsville.
The schools in the area are Franklinton Elementary School, Cedar Creek Middle School, and Franklinton High School. You also have access to many recreational activities. Some include the Falls Lake State Recreation Park, Franklinton Park, Hill Ridge Farms, and more! When creating your dream home in Clearwater Creek, you can choose from stunning exteriors, including brick, stone, and siding. There are ten-floor plans, including ranch-style, first-floor primary suite, and three-story loft options. 
Farmington Oaks 
The Farmington Oaks neighborhood features midsize homes that are reasonably priced. Closed prices range from $215,000 to $325,000, and the median sales price of homes in the area is $243,712. The neighborhood is very car-dependent, having no walk score and a bike score of 15/100. The houses are also reasonably sized, ranging from 1,230 to 2,819 square feet. Farmington Oaks feeds into the Franklin County School District, and the nearby schools are Cedar Creek Middle, Franklinton Elementary, Franklinton High, and Youngsville Elementary.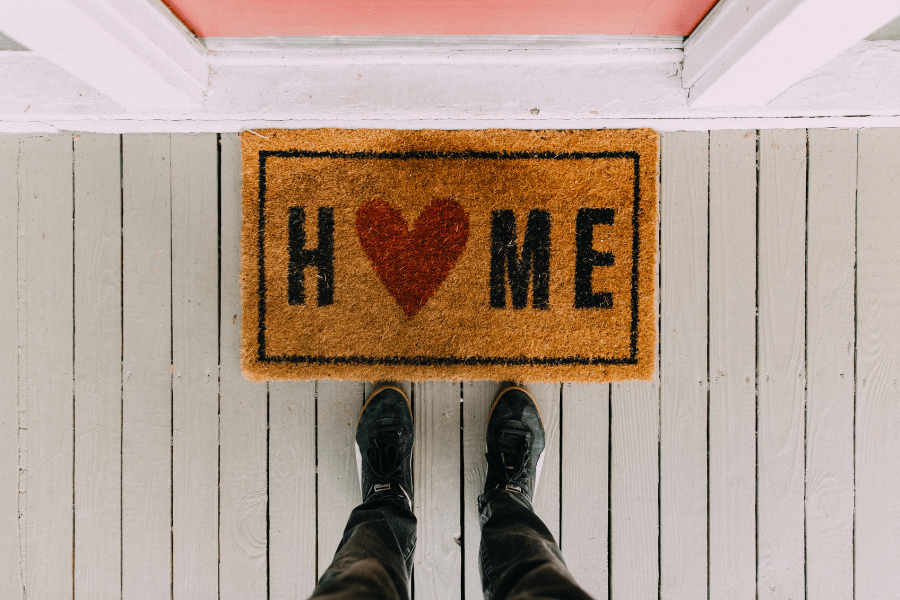 Kendal Forest 
Kendal Forest is a small and quaint community just North of downtown Franklinton. The subdivision offers ranch and two-story single-family homes surrounded by creeks, ponds, and walking trails. Kendal Forest is one of the more affordable neighborhoods in Franklinton, with homes ranging from $190,000 to $240,000. The houses are usually two to three bedrooms with open floor plans and beautiful interiors.
You can expect hardwood floors, neutral colors or backsplash, plush carpets, and a two-car garage. Most homes also include brick or stone exteriors, bay windows, or custom back decks. The neighborhood is ideally situated between Falls Lake and the intersection of the John H. Kerr Reservoir and Roanoke River. This location allows easy access to Wake Forest, Youngsville, and even downtown Raleigh. 
Starmount Forest 
The 2018 homes constructed by Winslow Homes in Starmount Forest range from $250,000 to $315,000. Starmount Forest is located in Northern Franklinton and is less than twenty minutes from downtown Youngsville or Falls Lake. The calming presence and natural space make this neighborhood popular among people moving to Franklinton. When entering your new home, you will be met with spacious living areas, bright and open kitchens, and large back decks. Homes also include two-car garages, covered porches, and reasonably sized bedrooms.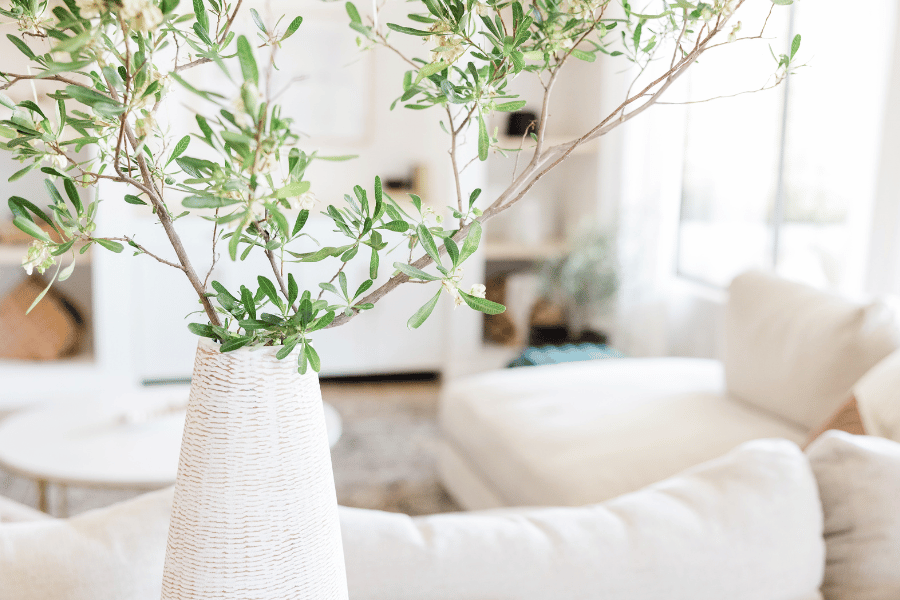 Harvest View 
Harvest View is a newer 16-lot subdivision in Franklinton. The homes in the neighborhood are custom and carefully designed and hand-crafted. Harvest View is perfect for anyone looking for a country feel with large lots and open space. While you can feel secluded and relaxed in your new home, you are also close to necessities like shopping, entertainment, healthcare, and education.
Living in Harvest View, you can easily access Highways 56, 96, 98, and US-1/Capital Blvd. The capital plaza retail center is only 14 miles away, and downtown wake forest is only 17 minutes away. The median list price of homes in Harvest View is $772,890 and typically stays on the market for 20 days. 
Olde Liberty 
Olde Liberty is another popular neighborhood in Franklinton, NC, and is often referred to as Sutherland Station at Olde Liberty. The community features golf course lots, beautiful landscaping, and family-friendly floor plans. Residents can enjoy the community pool and fitness center, along with the option to join the Olde Liberty golf club. Olde Liberty is conveniently located minutes from wake forest and is convenient to both Raleigh and Durham.
If you enjoy the outdoors, you can also access the Neuse River Trail, Franklin County Natural Preserve Trail, and Flaherty Dog Park. The schools in the area are Long Mill Elementary, Franklinton Middle, and Franklinton High. Homes in the neighborhood start in the 400s, with many floorplans to choose from.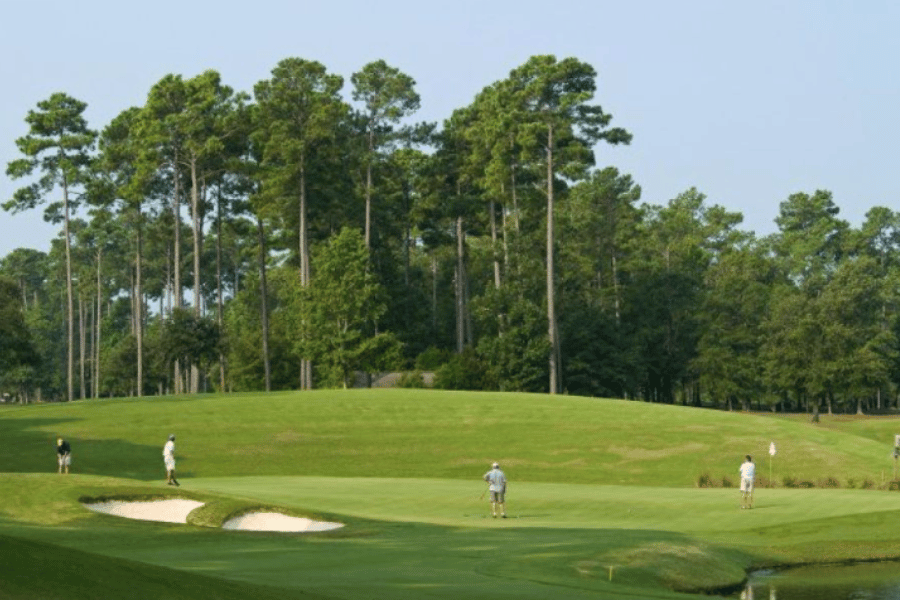 Whispering Pines
The Whispering Pines subdivision offers new single-family homes. Floor plans range from 1,777 to 2,997 square feet, with seven to choose from. The median list price of homes in Whispering Pines is $406,687, averaging $157 per square foot. Whispering Pines is a family-friendly neighborhood that offers a calm and relaxing feel. Nearby, you have many walking trails, recreational activities, southern pine, Pinehurst, and more! 
Winston Ridge 
Winston Ridge is a subdivision that is technically located in Youngsville, but it's right on the border. The Bungalow-style homes are said to be perfect for empty nesters or people seeking a slower-paced single-level living. The homes range from 2,040 to 2,720 square feet with up to four bedrooms. The community features a pool pavilion, a clubhouse, and an open play space.
Residents are close to Wake Forest, and the commute is easy, coming from Raleigh, Wake Forest, or anywhere in Franklin County. Most of the plans in the subdivision include a home office, flex or bonus room, an extra bedroom, and more! The schools in the area are Long Mill Elementary, Cedar Creek Middle School, and Franklinton High School. 
The Best Neighborhoods In Franklinton, NC - Final Thoughts 
Whether searching for a new home community or an amenity-rich neighborhood, you will find just what you're looking for in Franklinton, NC. The homes are affordable, spacious, luxurious, secluded, and so much more. Franklinton is the perfect community for families, retirees, young professionals, and just about anyone! Living in Franklinton, you will be met with a suburban rural mixed feel with a tight-knit community and friendly neighbors. So, if you're considering moving to Franklinton and need assistance finding your dream home, feel free to reach out! You can contact us or visit our website to connect to an agent who can help in your search! 
Here at Raleigh Realty, we specialize in helping those through the home buying and selling process. While that is our primary focus, we also enjoy providing valuable guides, tips, and tricks involving real estate! If you visit our website, check out some of our other articles! 
If you found our guide to the best neighborhoods in Franklinton helpful, please share it with friends & family, or leave us a comment!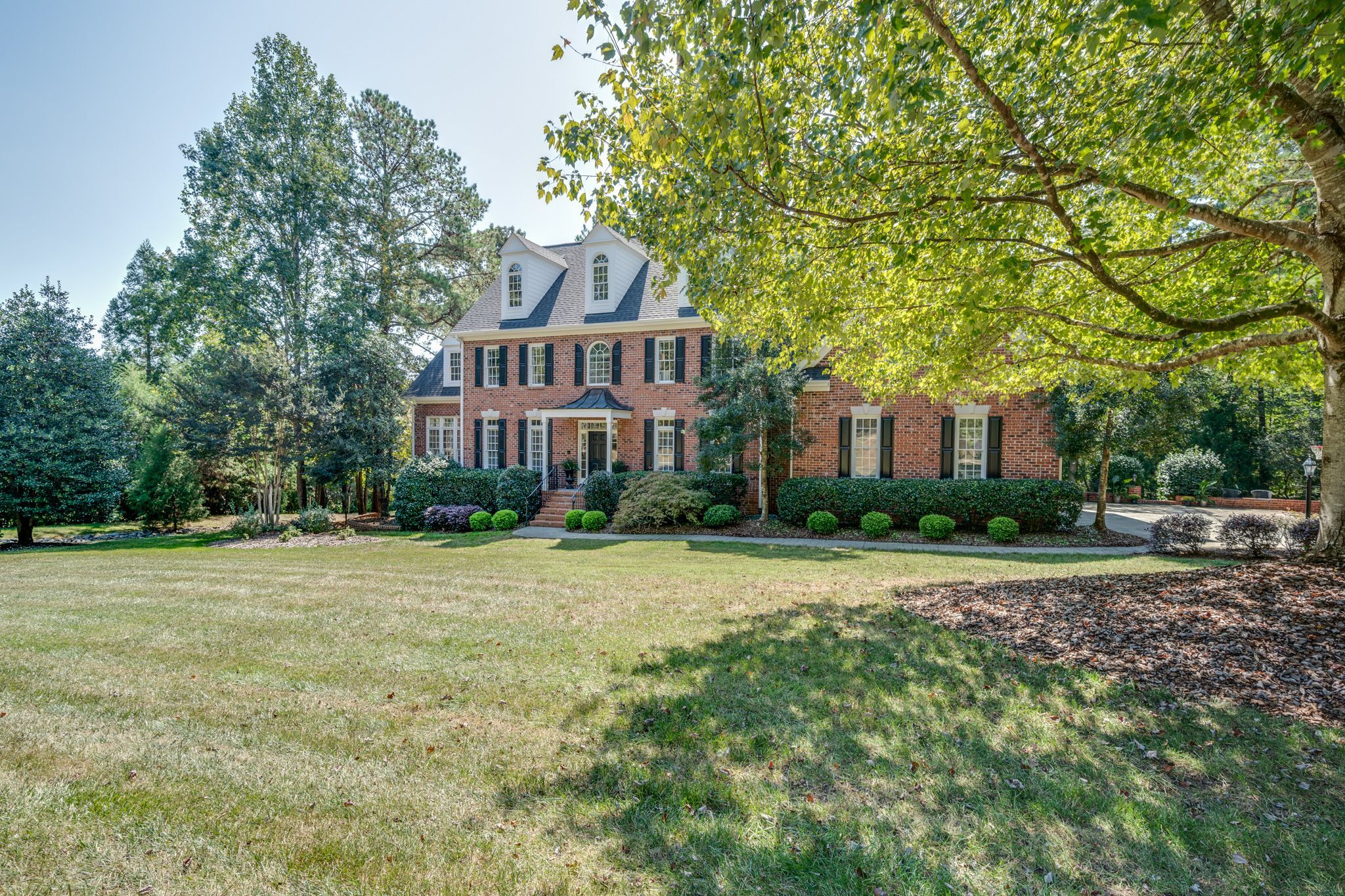 Find your new home
Search real estate and homes for sale