10 Best Restaurants In Fayetteville, NC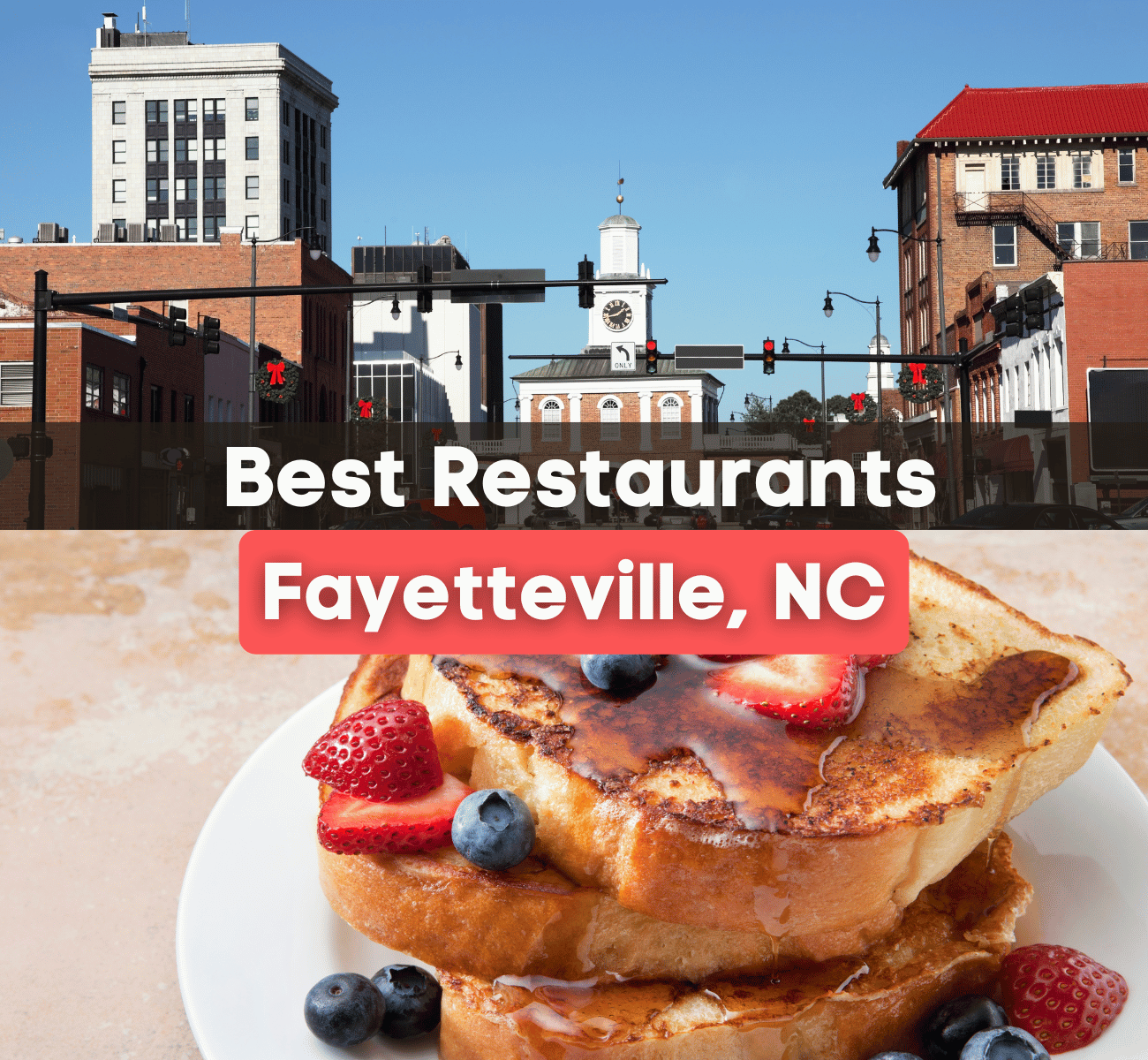 Best Restaurants In Fayetteville 
Are you moving to Fayetteville or visiting the area and looking for some of the best restaurants? Please stick with us while we discuss the restaurants we deem to be the best! 
Fayetteville is an old but ever-growing city in the Sandhills Region of North Carolina. You can visit Fayetteville for an abundance of entertainment, museums, restaurants, shopping, recreation, and more!
Fayetteville is a beautiful city, and there are many things to do in Fayetteville for people of all ages. 
The dining options in Fayetteville are robust. You can satisfy your cravings for cuisine in the city and the surrounding areas. Follow along while we dive into some of the best! 
Raleigh Realty is a local real estate company that specializes in helping those through the home buying and selling process. While that is our primary focus, we also enjoy providing helpful guides to your new area. On our website, you can find guides, tips, and tricks to the triangle and surrounding areas. 
In this guide, we're going to discuss the best restaurants in Fayetteville. Let's go!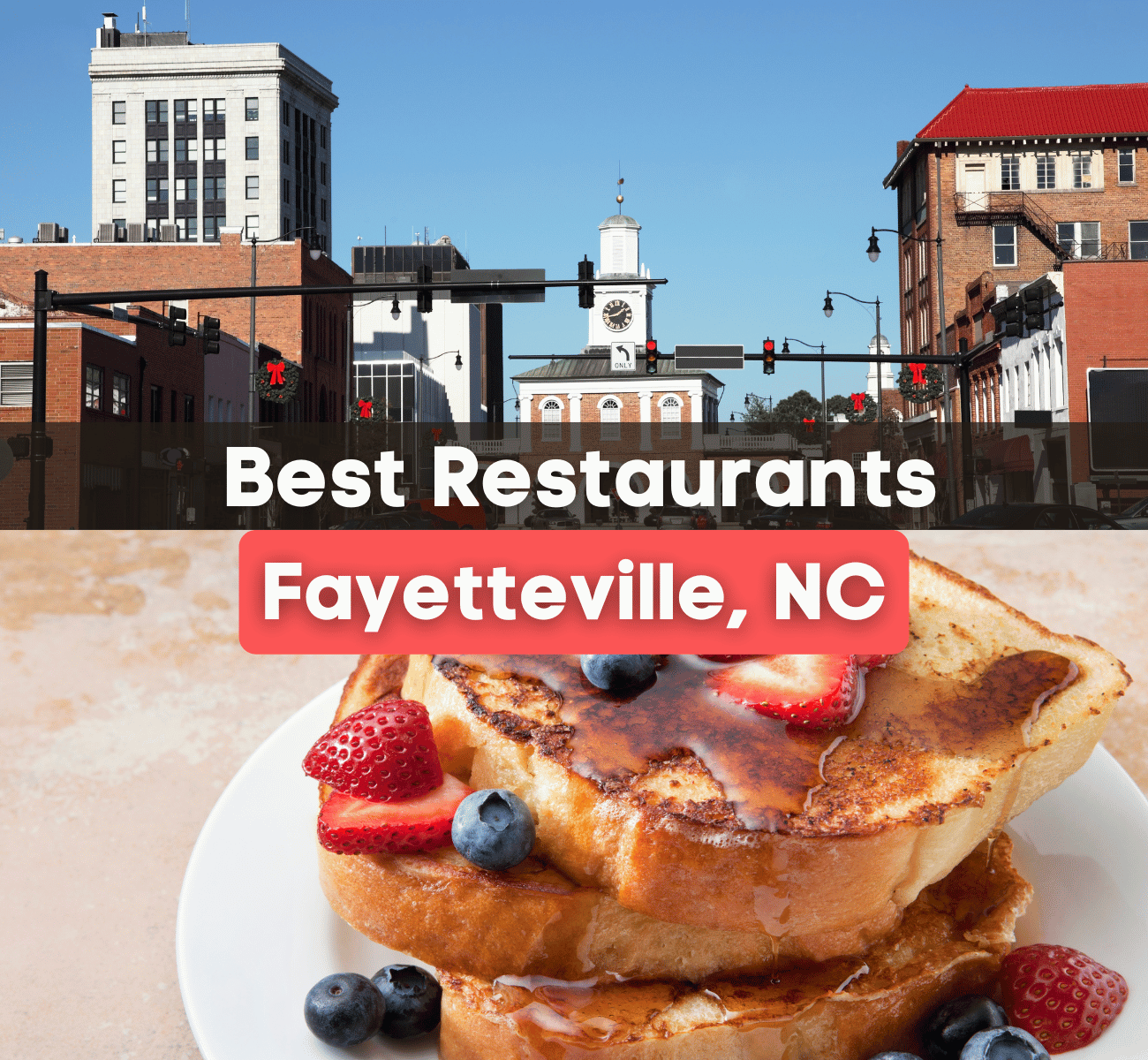 Huske Hardware House Restaurant and Brewery
The Huske Hardware House Restaurant and Brewery is the longest-running brewery in Fayetteville, being open since 1996. They "apply scientific principles and passion for a craft brewery to balance drinkability and massive flavor." The building is part of the National Register of Historic Places and has been around for 115 years. 
The original building was built in 1903 and was an all-inclusive department store. In 1996, Dr. William Baggett renovated the east side to create the restaurant and brewery that residents love today! The restaurant serves delicious food, beer, cocktails, wine, kegs, and growlers. The southwest chicken eggrolls are a hit, featuring smoked chicken, black beans, corn, pepper jack cheese, red peppers & spinach with a side of ranch. 
Circa 1800 
Circa 1800 serves steaks, American fare, wine, and spirits in a cozy setting. They believe Circa 1800 in helping only the freshest and best ingredients. Fayetteville and the surrounding areas are known for producing the finest vegetables, local honey, grass-fed beef, and free-range pork. Regarding the beverages at Circa 1800, all draft beers are made in North Carolina and rotate periodically. 
Circa 1800 has a delicious dinner menu that consists of starters, entrees, desserts, and salads. Entrees include chicken piccata, filet tips, seabass, pork, surf & turf, and more! One of the southern favorites is the Gumbo-Laya, including crawfish, andouille sausage, chicken, shrimp, tomatoes, okra, garlic, and rice! Appetizers include delicious tuna nachos, collard eggrolls, calamari, poutine, etc. A yummy and unique dessert that's a must-try is their fruity pebbles cheesecake. 
They also serve a brunch menu that includes chicken & waffles, French toast, brisket hash, frittata, and more! 
Luigi's Italian Chophouse and Bar 
Luigi's Italian Chophouse and Bar is one of the best restaurants in Fayetteville! They specialize in homemade sauces, pan-sauteed pasta dishes, hand-cut black Angus steaks and chops, and fresh fish daily. Not only do they have beautiful main dining rooms, but they also have patio dining, a bar area, and two private dining rooms that can accommodate up to 100 guests. The atmosphere at Luigi's Italian Chophouse and Bar is comfortable and inviting and is perfect for date nights, special occasions, family dinners, and more.  
The menu at Luigi's includes antipasti (starters), Zuppe E Salate (soup & salad), Carne (meat), Pollo (chicken), Frutti Di Mare (seafood), classic Italiano, and a la carte. One of the favorites in the classic Italiano section is the Filet Medallions Marsala. The dish is six ounces of sliced fillet mignon hand-pounded, seasoned, and pan-sauteed with their homemade marsala wine sauce. 
Luigi's Italian Chophouse and Bar has an extensive wine and cocktail menu, dessert menu, family-style to-go menu, and specials menu.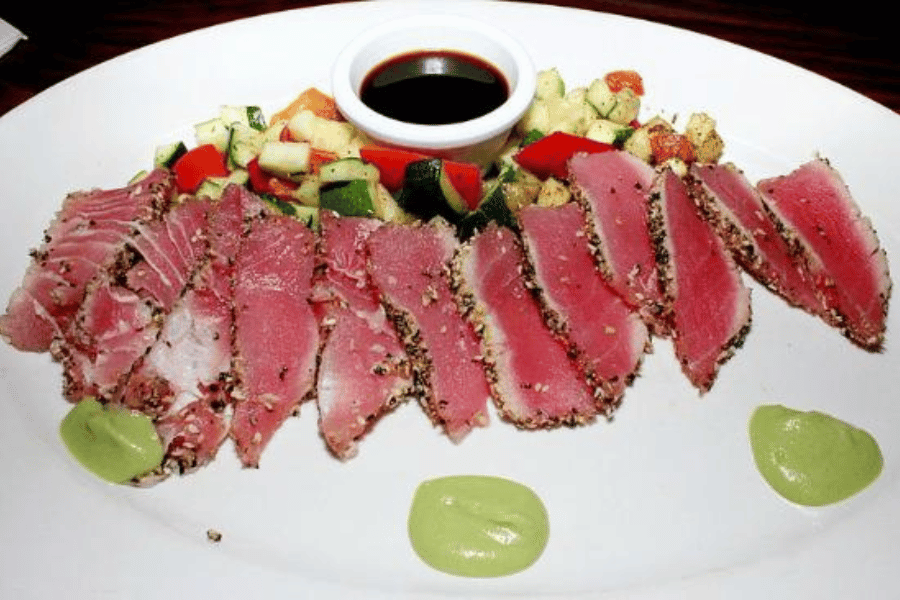 Mission BBQ  
Mission BBQ has various locations but is a staple and favorite in Fayetteville! Mission BBQ opened its first doors in 2011 and is owned by two friends that are passionate about BBQ, patriotic for their country, and believe in running a business with meaning and purpose. "We do what we do for the love of our soldiers, firefighters, police officers, first responders - all of our loved ones in service."
The dining area at Mission BBQ is filled with tributes to those who have made our country great. These tributes were given to Mission BBQ by the people who earned them. 
The menu at Mission BBQ includes the meat market section, smokehouse signatures, sandwiches, combos, salads, sides, a kid's menu, and pick-up packs. You can choose brisket, pulled pork, turkey, pulled chicken, and sausage at the meat market. The pick-up packs are perfect for families or group settings as they serve parties of five or more. When ordering the pick-up pack, you choose two or three meats, up to three sides, a bakery option, and sauces. Bakery options include slider rolls, buns, cornbread, and a slider/cornbread combo.
Mission BBQ also takes pride in giving back to the community. With the help of locals and loyal customers, more than 10 million dollars have been donated to national and local charitable donations. 
Olea Mediterranean Kitchen 
For Greek-Mediterranean-inspired food in Fayetteville, check out Olea Mediterranean Kitchen! They are a fast, fresh, and casual restaurant that serves delicious Greek food that all customers love and appreciate. With locations in Swansboro, Fayetteville, and the surrounding area, people visit Olea Kitchen for fresh and healthy options, house-made spreads and dressing, and build-your-own service. 
The menu at Olea Mediterranean Kitchen includes salads, Mezza and appetizers, wraps, platters, specialties, desserts, and a kid's menu. The platter menu is robust. You can choose from chicken shawarma (a favorite), lamb chops, falafel, lamb gyro, souvlaki trio, and more! The Mezza and appetizers are also delicious as you can choose from calamari, stuffed grape leaves, loaded friends, hummus, goat cheese, and more!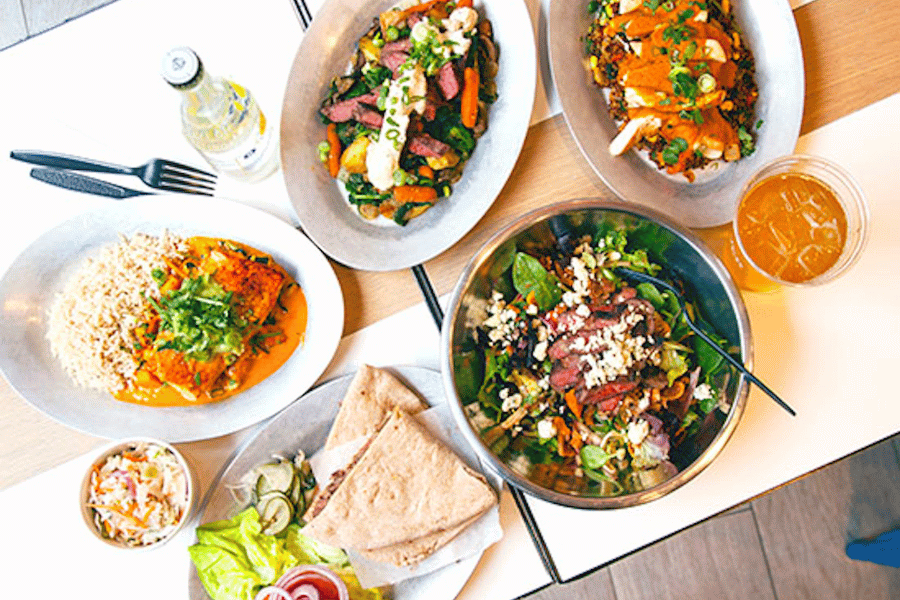 Pierro's Italian Bistro 
Another delicious Italian option in Fayetteville is Pierro's Italian Bistro! Their menu focuses on the rustic cuisine of Italy, offering pasta dishes, antipasti, specialty options, brick oven pizzas, delicious desserts, and more. At Pierro's, their focus is on quality, value, and authenticity. They are passionate about introducing new and creative dishes that exceed customers' expectations. Pierro's has also won awards, including overall best restaurant, entrees, best appetizers, and an iron chef challenge. 
There are four menus at Pierro's: Chef's special menu, the lunch menu, the dinner menu, and the features menu. The features menu is small but delicious. There are three appetizers, four entrees, three cocktails, and four craft beers. My favorite is the Margherita Chicken Balsamico, which is locally sourced chicken breast grilled and topped with their signature Pomodoro sauce, basil, romano, sundried tomatoes, buffalo mozzarella drizzled with balsamic reductions and served with roasted potatoes or a veggie medley.  
The Sky Lounge is the best place to get the whole experience of Pierro's. The inspiration for Sky Lounge at Pierro's comes from the theme Vegas-meets-South-Beach, with European Flair. The Sky Lounge offers food, drinks, live music, live DJs, dancing, and more! 
If you live in Fayetteville or are in the area, we recommend visiting Pierro's for your next meal! 
The Friends Table 
The Friends Table in Fayetteville started as just a dream. Owners Portia Grady and Mahalia Robinson shared a passion for cuisine, culture, and curating curative spaces. While they owned a thriving catering company, they wanted more. They set out to open a dine-in restaurant, and they succeeded! At The Friends Table, you can experience the food, drinks, and service the Friends way! 
The menu at The Friends Table is relatively tiny but makes up for it in flavor! You can choose from small bites for the table, salads, signature plates, sides, and sweets. Bites for the table include fried deviled eggs, bacon-wrapped salmon, truffle fries, fried green tomatoes, and croissants. Signature plates include chicken & waffles, the southern classic, the waffle platter, shrimp & grits, and bacon and cheddar croissants. All options are delicious and have their unique flavor and twist. 
They also have a fun drink menu! They offer signature espresso drinks, herbal teas, various mimosas and flights, brunch shots, and cocktails! 
This restaurant is truly one of a kind. If you're looking for a fun and upbeat atmosphere serving delicious food, we recommend The Friends Table!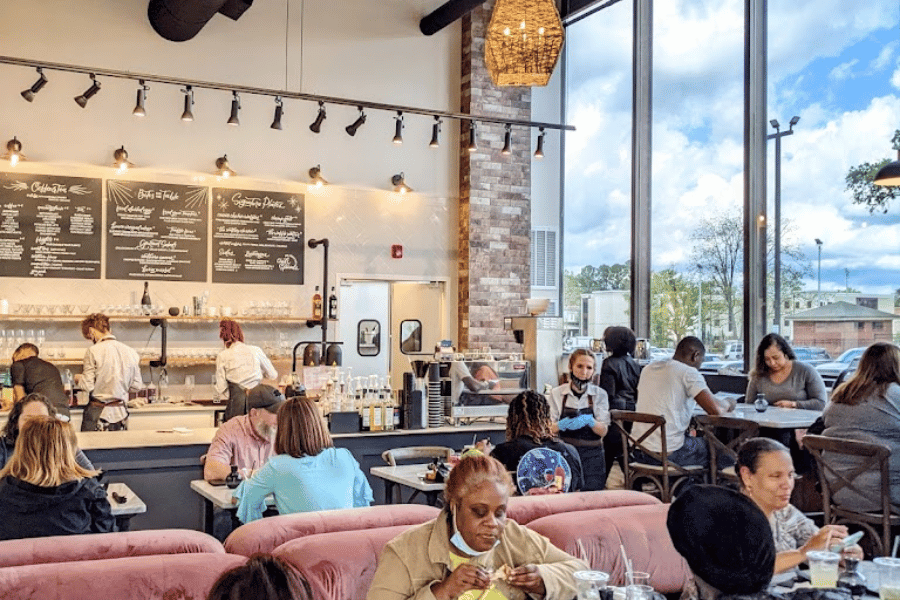 Bubba's 33
Sometimes traditional American cuisine is enough to satisfy your cravings! At Bubba's 33, all the food is made from scratch daily, including the sauces on their wings and dressings on their salads. The ribeyes at Bubba's 33 are hand-cut, marinated, seasoned, seared, and char-grilled to perfection. They like burgers at Bubba's, where they cook them all medium well and serve them on a juicy bun. Nonetheless, they take pride in serving you only fresh and quality ingredients. 
Bubba's 33 also has a vast selection of draft, and bottled beers served icy cold. They even have nonalcoholic beverages for those interested! Beers include domestic, craft, import, and ciders—as well as delicious cocktails from margaritas and martinis to whiskey. 
The atmosphere at Bubba's is like no other. They like to have fun and provide a welcoming space where you can enjoy your food but also let loose. The walls at Bubba's are filled with sports memorabilia, neon lights, and large TVs. 
One of my favorites on the menu is the Spicy Habanero Burger! This dish is an Angus beef patty topped with habanero heat sauce, charred jalapeno and onion blend, fried jalapeno cream cheese, bubba sauce, lettuce, and tomato. If you prefer something other than spicy food, this might not be your burger! 
316 Oyster Bar 
If you enjoy seafood, be sure to check out 316 Oyster Bar. The goal at 316 Oyster Bar is to serve the highest quality seafood and steaks, prepare it the way you order it, and serve it to you promptly. The fish at 316 Oyster Bar is trucked daily from the coast and cut in-house to ensure freshness. 
The menu at 316 Oyster Bar includes soups & salads, appetizers, entrees, a kid's menu, the rooster menu, the steamed menu, and sides. Entrees include the shrimp platter, popcorn shrimp, a shrimp boil, smothered chicken breast, BBQ ribs, and more! You can also choose from steak and lobsters, pasta, tuna, salmon, tilapia, and crab! 
316 Oyster Bar has some of the best seafood in the area! If you can check it out, let us know what you think! 
Mac's Speed Shop 
Another great place for BBQ and burgers in Fayetteville is Mac's Speed Shop! Their journey began in 2005 when Wynn Davis and Hall Johnston had the motivation to run a restaurant on BBQ, beer, and bikes! Seventeen years later, they now have nine locations. Mac's Speed Shop has live music, events, and a dog-friendly patio. 
Everything at Mac's is made from scratch daily to elevate your comfort-food favorites. They also have drink specials, including local craft beer, wine, and a vast liquor menu specializing in cocktails, bourbon, and scotch whiskey. Mac's has won multiple awards, including 1st place in sauce, 3rd place in pork shoulder, 1st place in chicken, and 3rd place in brisket. 
Some delicious options on their menu include a blue moon smoked pork chop, down south rolls, bacon-wrapped smoked meatloaf, deviled eggs, Tobasco-fried pickles, crispy pork rinds, and so much more!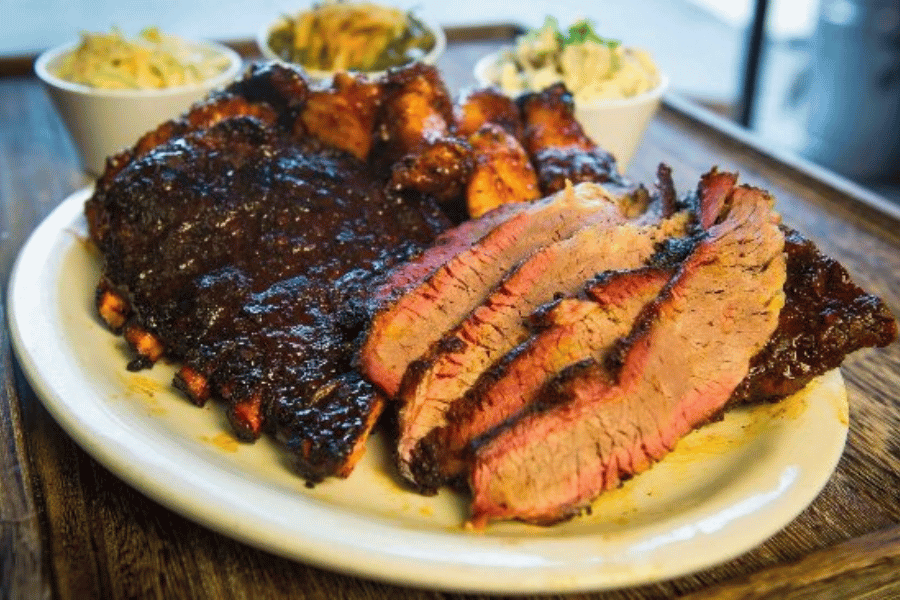 Best Restaurants in Fayetteville, NC - Final Thoughts 
It's safe to say that Fayetteville has numerous delicious restaurants. Within the city, cuisines of all types satisfy your cravings. The majority of the restaurants in Fayetteville also have gluten-free, vegetarian, and vegan options for those that prefer! While there are many things to do in Fayetteville, the restaurants are some of the best and one of the reasons people visit the city! 
If you're interested in real estate in the area, feel free to reach out to us by contacting us or visiting our website! Check out our other local area guides, including the best neighborhoods in Fayetteville, moving to Southern Pines, moving to Raleigh, and moving to Fuquay-Varina! 
Please share our guide with friends and family if you found it helpful!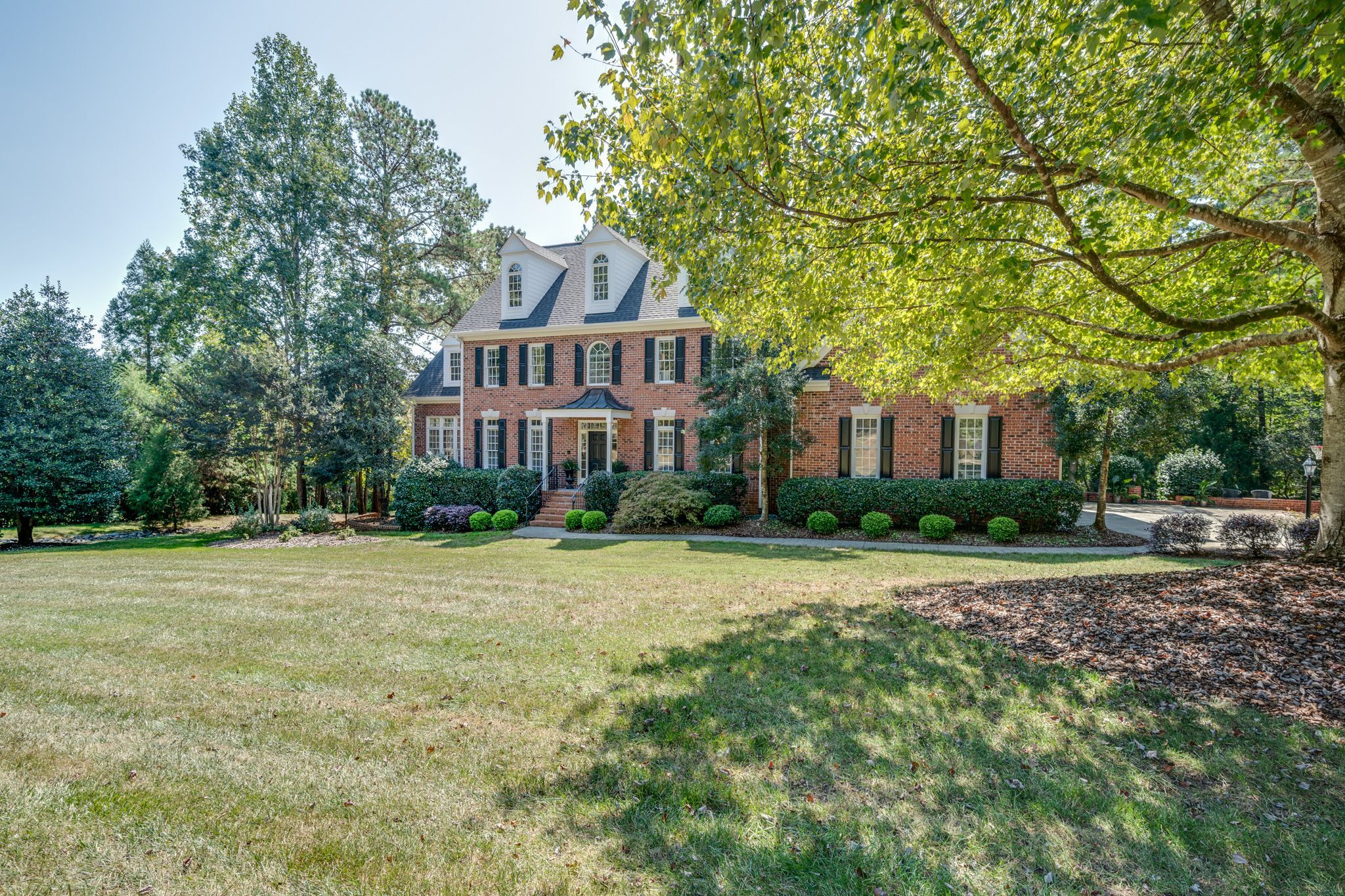 Find your new home
Search real estate and homes for sale