What's the Cost of Living in Raleigh, North Carolina?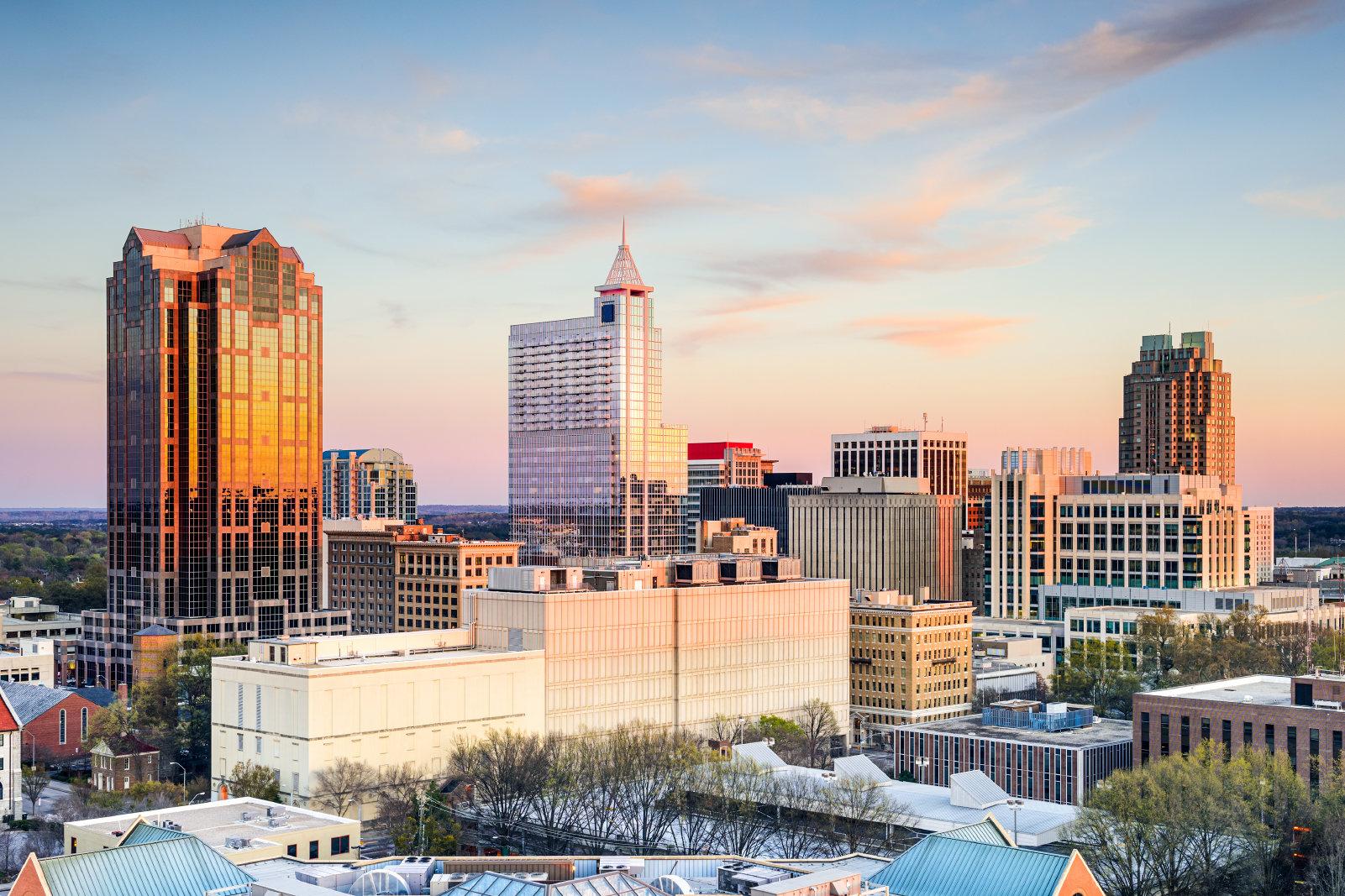 With inflation rising 8.6% since this time last year, Americans worry about nationwide price hikes for necessities across the board. It's tempting to jump right into a new neighborhood when you move, but you need to consider if you can afford your new lifestyle.
In this guide, we're covering the cost of living in Raleigh, North Carolina with data from 2022 that covers prices for all major necessities. These categories give you a better idea of what you'll need to budget to live comfortably in Raleigh.
Cost of Living in Raleigh
The cost of living in Raleigh is less than the national average. Costs for goods and services are generally below average rates, in addition to lower tax rates. On the flip side, the median household income in Raleigh is 13.5% more than the national median.
Let's see how the cost of living in Raleigh compares to national data:
 

Annual income

$40,520 per person*

$35,384 per person*

Rent

$1,175*

$1,096*

Mortgage payment

$1,532 *

$1,621*

Natural gas (Therm)

$1.23

$1.57

Electricity (kWh)

$0.11

$0.14

Food (Gallon of milk)

$4

$4.33

Healthcare

$7,303 per person

$10,426 per person

Transportation (Gallon of gas)

$4.59

$4.96

Income tax rate

4.99% 

13.3%

*denotes median rather than average
Income
Income data from Raleigh and North Carolina residents is higher than national rates. The median income in Raleigh ($40,520) is $5,136 more than the national median ($35,384).
According to the U.S. Bureau of Labor Statistics (BLS), the unemployment rate for people 16 years and older in North Carolina is 3.4%, while the national unemployment rate is 3.6%.
However, Raleigh's poverty rate is 11.8%, which is 0.4% higher than the national rate. This could be due to North Carolina's minimum wage of $7.25 — the same as the federal minimum wage. 
Raleigh is one-third of the Research Triangle, which is made up of Raleigh, Durham, and Chapel Hill. The Research Triangle is named due to the geographic locations of Duke University, UNC Chapel Hill, and NC State. 
Because of these universities, Raleigh has an abundance of tech and research jobs. In fact, the Wall Street Journal recently ranked Raleigh as the third-hottest job market in America.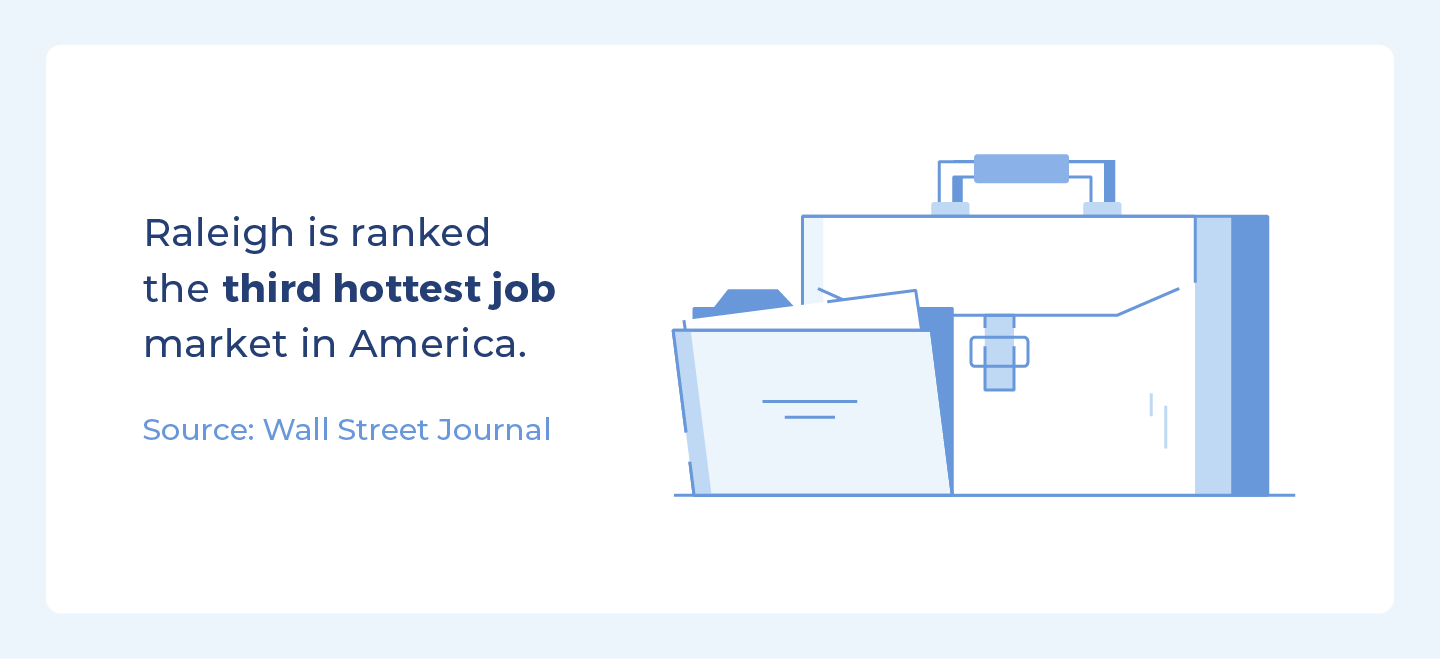 Housing Costs
Raleigh real estate trends may show some rising prices but the median price for a home in Raleigh is $419,000 — slightly below the national median of $423,600. Each neighborhood in Raleigh has different pricing, with July 2022 neighborhood medians ranging from $403,633 in Brentwood Estates to $1.345 million in Glenwood.
Rent in Raleigh is about 7% more than the national median and monthly mortgage payments are about 5.6% cheaper than the national median.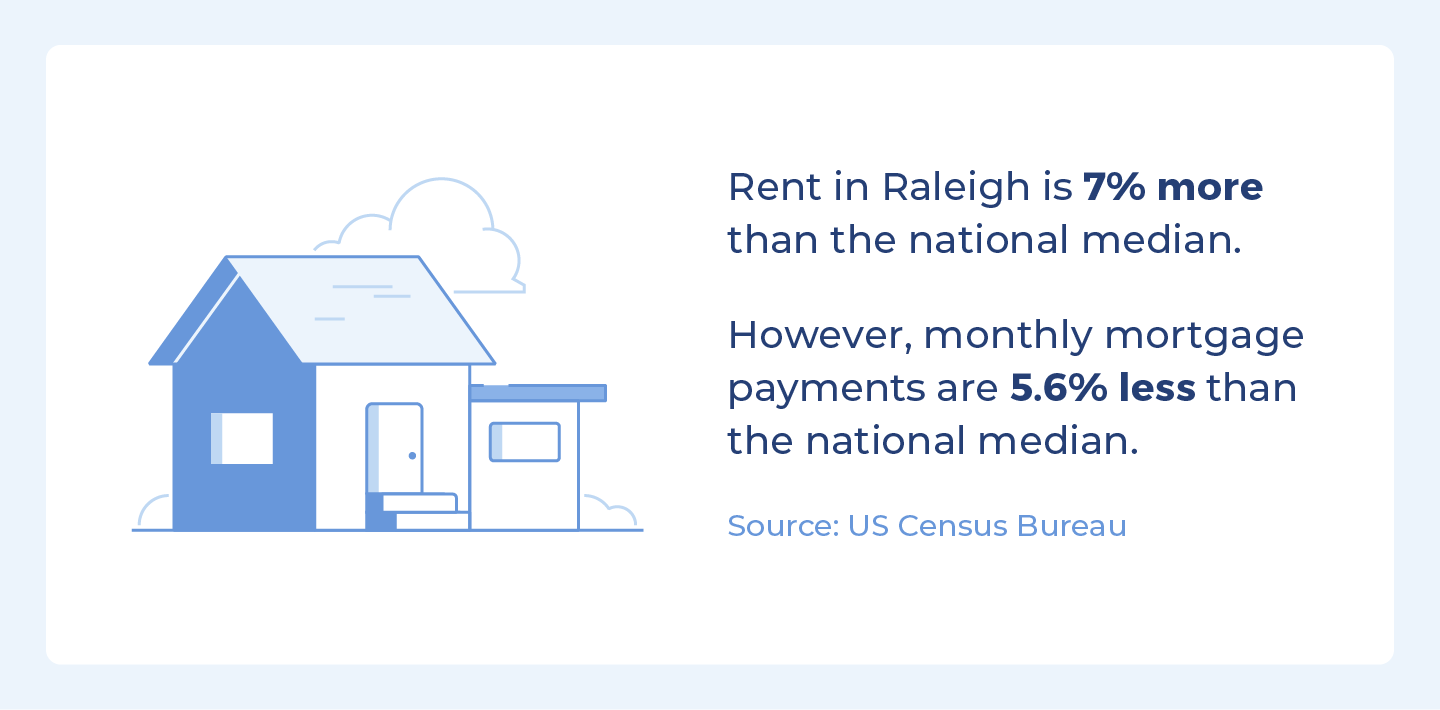 Utilities
Water, gas, electricity, and waste management are often overlooked fees when you're looking to move to a new city. Raleigh has a mix of private and public utility providers based on the type of service.
Water
The City of Raleigh provides water within city limits. They have a calculator on their website that estimates water usage based on weekly showers in your household. Raleigh bills your water based on usage tiers. 
There is also a watershed protection fee that costs $0.1122 per 748 gallons of water. This fee helps fund the Upper Neuse Clean Water Initiative, improvements to the treatment system for drinking water, and protective restoration projects.
Waste Management
Garbage, recycling, and sewer services are also provided by the City of Raleigh. For residential units, the recycling fee is $4.60 per month, and the garbage pick-up fee is $15.70 per month as of July 1, 2022.
Electricity
For electricity in Raleigh, there are various state-regulated private providers to choose from. For example, Duke Energy Progress is a regulated provider that charges per kilowatt-hour (kWh), which is the amount of electricity it takes to power one 100-watt light bulb for 10 hours. 
Duke Energy Progress' rates are:
A monthly service fee of $14

$0.1116 per Kilowatt-hour (kWh) from July to October

$0.10659 per kWh from November to June. 
To help keep energy costs down, there are a lot of simple eco-friendly swaps you can make to save money, such as switching to energy-efficient light bulbs.
Gas
Dominion Energy provides natural gas for the Raleigh area. They bill based on how many "therms" of gas a resident uses. A therm is the amount of gas needed to raise the temperature of one pound of water by one degree Fahrenheit.
Dominion Energy charges Raleigh residents:
A $10 facilities charge per month

$1.26913 per Therm from November to April

$1.19020 per Therm from May to October
The winter rate for natural gas from Dominion is 20.9% less than the national average and the summer rate is 27.2% less.
Food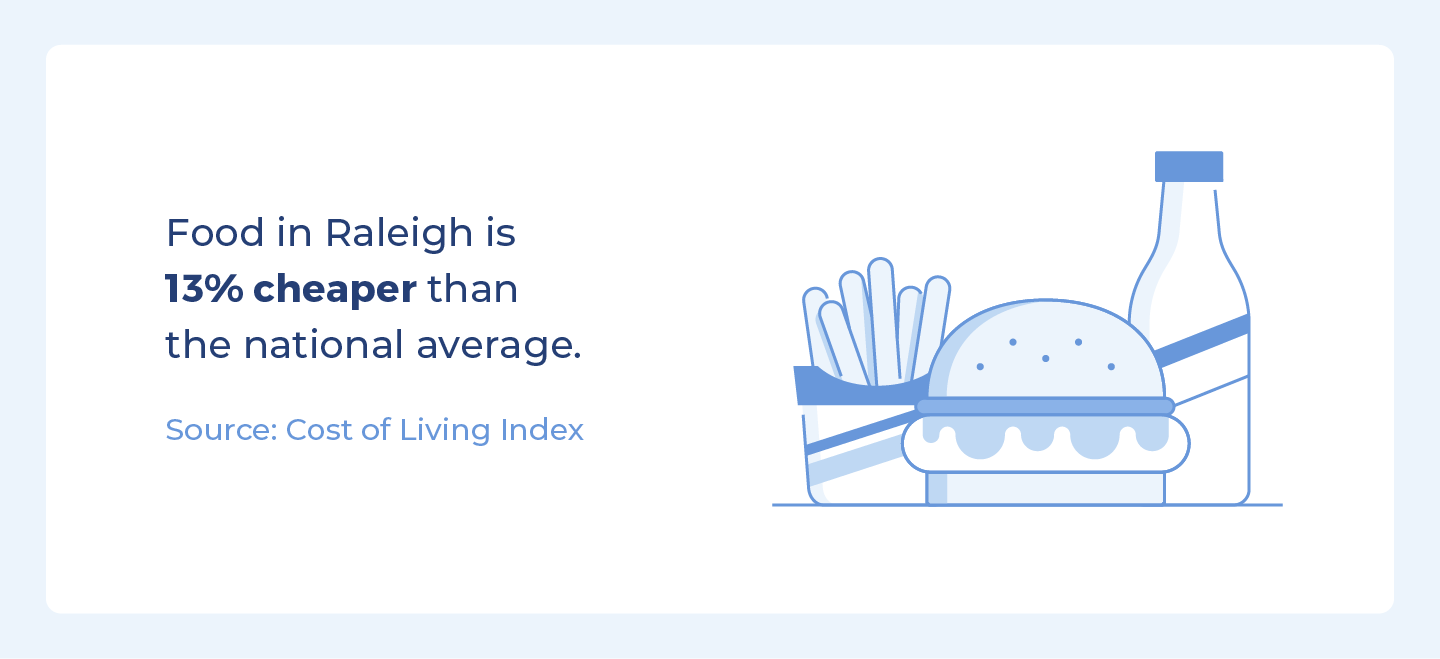 The BLS estimates that pricing for all food and beverages is up 9.6% in the southeast in 2022. Broken down, prices have increased:
11.7% for food at home

7.6% for food away from home

13.3% for meat, poultry, fish, and eggs

6.6% for fruits and vegetables
Despite inflation and rising prices affecting every region of the United States, food in Raleigh is still about 13% less expensive than national prices. For example, the national average price for a gallon of whole milk is $4.33. In Raleigh, the average price for a gallon of whole milk hovers around $4.
Healthcare
A pre-pandemic healthcare spending analysis from Duke University, the Health Care Cost Institute (HCCI), and Blue Cross and Blue Shield of North Carolina analyzed health spend trends across North Carolina. This analysis found:
Health spending in Wake County is the lowest in North Carolina at $7,303 per year.

In North Carolina, the average person spends $8,230 per year on healthcare.

Most people in Wake County use employer-sponsored insurance (ESI), followed by Medicaid, Medicare FFS, and Medicare Advantage.

The Wake County population uses ESI and Medicare FFS at a higher rate than the statewide population.
Transportation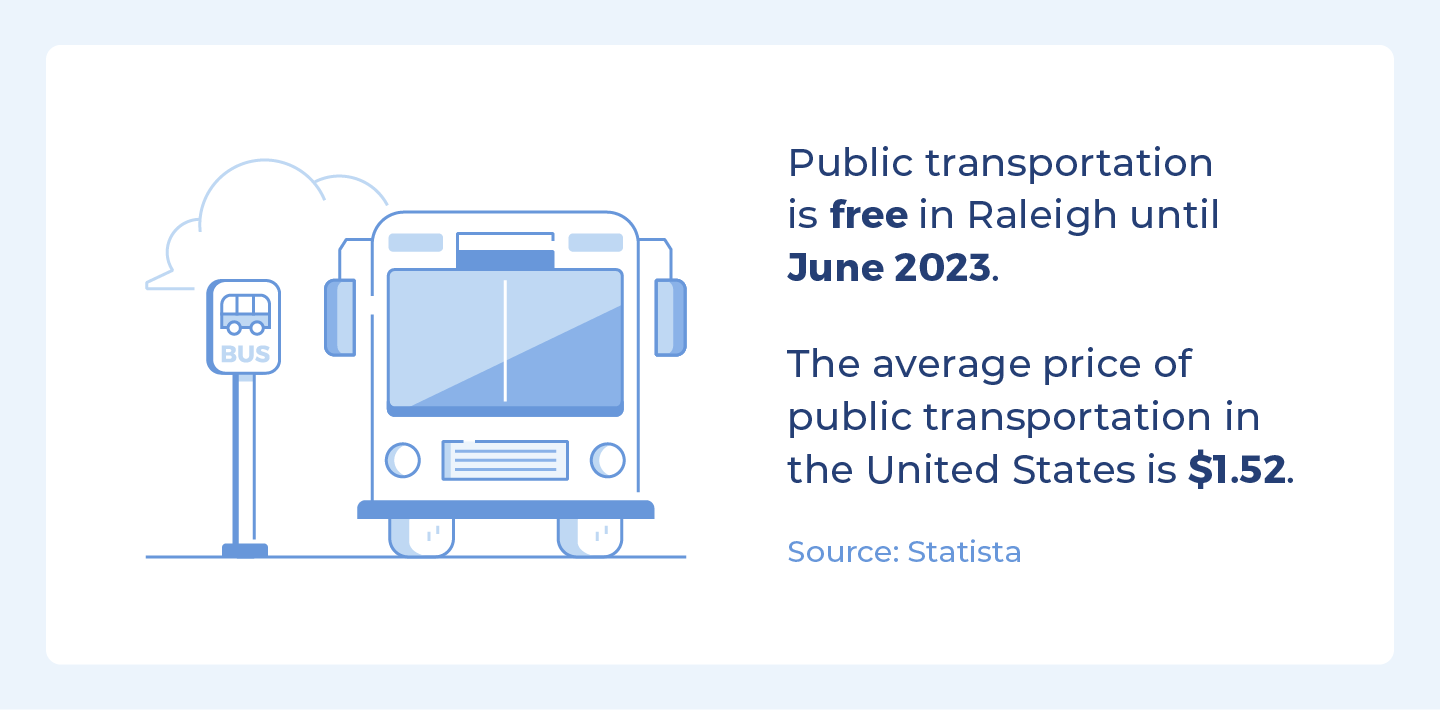 The Raleigh public transportation system, GoRaleigh, provides bus service throughout the city. You can check the transit map to determine which route you should take.
GoRaleigh fare is free until June 2023, but the fare is normally: 
$1.25 for adults

$0.60 for Medicare card users

$0.60 for people with disabilities 
GoRaleigh is always free for riders who fit the following criteria:
Age 65 or older with a GoRaleigh ID card

Ages 13–18 with a Youth GoPass

Ages 12 or younger without ID, unless taller than 60 inches
Many cities nationwide reduced fares during 2020 due to COVID-19. However, the national average price of a public transit ride in 2020 was still $0.27 more than a full-price GoRaleigh ride.
If you opt to use a car, gas prices are about 8% lower in Raleigh.
Taxes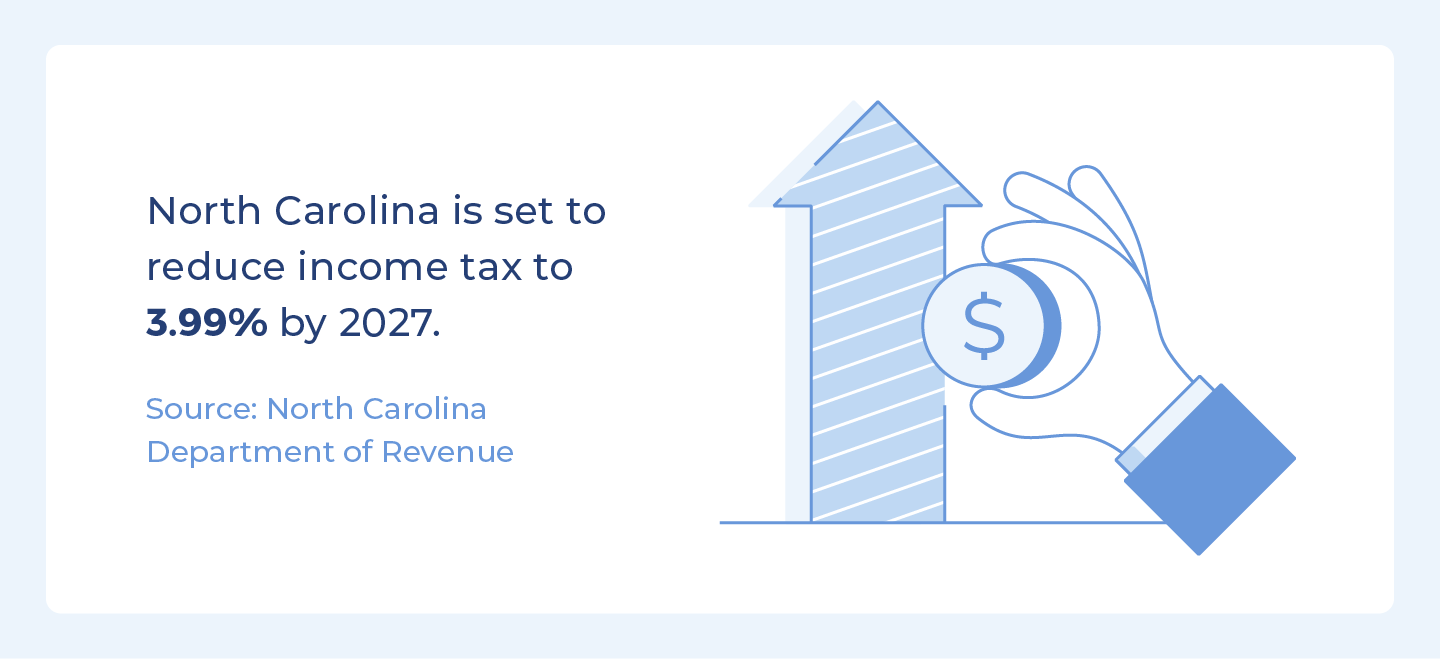 Taxes are a big motivator for many people looking to relocate. Here are some important things to know about the taxes in Raleigh if you're thinking about making the move:
Sales tax in Wake County is 7.25%.

Property tax for Wake County and North Carolina combined is 0.88%.

Income tax in North Carolina is 4.99%.

Income tax in North Carolina is set to reduce to 3.99% by 2027.

There's no capital gains tax in North Carolina.

There's no inheritance or estate tax in North Carolina.
Compared to national tax rate averages, this means that:
Wake County's property tax rate is 22.22% below average.

North Carolina's income tax rate is 90.9% below average.

Wake County's sales tax rate is 35% above average.
The sales tax rate might be alarming to some prospective buyers. Keep in mind that five states in the U.S. have a 0% sales tax rate, which significantly reduces the national average rate. 
FAQ
Is it Expensive To Live in Raleigh?
The cost of living is rising everywhere, including Raleigh. However, Raleigh is less expensive than the average American city.
What Salary Do I Need To Live in Raleigh?
There are many factors that affect what salary you need to live comfortably in Raleigh depending on your habits and lifestyle choices. 
Find Your Dream Home in Raleigh
There are several factors to consider when determining your cost of living in Raleigh like utilities, taxes, and more. When you can estimate your cost of living, you can make better decisions on where to buy your home.
Raleigh Realty can help you find your next home in the perfect neighborhood so you can feel confident in your move to Raleigh.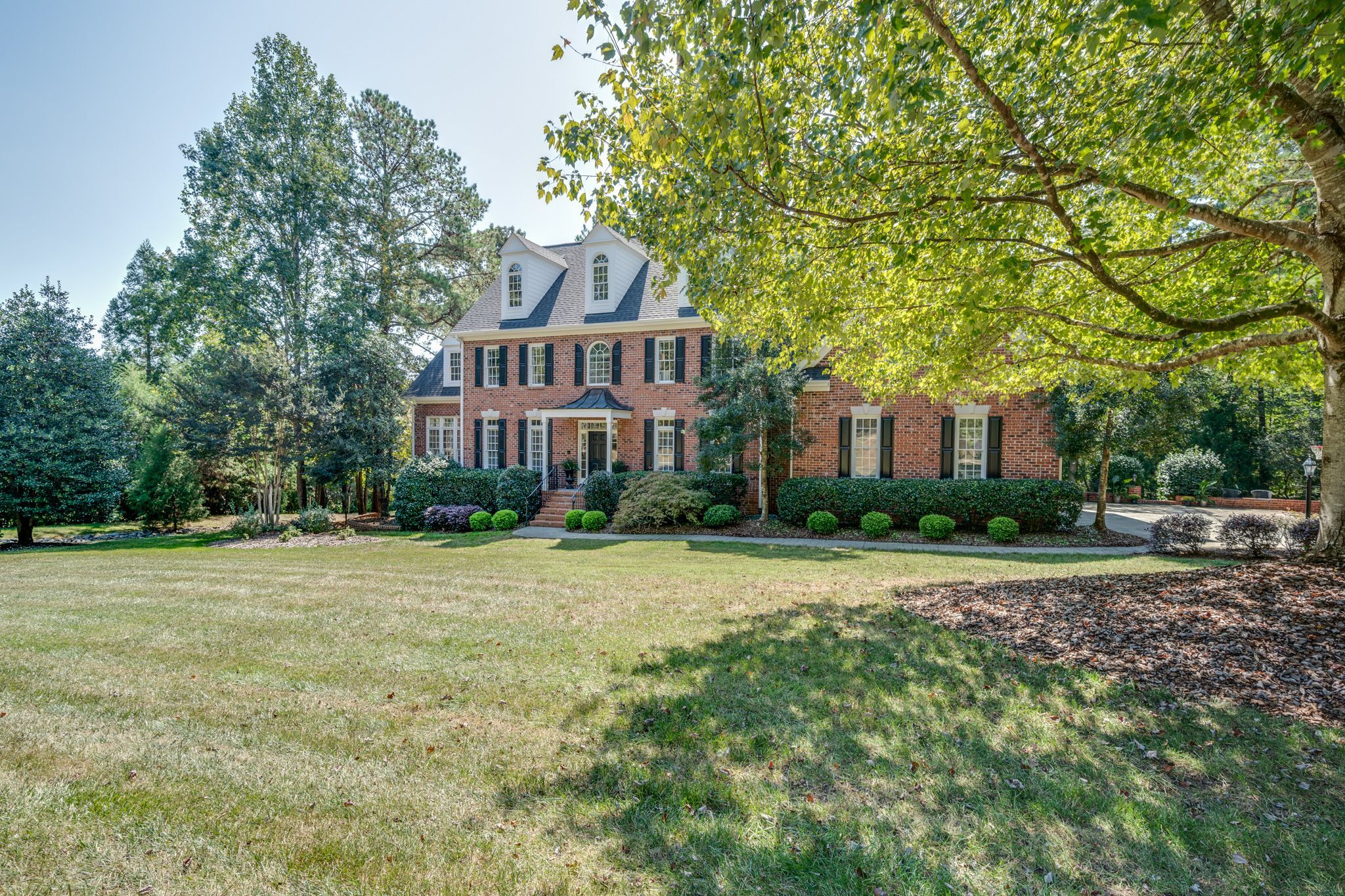 Find your new home
Search real estate and homes for sale