11 Best Spots for Fine Dining in Raleigh, NC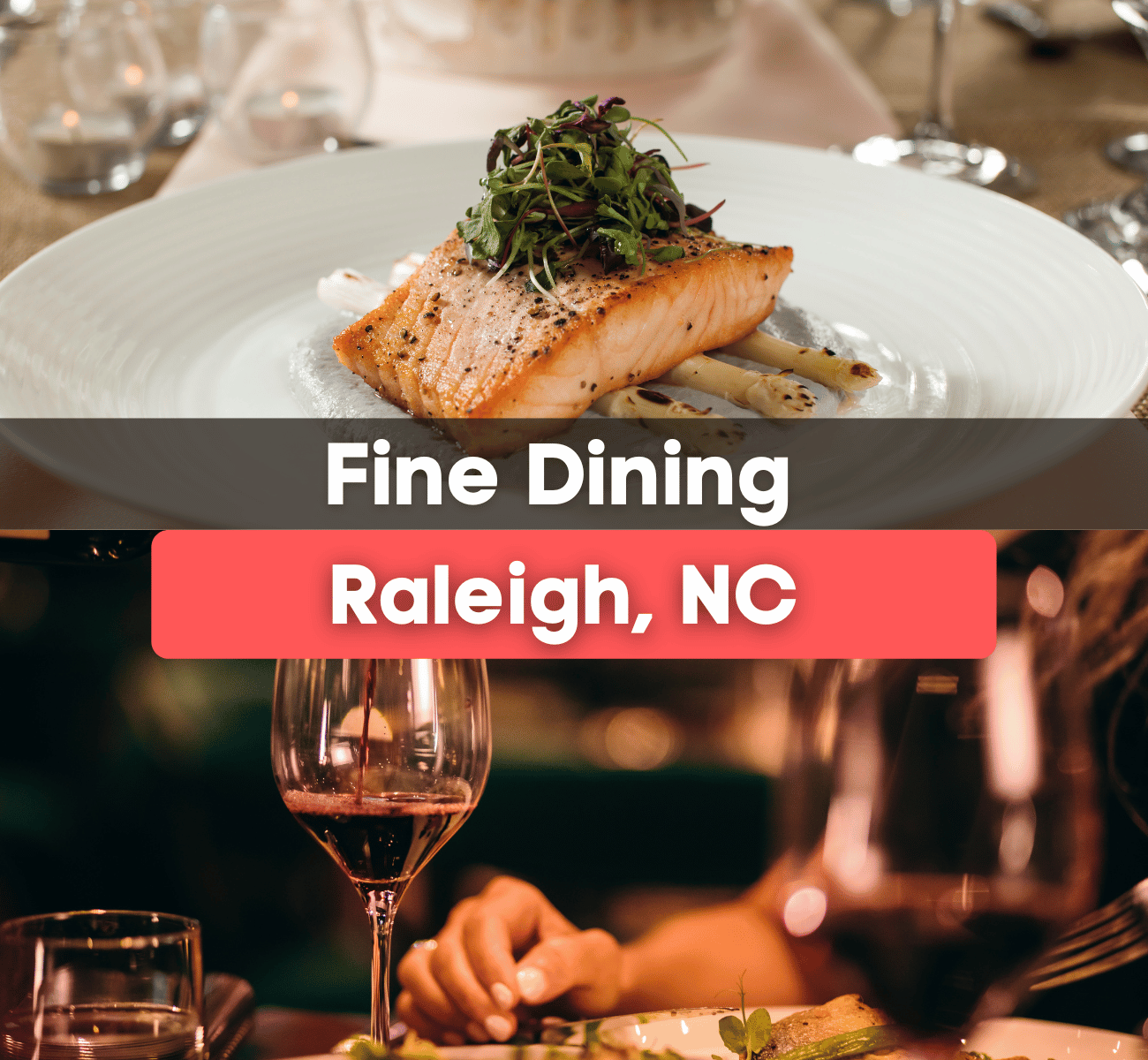 Fine Dining in Raleigh
Raleigh, NC, has a fantastic fine dining scene focusing on culinary excellence and exceptional service. Make reservations at these top eleven fine dining restaurants in Raleigh! 
When you're ready to start celebrating a special occasion or night out with that special someone, you may wonder about your options regarding fine dining in Raleigh. In this article, we have compiled a list of some of Raleigh's best fine-dining eateries, which will surely leave you fully satisfied!
You may want to do your homework and check out the menus as we work through our list, so be sure to click on the provided links to get a glimpse of the menu options. We will try our best to describe the restaurants and why they made it onto our list of eleven best spots for fine dining!
One of Raleigh's most significant characteristics is its wide variety of cuisine. Our list encapsulates all types of cuisine, from American steakhouses to Asian Fusion, to Italian and Southern flair. 
Much of what you will enjoy in a fine dining experience isn't just about the food you're served; it's also about the ambiance, decor, and social setting. Is this a restaurant where I can have a quiet conversation? Do you think this is a fun restaurant to meet friends in? 
We hope you sit back and enjoy reading through some of the best restaurants in Raleigh, NC.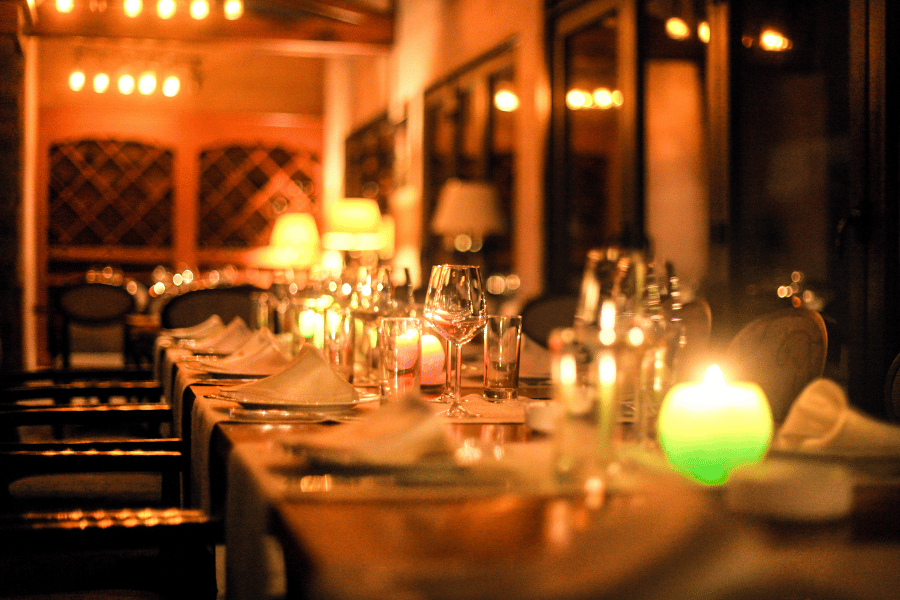 Second Empire Restaurant & Tavern
Located right on Hillsborough St. in downtown Raleigh, Second Empire Restaurant & Tavern may be your next go-to spot for special occasions. You will find impeccable service coupled with top-notch cuisine and an elegant atmosphere. 
First courses include selections such as the Black Angus Striploin Tartare or a lighter option such as the Empire Winter salad, a delectable combination of roasted Brussels sprouts, dried cranberries, butternut squash, spinach, walnuts, feta cheese topped with maple orange vinaigrette.
The main courses will have your mouth watering. This versatile menu has options for any palate, such as Pan-Roasted Portland Maine Sea Scallops or the Bosc Pear & Fennel Braised Black Angus Short Ribs. 
Diners of Second Empire will quickly tell you that this fan favorite is consistently delicious with some of the best service and ambiance. If you're looking to try a new place downtown, you will want to check out this hotspot!
Saint Jacques French Cuisine
Immerse yourself in French cuisine dining at Saint Jacques French Cuisine. You will be met with friendly and impeccable service from the moment you step into this Raleigh hotspot. 
Popular favorites are the Crab Croque Madame, Rack of Lamb with sweet potato risotto, and the Beef Tenderloin (Filet De Boef Au Bordelaise).
So that you know, you need to make sure of saving some room for dessert. Everyone who goes to Saint Jacques will tell you the desserts are to die for!
You'll want to make your seat at a table here, so please be sure to plan and make a reservation, as tables at this fine dining establishment tend to fill up fast!
The Angus Barn
If you live in Raleigh, at least it would be hard to believe that you have yet to hear about this iconic Raleigh restaurant. The Angus Barn brings the concept of a traditional American Steakhouse and elevates it to the next level! 
You will find American-style cuisine, with in-house aged steaks, fresh seafood, and seasonal varieties of veggies. 
The environment at Angus Barn is just as good as its delicious plates. There are indoor and outdoor bar spaces, and the wine selection is enough to amaze any wine enthusiast with an in-house wine cellar! Are cigar lovers here? They have a cigar bar too!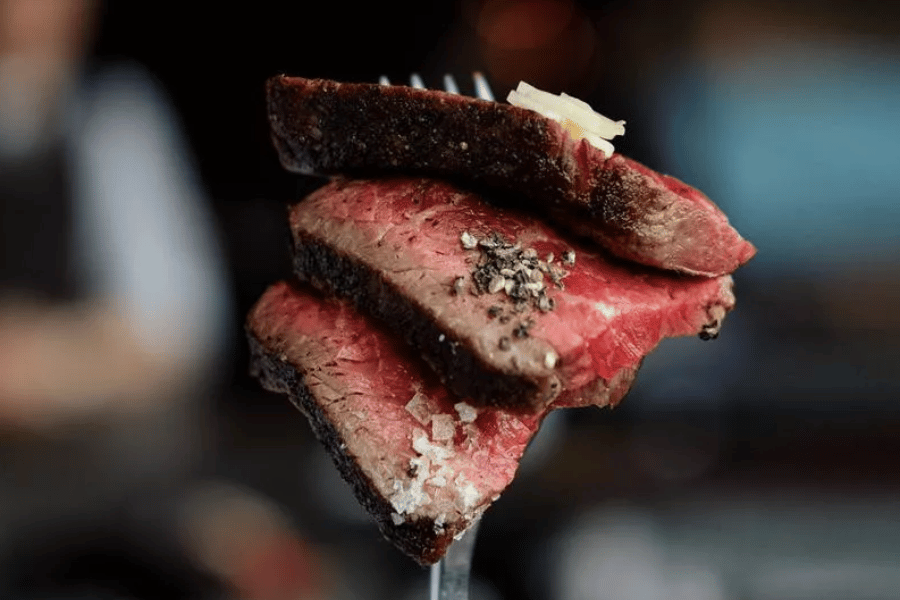 If you can wait until the holiday season, this is truly a spectacular place to enjoy a nice meal. The lighting and festive decor warms the unique and beautiful space and makes the holidays feel much more special.
Before you pay your check, try a piece of their warm chocolate pie. It's a must!
Rey's Restaurant
Even world-traveling restauranteurs will rave about Rey's. This is another stellar Raleigh hot spot for finer dining experiences. Rey's is a fine dining establishment with a French Quarter Flair. The hospitality at this restaurant is second to none, and it makes you leave feeling spoiled!
Mouthwatering appetizer items include N'awlins Crab Cakes or the Grilled Brie with fresh fruit and toast points.
For entrees, there are options for everyone! The menu is neatly organized to display options for beef, pork, and beef lovers, then another for chicken options, then another for seafood options, and last but not least for vegetarians! 
Even the entreé add-ons are to die for. Some include Danish bleu cheese, or try the fried oysters! Every side is made from scratch and shows in its presentation and flavor. 
A fun way to end your evening at Rey's is to order the bananas foster-made tableside, which will not disappoint! 
Bloomsbury Bistro
Beautifully crafted food, impeccable service, a carefully selected wine and beer list, and a quaint and relaxed atmosphere. Bloomsbury Bistro has it all! 
With an ever-changing seasonal menu, you will always be satisfied with returning to a restaurant with the same items. It keeps you wanting to come back for more. Many fear that a beautifully plated dinner would be for looks where you may sacrifice for quantity- you do not need to worry about that at Bloomsbury Bistro. The portions are generous, and not only that, the food is hard to beat.
Opened in 1995, this Raleigh neighborhood restaurant has been inviting patrons to enjoy some of the most elevated flavors and techniques, all made with fresh local ingredients.
This would also be a wonderful place to host a special event, with their three private dining rooms available. If you're looking to try a new spot to come, you should check out Bloomsbury Bistro, another Raleigh favorite.
Mandolin
Style and quiet elegance welcome you into Mandolin. This cozy restaurant offers a farm-to-table menu vibe while introducing influences from around the globe. 
Owner and head chef Sean Fowler grew up frequenting the space that Mandolin has become, formerly known as the old Johnson's pharmacy, where he remembered ordering Grilled Cheese sandwiches with limeade. 
To carry out the tradition of honoring its southern Raleigh roots, Fowler has trained at some of the best restaurants around the country and weaves the traditional southern meals into some of the carefully crafted plates of food.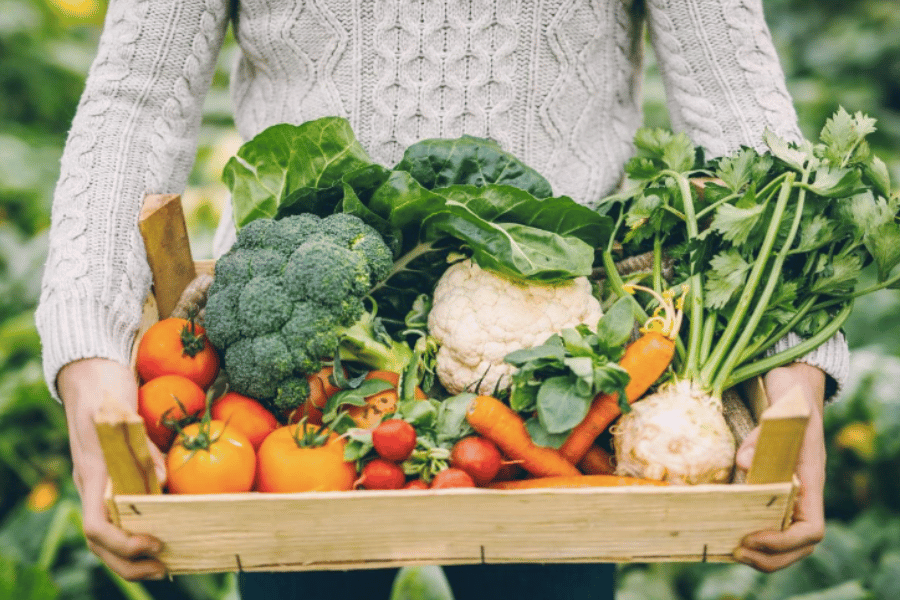 As much as he possibly can, he sources his restaurant with local farmers for their meats, vegetables, seafood, poultry, and specialty items, pouring the soul of North Carolina into the roots of his restaurant.
With this carefully thought-out work paving the way to Mandolin, you can genuinely feel the warmth and soul in this comforting and mouthwatering Raleigh eatery. If you're looking for a great meal and an overall inviting experience, check out Mandolin in Raleigh, it's a true local favorite.
Crawford and Son
Truly one of the best restaurants in downtown Raleigh. This trendy and neat eatery will warm your senses. From the moment you arrive, you will meet with hospitable hosts and waitstaff at Crawford and Son.
Their carefully crafted menu seamlessly transfers to their carefully crafted and artistically designed food. Not only is the presentation breathtaking, but the food is delicious. 
You feel well taken care of with a straightforward, concise menu, making selecting your meals almost effortless. There is something to be said about a menu that speaks to every palate. Some menu options are familiar, and some seem daring; however, you will find that the chemistry tells its customers, who come back wanting more. 
Be sure to try the Beef Tartare; if you're a meat eater, it's one of the best in town! Entreés typically rotate seasonally. However, you will notice there will always be some vegetarian options, seafood, beef, and pork or chicken. 
The dessert is worth saving some room for! The Vidiri chocolate bread pudding is nothing less than heavenly.
Fleming's Prime Steakhouse & Wine Bar
Many Raleigh foodies may argue this is the best steak in town! We're still determining who we would say is the best, but Fleming's makes it on our list for a reason! 
Great food, excellent customer service, and a welcoming atmosphere create the perfect combination for a nice night out! Right at Crabtree Valley mall, Flemings offers a wide variety of menu options for steak lovers, seafood lovers, or vegetarians. 
All classic cuts of steaks are served with their signature béarnaise, smoked chili butter, or herbed horseradish, an exquisite touch. For seafood, you will have a wide variety of options ranging from their Barbeque Scottish salmon filet to their seasonal lobster tails. Vegetarians can indulge in their in-house specialty roasted portobello and cauliflower steak. 
Enjoy browsing the wide variety of wines to pair with your meal. The options are endless, leaving no stone unturned. If you're wondering what we suggest for dessert, we're here to tell you that they are all so good. However, the chocolate gooey butter cake is out of this world and worth trying if it's your first visit. 
Death & Taxes
This local downtown favorite is small but mighty! Here you will find that though the quarters may be tight, its food sure does blow you away. The eclectic menu consistently leaves its patrons satisfied yet wanting to return for more. 
The main idea behind Death & Taxes menu is to offer its patrons wood-fired cooking with Southern-rooted menu options. 
The NC roasted oysters are a favorite starter dish for many customers. The concise entreé menu will give you several options to choose from, all with unique ingredients when married together on your plate, and will come alive through the work of head chef Ashley Christensen.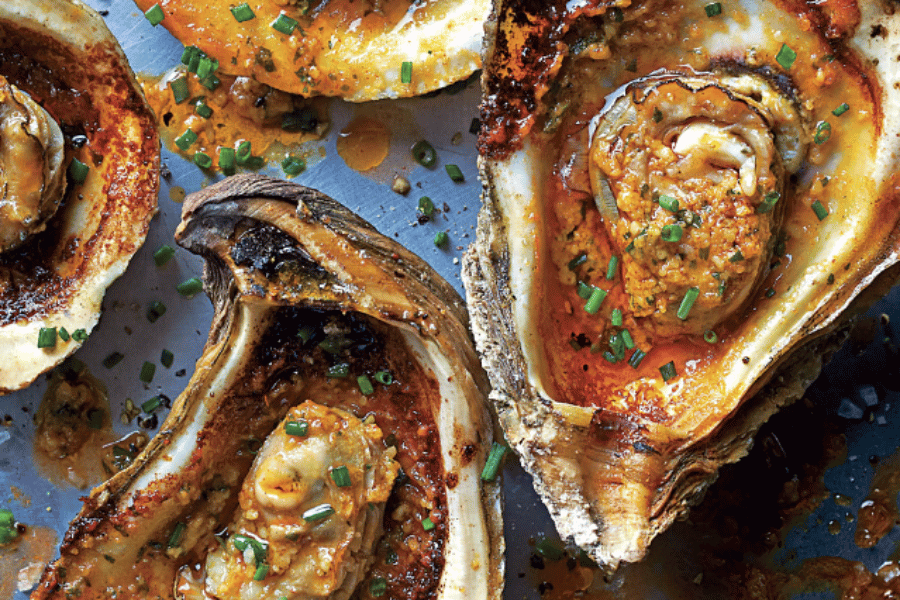 Ashley's work has been featured in Bon Appétit, Gourmet, The New York Times, Southern Living, Wallstreet Journal, and Garden & Gun, which is no surprise after tasting her work.
For a sweet treat, you will want to check their ever-changing dessert menu, each plate an actual culinary work of art. 
Margaux's Restaurant
Margaux's is easily one of Raleigh's best restaurants. Located on Creedmoor Rd, this fine dining establishment offers a collaborative fusion of French, Southern and Asian cuisine, appealing to various pallets. 
There is nothing predictable about Margaux's menu except its consistently good food. You will find the menu changes daily, but be sure that whatever is on the menu that day will be sure to satisfy your cravings.
The changing menu comes with a large selection of starters, soups, salads, steaks, fish, veal, pork, burgers, and vegetarian options. 
Check their website for prix fixe evenings to enjoy a three-course meal. 
Our gluten-free readers should be aware of their decadent dark chocolate mousse; it's an absolute must-try!
Café Tiramisu
If you're craving Italian food- Café Tiramisu should be your first stop. It is located on the Falls of Neuse Rd. This Northridge staple restaurant has been feeding patrons for over 20 years. Family-owned and operated, you will feel the warmth of this relaxing, cozy, and romantic atmosphere. 
Starting with the stuffed clams or perhaps the eggplant stacker, you will be hooked into this exquisite Italian eatery. A wide array of fresh salads will offer a great stop to cleanse your palate as you prepare for your entreé. 
Some popular entreés include gnocchi with braised short ribs with a vegetable medley of tomatoes and carrots. The chicken Farfalla piccata is another fan favorite here at Café Tiramisu. If you're looking for something more traditional, the Osso Bucco is an authentic Italian masterpiece. 
If you're thinking of trying Café Tiramisu, you will want to be sure you make reservations as space can be limited. You'll understand why once you try it!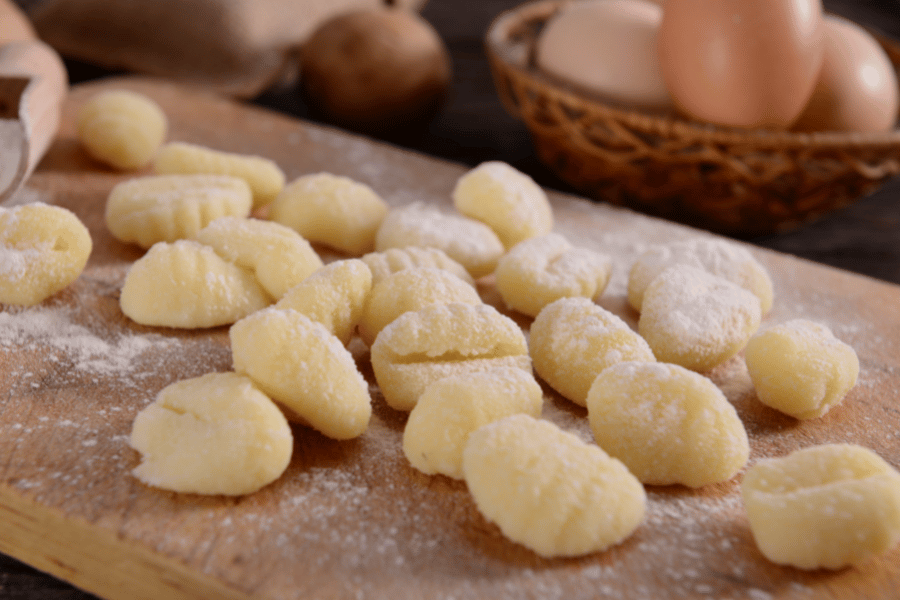 Best Fine Dining in Raleigh - Final Thoughts
We hope this list is helpful in your search for that perfect place to celebrate a special occasion. The city of Raleigh is bursting at the seams with excellent restaurants, so it can take time to decide which restaurants are best. Most of the time, when you try a place you love, you will continue to come back for more. 
Whether you live in Raleigh or are considering moving to Raleigh, you will want to keep this list handy and share it with your family and friends too! 
If you or someone you know is moving to Raleigh or buying or selling their home, have them contact us at Raleigh Realty; we would be happy to help with all of your real estate-related questions!
Check out our other local area guides: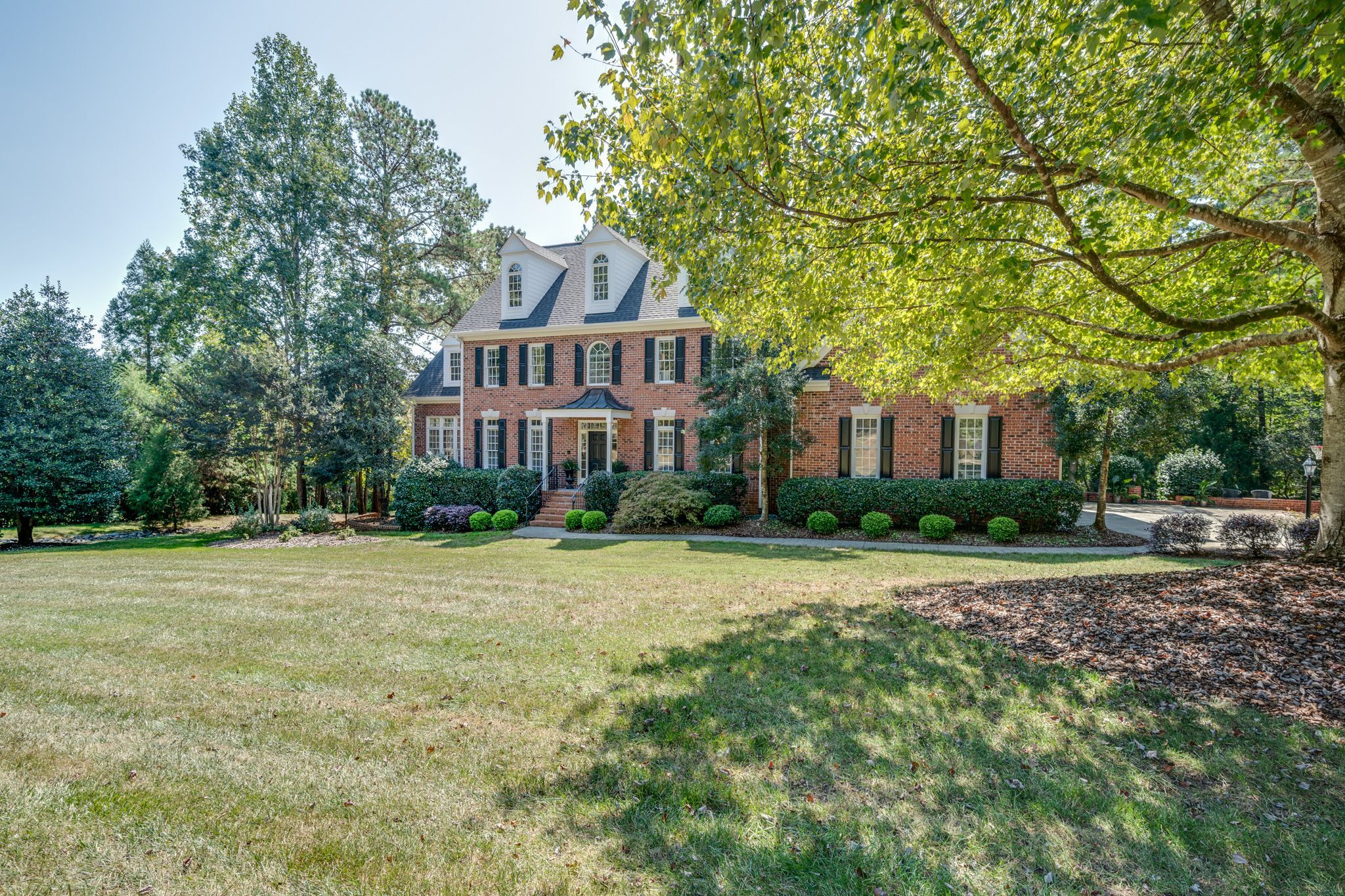 Find your new home
Search real estate and homes for sale