19 Fun Events In Cary, NC In 2023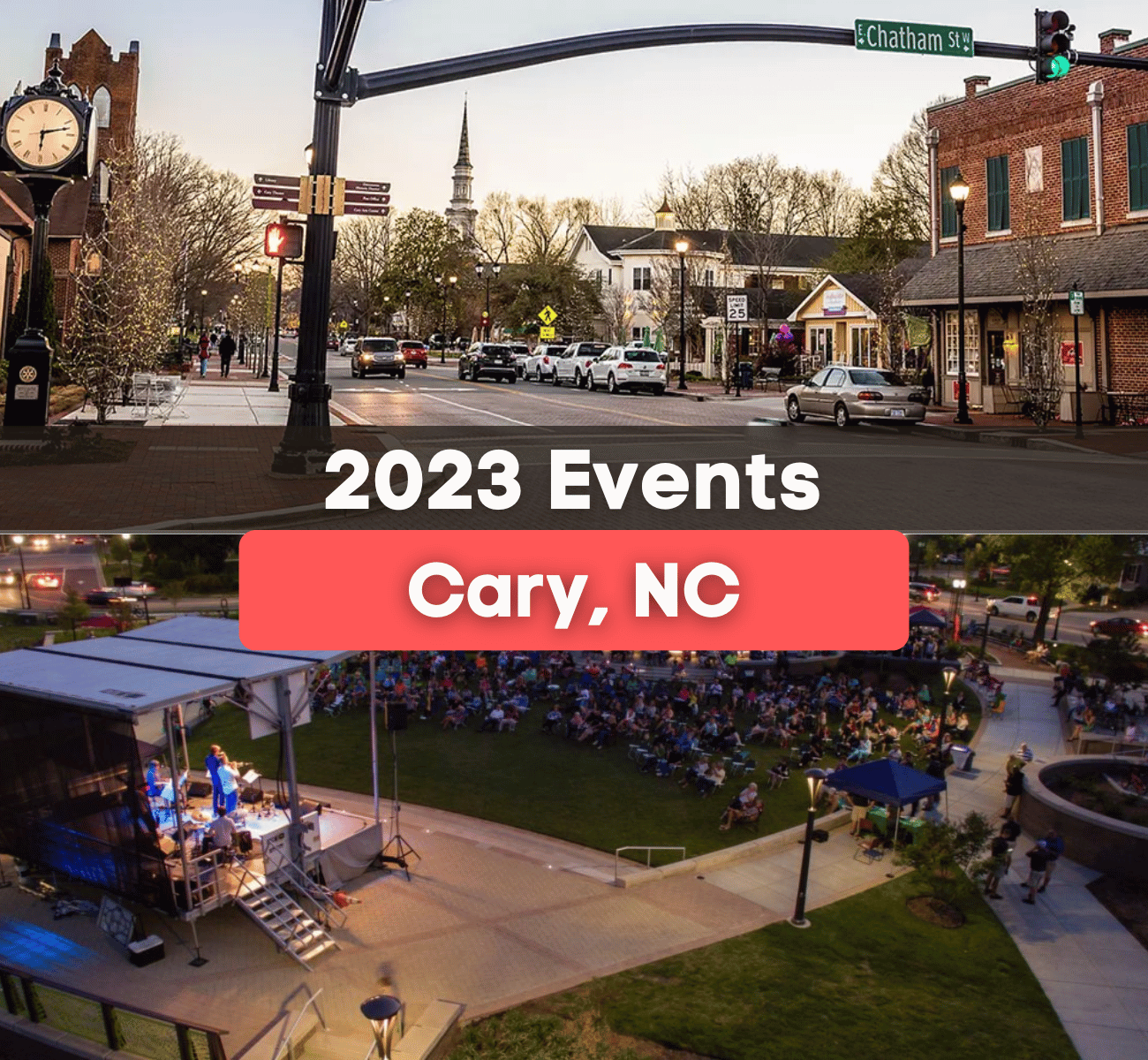 Events In Cary, NC 
Are you planning a trip or moving to Cary, NC, and looking for fun events to attend? We've got you covered! Check out some fun events happening in Cary! 
Cary, NC, is a town in Wake and Chatham counties that is part of the Raleigh-Cary, NC, Metropolitan Statistical Area. With its location, there is always a fun event going on! Whether you're cheering on Amateur and professional athletes at the WakeMed soccer park or enjoying live entertainment at Koka Booth Amphitheatre, there is something for everyone to enjoy! 
This guide recommends events in 2023 to visit and attend throughout Cary. 
So, whether you're planning on moving to Cary or looking for things to do while passing through, we've got you covered!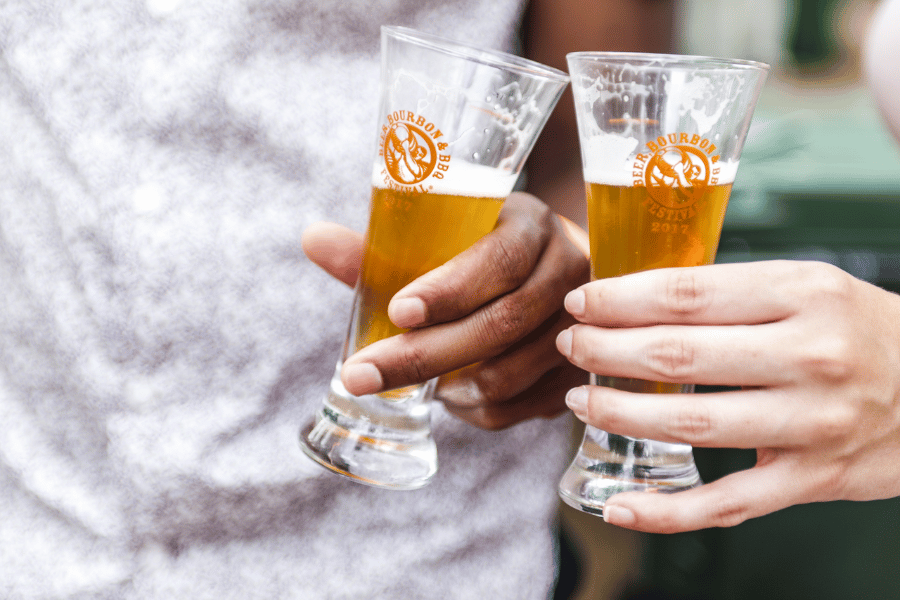 Tracy Morgan 
When: Mary 30, 2023
Who's in for a good laugh?! Tracy Morgan is one of his field's most well-respected comedians and actors. He's starred on seven seasons of NBC's Emmy and Golden glode award-winning 30 rock and "the unpredictable start of Liz Lemons' hit variety show. He received an Emmy nomination for his work in the Supporting Actor category and was nominated for the Supporting Actor NAACP image award multiple years. He can be seen in various other shows and acts and has headlined across the county and abroad on numerous tours and festivals. His stand-up comedy is a must-see and will have you dying laughing. 
Speed Dating at Fortnite Brewing 
When: February 5, 2023 
Are you still looking for a date before Valentine's Day? Fortnite Brewing has got you covered! Join Fortnite on February 5th for a fun night of speed dating and potentially meeting your person! 
Tickets must be purchased before the event and are $12. 
Fortnite brewing is a brewery in Cary that only has the vision to brew the best beverages. At Fortnite, they are dedicated to building an exceptional portfolio of beverages. They are using traditional methods to create old-school core styles to modern techniques to produce a wide range of new styles and flavors. They invest in the best ingredients, equipment, and staff to have the highest quality beverages. 
N.C. Vintage Bazaar 
When: February 25, 2023 
The North Carolina Vintage Bazaar is the biggest vintage clothing market in North Carolina! You can shop and browse through thousands of vintage t-shirts, jackets, sweaters, pants, blouses, dresses, bags, and more! The event is for women and men and has everything you're looking for from plenty of vendors! 
Early bird admissions are at 11 AM and allow you to shop before general entries are allowed in at noon. Admission is between $5 and $15, and kids under 12 are free with a parent.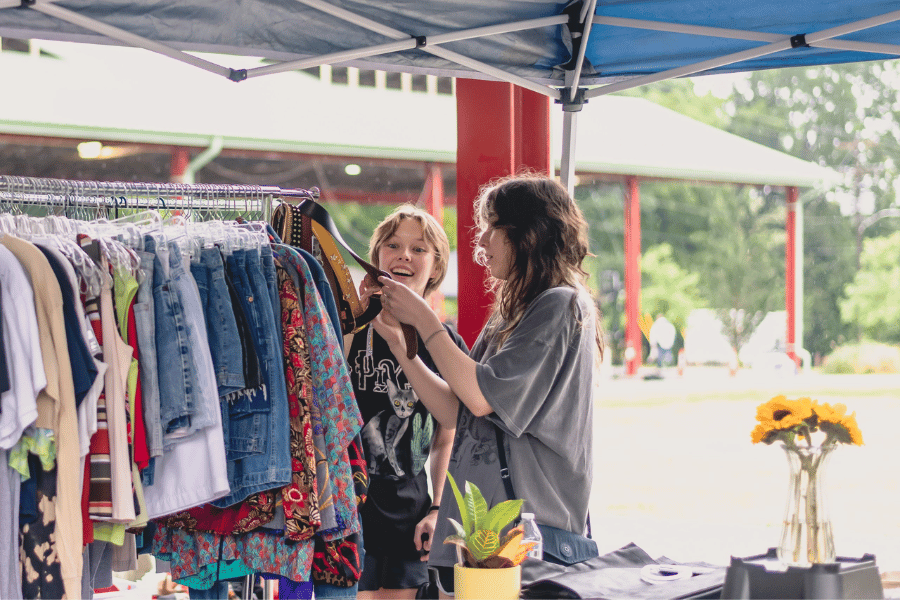 Big Easy Music Bingo 
When: Every Tuesday 
Dine and listen! Every Tuesday night from 7–9 PM, the Big Easy in Cary hosts music bingo! All you need to do to win is listen to a song and mark it on your bingo sheet! Prizes range from gift cards to t-shirts to souvenir glasses and more! 
The Big Easy Oven + Tap is a modern, southern-inspired kitchen with New Orleans influences. 
Marchtoberfest 
When: March 25, 2023 
Clouds Brewing is hosting its 6th Marchtoberfest! Entertainment includes traditional German music with the Little German Band & dancers, Irish music and dancers, anniversary beer, and more! 
It is $10 if you buy a ticket in advance and $15 at the door. Your Saturday entry ticket includes your first beer and the Marchtoberfest glass!  
Clouds Brewing is one of the most popular breweries/taprooms in Raleigh! They originally opened their downtown Raleigh location in 2014, and it has been a hit ever since. Their menu is German-inspired, with 20 brews and ten guest taps. 
They serve brunch on Saturdays and Sundays from 11 AM - 3 PM, offer many weekly specials, and even have trivia on Wednesdays! Specials include a $10 brunch bloody mary, $15 brunch mimosa carafes, 1/2 priced bottles of wine on Thursdays, and more! 
Mid-Town Square Spring Festival 
When: April 8, 2023
The Mid-Town Square Spring Festival is held at Bond Brothers Beer Company and features food trucks, local artists, live music, and brews! The festival draws in a large crowd and welcomes kids, adults, and leashed dogs.
Children's Day Festival 
When: April 2023 
Cary Children's Day Festival is centered around empowering children and focusing on the next generation. Entertainment at the Children's Day Festival includes face painting, a community corner, balloon animals, food trucks, make-and-take international crafts, and performances by children representing different cultures. 
The Children's Day Festival of Cary is co-organized by the American-Turkish Association of North Carolina and the Sister Cities Association of Cary as a gift to the community. It is made possible in part by the Lazy Daze grant, a program of the town of Cary. 
Spring Daze Arts and Crafts Festival 
When: April 29, 2023
Spring Daze Arts and Crafts Festival is a free event held at Bond Park in Cary. The event welcomes 170 local artists and embodies the importance of sustainability through an earth day celebration, encouraging an active lifestyle with outdoor sports activities. Admission is free!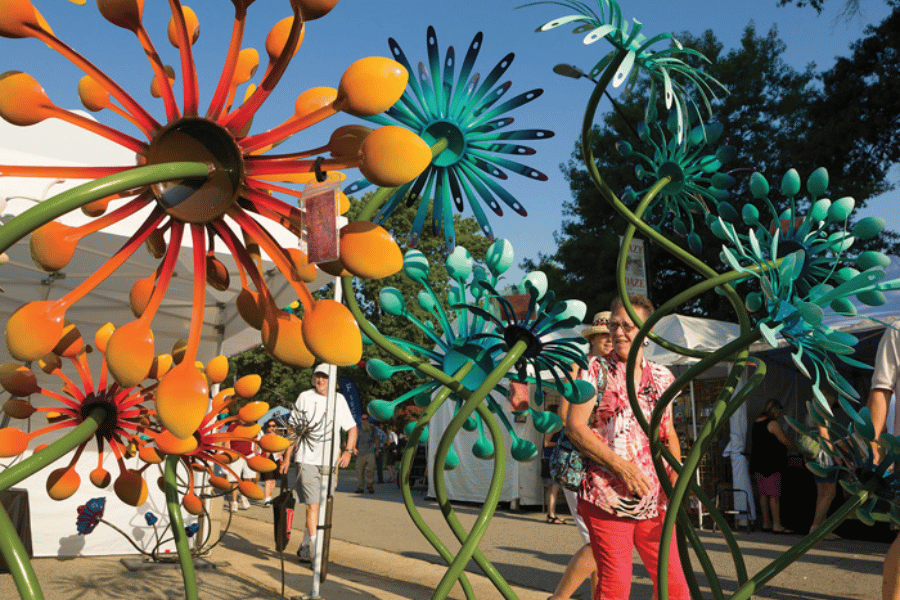 Tacos N Tapas
When: April 1, 2023 
Let's head south of the border! Cary's Tacos N Tapas at Koka Booth Amphitheatre is one of the most anticipated events! Tacos N Tapas is an all-you-care-to-taste beer and tequila festival that offers some of the best tacos and Mexcian food, dancing, music, margaritas, contests, and more! All attendees will enjoy a souvenir glass, chilled tequila & mezcal, over 10+ taco trucks, taquerias, Mexican restaurants, margaritas bars, a hot pepper eating contest, lawn games, and more! 
The $75 VIP ticket includes an exclusive tasting experience of one hour of tastings, four taco tickets, a souvenir glass, a sombrero, limited admission, and various surprises. The $39 general admission ticket includes a souvenir glass, boundless portions of 60+ beverages, and a la carte food. 
Fest in the West! 
When: May 6, 2023
Join the Western Cary community to celebrate Cary's rural past! During this festival, you will enjoy two stages of live entertainment, food trucks, a beer garden, a kid's corral with activities, a petting zoo, and more! 
Fest in the West is free and takes place at the USA Baseball National Training Center. 
Cary Dog Days and Pet Expo 
When: May 2023 
The Cary Animal Service Team hosts the Cary Dog Days and Pet Expo. The event welcomes you to bring your furry friend to play in the grassy area, enjoy food trucks, and shop for all your pet needs! The event also features local rescue organizations, live demonstrations, and pet contests.
Town of Cary's Pimento Cheese Festival 
When: June 2023
The town of Cary's Pimento Cheese Festival features dozens of food trucks that serve their regular menu and new dishes featuring pimento cheese! You can also enjoy live music, drinks from local breweries, and more! For entertainment, you may participate in the pimento cheese sculpting contest.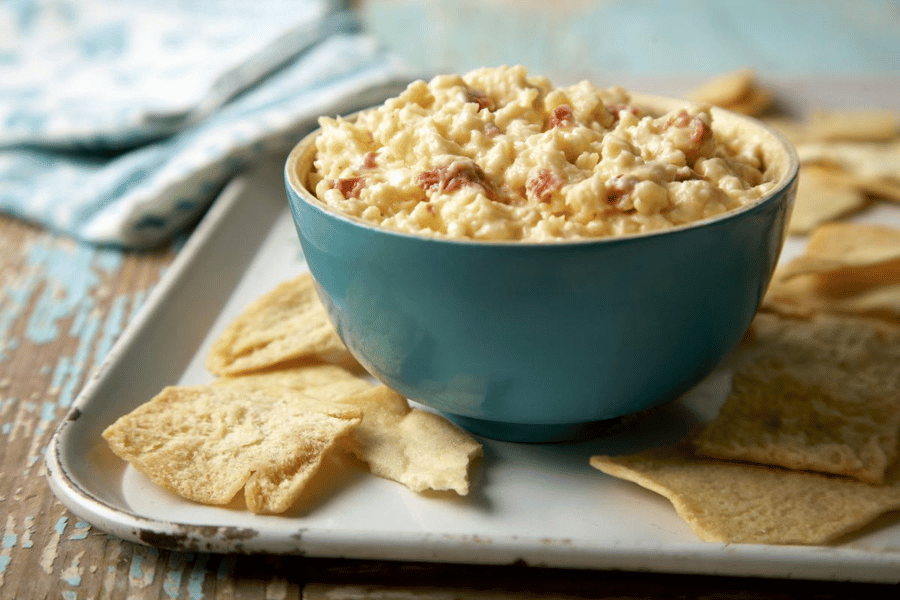 Cary Downtown Chowdown 
When: July 2023
Cary's Downtown Chowdown food truck rally is a fun day with delicious food. Here, you can taste some of the best food in the triangle, enjoy beverages from craft beer and wine vendors, relax on the lawn and listen to fantastic music.
Some vendors include Dusty Donuts, Chick-n-que, Baltic Bites, The Paddy Wagon, Crispy Gyoza, and more! 
Beer, Bourbon, and BBQ Festival 
When: August 4-5, 2023
All of the best things in one area! The Beer, Bourbon, & BBQ Festival is a two-day event at Cary's Koka Booth Amphitheater. When you buy an admissions ticket, you are also getting a souvenir sampling glass for all-you-can-taste beer and bourbon, food vouchers for pulled pork, ribs, biscuits, and more, as well as live music and entertainment. 
There is a clear bag policy.  
Lazy Daze Arts and Crafts Festival 
When: August 26-27, 2023
The Lazy Daze Arts and Crafts Festival in Cary is a two-day event featuring local artists and craft makers. Here you will find unique pieces from over 300 artists from 16 states, multiple stages of live music, a beer garden, and plenty of food trucks to fill you up! 
The festival dates back to 1977 and celebrates the "lazy daze" of summer, occurring the last weekend of August and welcoming fall. It is a free event and is enjoyable for all ages. 
Asia Fest 
When: September 16, 2023
The Asia Fest is held at Koka Booth Amphitheatre and celebrates Asian Culture with live performances, games for kids, street food vendors, and much more! Children and adults can enjoy the Dragonboat races, which are both entertaining and exciting! 
Asia Fest is free to attend and presented by Asian Focus. 
Triangle Oktoberfest 
When: September 2023 
The Triangle Oktoberfest is the largest and most authentic German Festival in North Carolina to celebrate German Culture and support charitable organizations. 
Entertainment at The Triangle Oktoberfest includes Wiener dog races, a kid-friendly area with face painting and games, Mass Krugstemmen and SchlagenHammer competitions, yodeling, and the Miss and Mr. Oktoberfest pageant! 
At Oktoberfest, you can sample 50 beers, including Hofbrau, Paulaner, Bitburger, Ayinger, Hacker Pschorr, and Spaten from Munich. There will also be traditional Bavarian food from Capital Club 16, Annelore's German Bakery, and other popular Vendors. 
Triangle Oktoberfest supports countless great causes, including health, hunger, humanity grant abroad, Alzheimer's research, leukemia & lymphoma, U.S. Veterans Corps, disaster relief, youth scholarships, exchange, and more! 
To continue supporting local charities, there is a small fee to attend. Check out their website for more details!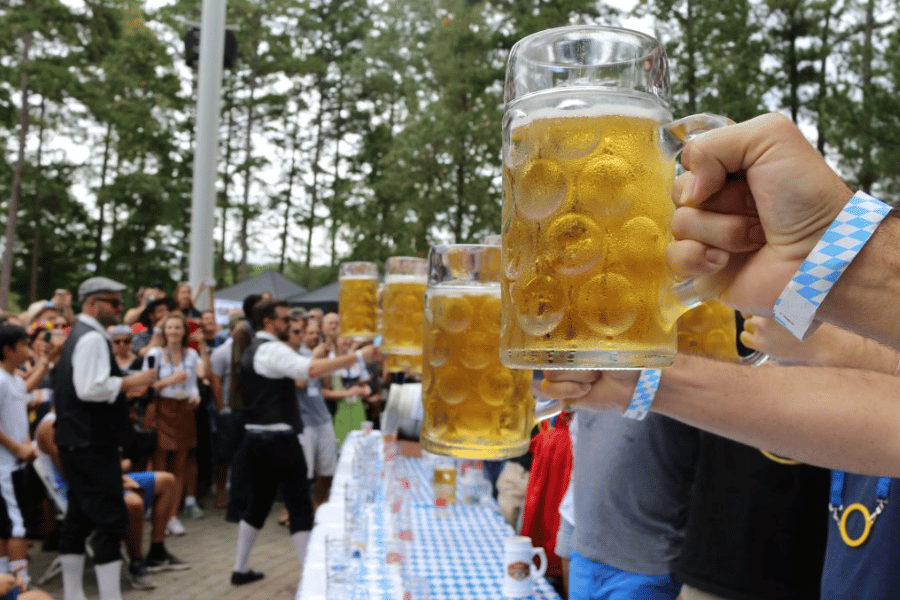 SAS Championship 
When: October 9-15, 2023
The SAS Golf Championship is a PGA Tour Championships event recognized as one of the year's most meaningful events. The championship also features a Pro-AM event, a food truck Friday, and a 5k Saturday race. 
Food truck Friday includes various delicious food trucks and live entertainment performances! 
The SAS Championship takes place at the Preston Wood Country Club and plans to exceed 5 Million dollars in charitable giving to support area youth educational incentives. 
North Carolina Chinese Lantern Festival 
When: Mid-November - Early January 2023
The North Carolina Chinese Lantern Festival is another event at Koka Booth Amphitheatre. There are hundreds of larger-than-life lanterns on display, creating a vibrant and exciting atmosphere for people of all ages. These lanterns are made up of over 15,000 LED lights and 50 unique displays. The Chinese Lantern Festival is a holiday staple, featuring live music, a children's train ride, and plenty of vendors!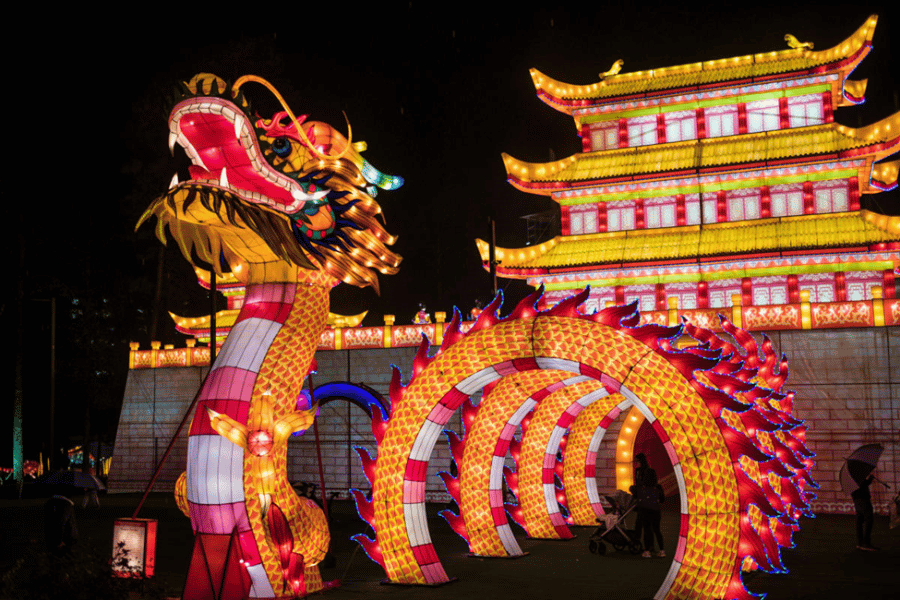 Explore Cary, NC! 
There are countless reasons why people are constantly moving to Cary, NC, whether for the fantastic weather, the area, the great schools, or the numerous events and things to do! 
The community of people that live in Cary, NC, plays a significant factor in why it's so great. The community always comes together to help, host events, raise money, and more. One of the main attractions of Cary is Koka Booth Amphitheatre. From our events guide, you can tell they host various events throughout the year, including outdoor concerts, kid-friendly activities, festivals, and more. Downtown Cary is always an excellent area for enjoying weekends and special events. They constantly host holiday celebrations, festivals, community gatherings, and more. 
As the heart of the Triangle Region, it's safe to say that Cary, NC is a uniquely special place. No matter the time of year, you will be able to find events to attend and fun things to do throughout the town. 
If you're considering moving to Cary, we'd be happy to help! Contact us or visit our website to connect with one of our phenomenal agents. 
If you found our guide to the events in Cary helpful, please share it with friends, family, and anyone you know who resides in Cary! We hope you can check out some of these fantastic events!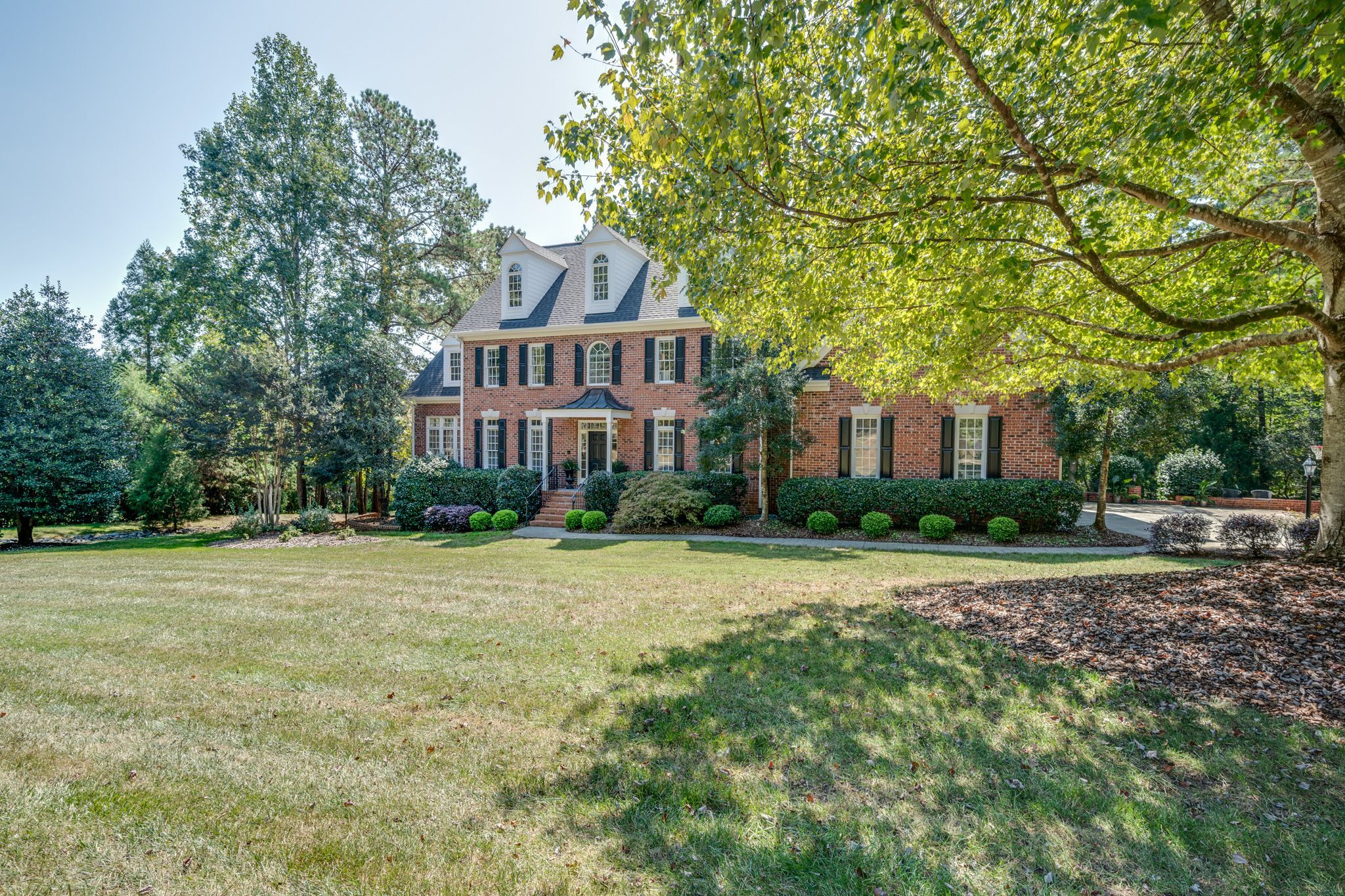 Find your new home
Search real estate and homes for sale