8 Luxury Home Buying Tips you Need to Know (INFOGRAPHIC)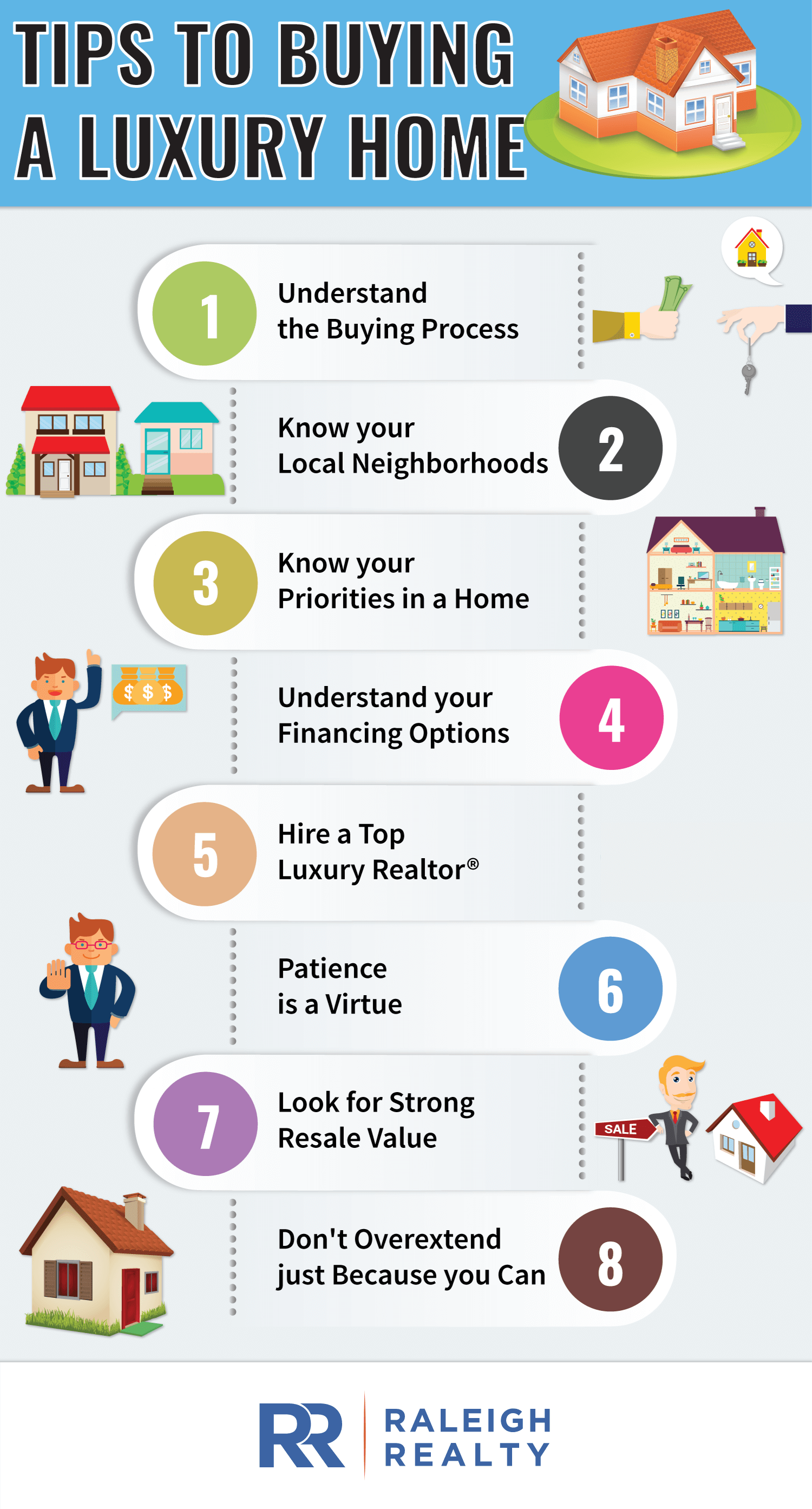 Whether you're shopping for a mansion overlooking the green on the 16th hole, waterfront home with breathtaking views, or a penthouse loft in the heart of downtown, the luxury home buying process is one you'll want to be sure to do your homework on. As a buyer shopping for high-end real estate, there are certain tips and strategies that are both similar and different to your typical home buying process. This article will give you eight tips that will help you purchase a magnificent estate at a great price, avoiding common mistakes buyers make along the way.
In this article you will learn:
How to buy a luxury home
Tips to help with the luxury buying process
Common mistakes buyers make
How high-end real estate purchases are different
Ways to avoid buyer's remorse
What to expect once your offer is accepted
How to find the perfect luxury home for sale
8 Great Luxury Home Buying Tips to Know!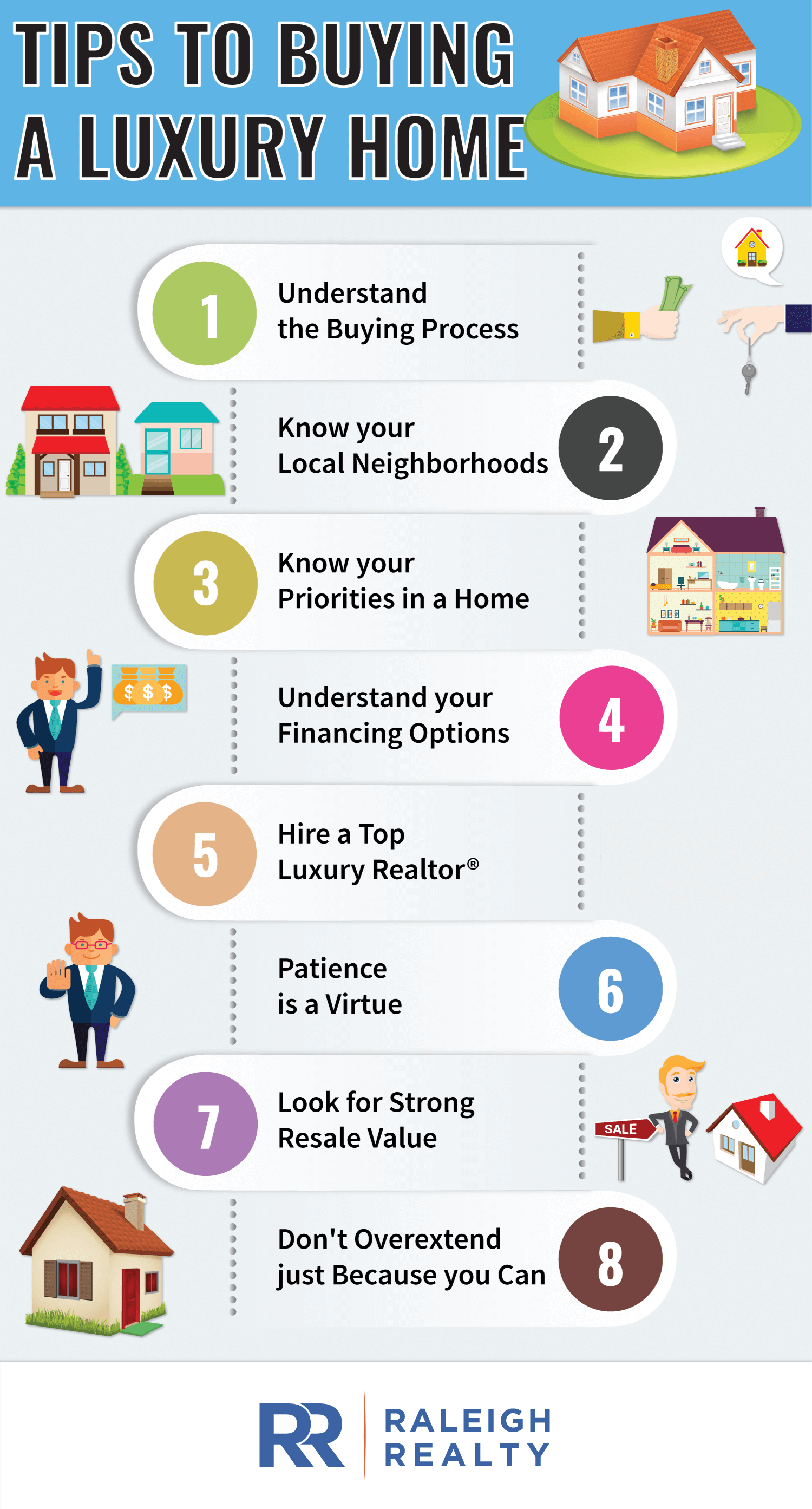 Buying a luxury home is both similar  
Understand the Real Estate Buying Process

If you're buying a mega-home it's certain to come with a high price, and all the amenities one would expect to find in an expensive home. By understanding the buying process you'll gain a better understanding of what to expect throughout the process as well as certain techniques that will help you find the perfect home. Keep in mind that when you're shopping for a luxury home that the pool of buyers you're competing against is a lot smaller which should help lead you to a great home if you can be patient.
Educating yourself before jumping into the home buying process will save you a lot of time, money, and unnecessary headaches. It will also help you find an excellent house vs. making a hasty decision and later feeling a case of buyer's remorse.
You'll want to ensure you have a clear understanding of what you're looking for in a top-end home. Discussing your priorities with your significant other will be important as you look for top-of-the-line locations and amenities for your new house. One of the most important things you can do before you begin searching is figuring out the things you want in a luxury home. Do you prefer buying new construction or an existing home?
Your Realtor® can help set the upfront expectation that having a plan before looking at all the luxury homes for sale will help you execute at a higher level when it comes time to purchase. They can also help you find great neighborhoods!

Knowing what neighborhoods you want to purchase a house in will be a part of the plan your Realtor® will help you put together. Location is the most important factor when searching for a home, and certainly an important one when you plan to spend a large amount of money on it. What type of amenities are you looking for in your location? Whether you shopping for large properties on the golf course, waterfront, or in the heart of downtown, you'll want to have an excellent understanding of area trends and future plans. There are certain neighborhood factors you'll want to consider before purchasing your house.
If you're buying an excellent waterfront property you don't want to buy the home on the beach only to learn that they are building another house that will end up blocking your view. This is something you need to be careful of when searching for luxury homes because your resale opportunity would be hurt. You want to play far more defense than offense when looking at luxury homes for sale, and what I mean by defense, is protecting your investment.
Here in Raleigh, North Carolina when we work with affluent buyers searching luxury homes for sale we first find great neighborhoods. Neighborhoods in Cary, Apex, and Holly Springs offer great top-of-the-line real estate options. In Raleigh, you'll find great penthouse condos in the heart of downtown, historic mansions in the Glenwood area and Oakwood district of downtown Raleigh, as well as incredible country club homes.
By understanding the local trends in the neighborhood, the future plans for that location, and the type of local amenities you're searching for, you will have a much better understanding of what location is best for your luxury home.

It's common for mansions to include top of the line amenities such as:
Incredible location
Breathtaking views
Movie Theaters/Entertainment rooms
Home Gym
Land and privacy
Great entertaining features 
Top of the line safety and security
'Intelligent' home appliances
The best quality homes
Great backyards
Knowing your priorities in a luxury home will help you find an estate you will love! There is often different interests for luxury buyers that lead to different sets of priorities. If I was buying luxury real estate here in Raleigh I would want a great home gym, a basketball court, and an awesome backyard with a great patio and pool. Maybe someone else wants a movie theatre, a wine cellar, and heated floors. What would you want in yours? Surely there will be differences.
There are some amenities buyers will splurge on. This is why it's important to have a clear list of amenities that are priorities for you and whoever you're living with. By understanding exactly what you're looking for in terms of amenities and what you'd be willing to give up will make the process a lot easier. You also won't be confused when it comes time to pull the trigger. You want to be 100% confident when you find the perfect place and find one that matches your top priorities.
If you don't know what your favorite amenities are or don't have a good understanding of what your significant other likes it will lead to confusion. Confusion leads to a higher chance of poor decision making. So do emotions. When buying luxury real estate make sure you have a clear understanding of what you're looking for. Try your best to keep your emotions at bay as you don't want them to cloud your decision-making process.
This is the same in real estate. Confusion leads to cloudy decision-making. By knowing the amenities you want in a home and having a proper plan ahead of time you will avoid this confusion. In my market here in Raleigh, there are plenty of nice homes at affordable prices. A lot of people moving down from the north see these prices and don't realize they're buying high-end real estate. 

Knowing what you qualify for is a big part of buying a luxury home. Don't assume that you qualify for a multimillion-dollar estate because a high percentage of people don't. In line with a tip we discuss later on is to be frugal as well. Are you going to put down 20% on your home when there are so many other types of loans available to you? Find out what you're comfortable with in terms of financing and stick to it.
Your mortgage lender will go over with you the best options for financing your luxury home. Doing your homework on lenders and shopping around for the best deals makes a lot of sense especially when a fraction of a point will equal tens of thousands of dollars over the course of a mortgage loan.
Hire a Top Luxury Realtor®

When you're ready to begin your search for a luxury home you'll want to find a Realtor® who has experience with high-priced real estate and a good understanding of the neighborhood you're interested in specifically. Hiring a strong Realtor® will help you immensely. They will provide you with the most recent trends and help you through the entire luxury home buying process. They can help you find problems with the house you may not have otherwise discovered and since they are seeing homes all the time they will have a great understanding of what a good deal looks like.
A great Realtor® will ensure you stay within your budget and execute according to the plan you developed. Should you start looking outside your budget into a higher price range you want the type of Real Estate Agent who will bring you back to your initial goals. Working with Real Estate Agents is something you want to do when buying expensive real estate.
Patience is a Virtue When Buying Real Estate

When you're buying a high-end estate it's important you exercise patience. You don't want to make a hasty decision especially when there is a large financial obligation on your part. You want to make sure you've done your homework, executed the plan you developed, and that you find the perfect spot. Don't be afraid to miss one or two good ones because that will only allow you to understand exactly what is selling and what isn't. It also gives you the opportunity to learn what you truly want.
A lot of times buyers can get caught up with wanting the property that someone else bought before they did and dwell on it. Don't do this. Learn from it. What is it about that home you liked? Is it possible you can find a better one? 
We were working with a client earlier this year who was searching for luxury homes in Holly Springs. She found the home she was looking for and we scheduled a time later in the day to go see it. An hour later the home was under contract before we could go to see it. We continued with our scheduled appointment to see the high-end estate and my client picked out everything she liked and didn't like. After trying several more times my client began to lose hope that she wouldn't find another one like the one she didn't have the opportunity to buy. Until a couple of months later when together we found exactly what she was looking for, even better than the one she had previously seen!
Look for Strong Resale Value

When you're shopping for luxury real estate you'll want to be sure what you buy has a strong resale value. This goes with any home you purchase not just luxury real estate. You want to ensure that what you pay for the home is something you can easily recover should you have the need to sell the home. Location and condition are two factors that help determine what will make for strong value. Buying a home in a great location is key to ensuring your home keeps its value.
Your local Real Estate Agent will be able to help you determine what is a strong option in terms of resale value by analyzing the neighborhood numbers with you. For instance, here in Raleigh, we found a home for a client that was at a lower price than a similar home only a few houses away. The city-wide numbers in Raleigh were up 12% from when this home sold. Making it a great candidate for strong resale value.
Don't Overextend just Because you Can

If you qualify for up to a 2.5 million dollar house, we don't advise you to go shop for a home worth the same amount. You will want to have a plan in case something goes wrong. Maybe your company goes under and you lose a salary, are you going to be ok in that scenario? Remember, the pool of buyers in the high-end real estate market is a lot smaller than a home most people can afford.
Ensuring you stay within a budget that makes sense is something your Realtor® should be able to help you with. The expectation was set from the beginning that you were looking for a home within a certain price range. A trustworthy Realtor® who's looking out for your best interests, and not their own financial statements, is going to help you follow through on the plan you developed early on.
Final Thoughts on Buying Luxury Real Estate:
Luxury Homes in Raleigh NC are only available to a small percentage of Americans because of the high price point. For those who can you want to take the necessary measures to ensure the property you buy is the right one. Educating yourself on the high-end real estate buying process, understanding the local neighborhood trends, and knowing exactly what you're looking for is going to help you find the best luxury estate possible.
When you're ready to buy pay attention to more than just the location. Forbes shares a great article on 10 things luxury home buyers should look for in high-end real estate.
Let us know what you think of our luxury home buying tips in the comments section below!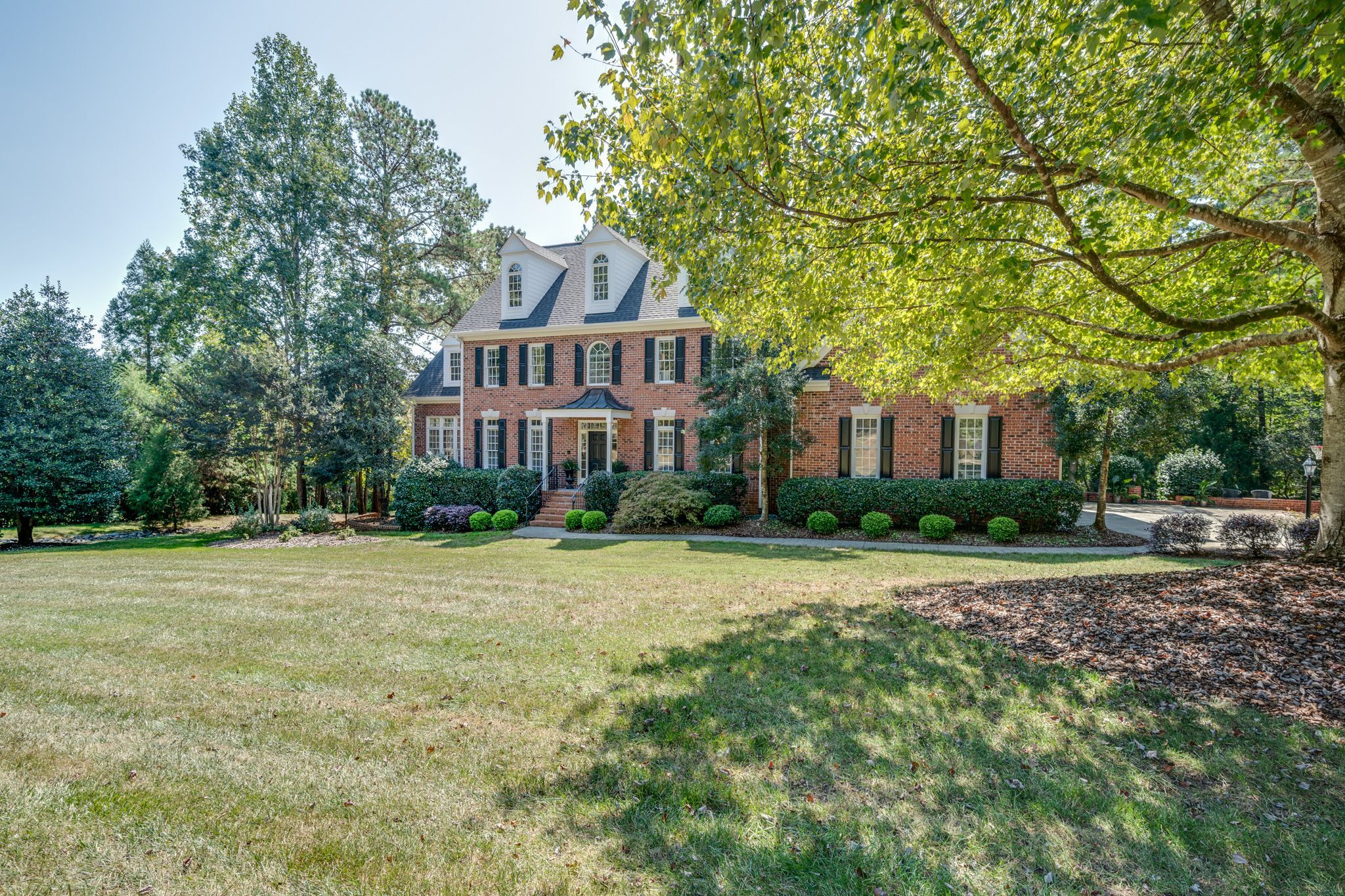 Find your new home
Search real estate and homes for sale