5 Things to Know BEFORE Moving to Louisburg, NC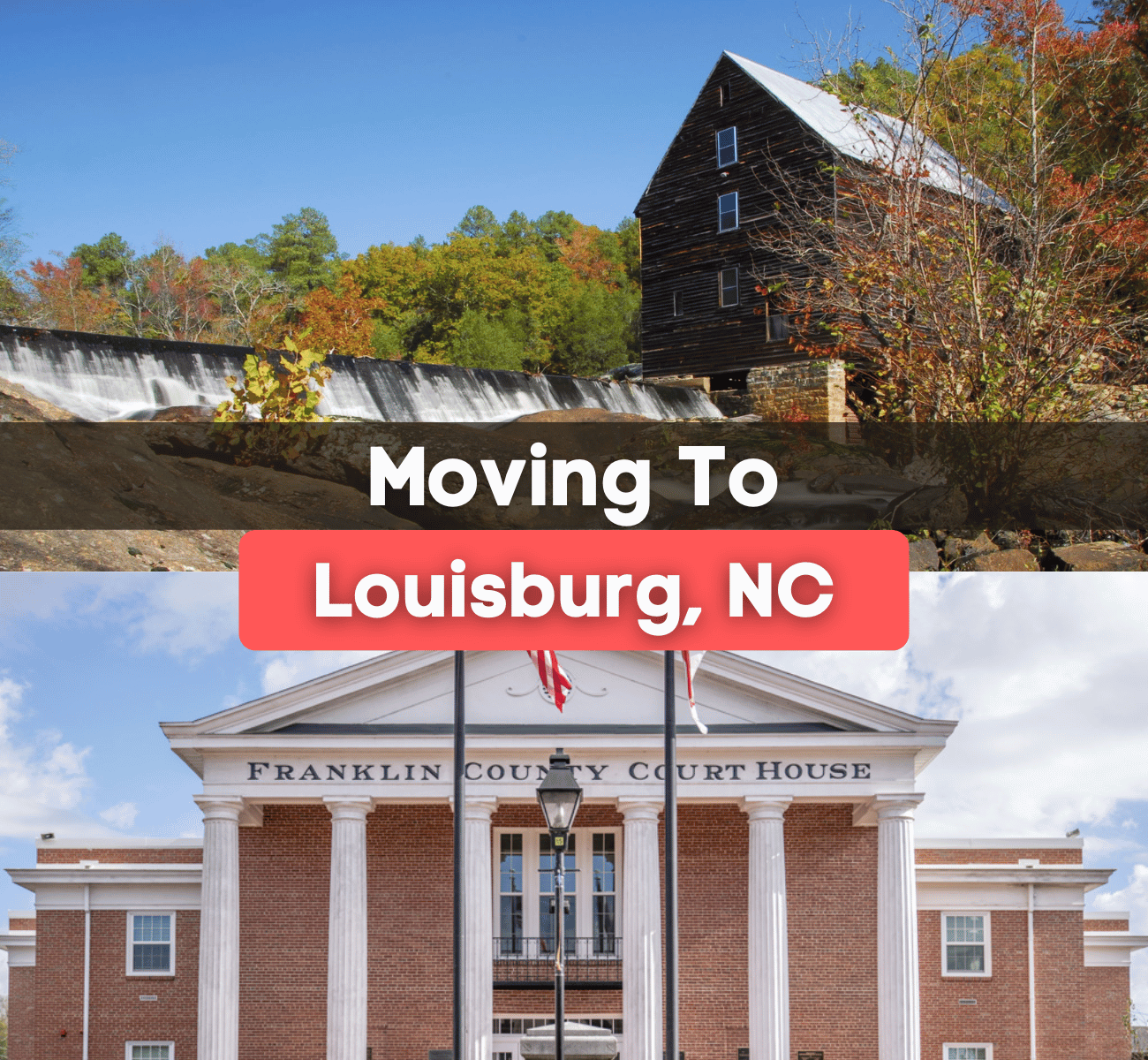 Living in Louisburg, NC 
Are you considering moving to Louisburg, NC? Please stick with us while we further discuss the history, education, cost of living, and more! 
Louisburg is a town in the heart of the North Carolina Piedmont Region. The city offers a small southern town & charming feel to all residents and visitors alike. The city is a part of Franklin County, which also encompasses Youngsville, Angier, Franklinton, Bunn, and more! Living here, you can enjoy a peaceful and quiet community with access to bigger cities like Raleigh, Durham, and Chapel Hill without the more considerable city cost. Due to the proximity to Research Triangle Park, Louisburg also has various employment opportunities and easy highway access if you need to commute. 
Louisburg, NC, is located less than 40 miles from the state capital, Raleigh, Durham, Chapel Hill, Research Triangle Park, and 40 miles south of the Virginia border. Franklin Counties' main attractions include major league hockey and minor league baseball, art, science, history museums, The North Carolina Symphony, the American Dance Festival, Broadway touring performances, outdoor recreation, fine dining, and shopping.
Louisburg is a safe place to live with something for everyone to enjoy. So, if you're interested in moving to Louisburg, follow along! In this guide, we're going to discuss the history of Louisburg, the cost of living, education in the area, things to do, and much more! 
Keep reading to learn about what life is like in Louisburg, NC!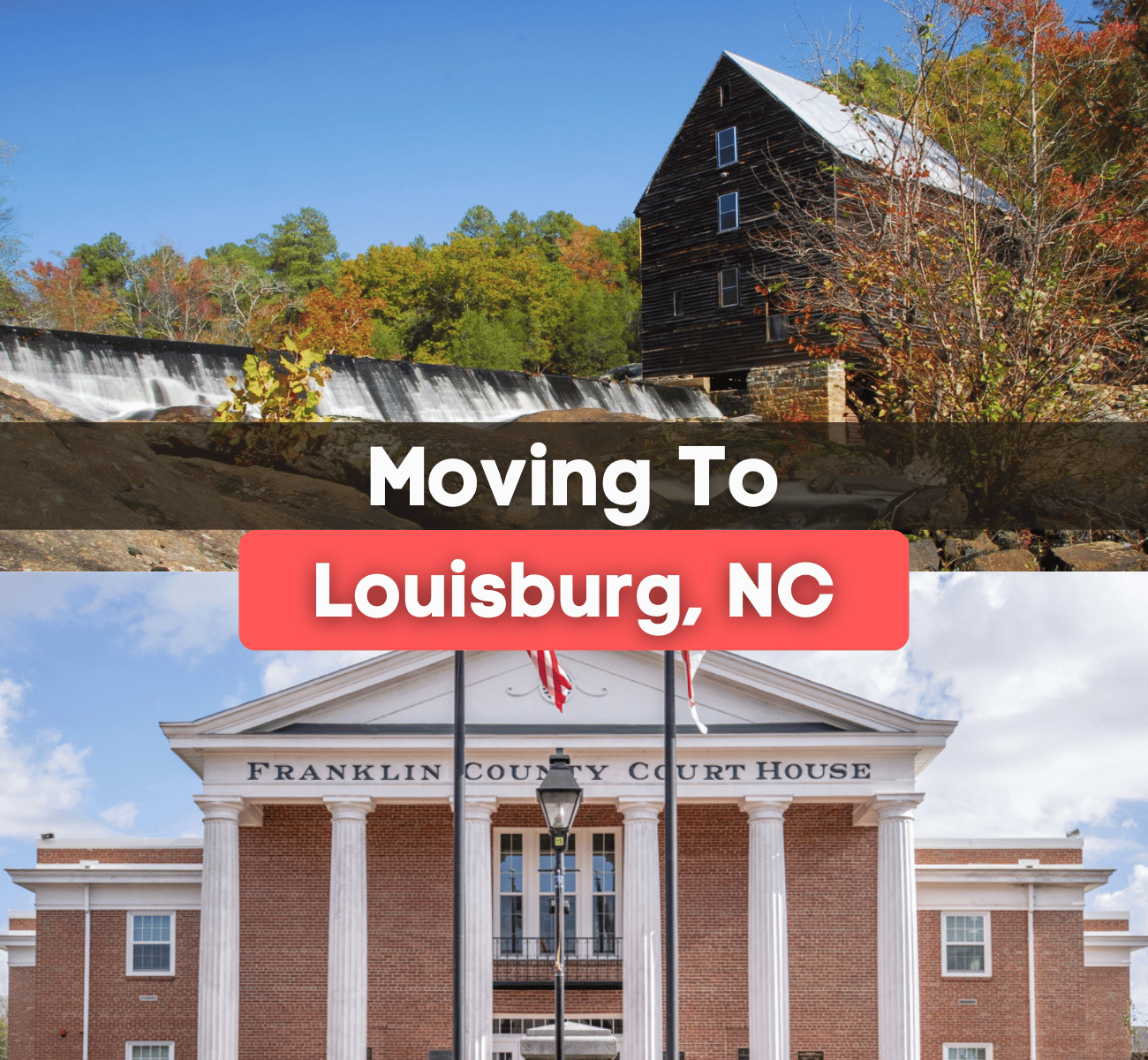 History 
Louisburg, NC, is a charming small town in the heart of the North Carolina Piedmont Region. Being located in the center of the county, Louisburg became the county seat of Franklin County. Living in Louisburg and being close to other major cities/towns, you can access some of the best healthcare, academic, cultural, and entertainment resources in North Carolina. 
Louisburg was chartered in 1779 and created amid the American Revolution. It is nestled on the banks of the Tar River, and the county was named in honor of Benjamin Franklin. During that time, Benjamin Franklin was serving as foreign minister to France. During his negotiations with France, he helped secure financial and military support that eventually led to the independence of the United States. With the U.S. - France alliance, the town of Louisburg was ultimately named in honor of King Louis XVI of France. 
Shortly after the establishment, Louisburg became the hub for business, activity, and agri-busuiness in Franklin County, including cash crops such as cotton, wheat, and tobacco. At the same time, merchants, doctors, attorneys, and artisans began inhabiting the area, which led to the influx of wealthy families. 
Today, Louisburg is a quant and beautiful town that offers many amenities, from municipal services to two beautiful riverfront parks. 
Prominent Historical Places and Persons of Louisburg include: 
Franklin Male Academy
Louisburg Female Academy 
Green Hill Place
The Person's Place 
Thomas K. Bickett
Edwin Wiley Fuller 
John Williamson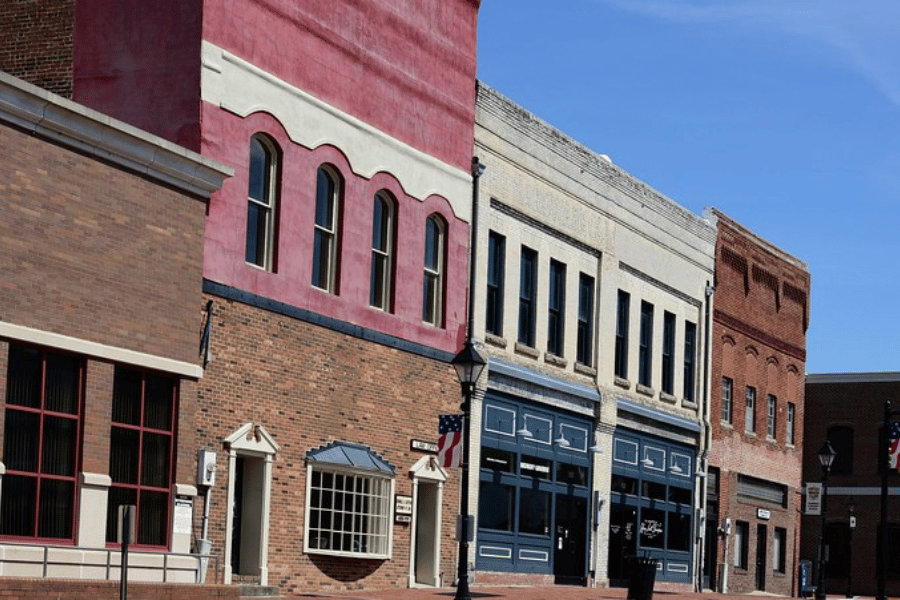 Franklin Academy was the first educational institution on the east side of the town commons. It was opened on January 1, 1805, under the direction of Yale Graduate Matthew Dickinson, who was qualified to teach over 20 subjects. After its early years, Franklin Male Academy had ninety students who were dissatisfied with the policies of the University of North Carolina. In 1905, the Franklin Male Academy was conveyed to the trustees of the Louisburg Public Schools, and the building still stands today. 
Housing & Cost Of Living 
Louisburg, NC, has an overall low cost of living. The cost of living is 18% lower than the national average, housing expenses are 45% lower than the national average, and utility prices are 1% higher than the national average. PayScale says grocery prices are 9% lower than the national average, and healthcare is 3% higher than the national average. The total cost of housing, food, childcare, transportation, health care, taxes, and other necessities for a single adult in Louisburg is approximately $38,700. 
Louisburg's median home value is $155,200, less than the national median home value. Renting can often be the lower-cost alternative. In Louisburg, around 15% of occupied homes are renters, and renters typically spend about $615 a month on housing, which is greater than the national median monthly rent of $1,023. The median household income is $29,941.
Healthcare in Louisburg for a single adult comes out to be around $5,716 per year. Compared to the North Carolina average of $6,101, you can see that Louisburg expenses are relatively lower. 
From the currently available homes in Louisburg, the median list price is $374,349, averaging $192 per square foot. The houses in the area spend an average of 86 days on the market. 
The most popular and well-known neighborhood in Louisburg is Lake Royale. This new home community offers residents access to a 345-acre lake, an 18-hole golf course, a community swimming pool, tennis and basketball courts, a lakeside clubhouse, boat launches, an open-air pavilion, wooded areas, and more. Within the community, more than 600 permanent residents span over 6000 residential, camping, and golf lots. The homes in Lake Royale range from $50,000 to over $800,000, with square footage ranging from 1,400-5,000 square feet. Available homes are single-family, cabins, campers, and trailer lots. One of the reasons Lake Royale is so popular is due to the 3,000 acres that are surrounded by the lake. Cyprus creek and various springs feed into the lake itself.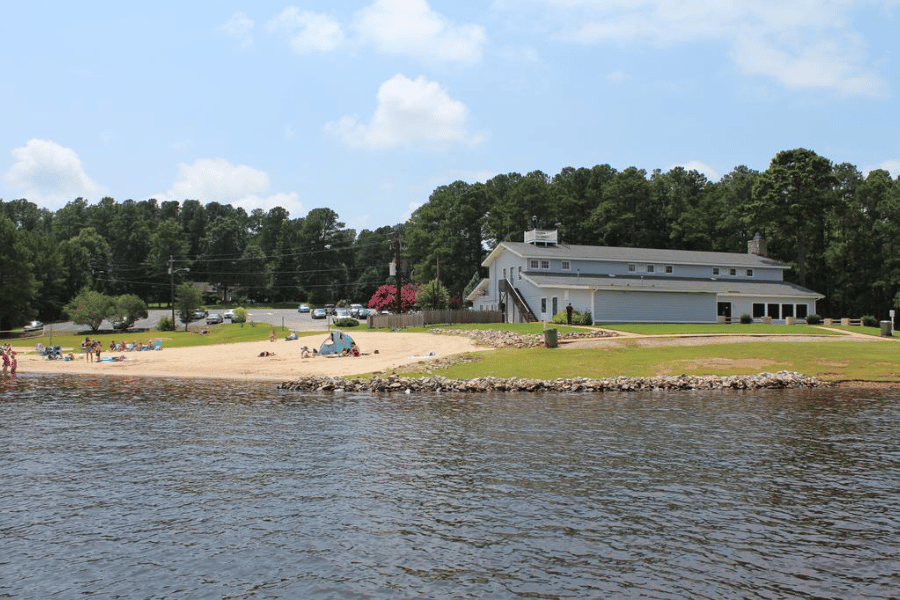 Education 
In Louisburg, there are currently eight public schools that serve 3,121 students, with one private school that serves 21 private students. 99% of all students in Louisburg are educated in public schools compared to the state average of 93%. Additionally, Louisburg has one of the highest concentrations of top-ranked public schools in North Carolina. 
To determine the top schools, Louisburg's testing rank is based on the school's combined math and reading proficiency test score taking. The public schools in Louisburg have an average math proficiency score of 32% and a reading proficiency score of 39%. The state average for math is 42%, and the state average for reading is 46%. 
The top-ranked school in Louisburg are: 
Franklin County Early College High school 
Louisburg High School
Edward Best Elementary School 
The mission of Franklin County Early College High School is to provide small learning communities to prepare students for academic rigor and relevant coursework to build school and community relationships embracing 21st-century skills. The goal is to ensure each student completes a high school diploma and a two-year degree or transferable college credits in five years or less. To improve high school graduation, college attendance, and completion rates. To integrate students into college culture at the high school level. 
For those moving to Louisburg in search of higher-education opportunities, one college and one community college are located in the area. Louisburg college brings a lot of young adults and professionals to the area. The college has been open since 1787 and is the oldest two-year college in the nation. The philosophy at Louisburg College is "students first," and they strongly believe in having a supportive, opportunity-driven educational institution committed to nurturing young men and women inside and outside the classroom. Vance-Granville Community College Franklin Campus offers more than 40 programs to earn an associate degree.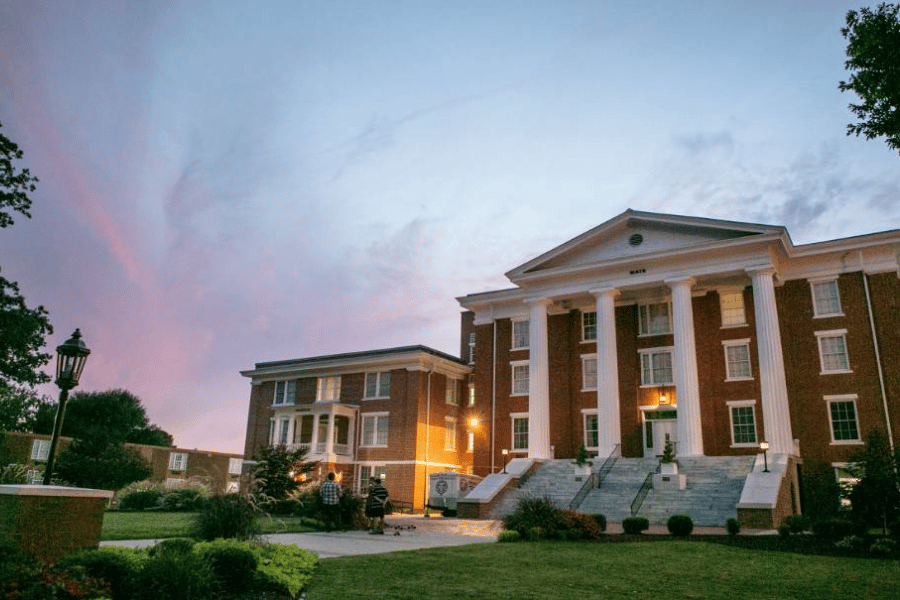 Community 
Residents of Louisburg enjoy the relaxed character of the small town while having quick access to primary city resources. The town is only a 25-minute drive to Raleigh, a 40-minute drive to Durham, and a 50-minute drive to Chapel Hill. Within the community, residents have access to entertainment, recreation, shopping, dining, community events, and more! 
The town of Louisburg has two specific Historic Districts in the city. The first District is known today as the "National Register District." This District was established in the late 1980s due to an inventory of structures to be listed in the National Register of Historic Places. A line was formed around the areas and facilities where the National Register Homes were located, thus becoming the National Register District. 
The Second District is the Louisburg Historic District which the Louisburg Town Council established after the review and recommendation of both the Historic Preservation Commission and the NC State Historic Preservation Office. The Louisburg Historic District is, in essence, a zoning layer applied to specifically delineated areas of town. The District is located in the heart of the residential District North of the Tar River.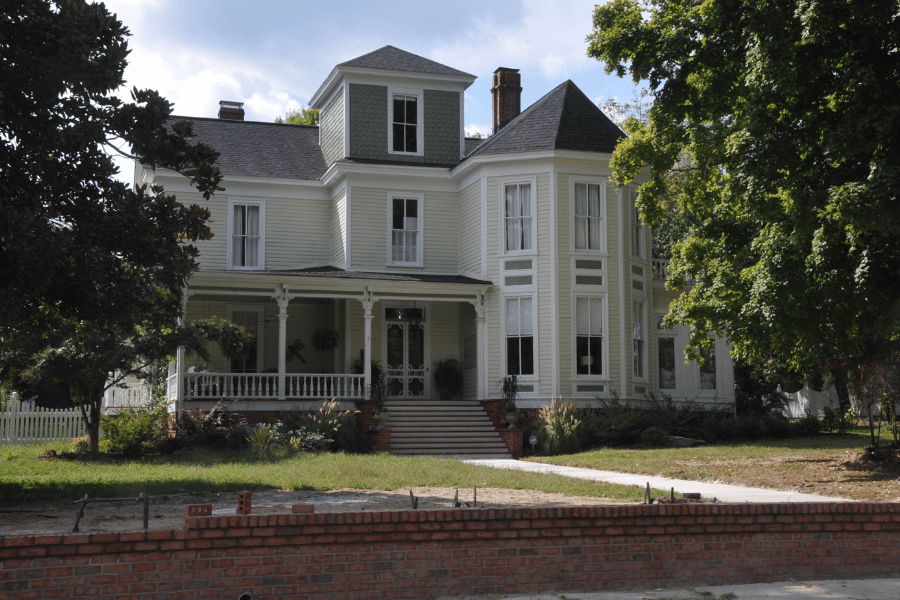 Safety 
The crime rate in Louisburg is relatively high. Your chances of becoming a victim of either violent or property crime in Louisburg is one in 21, meaning 89% of cities in North Carolina have a lower crime rate than Louisburg. With roughly 3,000, Louisburg's crime rate is very high compared to other places of similar population size. 
Looking at just violence, the crime rate in Louisburg is one of the highest in the nation across communities of all sizes (large and small). Your chance of becoming a victim of rape, murder, non-negligent manslaughter, armed robbery, and aggravated assault is one in 102. 
Your chance of becoming a victim of property crime in Louisburg is one in 26, which is a rate of 39 per one thousand. Property crimes include burglary, larceny, motor vehicle theft, and arson. 
Violent Crimes:
| | | | | |
| --- | --- | --- | --- | --- |
|   | Murder | Rape | Robbery | Assault |
| Report total  | 0  | 1 | 4 | 25 |
| Rate per 1,000 | 0,00 | 0,33 | 1,31 | 8.16 |
Louisburg Annual Crimes:
| | | | |
| --- | --- | --- | --- |
|   | Violent | Property | Total |
| Number of Crimes | 30 | 117 | 147 |
| Crime rate per 1,000 | 9,79 | 38.19 | 47.98 |
Weather 
The weather in Louisburg is similar to the rest of North Carolina. The summers are hot and humid, while the winters are short and cold. The temperature typically varies from 32 degrees Fahrenheit to 88 degrees Fahrenheit and is rarely below 19 degrees or above 94 degrees. 
The best time of year to visit Louisburg for warm-weather activities is from early May to late June and mid-august to mid-October. 
The hot seasons in Louisburg last for roughly 3.6 months, from May 29 to September 15, with the average daily high being 81 degrees Fahrenheit. The hottest month of the year is July, with an average high of 8 degrees Fahrenheit and a low of 69. 
The colder seasons last for roughly 2.9 months, from December 1st to February 28th, with an average daily high of below 59 degrees. January is the coldest month of the year, with an average low of 33 degrees and a high of 51 degrees. 
Moving to Louisburg - Final Thoughts 
Living in Louisburg has its perks. You can enjoy a peaceful, relaxing, and welcoming community while conveniently accessing bigger cities. There are things to do that everyone can enjoy! The downtown area of Louisburg is the heart of the community. Downtown allows citizens to enjoy cultural and entertainment events allowing folks with different experiences and backgrounds to come together. The central point of Franklin County and Louisburg is where everyone can meet and enjoy neighborly interactions. Since Louisburg is the county seat, the town has so much history and pride. 
Whether you choose to move to Louisburg for the weather, affordable housing, or education, you will feel welcome in the area and enjoy your time as a resident. You can enjoy the beautiful homes and amenities of Lake Royale or live in one of their various smaller communities! So, if you're looking for real estate in the area, feel free to contact us or visit our website for more information. Let us know if you'd like to be connected with an agent!
If you found our guide to Louisburg useful, share it with friends & family, or leave us a comment! We are ready to help you with your home search and answer any questions you might have. 
Be sure to check out some of our other local area guides, including the best neighborhoods in Louisburg, moving to Angier, and moving to Fayetteville!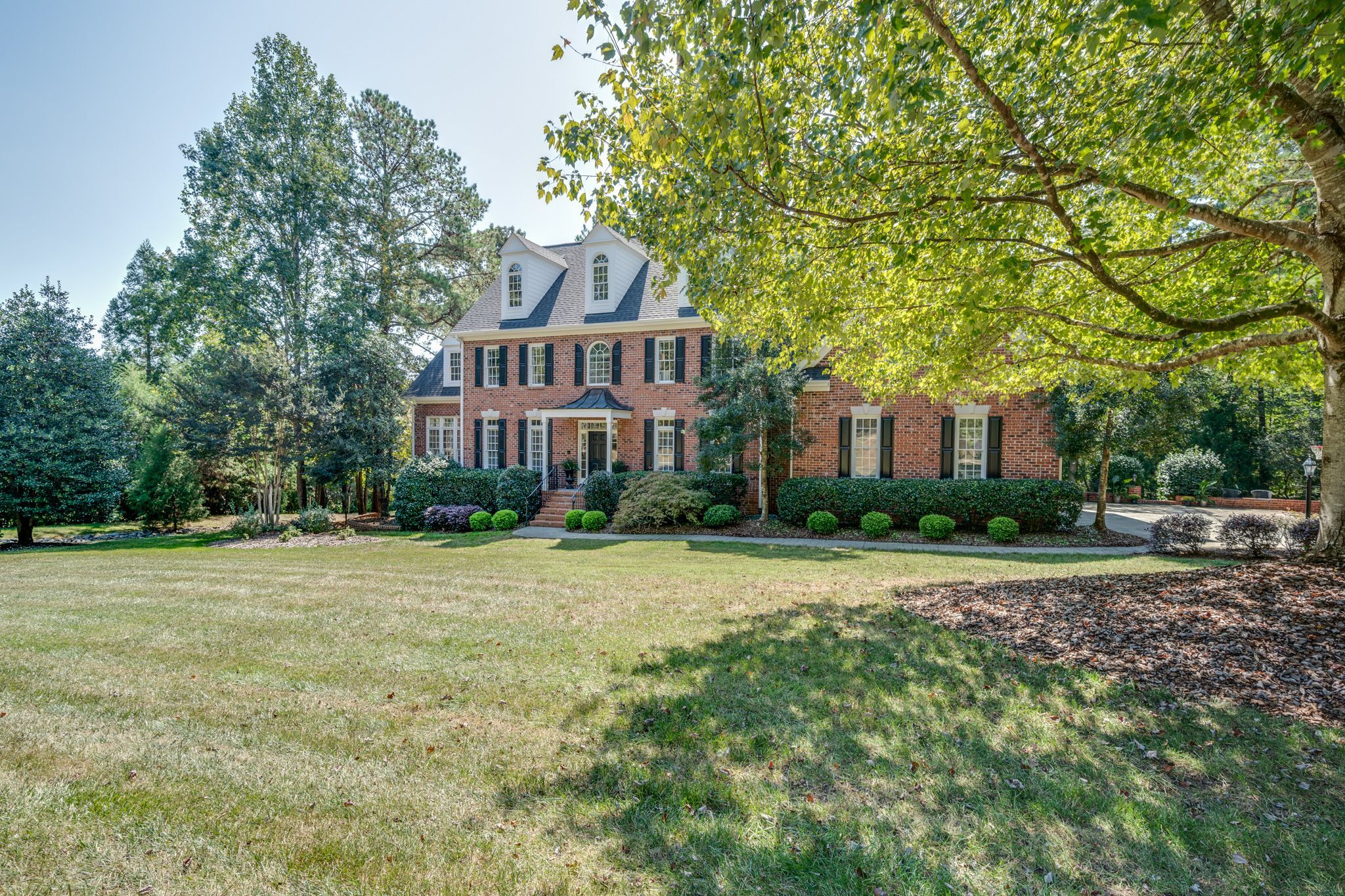 Find your new home
Search real estate and homes for sale