9 Spots for the Best Pizza in Raleigh

Where's the Best Pizza in Raleigh?

Best Pizza in Raleigh? We have you covered. We know the rules too, unfortunately, we couldn't stop at just one slice.
As a local real estate company it's part of our job to help keep you informed on the topics that matter to you most, that's why we are bringing to you 9 of the best pizza places in Raleigh!
There is an abundance of Pizza Restaurants in Raleigh that serve mouthwatering pies that can appease preferences of any kind! Stick with us while we take you on a saucy, doughy delicious quest in search of Raleigh's best pizza restaurants! Let's begin with one of Downtown Raleigh's Best Pizza places:
Vic's Italian Restaurant
Vic's is one of the best pizza restaurants in Raleigh. Owner Mario Longo opened the doors to this hidden gem in 1998, and still operates as a family business with his son and daughter working there daily! Tucked away down a cobblestone street in Raleigh's historic City Market, this pizza eatery is cozy and casual on the inside, with a taste of authentic Italy coming through not only the cuisine but the atmosphere as well! Photos of the family's picturesque home in Italy are scattered on the wall, and classic Italian music floats through the air, allowing customers to momentarily transport to Italy while they enjoy authentic Italian food! The staff is friendly and welcoming, remembering the names and faces of repeat customers.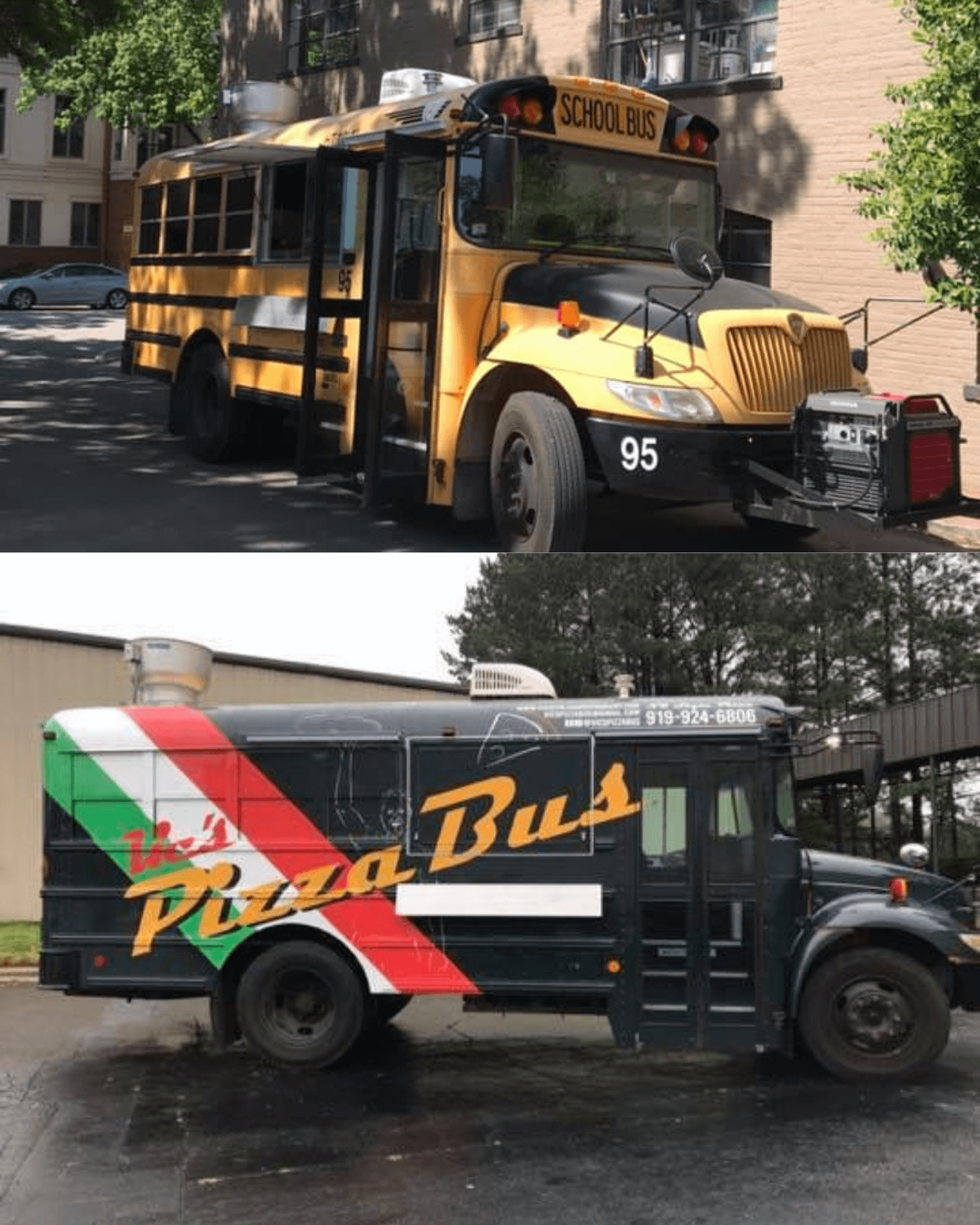 This Raleigh pizza restaurant offers a wide array of menu options, made all with fresh and local ingredients. Warm and buttery complimentary garlic knots are served upon seating to prepare your tastebuds for the deliciousness to come! Boasting New York-style dough, delicious red sauce peppered with Italian spices, and fresh mozzarella, you cannot go wrong with a pizza order from Vic's! A fan favorite of this Raleigh pizza restaurant is "The New Yorker" with Italian sausage, mushrooms, onions, green peppers, pepperoni, and extra cheese! Vic's also offers a seafood lover's dream- "The Frutti di Mare" piled with shrimp, clams, mussels, and calamari! This pizza restaurant in Raleigh offers pizza kits for a fun family night! Roll your own dough, and decorate your pizza before baking it in the oven to your desired level of crisp! Whether you choose to enjoy the charming inside atmosphere or relax under the twinkling market lights on their outdoor patio, you will leave Vic's fulfilled and happy!
One of the best parts about Vic's is seeing the Vic's Pizza Bus driving through the streets or parked at one of the local breweries. Michael Longo took what was once an old school bus and turned it into the Vic's Pizza Bus! Here are the before and after photos taken by Michael above. You will often find the Vic's Pizza Bus rolling around through the streets of Raleigh or parked at your favorite brewery. The Vic's Pizza bus is one of the many things that makes Vic's one of the places for the best pizza in Raleigh!
Oakwood Pizza Box 
New to the Raleigh pizza restaurant scene, Oakwood Pizza Box is already a local favorite place for pizza in Raleigh. Although offering a smaller menu, they have mastered the art of simple pies that pack a real punch in flavor! Serving no-frills New York-style pizza, this Raleigh pizza restaurant offers three base options. Their "Cheese" pizza is their traditional pizza with tomato sauce and mozzarella. The "Square" option is built with tomato sauce, garlic, mozzarella and is baked to be extra crispy! Lastly, their "White" pizza has a mozzarella and ricotta base, with garlic and fresh basil. Top your pizza with one of the many veggie and meat options available! All ingredients used to create these delicious pies are fresh and high-end. Their "6 Pack and a Pie Special" is a great way to enjoy a delicious Oakwood Pizza Box pie while discovering your new favorite brew from local breweries in Raleigh. 
Lilly's
Lilly's Pizza is a staple in the Raleigh pizza scene and is located in the historic Five Points area. The eclectic and casual atmosphere is welcoming to all! Receiving many accolades, Lilly's has been awarded the best pizza in the triangle more than 40 times! Housed in an old biker bar, Lilly's has constantly delivered delicious pizza since 1993. Originally serving take-out only, Lilly's became a local favorite quickly. Customers enjoyed the atmosphere so much, they started bringing lawn chairs to sit in the empty dining room of Lillys, enjoying pizza and the community that Lill's brought to Five Points. Now Lilly's is thriving as a fundamental Raleigh pizza restaurant. The dining space is full of history and character- flooded with local art, knick-knacks, children's drawings, and items from the community. This Raleigh pizza restaurant always finds a way to give back to the community that has supported its success. Lilly's is known to support charities such as the Susan G Komen Foundation and Neuse River Golden Retriever Rescue, so know that your pizza purchase is redistributed throughout amazing philanthropies!
Lilly's pizzas are made intentionally with a generous amount of cheese and toppings! Customers can create their own pizza, or choose from one of Lilly's mouthwatering specialty pies. "The Super Duper" is an aromatic delight for meat lovers with pepper jack, cheddar, pepperoni, Italian sausage, ground beef, and bacon. Lilly's take on a classic Hawaiian pizza can change the mind of someone who thinks pineapple has no place on pizza! The "Hawaiian Punch" is loaded with tomato sauce, mozzarella, bacon, pineapple, mandarin oranges, and finished off with tops of ricotta cheese melted on top. Lilly's is a diet-inclusive pizza restaurant in Raleigh, as they offer both vegan and gluten-free options as well!
Peri Brothers
Peri Brothers is a Raleigh Pizza restaurant that specializes in bringing the taste and quality of New York Pizza to Raleigh! Popular with former New Yorkers, Peri Brothers is often deemed as being the best slice maker in the area. The owners from Buffalo New York knew what was required to master the NY-style crust that is so often sought after. After putting a lot of craft into their pies, this Raleigh pizza joint seems to have perfected the foldable, yet flaky and light crust, and mastered the perfect balance of cheese and toppings. Staying true to those New York roots, most of their specialty pizzas are named after New York neighborhoods. The "Times Square" pie is decorated with pepperoni, sausage, mushrooms, onions, and green peppers! A popular option for those looking for a little spice is "Hells Kitchen" with pepperoni, spicy sausage, meatballs, and hot peppers!
Trophy Brewing and Pizza
The pie at Trophy Brewing is the perfect compliment for craft brews! Always made fresh to order with local ingredients, Trophy pizza is a popular go-to for locals searching for delicious pizza in Raleigh! Located right on the edge of downtown Raleigh, this brewery provides a cheerful and familiar atmosphere with a "neighborhood hangout" vibe. The outdoor patio is a very lively place on afternoons when the weather is nice. Their small pizzas are the perfect size for a personal pizza, or splurge for a large to share with your friends over a couple of brews! This Raleigh pizza joint is well known for its uniquely created pizza menu, with toppings that construct a mouthwatering creation. Trophy Brewing has an array of deliciously fresh toppings to choose from like shaved roasted Brussel sprouts, braised beef tips, ghost pepper salami, and lamb sausage. The "Local Celebrity" is a unique but popular concoction that starts with a mashed potato base, mozzarella, fresh peppers, sweet corn, chicken sausage, and roasted tomato. Pair one of Trophy's tempting pies with their popular IPA "Trophy Wife" or another favorite ale! 
Poolside Pies
This Raleigh Pizza restaurant is the newest hot spot for pizza in downtown Raleigh. James Beard award-winning chef and owner of Poole's Diner- Ashley Christensen has knocked it out of the park again with Pooleside Pies! If you have read our best restaurants in downtown Raleigh article you'll know all about Ashley Christensen. Located next to the beloved Poole's Diner, this pizza restaurant showcases unique splashes of the poolside theme. From traditional square pool tiles, diving boards are hidden throughout, and 1950's era photographs of pool-goers, the poolside vibe is prominent! Serving traditional Italian Neapolitan style pizza with a bit of American flair, Pooleside's menu is unique with bold and identifiable flavors. The "Duke Tomato Pie" consists of heirloom tomatoes, creamy buttermilk cheddar, and Duke's mayo sauce. A specialty pie that constantly gets recognition is the "Sausage a la Vodka" with house-made vodka cream, pork sausage, basil, and parmesan. 
Mellow Mushroom
Mellow Mushroom is an eclectic Raleigh pizza restaurant located on West Peace Street. The location is the ideal location for all surrounding neighborhoods in Raleigh like Five Points, Downtown and Glenwood South. Mellow Mushroom is funky and laid back, welcoming anyone who loves a good atmosphere and even better pizza! This Raleigh pizza restaurant is family-friendly as well as a great spot for sports fans looking for a place to enjoy a cold beer and a hot pizza while watching a day of games! A notable specialty pizza at Mellow Mushroom is the "Funk Q Chicken" with bbq chicken, caramelized onions, applewood smoked bacon, finished off with a swirl of bbq sauce on top! Mellow Mushroom is inclusive of special diets, offering gluten-free and vegan cheese options, so no matter your craving or preference, this pizza restaurant in Raleigh has something for you!
Bella Monica
Bella Monica is a family-owned pizza restaurant in Raleigh that brings Italian cuisine and tradition to the Raleigh area! The owners aim to recreate Sundays at Nana's by serving recipes out of her own cookbook, and keeping the theme of family and community alive by sharing memories and laughter over delicious dishes! Bella Monica serves Neapolitan-style pizzas with homemade sauces and a variety of toppings that smother the pie! Customers can select one of their many unique specialty pies, or create their own, choosing from toppings including clams, pancetta, artichokes, roasted eggplant. One of the most popular specialty pizzas offered at Bella Monica is the "Manzo" with sliced steak, caramelized onion, tomato sauce, and a blend of Italian cheeses! The toppings offered Their menu also boasts cheesy calzones and stuffed to the brim with ricotta and mozzarella! 
DeMos Pizzeria and Deli
This Downtown Raleigh pizza restaurant has so much to offer on the menu, but pizza is what keeps Raleigh locals coming back. Their pie dough is made fresh daily, mixed right in the DeMos kitchen, the sauce is homemade, and fresh mozzarella is shredded straight off of the block! Serving traditional hand-tossed thin-crust New York-style pie, DeMos offers multiple options for specialty pizzas to appease any craving! All ingredients used by DeMos are local and fresh, delivered weekly from the local farmer's market. If your tastebuds are feeling particularly adventurous, try "The Montana" made with a homemade ranch dressing base, mozzarella cheese, grilled chicken, bacon, and topped off with potato chips and chives!
Search Homes for Sale Below
Homes for Sale in Zebulon
Search Our Moving To and Living in Guides For Each Area Below
Moving to Wake Forest
Search Our Best Neighborhoods Guides For Each Area Below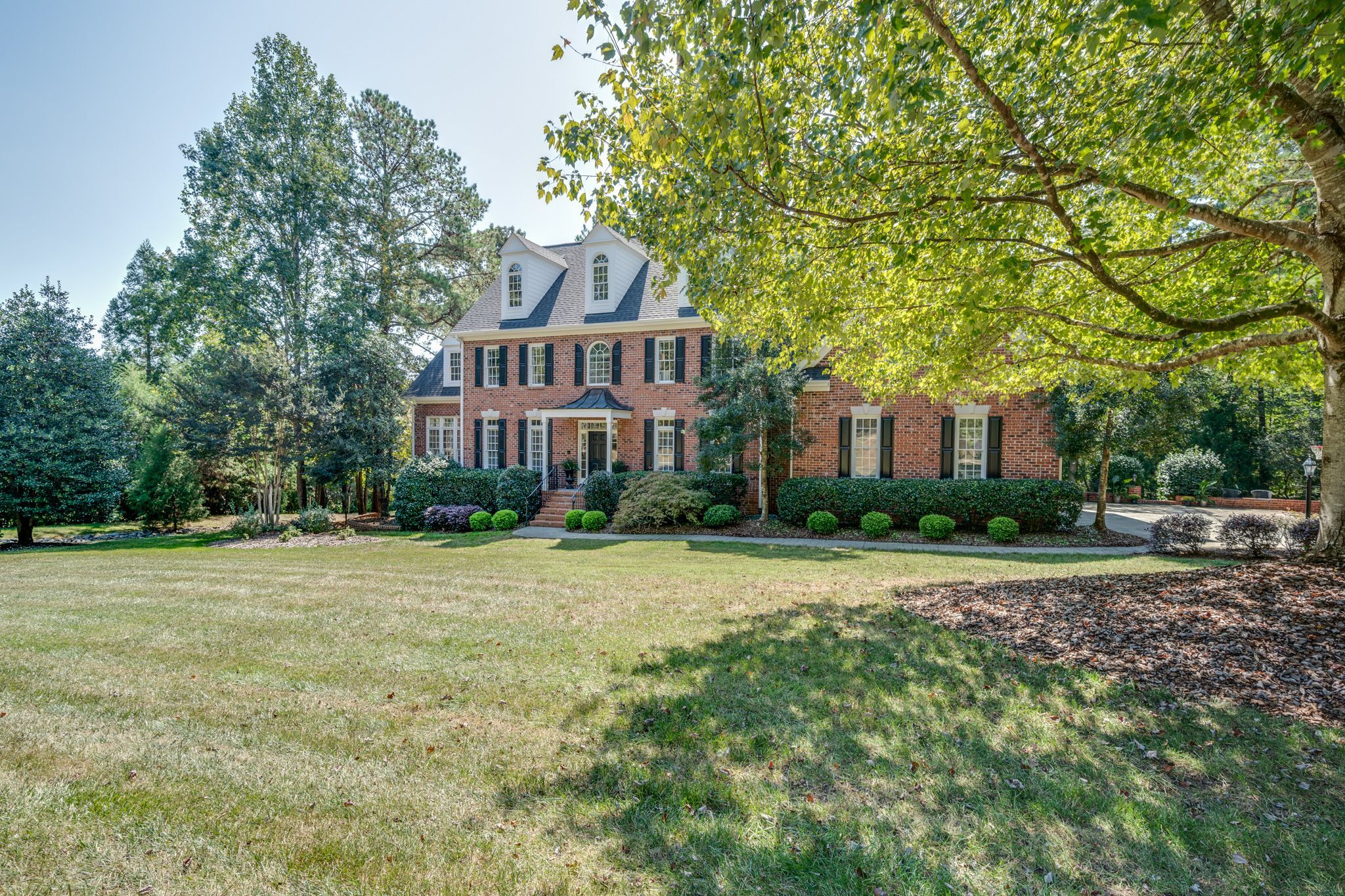 Find your new home
Search real estate and homes for sale