PUD vs. HOA: What's The Difference?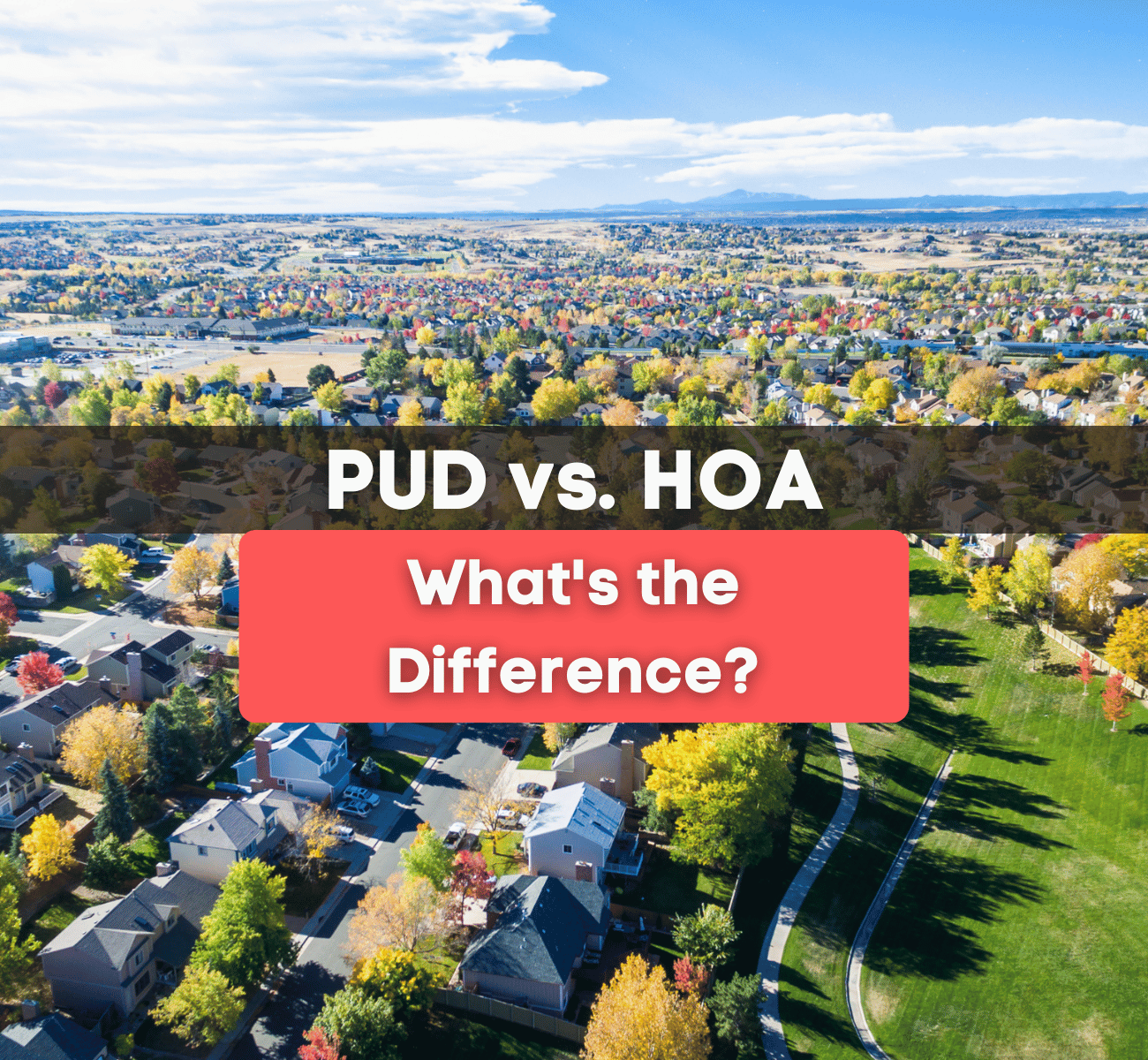 PUD vs. HOA: What's The Difference? 
Are you planning a move and need to know the difference between a PUD and HOA? Continue reading to find out everything you need to know! 
Often, a PUD property and an HOA can sound the same, especially if you're new to real estate or buying your first property! While they can have similar characteristics, there are key differences that set them apart. 
In this guide, we're going to discuss the difference between a PUD and an HOA, the details of rules & regulations, and the pros and cons. So, let's get started!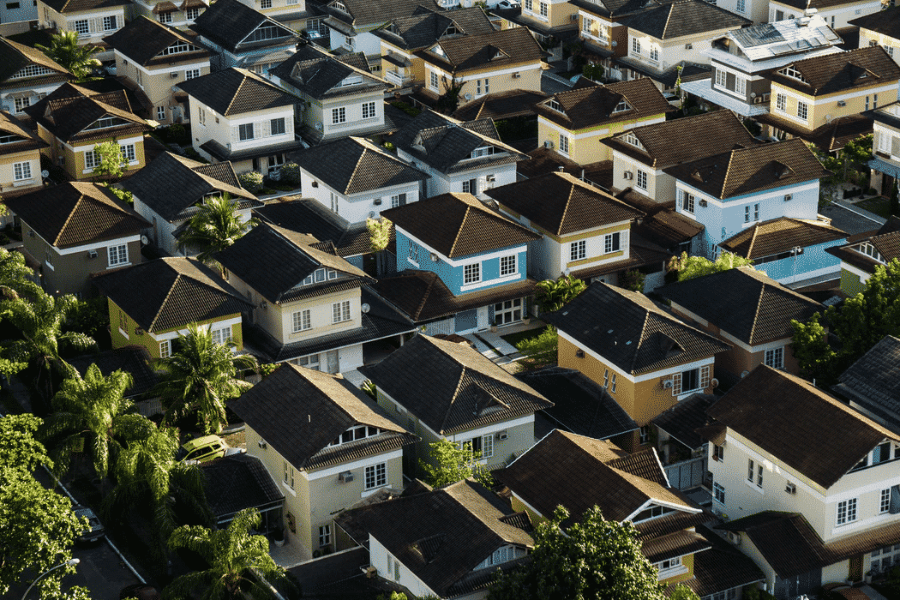 What is a PUD?
PUD,  aka Planned Unit Development, refers to a small community containing many types of single-family homes, like townhomes or condominiums. Real estate developers design PUDs to create attractive and well-maintained, cohesive places to live. A PUD may include a mix of housing and convenient access to workplaces, shopping, education, recreation, grocery stores, restaurants, daycare, office spaces, etc. A PUD may also contain storage facilities and religious institutions. 
Defining characteristics of a Planned Unit Development 
The unit owners (homeowners) own both their residence (the structure) and their lot (the land_ 
An HOA owns and maintains common amenities that all unit owners may use 
The homeowners' membership in the HOA is mandatory 
The homeowner must pay dues and assessments levied by the association to maintain the common areas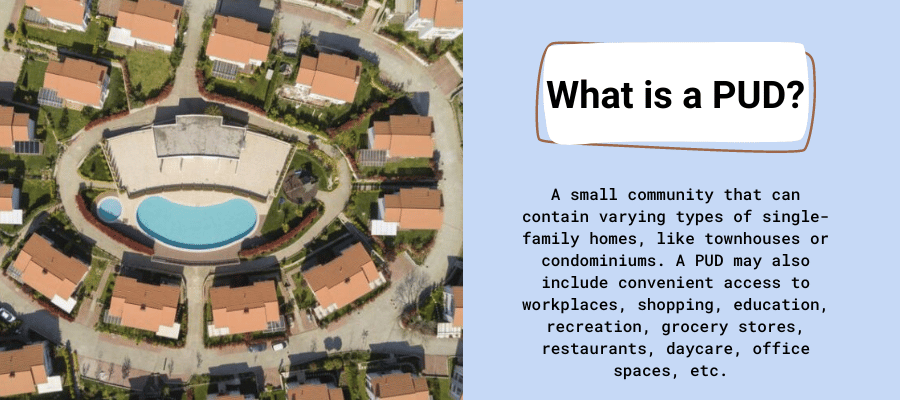 Planned Unit Developments are not subject to standard zoning requirements but instead work with the local government to develop criteria that will determine common areas, private areas, and building guidelines.
When living in a PUD, homeowners pay monthly dues to an association. These dues often go towards maintaining landscape and common areas, such as swimming pools, tennis courts, parks, playgrounds, security, etc. Since PUDs have common areas, a property in a PUD can be more expensive to own. Before buying a home in a PUD, ask yourself if you want to pay these fees. Are you going to use the amenities enough to justify the extra cost? 
PUDs are very similar to HOAs but pose some key differences.
In a PUD, homeowners own the land on which their property sits, as well as the common area(s)
PUDs aren't subject to Federal Housing Authority rules, whereas HOAs are. 
"An HOA operates a PUD and, as such, it is governed the same as any other HOA community. All residents are required to pay fees and abide by community rules. Potential buyers need to know that PUDs do not have to be approved; only condominiums need FHA approval."
Let's take a look at the role an HOA plays in single-family homes in a PUD!
Townhouses 
A townhouse, or townhome, is a type of house that has multiple floors and shares at least one of its walls with other residences. Townhouses are thin and attached to other townhouses in a long row. In an HOA-run townhome, the association owns the land on which the townhouse sits. 
Condos
A Condo, or condominium, is a housing or residential complex in white there are separate units, with each unit being owned by an individual. When renting a condo, you rent directly from the condominium owner. Condo owners jointly own the areas, such as pools, garages, and gyms, and the HOA owns the land on which the structure sits. 
Rules in a PUD
The main rule is that if your PUD has an HOA, you cannot opt-out; once you buy the property, you're in it, and the only way to exit is to sell your home. other rules can restrict you from 
Using your home as a short-term rental 
Parking cars overnight on the street
Putting up political signs in your hard 
restricting exterior decor and colors 
How PUDs can affect your finances 
Mortgage lenders review a loan for a home in a PUD the same way they would a condo. This is because they are most similar to condos regarding homeownership and common areas. The mortgage lender is looking for specific requirements the PUD must contain, such as having enough reserves saved in case of emergency, proper insurance coverage, and its reputation for collecting dues on time. If the PUD you're looking at does not meet these requirements, you may be rejected for a loan. 
It can be beneficial for you to hire a real estate attorney to review the PUD's CC&Rs with you so you can get an accurate idea of whether the PUD is financially sound and the best option for you. 
Benefits of living in a Planned Urban Development 
Living in a PUD gives you access to private amenities, such as grocery stores, restaurants, privately owned roads, and more. You also have the easy convenience of these amenities. PUDS allows you to walk, bike, or drive to your necessary amenities and walking trails, sidewalks, bike paths, and wide roads. PUDs may also provide you with these amenities at a lower cost and the possibility of paying less for street construction, utilities, and maintenance costs. Lastly, one benefit of living in a PUD is land ownership. As the owner, you own your building and the land rather than the HOA. 
The disadvantage of living in a PUD 
With pros come cons. One con of living in a PUD is the HOA fee. All residents of a PUD must join the HOA and contribute to these fees. The fees are mandatory, and refusal to pay may result in legal trouble. Another con is that the home in a PUD is often closer together than others. Additionally, PUDs have varying restrictive covenants (rules), and it can be difficult to sell your home. 
What is an HOA?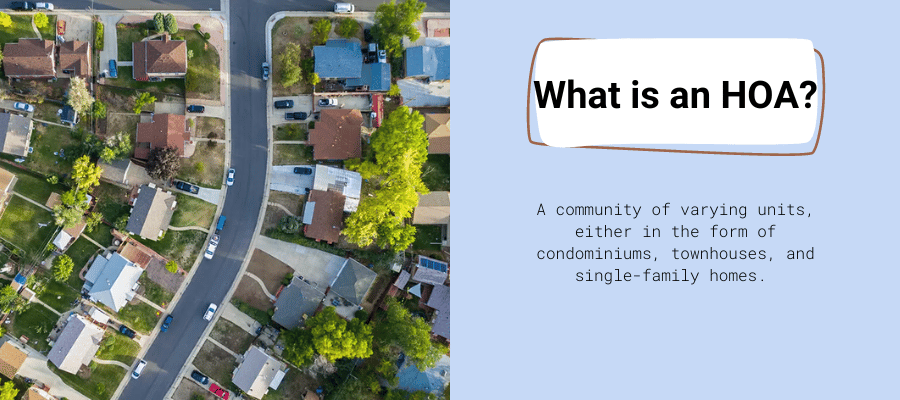 HOA, aka homeowners association, is made of a community of varying units, either condominiums, townhouses, or single-family homes. The homeowner's association is a non-profit organization made up of volunteers and a governing body that makes and enforces rules for the subdivision of homes, condominium complexes, or planned unit developments (PUD). 
When buying a home in an HOA, you are automatically required to pay dues and officially become a member. You will be invited to vote for the board of directors, including maintaining and caring for all shared amenities, collecting fees, and enforcing rules. 
Before buying a home in an HOA, you will want to read your HOAs Declaration of Covenants, Conditions, and Restrictions (CC&Rs). This document outlines the community rules and regulations. 
Rules of an HOA
The rules of an HOA can vary, but there are some that are common for everyone. HOA rules cover your homeownership rights, and upon signing, you agree to abide by these legally binding rules. Some rules include restrictions on your landscape choices, including types of acceptable plans and trees, and on your external decor, including the color of your house, front door, or roof shingles. Other rules include fencing type and height limits, outdoor structures, decks, pools, maintenance standards, etc. 
Parking is one of the main things HOAs regulate. They want to ensure the street is clear and there is no danger or overcrowding. Parking limitations can include the number of vehicles that can park on your property, regulations on street parking, and bans on recreational vehicles, boats, lawn equipment, bicycles, etc.
Lastly, it's common to have pet restrictions in an HOA. Along with occupancy limits, renting or subletting bans, and noise levels. Pet restrictions often include the number of pets allowed in your home, the size of the pets, and spay or neuter guidelines. With a pet, you also need to consider the regulations on fencing and noise levels.  
Board of Directors 
The HOA Board of Directors has the authority to make and enforce community regulations designed to protect property values and the community's well-being. They also manage the finances. Regarding finances, the board of directors will often ask for input from the members to appropriately agree upon budgets. Your fees can go towards maintaining the entrance sign, landscaping, and common areas, such as recreational facilities, swimming pools, party rooms, etc. 
HOA fees 
As previously stated, you are automatically required to pay a fee when becoming an HOA member. This fee covers the maintenance of all shared amenities and areas in the community. These fees will be disclosed to your before you become a member. In addition to the monthly or annual fees, the HOA may charge a one-time home transfer fee when you purchase your property and special assessments to cover the cost of unexpected repairs. The CC&Rs we discussed earlier will explain the fines that can be imposed for not allowing the HOA rules or regulations. 
To hold you accountable for your fee, your lender will include the HOA fee in your monthly mortgage, that way, you don't forget or go over budget.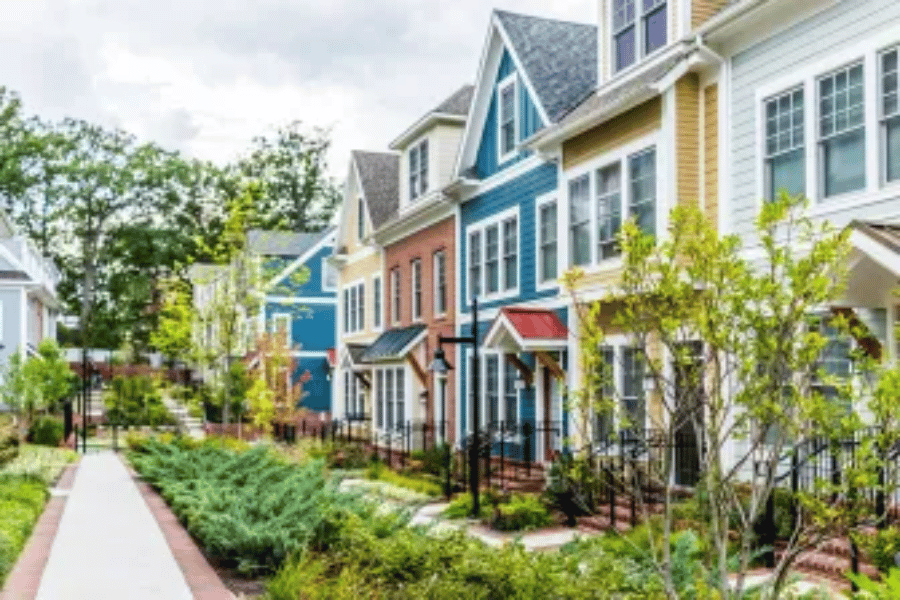 Benefits of an HOA
HOAs offer many benefits to their members and the community. Although you pay a fee for these benefits, more times than not, they help you in the long run. 
HOAs control noisy or challenging neighbors. They work to regulate all activities and hold everyone to the same standard. 
HOAs are also why you walk through a beautifully landscaped and clean neighborhood. They keep up the appearance of your home by caring for the external aspects so that you don't have to! Within an HOA, you also have organized social events that bring neighbors together and create a sense of unity. 
The disadvantage of living in an HOA
The first con of living in an HOA is the fee. The fee can sometimes get pricey, so deciding if you can afford it before buying a property in an HOA is important. Refusing to pay or even missing a payment can also impose serious repercussions. Another con is the rules & regulations the HOA sets in place. These rules may not align with your lifestyle or property plans, so it's essential to look those over beforehand! Similarly to a PUD, it's also difficult to sell a home in an HOA since some home buyers refuse to live in one. 
FAQ 
Is an HOA right for me?
Consider the following: 
HOA dues will add costs to your monthly obligations, 
The dues will hurt your maximum loan amount, 
Are the benefits of the HOA worth the extra costs and lower loan amount?
Do the HOAs rules & regulations fit your lifestyle? 
What is an HOA? 
A community of varying units, either in the form of condominiums, townhouses, and single-family homes. 
What is a PUD? 
A small community that can contain many types of single-family homes, like townhomes or condominiums. A PUD may also include convenient access to workplaces, shopping, education, recreation, grocery stores, restaurants, daycare, office spaces, etc. A PUD may also contain storage facilities and religious institutions. 
What is the difference between a PUD and an HOA?
In a PUD, the owner owns both the residence and the land. In an HOA, members do not own the land on which their property sits. 
PUD vs. HOA - Final Thoughts 
Understanding the difference between a PUD property and an HOA is essential before buying a home. You will have to decide which one fits your lifestyle better, if you can afford the extra cost, or if the benefits are important to you. After understanding the difference between the two, you will be able to choose a property/community that best fits your needs. 
If you're interested in buying property in the area, we're here to help! Raleigh Realty specializes in the home buying and selling process. We also like to provide you with helpful guides to make your process and home-buying experience as easy as possible. If you have any additional questions or want to be connected to an agent, contact us or visit our website! 
If you found our PUD vs. HOA guide helpful, please share it with friends, family, or anyone you know who is looking to buy property in the future!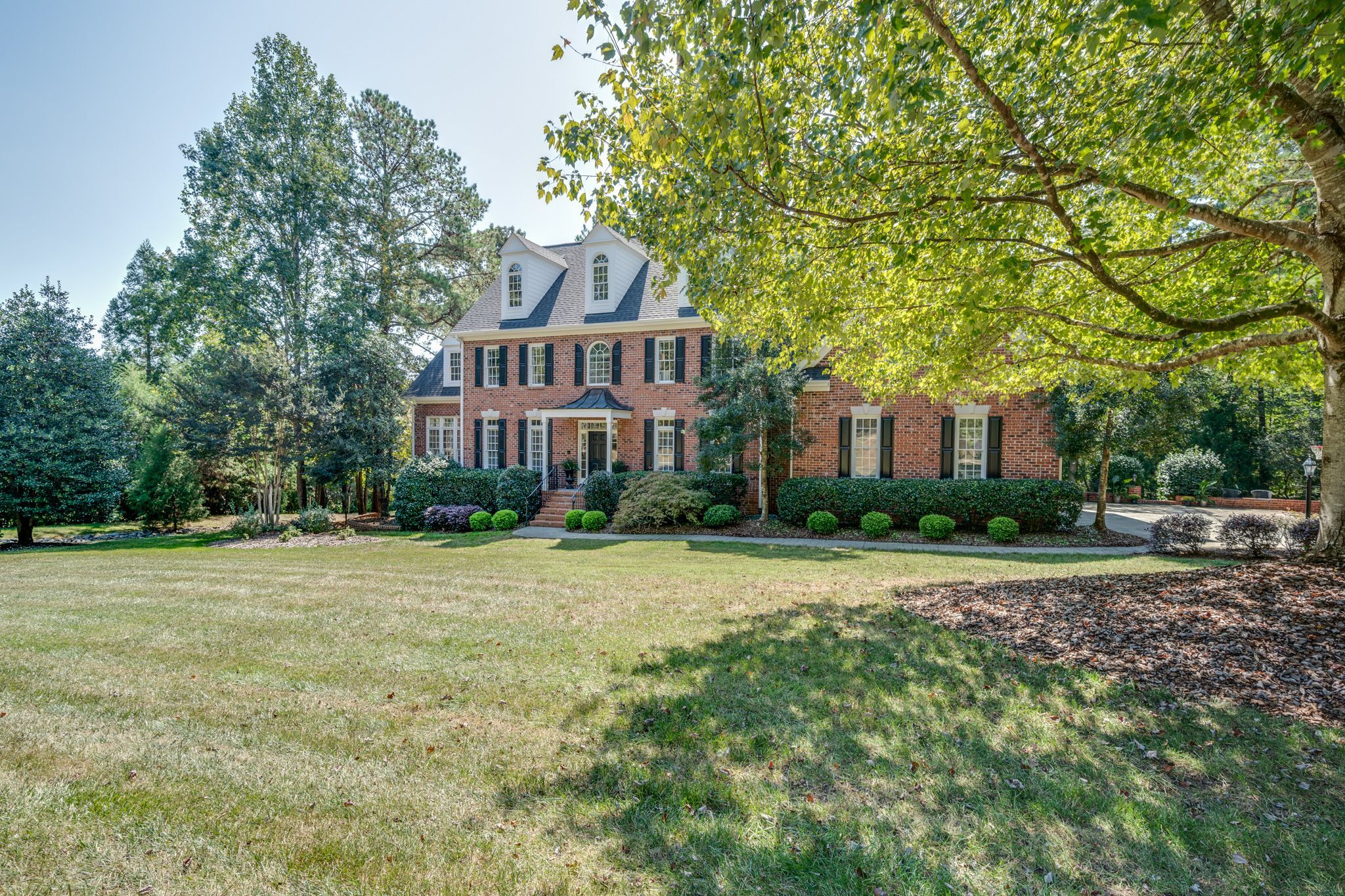 Find your new home
Search real estate and homes for sale