What Does a Screened in Patio Cost?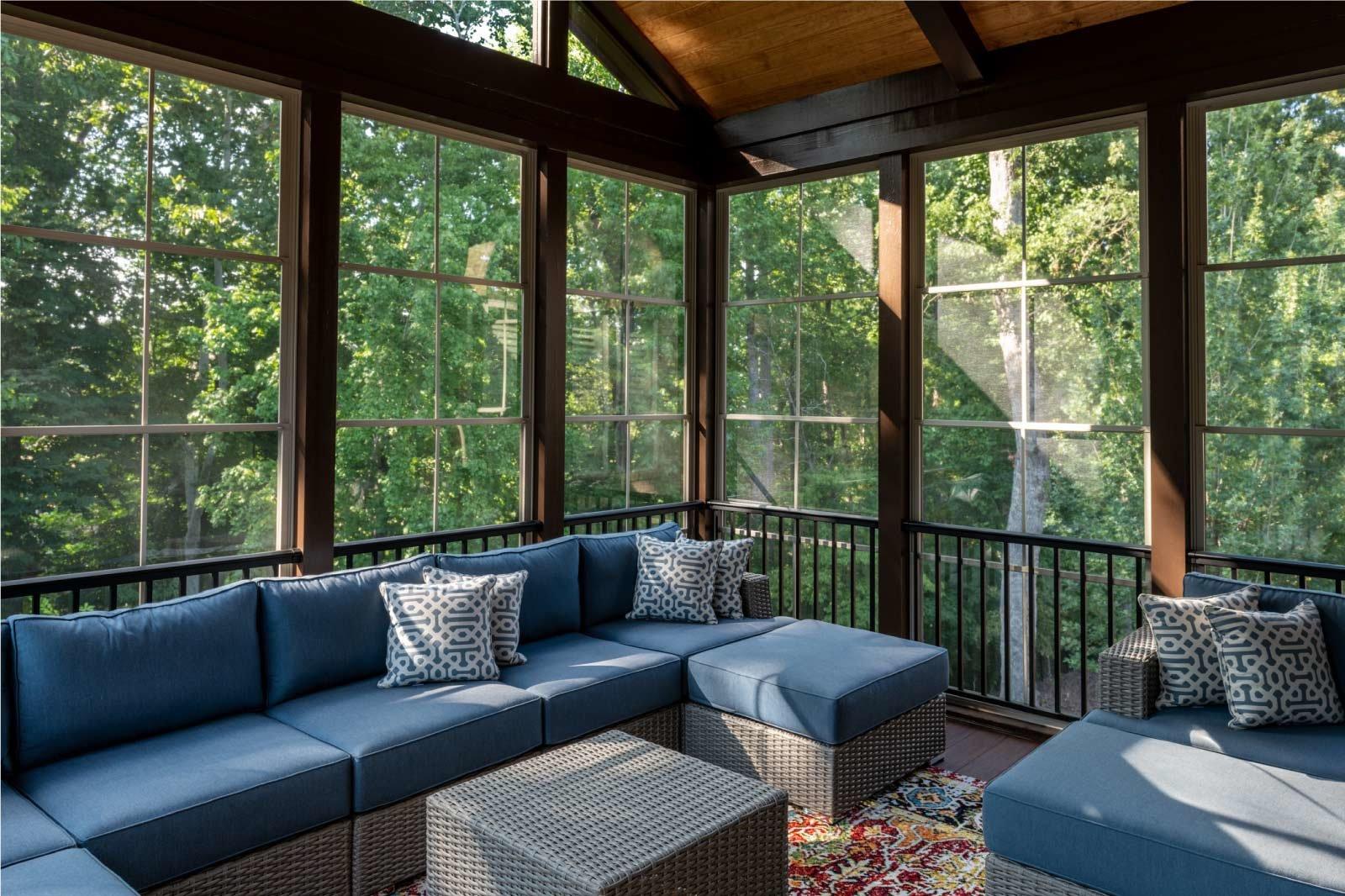 Average Screened-in Patio Cost
The cost to screen in a patio ranges from $3,200 to $5,800. It costs an average of $2 per square foot for labor and installation and $3-$5 per square foot for materials. The more complex the project, the higher the price of materials. 
If you want to build a screened-in patio from the ground up, the average cost is 32,400, but the total will vary depending on porch size, placement, labor, and materials. 
Screening a patio can help you protect your backyard oasis from pesky summer bugs and various weather conditions. In this guide, learn how to calculate the screened-in patio cost using different factors and the value it can add to your home. 
How Much Does It Cost to Screen in a Patio? 
Below are the estimated costs of patio screening that are already in place from lowest to highest.  
| | |
| --- | --- |
| Average cost | $3,200 |
| Low cost | $1,320 |
| High cost | $5,800 |
Screened-in patio costs can be made lower if a homeowner opts for DIY screened-in patio installation. If you have the right skills and experience, then a DIY kit might be the best option to save money. Most DIY kits cost about $1,100; another $220 will be needed for the proper tools. 
Factors That Affect Screened-in Patio Costs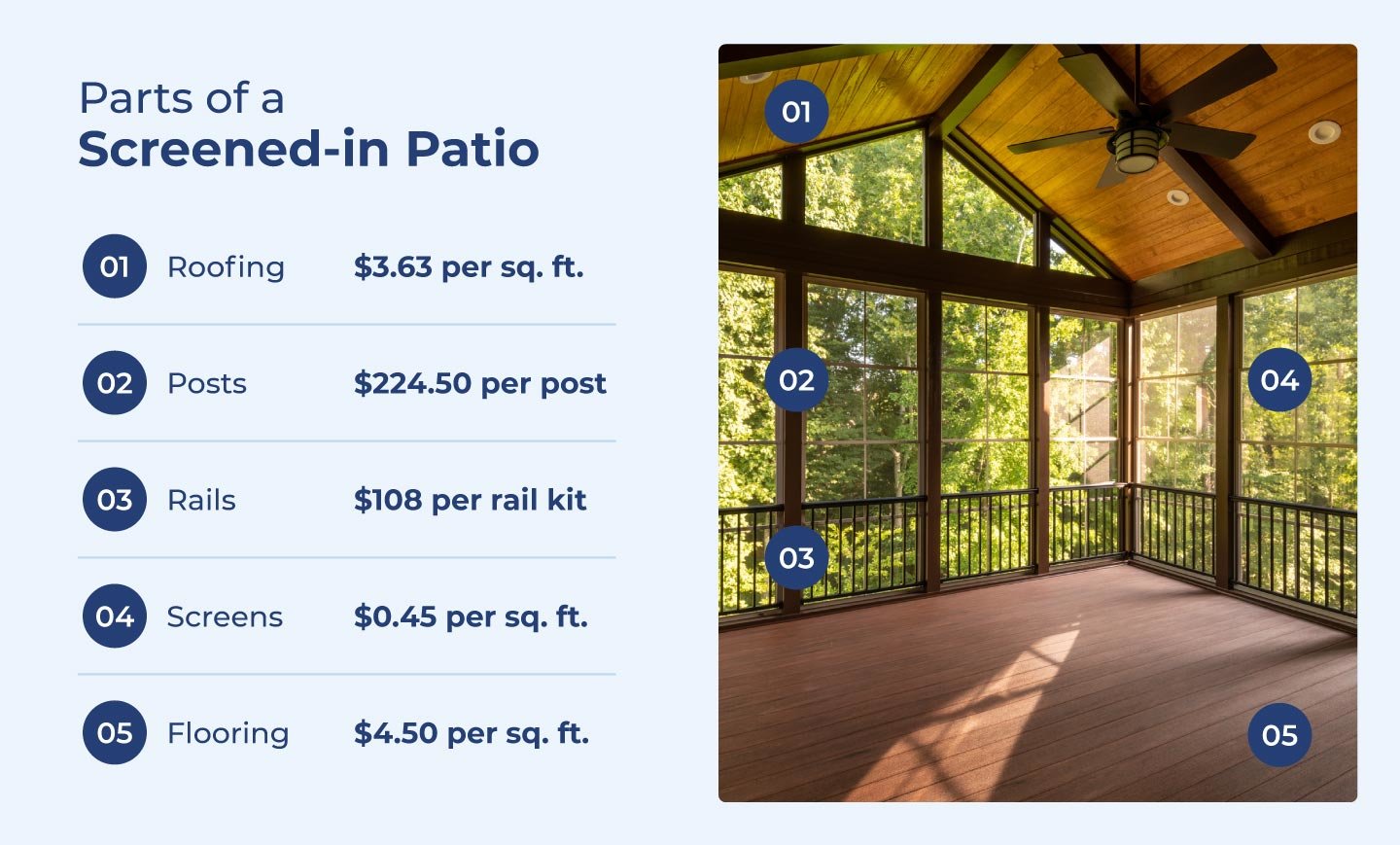 There are several costs to factor in when building a screened-in patio. 
Materials
The materials you choose for your patio will greatly impact the total cost of the project. Below we've included estimated costs for the most popular materials used to build a screened-in patio. 
Screens
Roofing
Posts and Railings
Flooring
Location
The cost to screen in your patio will also depend on where you live.  The total cost will depend on the cost of materials in your area, specialty equipment, and local labor. For example, if you live in Raleigh, North Carolina, and want to screen your patio, your budget should be set to $1,288 at a minimum. 
Labor
Labor and installation costs will depend on your location. It's typical to see a higher price on labor in regions with a higher cost of living. 
This cost will also depend on if you hire a professional contractor to screen in your porch or if you decide to complete the job yourself. Keep in mind that although you may save funds by doing the project yourself, it may take extra time and labor on your part. 
Square Footage
The size of your patio will also affect the total cost of the project. The square footage of your patio will impact the amount of material and time needed for installation. Patios with large square footage will cost more than patios with less square footage. 
Additional Screened-in Patio Costs To Consider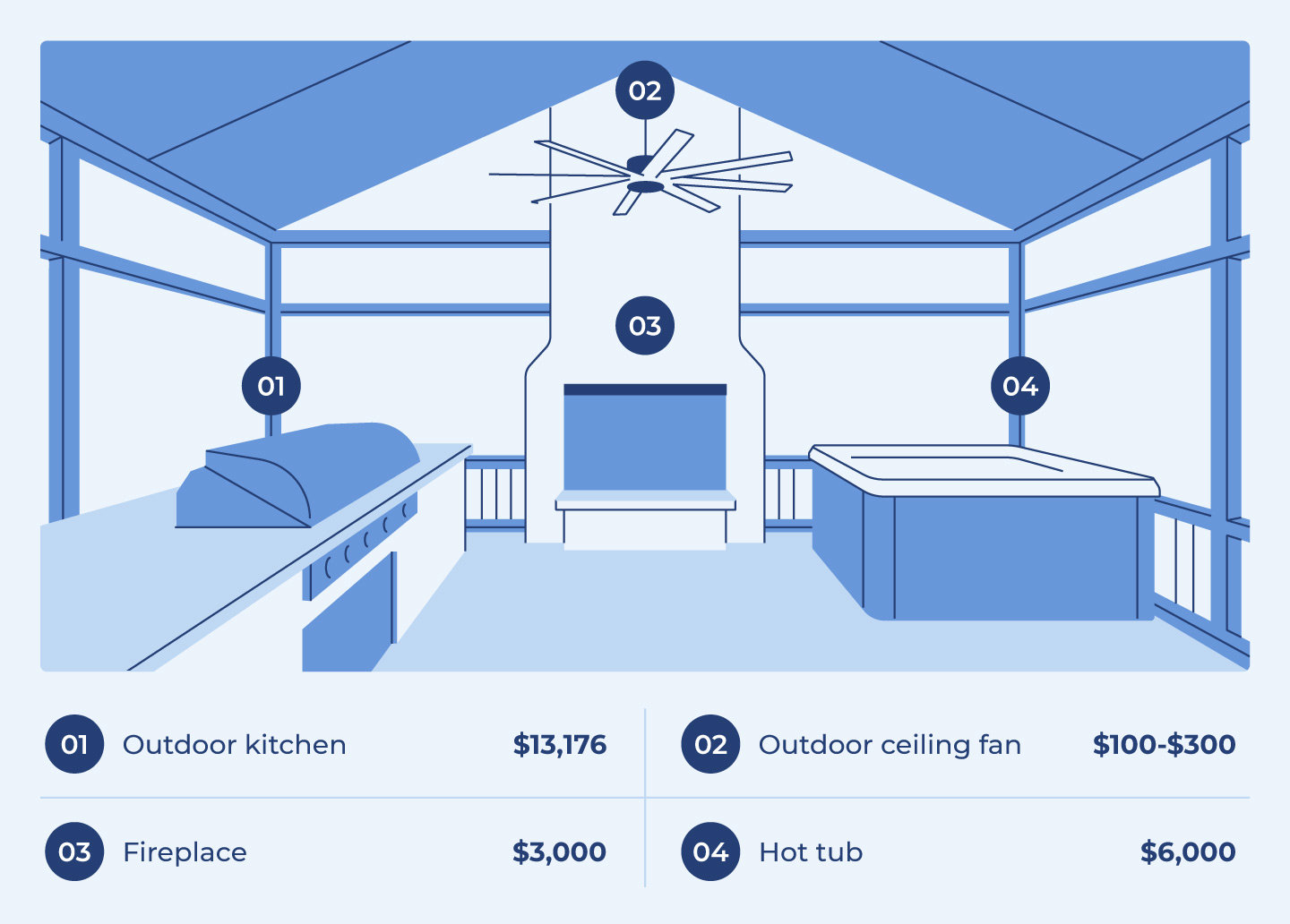 There are additional expenses to note when estimating the total cost of a screened-in patio. Below we've covered a few costs you should be aware of when building out your budget.  
Add-on features 
Your new patio doesn't only have to be home to a few chairs and a dining table. You can create a whole outdoor living space for your family and guests to enjoy during the warmer months. Below are the national average costs of add-on features you may want to add to your screened-in patio. 
Repairs
It's important to plan for any unexpected repairs. Set aside at least 10% of your budget for repairs. Bump this percentage up to 25% if you plan to have a more elaborate screened-in patio with more add-on features. That way, you'll still be within your budget if a large repair is needed. 
Electrical wiring
If you want to install ceiling fans, overhead lighting, or electrical sockets in the patio, you must have electrical wiring installed. Discuss the cost of wiring and adding lights with a professional electrician. The cost of labor and installation will depend on where you live. 
Type of patio
The cost of enclosing a patio will greatly depend on the square footage. You should consider the following when deciding on the size of your porch:  
Calculate Your Screened-in Patio Cost 
Screening in a patio costs $2,000-$2,800 for 200 square feet. The cost to build a 200-square-foot patio ranges from $3,000-$5,500. 
| Patio Size | Average Cost |
| --- | --- |
| 7'x7' | $590 |
| 8'x8' | $770 |
| 9'x9' | $970 |
| 10'x10' | $1,200 |
| 11'x11' | $1,450 |
| 12'x12' | $1,730 |
| 12'x14' | $2,000 |
| 16'x18' | $3,450 |
What Can My Screened-in Patio Look Like With My Budget? 
$2,000 and under
For this budget, you're looking at adding screens to a pre-existing patio. This is a good budget if you plan to keep the patio simple and complete the job yourself. 
If you're looking to have a professional install the screens, wait until the fall and winter seasons for more affordable prices. 
$2,000 to $3,000
This is the average price range of a standard 200-square-foot screened patio. You can likely afford aluminum or fiberglass for your screens and choose either aluminum or wrought iron for your posts and beams.  
$3,000 to $5,000
With this budget, you can choose higher-quality materials for your patio, like eco-friendly solar screens. You'll also have room for additional features, like a ceiling fan or an outdoor fireplace.  
$5,000 and over 
With this budget, you're most likely custom-building your screened-in patio to create an ultimate entertainment space. You can build out a custom outdoor kitchen or install a hot tub to enjoy during cooler evenings. You may also consider picking out elaborate concrete pavers for the flooring. 
FAQs
We've covered some frequently asked questions about the estimated home value and screened-in patio costs below.
Does a Screened-in Patio Add Value to Your Home?
A screened-in patio can add value to your home. The average return on investment is between 70% and 75%. There are a couple of ways to maximize home value with this addition. 
Lighting
Whether you're enclosing an existing patio or building one from scratch, it's important to think about how natural lighting will affect the space. Adding skylights to the roof can bring in natural light during the day. If you plan to use your patio at night, consider running electricity to your patio and adding outdoor lighting fixtures. 
Location
If you're building a new patio, consider its proximity to other entertainment areas, like your kitchen or living room. Make entertaining more accessible by having your patio near the other social spaces.  
What Is the Cost of a DIY Screened-in Patio vs. Hiring a Pro?
The cost of hiring a professional to screen your patio is $2 per square foot on average for labor. 
The benefits of hiring a professional to complete the job include guaranteed labor, a quicker timeline, and a higher likelihood that your patio will match your expectations. While DIY projects are definitely more affordable, hiring a professional is certainly the better option, especially if you lack the necessary skills and experience. 
What's the Difference Between a Screened-in Patio, Screen Porch, and Covered Deck?
A covered deck is not enclosed, whereas a screened-in patio and screen porch are. A screened porch is attached to the house, and a screened-in patio is not. 
How Much Does a Screened-in Lanai Porch Cost?
A lanai porch can cost, on average, between $12,000 and $30,000, labor included. Lanai porches are almost a combination of a patio and a porch, similar to sunporches. They're usually a large living area either on the ground floor or with one or two sets of steps. 
Screened-in patios are a popular addition to Southern homes, especially for hosting guests during the beautiful summer months. It can also be a calming space to promote mental health at home.
Use our website to search for homes for sale in Raleigh to find the perfect place to complete your dream home addition.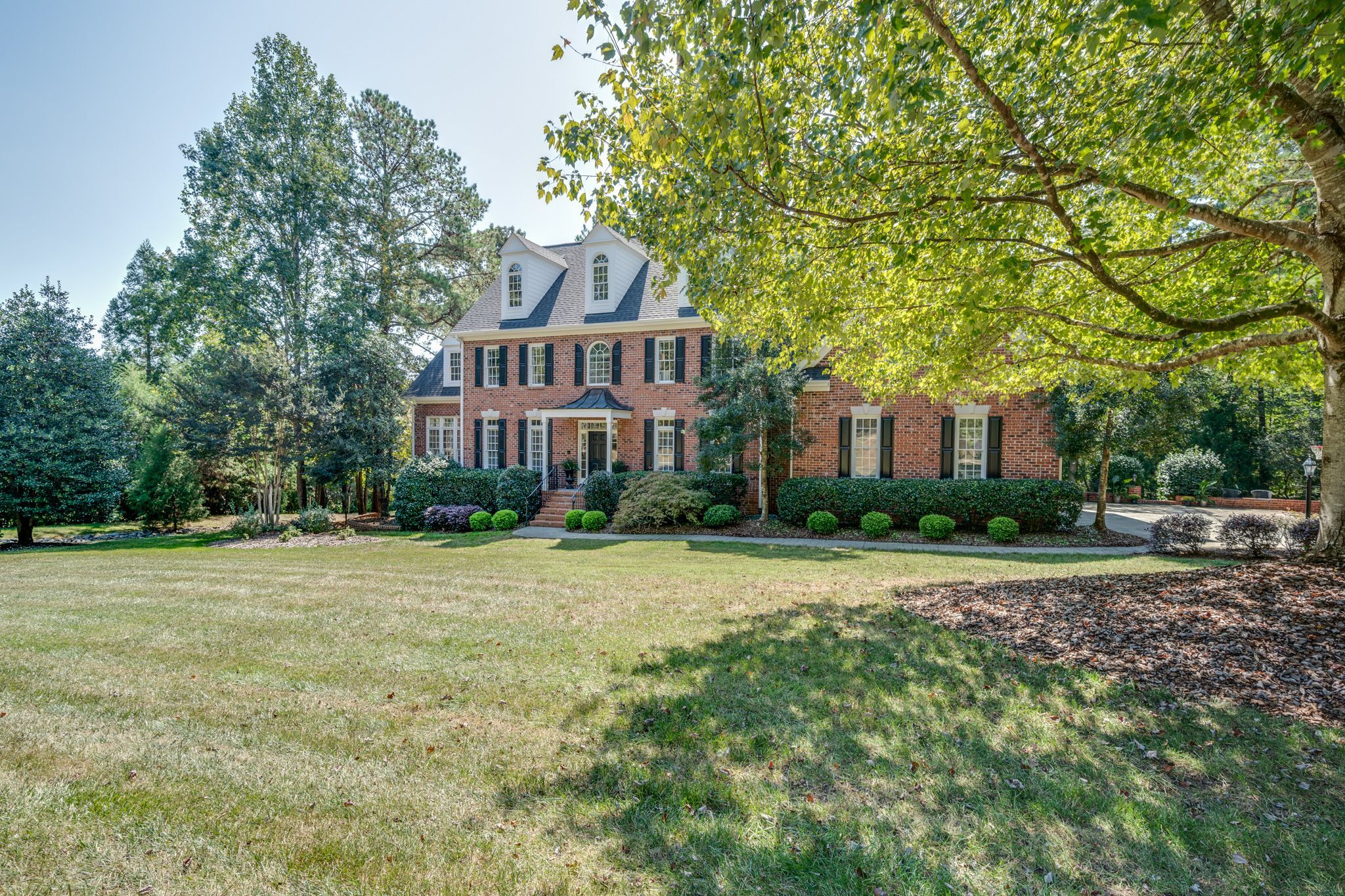 Find your new home
Search real estate and homes for sale