Selling your Home? 6 Improvements that Add Value for Resale!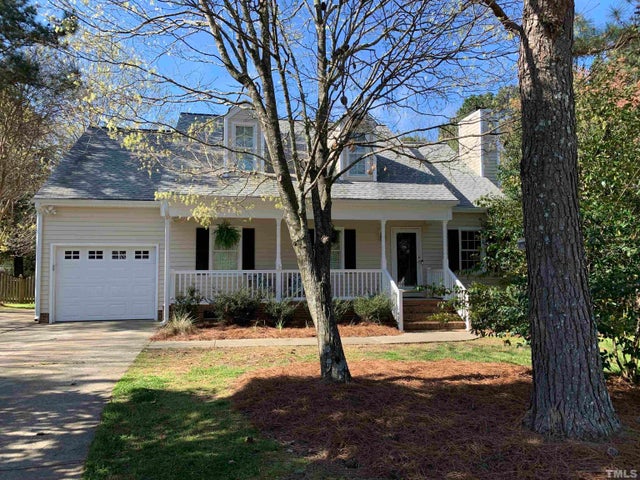 Are you preparing your home for sale and wondering what home improvements add the most value?
We put together a list of the best home improvements for resale!
There are ways in which you can force equity back into your home, and make it more appealing to buyers. Just be careful not to overdo it and improve your house outside of the neighborhood price range!
The tips we will discuss in the article are low-cost ways to net your more money on the sale of your home. If you're preparing your home for sale you'll want to be sure to pay attention to the tips in this article that will help you maximize the return on your investment!
Without further ado, here are…
Home Improvements to Increase Value for Resale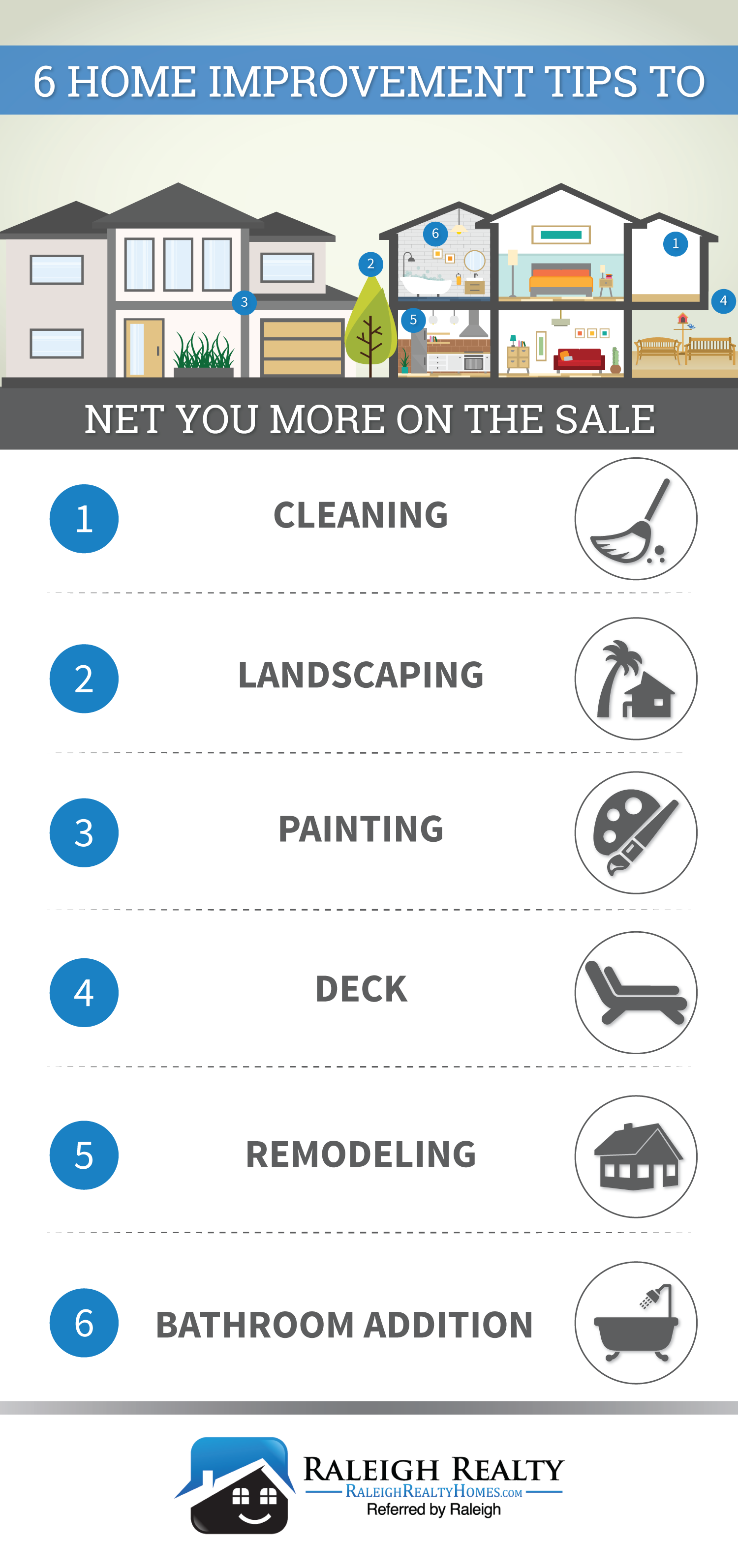 ---
Cleaning your Home Before Listing it for Sale

Would you think this is obvious? To some, this tip needs to be stressed. The two main factors a seller has control of when listing their home for sale is price and condition. Cleaning is the lowest cost way to ensure that you influence the condition of your home.
By cleaning your home before you list it for sale you are improving its condition. Put yourself in the buyer's shoes when selling your house. Would you rather buy a home that is messy or a home that is clean?
Too often I show buyers homes that are not clean and it amazes me that 1. people don't realize they need to clean in order to help the property sell and 2. that the listing agent wouldn't assist their sellers by advising them to keep the house spotless!
A lot of buyers will walk in and out in a matter of seconds if the house is not clean. Hiring a cleaning team once a week, or maintaining the cleanliness of your home yourself is extremely inexpensive when you consider the return on investment.
By cleaning your home and making sure it's spotless you not only give yourself the best opportunity to sell, you also increase the home's value. This will ensure you're doing what it takes to net the highest amount on the sale of your home as well increase your chances of getting it sold!
---
Landscaping Adds to Your Home's Value

Homes with serious curb appeal make great first impressions. Your kids should help when selling your home. A well-landscaped home is going to improve the home's condition and that will directly influence the price of the home. Landscape lighting is sure to help increase the value of your home as well! By ensuring your home looks great when potential buyers pull up you'll immediately create an emotional response.
Looking for landscaping inspiration? Check out the types of grass you should plant in Raleigh.
There are a lot of different things you can do to improve your landscaping. Mowing your lawn and cleaning the yard are two great places to start. You want to be wary of the neighborhood price range since that is one of the first thing buyer's agents are going to look at. If you are on the high end of the price range already, it doesn't make sense to invest 20 grand into your outdoor space.
When you invest money into your landscaping gather expert opinions from as many as real estate professionals as possible.
Imagine you're going on a first date. Are you more likely to be excited about the date with someone who shows up looking nice, or someone who is looking disheveled?
The same goes with real estate. Pretend like your home is going on a date and the landscaping is the outfit you're dressing it in. The clothes matter and so do the colors.
One experience I had when listing a home for sale in Raleigh was an investment in landscaping. It took a few shrubs to add a whole lot of privacy from the neighbor and made the home much more appealing.
---
Will Painting your House Increase Return?

A great way to improve the value of your home is adding a fresh coat of paint. Both the interior and exterior adds a great look for buyers. The smell is another benefit that registers with the sensory cortex inside the brain of buyers. It registers as 'new'.
Painting your home to improve its value is a low-cost way to increase the return on the sale. It's one of the first things you should consider when selling. If you are going to paint the exterior of your home you'll want to make sure you keep it a neutral color. In a recent real estate survey, 40 percent of buyers liked a house with a white exterior.
If you want a home improvement tip that's really going to help you make more on your net, you should really consider a fresh coat of paint. A lot of real estate industry professionals highly recommend it, and painting with a neutral color is the favorite of a high percentage of buyers.
Did you know that the number one most recommended and beneficial tip is a fresh coat of paint? This tip is affordable and raises the property value significantly. Some people website claim a fresh coat of paint can add anywhere from a 100-500% return on investment! 
---
Adding a Deck can add value to your Home

There are a few seasons a year where you may want to add key features. One of these key features would be a deck or outdoor patio. Seasonality allows you to have more success with an addition like this if you plan to sell during the spring/summer and even the fall time here in Raleigh.
Adding a deck/outdoor patio does a number of things. It adds value by giving you an outdoor living space. Something other homes you're competing against may not have.
One of the first additions to my house in Downtown Raleigh was adding an outdoor living space because I enjoy being outside. The outdoor living space ran me $2,450 ($2,950 - $500 discount) and my conservative guess is it added $5,000 to the price of my house. One of my current real estate clients helped me build the deck.
There are a few things you'll want to be careful of when building an outdoor living space to add value to your home. Similar to the other tips you do not want to price your home outside of its neighborhood value, so be sure to consult with a top local Real Estate Agent for advice.
Secondly, you are going to want privacy with your outdoor living space. If you feel like you can be seen by everyone, you're a lot less likely to use the deck.
Lastly, you will want to be sure the patio you design is not too small and not too big. The right size patio will maximize the return on your investment and give you a great opportunity to sell your home for more money.
Know your local neighborhoods and real estate markets. Homes for sale in Cary often come with great outdoor living spaces that improve their value.
An outdoor living space will at the very least make your home more desirable and allow you to recoup the cost if nothing else. The neighborhood will dictate just whether or not a patio makes sense. 
---
Remodeling rooms will Improve your Home

There are a number of different remodel projects you can do to add value to your home before selling it. Some of the remodeling that Real Estate Agents will recommend involving addressing the weaknesses of the house. You want to put yourself in the mind of your buyers, and understand that they're also looking at your neighbor's house for sale.

It's typical remodels will happen in the focal rooms. Kitchen, bathrooms, and even the family room. Sometimes a remodel will include adding a bathroom to the master suite. A lot of homes in Raleigh have that already which could cause a weakness you will want to address if the quoted price from your contractor is right.
Some of the remodels we recommend increasing your home's value include the kitchen, family area, and bathrooms.
The most important part of any home is the kitchen and the family area. Mainly because a lot of time is spent in these two rooms. When you are entertaining guests they are most likely to be in your kitchen and family room while inside the house.
Some things to be wary of are pricing your home outside of the neighborhood. Don't go crazy with your remodels if it doesn't make sense for your area. You wouldn't want to start adding square footage to your home if you're already in the higher price range.
---
Bathroom Addition to Increase Home's Value

Adding a bathroom can add serious convenience for your buyers. Other than the kitchen, the bathrooms have become important to buyers and especially the location inside the home.
The National Association of Home Builders (NAHB) has calculated that a half bath may add up to 10.5 percent to a home's value and that full bath can add an additional 20 percent! A half bath can cost as low as $4,000 and up to $30,000 depending on what part of the country you live in.
A few things to be careful of when doing a bathroom addition is to know where the plumbing is. This is probably the main factor in determining what the cost is going to be to add a bath. You don't want a plumber spending hours inside of your home working on pipes or your bill will run up fast.
Also, don't go crazy on your home when comparison to your neighbor's. Know the value of your neighborhood and where your home stands when compared to others. Listen to your local experts and figure out if a bathroom addition makes sense for your home sale.
If you cannot afford a new bathroom the best thing to do is give your current baths a facelift with paint and freshening them up in any way possible. It will certainly help the home show better.
---
Final thoughts on Home Improvements:
The first three tips can be executed at a relatively low cost, and it makes sense for every home. Cleaning is 100% the best thing you can do to sell your home because it's not only the cheapest, it's the most important. It shows buyers a sense of pride in taking care of your home when compared to some of the others that are left a mess.
If you have kids or pets and you're trying to sell your home it may make things a bit more difficult when cleaning. It's still an absolute must!
Mowing the lawn and painting the house are two other ways to guarantee your home is 'dressed' to impress buyers. Pretend like your home is going on a date. How would you want it to look if it was meeting someone for the first time?
Buyers care about two things more than anything else inside the home and that's the kitchen and bathrooms. Personally, I would much prefer a great family room. This seems to be the general opinion among most of my clients as well.
Consult with your local Real Estate Agents and Contractors to determine if an outdoor patio, a remodel, or an additional bathroom is the right move for you. When you're preparing to sell your home it also makes sense to consult with a local mortgage lender should you plan to buy another house as well.
If you want sure-fire ways to improve your home's value when you list it for sale, there you have it. These home improvements are sure to please buyers, and benefit you on the return! If you're considering remodeling your home to improve the value, be careful not to overspend.
What's your favorite room in the house leave us a note in the comments section below!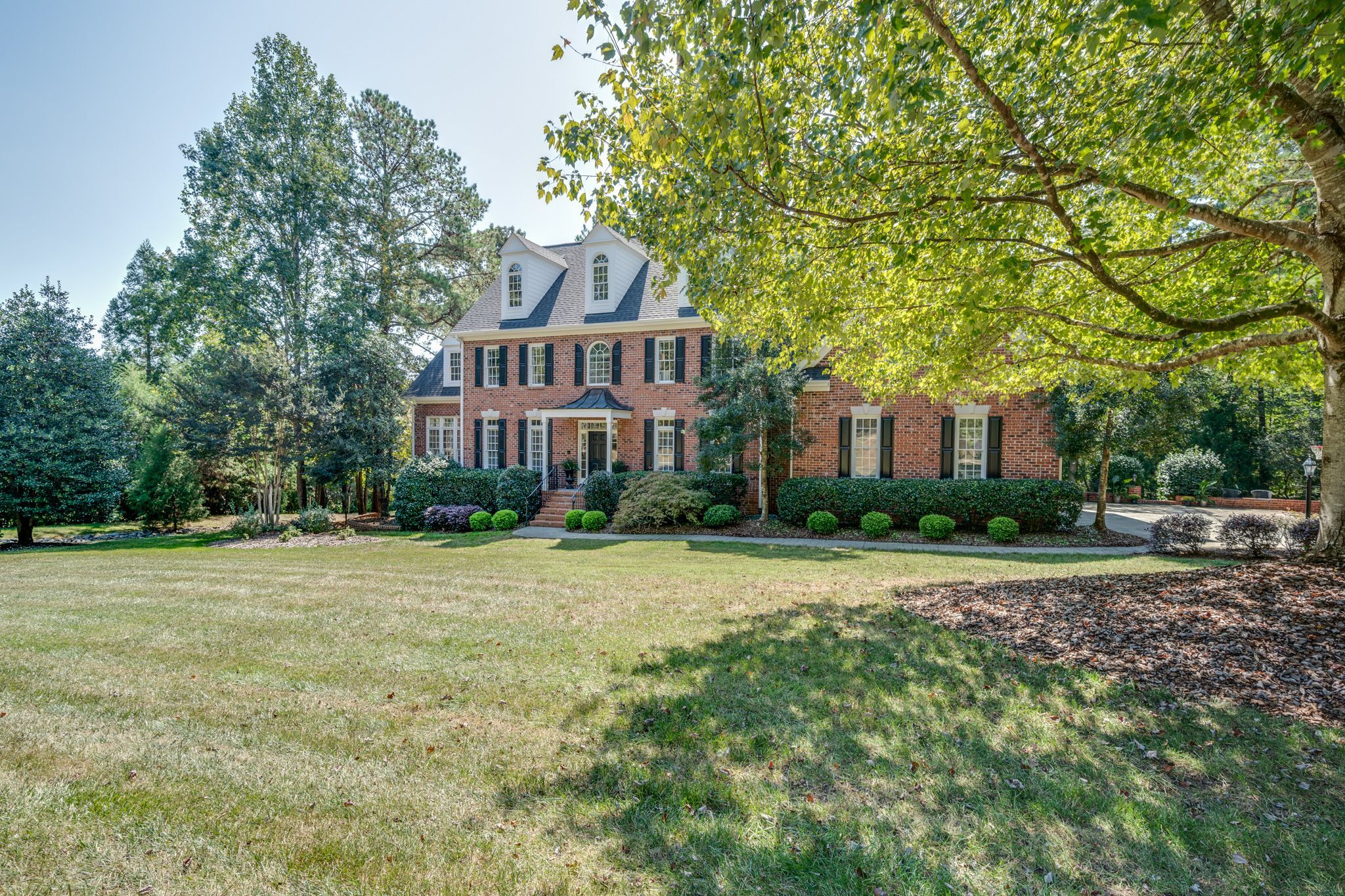 Find your new home
Search real estate and homes for sale