Strategies Realtors® use to Make Sellers More Money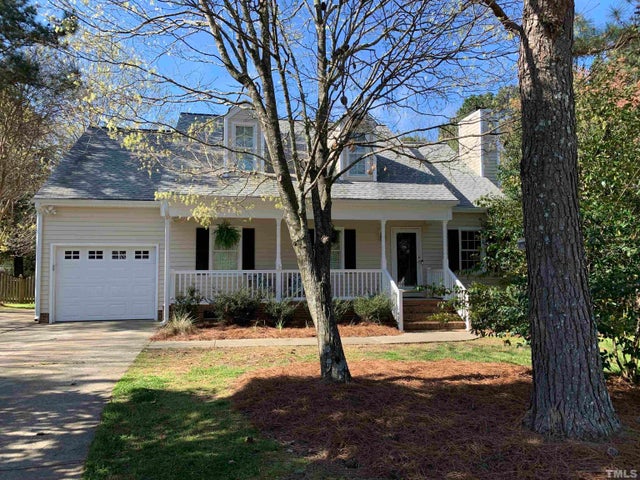 Did you know that the founder of ForSaleByOwner.com, Colby Sambrotto, couldn't sell his home for sale by owner? He enlisted the help of a Realtor® who then sold it for $150,000 more than the original price. You can read the full story here.
So you're probably wondering how did a Realtor® earn Mr. Sambrotto more money than he would have if he sold it himself. Let's talk about it.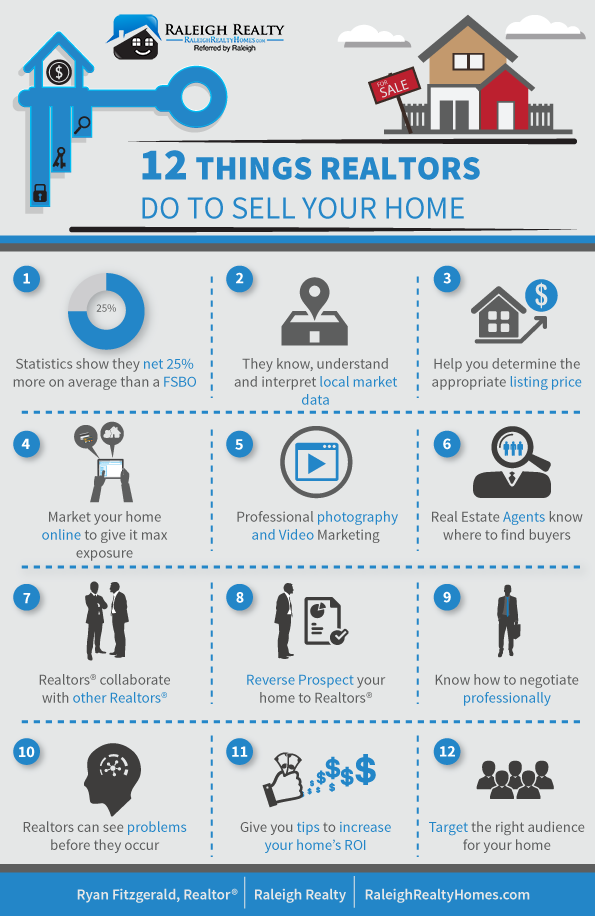 As with anything in life there are people who work hard to master their craft. Lebron James is the best basketball player in the world, Tom Brady is the best Quarterback in the NFL, and they didn't end up the best without working extremely hard. Many of the best Realtors® spend their time learning, adapting and selling the homes of their clients each and every day. They work hard to master their craft. Most Realtors® I know spend 60+ hours a week working for their clients, and that includes weekends. In order to sell a property you need a buyer, and Realtors® work with 9 out of every 10 ready, willing and able buyers.
So if Realtors® spend so much time, money, and effort working for their clients, what exactly are they doing to sell my home?
12 Things Realtors® do to Sell your Estate for More Money
Statistics Show Realtors Net 25% More on Average than a FSBO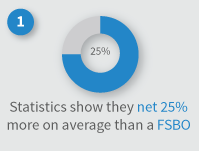 The reason the results show Realtors® selling homes for a better price is because of the marketing, sales and negotiating strategies they employ. Over 89% of For Sale By Owner's will eventually fail, 88% of buyers are working with an Agent, and Realtors® know other Realtors®. 
The number one reason someone chooses to sell their home themselves is to save money. That is something we all can relate to and understand. While an owner may be saving on the commission is it possible they are actually losing on the total equity they could walk away with?
The statistic from the report seems like it may be a bit high in favor of Realtors®. If you're selling a luxury home a 25% sale price could be upwards of $150,000. Anyone looking to buy a luxury home would jump at the opportunity to save that amount of money, right? Not necessarily. The Founder of forsalebyowner.com couldn't sell his home at a $150,000 discount and he's a pretty smart guy.
"FSBOs accounted for 9% of home sales in 2013. The typical FSBO home sold for $184,000 compared to $230,000 for agent-assisted home sales." The National Association of Realtors® reported these numbers in 2014 showcasing a 25% increase in average sales price when you sell with a Realtor®. If you still want to sell your home for sale by owner in North Carolina here's a guide to help you although you may want to read why selling your home with a Realtor® makes you more money.
Great Realtors® Interpret Local Market Data & Trends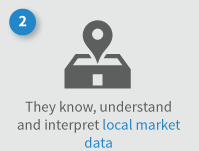 One of biggest mistakes home sellers make is they price their home far above where it should be listed. This is one of the fastest ways to devaluing your property.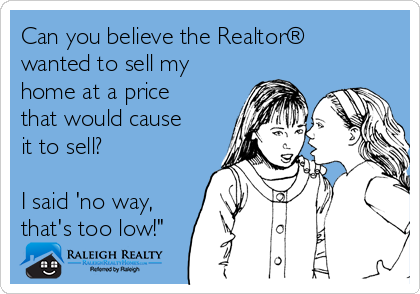 A lot of what a Realtor does is to help you determine a list price that will earn you the most amount of money while causing your home to sell. This is done through knowing the neighborhood, understanding what has sold and what hasn't, as well as the specific absorption rates for a property like yours. Information is power and Realtors® have MLS access to pull the accurate numbers.
There are certain months that are better than others for selling homes. Each and every local real estate market has a heartbeat and you need to move accordingly with it to maximize your profits.
This strategy demonstrates expertness. Every month Raleigh Realty puts together reports for people who live in Raleigh discussing the monthly real estate trends, housing inventory, and pricing trends. In less than 75 seconds we deliver high quality information and give professional advice to those thinking about buying or selling real estate in the area. Knowing the local market trends is something every Realtor® should have knowledge of. You should be able to be at a party and say 'hey did you know there was a $24,000 dollar jump between the month of April and June in average selling price?' Here is an example of one of our Raleigh market updates:
Applying this knowledge to the sale of your home is part of what a Realtor does to put a sold sign in your yard. Once they study the numbers, they will report their findings to you. It may be a number you like, and it may be a number you don't. Understand that Agents are students of the numbers, they don't make them. Once you have your price range it's time to pin point a list price.
Determine the Best Possible Listing Price for your Home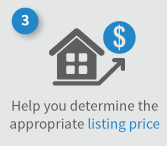 The first thing you should do when determining your list price is go to Zillow and see what their Zestimate says. JUST KIDDING! Zillow's home estimates are some of the worst I have seen. There was a condo listed for sale in North Raleigh for $89,000 and the unit next door had just sold for $79,000. Zillow, Zestimated that the sale for the condo should be $185,000. Only off by more than 200%, not bad!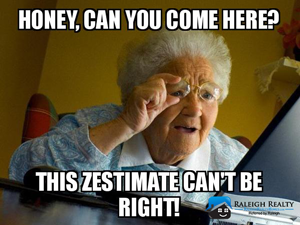 A Real Estate Agent will help you sell your home by finding the best possible list price.
Each client has a unique situation whether that is selling their home for the first time, needing to sell quickly, or even an owner who is focused solely on receiving the most money possible. Each of these situations could impact the price point for selling the home, especially when time becomes a factor.
By interpreting the local market data, understanding your situation, a Realtor® will give you the top selling price for your property. This avoids overpricing it, or underpricing it because the factual data determines the list price taking the guesswork out of it.
Realtors® Know the Top Online Marketing Strategies
One of the most important things Realtors® do when selling homes is they use the top online marketing strategies and approaches. You want to make sure your home is found everywhere online and by a targeted audience as well.
Social Media - A lot of Realtors® will utilize social media as a tool to sell homes. Specifically Facebook. By targeting a specific audience you can ensure your home is seen by everyone in a particular area so that they know your home is for sale. Realtors® will run these Facebook ads to generate buzz in your neighborhood and city because there is a strong chance someone will know someone looking to buy a home. "This beautiful home, in MacGregor Downs, just hit the market. Tag someone you want as your neighbor!" Once the tagging and liking begins you're reaching a targeted audience of potentially hundreds of thousands news feeds.
Listing Description - An important part of advertising online is writing a great listing description. Reading can spark emotion and buyers attach feelings to homes. Writing content that speaks to the uniqueness of the home helps it appeal to the buyers who are looking for those select features. 
Target an Audience - The first thing you should do when selling your home is learn about your potential buyers. If you're looking to sell to real estate investors than you'll want to find the websites and forums that those investors hang out on. A lot of the investors I know look at BiggerPockets.com and Craigslist all the time. So if you want to take your listing a step further place it on websites that you know people will find it. If you're listing commercial property check websites such as LoopNet.
Targeting a specific audience and figuring out how to reach the maximum amount of people in that audience is something strong Realtors® do. They also ensure that when people do see it, they are marketed with professional photos and video.
Top Realtors® use Professional Photography and Video Marketing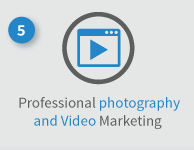 Using the best marketing strategies to sell real estate means nothing without a captivating product. That's why you'll see the best Real Estate Agents using photos that are high resolution, and edited with software programs like Adobe Photoshop, Lightroom and Final Cut. You can even create a video in less than 5 minutes by importing your photos to YouTube. 
95% of buyers find the estate online before they see the home in person. With so much information accessible to them they are creating an opinion of your home prior to seeing it. That type of relationship will be a great one, a poor one, or an apathetic one. The goal for any Realtor® is to convert the maximum number of people who see your listing into great relationships. The result will show up in the showings report.
Professional Photography and Video Marketing for your home go along with buyers. They are creating an emotional attachment to your home from the photography, the videos, and the listing description. 
To Sell your Home you Need One Thing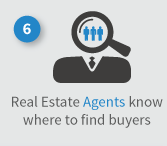 A buyer. There are all sorts of ways to market, sell, and price your home. At the end of the day you need to find a buyer if your house is going to sell. Serious buyers are checking the real estate market daily and constantly talking with their buyer's agents about new properties that come on the market. 
A Realtor® will ensure that your property reaches the buyer's agent who will report the information to the buyer. There are specific types of Realtors® as well, some who specialize in working with only buyers. 
Realtors® Collaborate with other Realtors®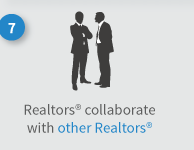 Often new listing information is passed from broker to broker in the real estate office. One of the first tools I use to ensure my colleagues are aware of my new property is display it to them and ask if their buyers are interested. 
Before I list a home for sale in my market, Raleigh, North Carolina I sometimes know what other local Realtors® have potential buyers. Either way you can bet your ass I'm using every method in the book to make sure my colleagues know a new home just hit the market.
One of the first things a listing agent should do is Reverse prospect your home to other Agents. Reverse prospecting in real estate is similar to how it sounds. You are prospecting Buyer's agents who have created saved searches for their clients inside the MLS platform. 
Reverse Prospecting to other Realtors® in the MLS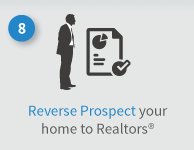 It's a direct way to inform Buyers Agents that are working with clients looking for a specific property like yours and in your area. It's a targeted approach to prospecting your home and is one of the most effective and efficient ways to market any property.
Here is an image of a Reverse Prospecting email I sent to my fellow Realtor® colleagues. It also includes a video in the email and encourages the buyer's agent to forward it along to their buyers.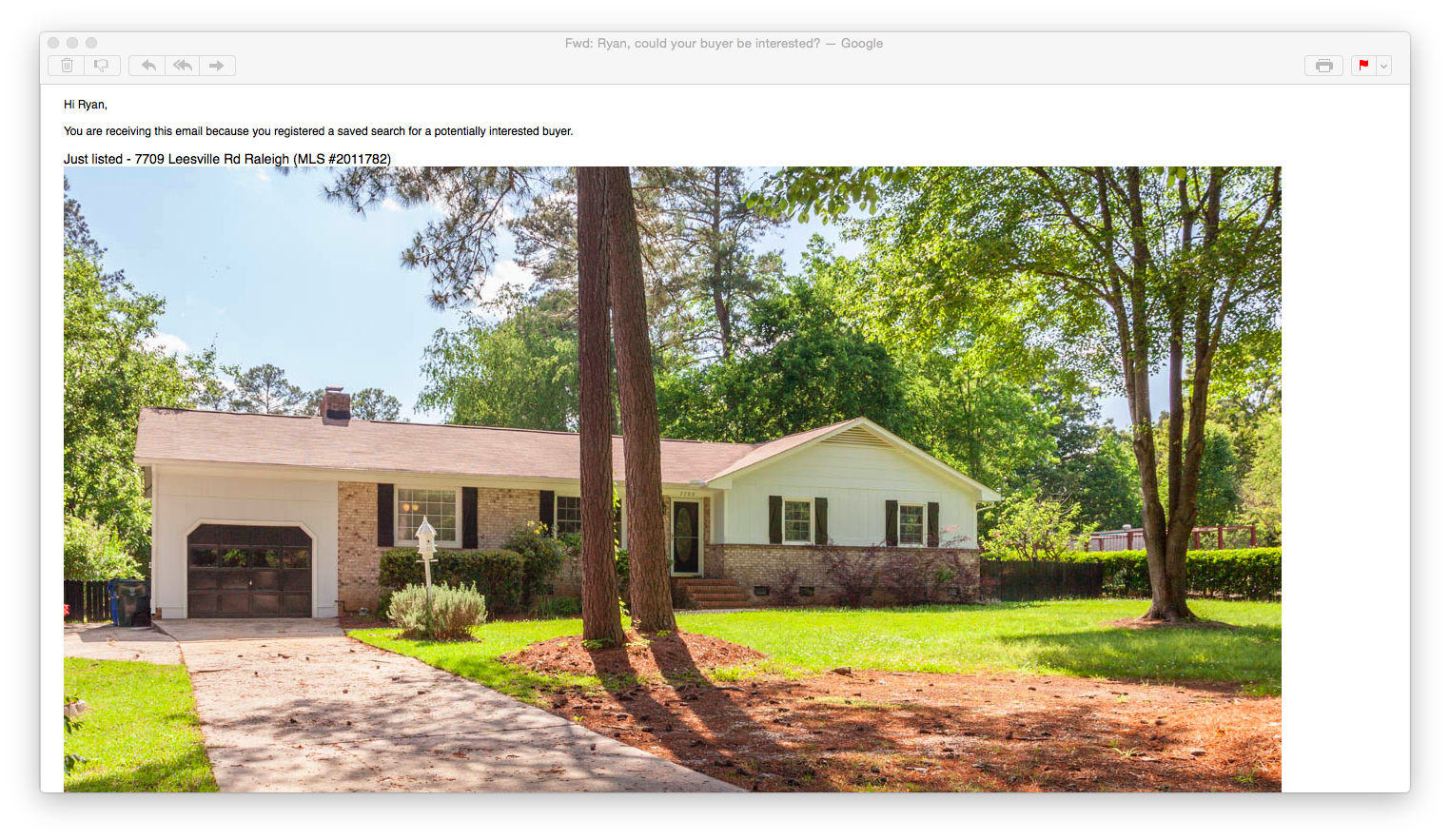 When I mention to colleagues in the industry that they have a saved search for a potentially interested client they are very receptive to my marketing. The reason they enjoy it is because they are the first ones to know about the property for sale, long before their clients might have been able to discover it.
You can lose a potentially interested buyer for your home during negotiations, that's why it's important you have an expert Realtor® negotiating for you.
Excellent Realtors® Negotiate The Right Way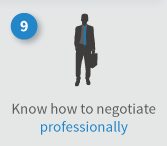 Buyers buy with emotion when purchasing properties. If you're negotiating a FSBO with a Realtor® and you do something to cause any type of stress on the buyer they are going to change their mind. By adding both a listing agent and buyer's agent you are able to change the tone of the conversation through the phone.
Selling homes is not about trying to take, take, take from the buyers. It's about determining what is a win-win for both parties involved while keeping everything professional and polite. Great Realtors® are able to sell homes for more money through the strategies they employ AND create great win-win deals for everyone involved.
A great strategy is to say "my sellers are only comfortable selling to someone who really wants the property, can you help them understand why they should sell to your client?" Now the buyers are the one's trying to convince the sellers why they should sell to them, it creates a type of emotional chemistry that causes the buyers to earn the home.
If you list a home at a certain price, remember, buyers are viewing the home with the expectation that they will pay that price. Realtors® who are confident in their numbers know this and will not have as much wiggle room as an agent who doesn't know the neighborhood real estate statistics.
We keep sellers informed with monthly Raleigh Real Estate Reports that include important information and trends.
Realtors® can spot a Potential Problem Before it Happens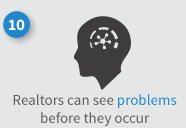 This may be something that sellers can only discover in hindsight though for the forward thinkers it may hit home.
It's a day or two before closing, all of a sudden the buyers hit you with a list of issues that they want fixed or they want the price reduced or they will 'back out.' A lot of times we set the expectation that the seller is not preparing to make any repairs before we sign the offer to purchase and contract because that is a future problem that could arise.
When selling a home it's important to understand that the first negotiation happens when you're working on an offer to purchase and contract. If the negotiations during this period go well you should feel comfortable moving on to the next set of negotiations. Repairs.
The inspection report will not come back spotless, and if it does you should find a new inspector. Every home is going to have some sort of an issue because there is no such thing as a perfect home. Be prepared to potentially negotiate again during this period. Before your sellers sign the offer to purchase and contract it may make sense to make the buyers aware whether or not you plan to negotiate repairs with them.
Give you tips to increase your home's ROI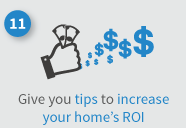 Realtors® know ways that will increase your return on investment when selling your home. For instance adding a half bath can cost you a few thousand dollars and push your home up in value by $10,000 +!
A lot of the tips and tricks that Agents explore with their clients are relatively cheap from switching brass fixtures to nickel fixtures you can increase your homes value right away. Nickel door knobs are far more appealing to today's buyers than brass door knobs. Today's buyers are focused on rooms like the kitchen, the living area, the floor plan, and bathrooms are important. A great master bedroom will help sell any home.
There are steps you can take prior to listing your home for sale that will help your home sell for more money and faster than it would have otherwise.
Target the right audience for your home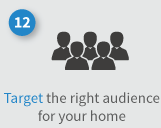 Knowing who the buyers for your home are going to be before you go to market your home is important. For an investment property that is not in great condition you are not targeting someone who is looking for a luxury home.
Certain price ranges and home styles attract different types of people.
When selling the home of the founder of ForSaleByOwner.com, the Realtor® waited for the right moment and struck the right audience. Ultimately selling the home for 150k more than it was originally listed for!
Final Thoughts on Selling your property with a Realtor®:
The next time the founder of ForSaleByOwner.com goes to sell his property do you think he is going to call a Realtor? Obviously.
Realtors® do a lot of things to get homes sold. The article would never end if we went into detail about everything an Agent does so we wrote 12 things we thought would help. Determining a proper list price from the start is important since it is one of the first things a seller will look at.
What Realtors® are able to do when selling homes no for sale by owner would be able to. Whether it's reverse prospecting buyer's agents or marketing to the right audience, at the right time Realtors® are able to net 25% more on average. Today's buyers are looking online for homes, and almost 90% are working with a Real Estate Agent.
The techniques Realtors® use to make you more money will leave you feeling like you just won the Super Bowl.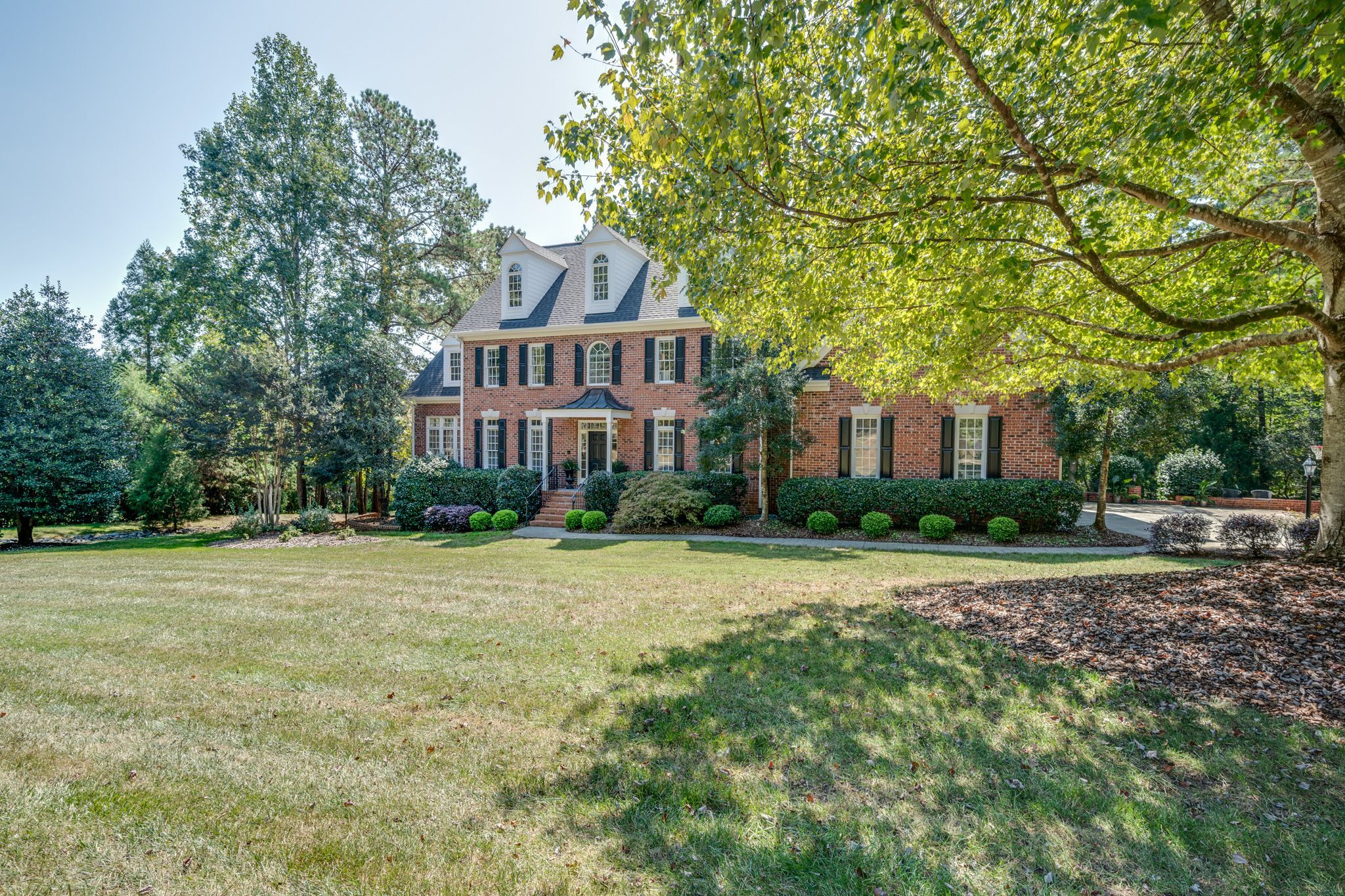 Find your new home
Search real estate and homes for sale