16 Best Neighborhoods in Durham, NC - Best Place to Live Durham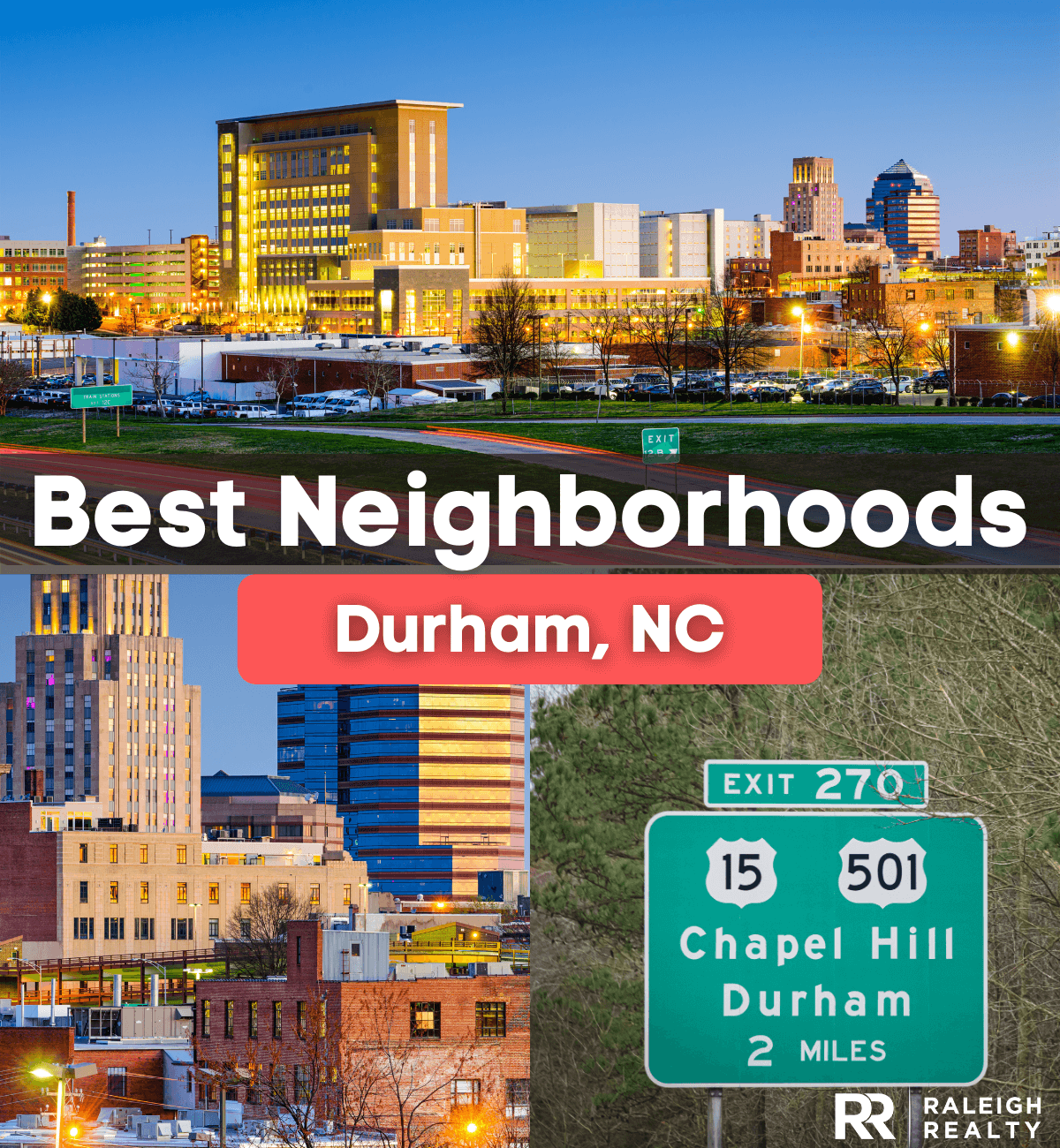 Best Places to Live in Durham
Durham is one of the best places to live in North Carolina which comes as no surprise to the folks living here. Read on to find out Durham's best neighborhoods!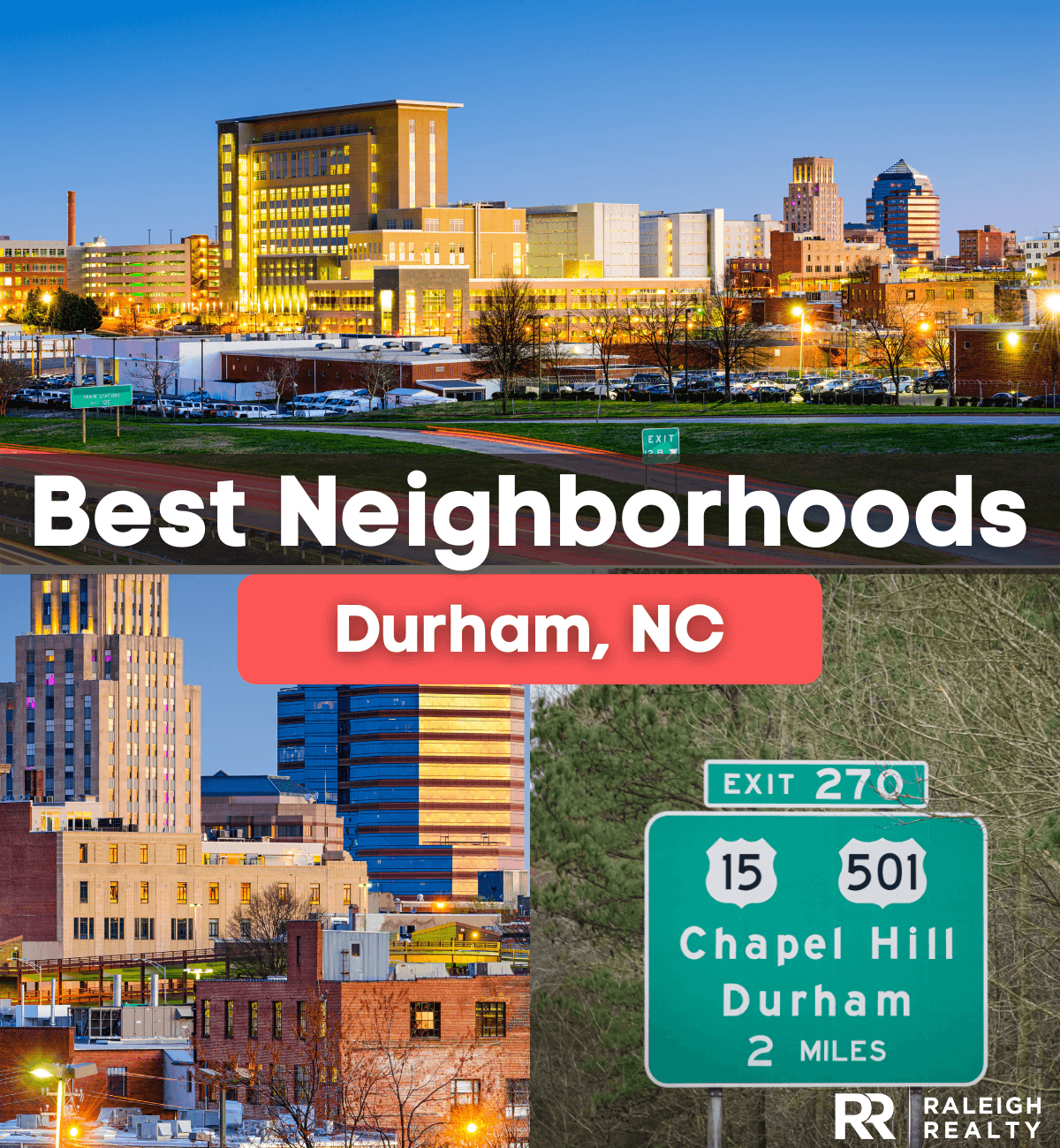 Looking for more information on top neighborhoods in Durham, NC? Family, young professionals, and retirees, there are great subdivisions in Durham for everyone and anyone! Aside from its neighboring city, Cary, Durham is the fastest-growing city in North Carolina by percentage, ahead of Raleigh, Charlotte, and Greensboro. 
Durham is one of the fastest-growing cities in the United States and is one of our focus areas. We love Durham and the future outlook of the city!
Want to search for Homes for Sale in Durham, NC? Click here!
There are many people moving to the Raleigh-Durham area of North Carolina, and for great reasons too! There is a high quality of life in the Triangle area, a direct result of the people, the affordability of the homes for sale, the weather, and the great communities!
---
A Little History of Durham, NC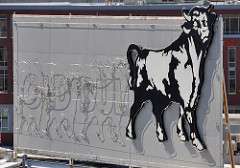 With an estimated population of 250,000+ (2013), Durham is the county seat of Durham County and makes up a large part of the Triangle area.
After the Civil War, Durham's growth began to explode on the heels of the fast-growing tobacco industry. The armies that had passed through Durham fell in love with their milder tobacco and started placing orders via the mail. John Ruffin Green, the owner of the Tobacco company partnered with W.T. Blackwell, and together they renamed the company the "Bull Durham Tobacco Factory."
The rise of Durham's economic growth began with the tobacco industry as the Bull Durham Tobacco Company, and the W. Duke and Sons Tobacco company began to thrive and prosper. Washington Duke, the owner of W. Duke and Sons Tobacco company raised sons who became excellent business people in Durham. They formed a monopoly on the smoking and tobacco industry by 1900. By 1910 the Federal Government had to step in and break them up under antitrust laws.
You are probably familiar with Duke University, and if you live in Durham, you know Duke Energy. Both are connected to the Duke who are key players in Durham's early economic growth. Duke Power (now known as Duke Energy) made the Dukes far more money than tobacco ever did. In 1924, John Duke honored his Father with a philanthropic foundation to support Trinity College. Trinity College then changed its name to what is known today as Duke University.
The Triangle area comprises Raleigh, Durham, and Chapel Hill and supports great universities like Duke University, University of North Carolina, NC State University, and more. The Durham area is known as being one of the most educated cities in the country, after a Forbes study shows Raleigh and Durham at #2 and #3, respectively.
Located northwest of Raleigh and the fast-growing cities of Apex, Cary, Holly Springs, and Fuquay-Varina, as well as northeast of Chapel Hill, Durham is surrounded by economic success. Largely thanks to RTP (Research Triangle Park) and the healthcare system that is now the area's best-known industry. Companies are flocking to the Durham area thanks to the combination of affordability and talent produced by the local universities.
So, what are the best neighborhoods in Durham, NC?...
In alphabetical order, here are some great subdivisions in the city of Durham:
Located in southwest Durham, Blands is an unincorporated community that is a great area to live in!
---
Brightleaf at the Park
Brightleaf Homes for sale in Durham, NC
Not to be confused with Downtown Durham's popular Brightleaf Square, Brightleaf at the Park neighborhood is a new master community that is being built on the Raleigh-Durham line, with quick access to RTP, Downtown Durham, and Downtown Raleigh. The community will include hundreds of homes, a community pool, clubhouse, playground, and more!
The best about this Durham neighborhood is it's a convenient location to everything the Triangle has to offer. Right off Glenwood ave, and on the Raleigh-Durham border you can't beat this area.
---
Carolina Arbors
One of the top communities in Durham is Carolina Arbors.
It is an adult community that allows 55+-year-old people a great neighborhood to enjoy. Although I am a millennial, I can easily tell that there is something special about this place! Many of the folks we work with are older than 55, and they LOVE Carolina Arbors!
Carolina Arbors is one you MUST take a look at if you're looking for retirement communities. Take a drive through the neighborhood centrally located between Raleigh and Durham, and see for yourself!
---
Chancellor's Ridge
Chancellor's Ridge Homes for sale in Durham NC
The Chancellor's Ridge neighborhood in Durham, NC, is located in southwest Durham close to Southpoint Mall and includes 455 homesites. It is a beautiful neighborhood nestled in a quiet country setting, with a short commute to local amenities, Duke University, RTP, downtown Durham, and Jordan Lake.
With a beautiful swimming pool and clubhouse, Chancellor's Ridge is one of the best neighborhoods in Durham!
---
Downtown Durham
Homes for sale in Downtown Durham, NC
Exploding with economic growth, Downtown Durham is the backbone of the city. Homes have appreciated a considerable amount in Durham's Downtown area thanks in large part to the city's growth. Many people are relocating to Durham from the northeast United States, as well as California. Many young professionals, young families, and older adults call Downtown Durham home.
If you're a baseball fan, you'll love life in Durham, as the Durham Bulls have a massive fanbase for Triple-A baseball.
---
Duke Park
Look no further than the Duke Park neighborhood for those who desire a family-oriented community in Durham, N.C.. This became one of the first popular residential areas in Durham when it began to evolve rapidly in the 1920s. Older homes, apartment complexes, new builds, and townhomes are spread throughout Duke Park. Many families have remained in the area for decades, giving visitors and new residents a welcoming small-town feel. Its location directly off of I-85 allows residents easy travel to work, dining, shopping, and entertainment.
Within the Duke Park neighborhood is a community park that shares the same name as the area. Duke Park is a popular gathering spot for residents of all ages and is said to have the best children's playground in Durham. The park's charming hardwood-filled property offers a soccer field, dog park, picnic shelter, walking trails, gardens, and swings. Events held in the park include fundraisers, celebrations, cookouts, and the Annual Beaver Queen Pageant.
---
Fairfield
Fairfield Homes for sale in Durham, NC
The Durham neighborhood, Fairfield, is a great place to live. You can learn more about the community here, on their neighborhood web page. Fairfield offers homeowners larger lots, giving you space to move around, and a community pool and clubhouse.
The rural setting offers some peace from the hustle and bustle of downtown Durham. Yet, its location makes it an easy commute to anyone working in RTP, Downtown Durham, Chapel Hill, or the Raleigh-Cary area.
---
Forest Hills
Another well-known Durham neighborhood is Forest Hills. This community is perfect for buyers looking for a quiet neighborhood with nearby city amenities. The majority of homes sat on larger lots and were built between the 1920s and 1990s. The neighborhood has achieved a prestigious and historic charm with many properties following the Colonial, Tudor, and English Cottage home styles. Forest Hills is a desirable community, as listings generally don't stay on the market for long!
The Forest Hills Park includes a playground, picnic shelter, tennis courts, swing sets, and walking trails. Residents can also enjoy cooling off at the neighborhood's play ground and pool during the warm summer. The Forest Hills Clubhouse is a popular community venue for celebrations, birthday parties, meetings, and family reunions.
---
Grandale
Grandale Homes for sale in Durham, NC
Grandale Place is one of the premier Durham neighborhoods and consists of 135 single-family homes. Located in south Durham, NC, Grandale place is located in Durham County. There are two entrance gates that lead visitors and residents into the community. Grandale Place is conveniently located 10 minutes from the Research Triangle Park, Interstate 40 and NC-55/54 as well as Southpoint Mall.
The community has many features including a playground for kids, as well as an active Homeowner's Association that maintains a walk-friendly community.
You can learn more about the neighborhood of Grandale here.
---
Hope Valley Farms
Hope Valley Farms Homes for sale in Durham, NC
One of the top neighborhoods in Durham is Hope Valley Farms. The rural setting gives Hope Valley that nature-y feel that a lot of homeowners are looking for. It's close to lakes and creeks, and the neighborhood is filled with trees, giving it a peaceful and relaxing neighborhood ambiance.
The Hope Valley Farms is a great subdivision. Their HOA website also works with other neighborhoods like Eagle Ridge, Chowning's Place, Greenbriar, Heatherwood, Oakbrook, and Windsor Oaks.
---
Northgate Park
Northgate Park is an affordable neighborhood with beautiful properties. Popular home styles in this area include bungalows, cottages, mid-century modern, and contemporary. The older homes give Northgate Park a southern charm, and the tree-filled yards offer residents privacy in a peaceful neighborhood.
The 30-acre Northgate Park features a dog park, picnic shelter, swings, tennis courts, and playgrounds. Another popular family destination in the neighborhood is the Museum of Life and Science. This education center includes a butterfly house, dinosaur trail, and launch lab where visitors can test flying objects! The museum is also the location of massive treehouse playgrounds and a cooling stream. More Museum activities and exhibit information can be found here.
---
Old North Durham
Old North Durham is a historical neighborhood that maintains its close-knit community while it evolves. While driving through the area, you will notice that popular home styles are bungalows, colonials, and craftsman styles. Houses in this area can range from smaller modest homes to lavish mansions.
Old North Durham Park is home to Durham's annual Strawberry Festival. This event brings the community together to enjoy a day of live music, games, delicious treats, art, and a 5k run. The park also offers the neighborhood children a playground while Fullsteam Brewery is a place where adults unwind and have a good time. Residents can relax with a refreshing craft beer while enjoying the Brewery's entertainment. Popular events include live music, trivia, and yoga! For more information on the Brewery's menu and calendar, you can check out Fullsteam's website here.
---
Parkwood
Parkwood is one of Durham's oldest neighborhoods, consisting of nearly 3,000 residents and 100 acres of beautiful tree-lined properties. The cul-de-sacs also bring quiet and private characteristics to the area. Housing options include single-family residences, apartment complexes, townhomes, and condominiums. With the Research Triangle just a few miles away and easy access to I-40 and the freeway, Parkwood residents have excellent job opportunities nearby.
The community is also the perfect area for families. The neighborhood includes four playgrounds, an elementary school, a swim club, walking trails, and several parks. The Parkwood Sports Association also allows community children to play in baseball, softball, and t-ball leagues. Parkwood also holds 2 of Durham's popular events throughout the year. Residents can attend the Annual SummerFest in June and the Annual Holiday Festival in December to enjoy food trucks, live music, inflatables, carnival games, beer on tap, shopping, and craft markets!
---
Southpoint
Southpoint Homes for sale in Durham, NC
Southpoint is one of the top areas in Durham, NC. The Southpoint mall is one of the main attractions in the area, and the location is second to none. Check out the map below to see how central the Southpoint location is, we have highlighted some of the main areas.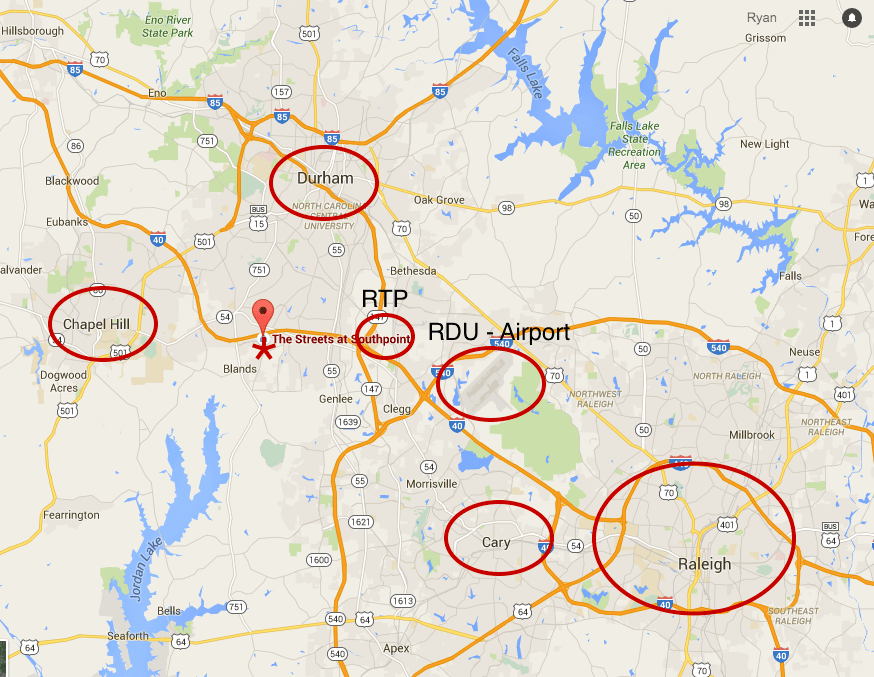 While the Southpoint area isn't a subdivision listed in the local MLS, we have created a 2-mile radius around the area for those who would like to find homes for sale in the Southpoint area of Durham, NC. There are a lot of great surrounding neighborhoods!
---
Treyburn
Treyburn Homes for sale in Durham, NC
Voted Durham's best neighborhood by Durham Magazine in August of 2015.
The community of Treyburn has a lot to offer its residents! If you're a golfer, you will love the Treyburn Country Club, and if you love a great pool and clubhouse, you will enjoy everything Treyburn has to offer! To the right, you will see an image of the Treyburn club pool, as taken from the clubhouse.
Located in far north Durham, the Treyburn neighborhood offers some much-needed R&R for those looking for a peaceful and quiet setting. As well as the amenities to keep you engaged and entertained! A lot of the folks who are moving to the area who are looking for a more rural setting will love checking out the Treyburn neighborhood.
---
Trinity Park
Trinity Park is a stunning 40-block neighborhood in Durham where community residents are passionate about its historic preservation. Over the last 40 years, residents have worked diligently to purchase property to build a playground, protect historical homes from getting demolished, and achieve their goal of placing the area on the National Register of Historic Places. All who admire the historic properties and tree-lined streets feel the passion in this neighborhood.
Trinity Park is the heart of the area. Residents gather here to enjoy the playgrounds, swing sets, picnic shelters, and community events. The neighborhood also has a perfect location for those who desire nearby amenities. Trinity Park is within walking distance of Northgate Mall, Duke East Campus, delicious restaurants, and downtown entertainment!
---
Woodcroft
Woodcroft Homes for sale in Durham, NC
Woodcroft is another one of the Durham neighborhoods people love!
The Woodcroft community is over 2,000 homes designed to live harmoniously with nature. The goal is to create extensive hiking, biking, and jogging trails, and acres of common areas. The six miles of trails connect all neighborhoods inside Woodcroft.
Golfers will enjoy the Woodcroft Club golf course, and if you're looking for a community pool, complete with a really cool water slide, check out the woodcroft club!
---
Woodlake
Woodlake Homes for sale in Durham, NC
Another great community in Durham, NC is Woodlake. With over 600 homes located between Fayetteville and Barbee roads in the southwest region of Durham, NC, Woodlake has the DNA makeup of a great neighborhood! 
A rural setting among mother nature gives residents and visitors a quiet, comfortable life in a great community. Woodlake comes complete with a swimming pool, a clubhouse, walking trails, playground, and within walking distance of Piney Wood Park, which has tennis courts, soccer and softball fields, and a dog park.
Search Homes for Sale Below
Homes for Sale in Zebulon
Search Our Moving To and Living in Guides For Each Area Below
Moving to Wake Forest
Search Our Best Neighborhoods Guides For Each Area Below
Best Neighborhoods Apex
Additional Neighborhood Information: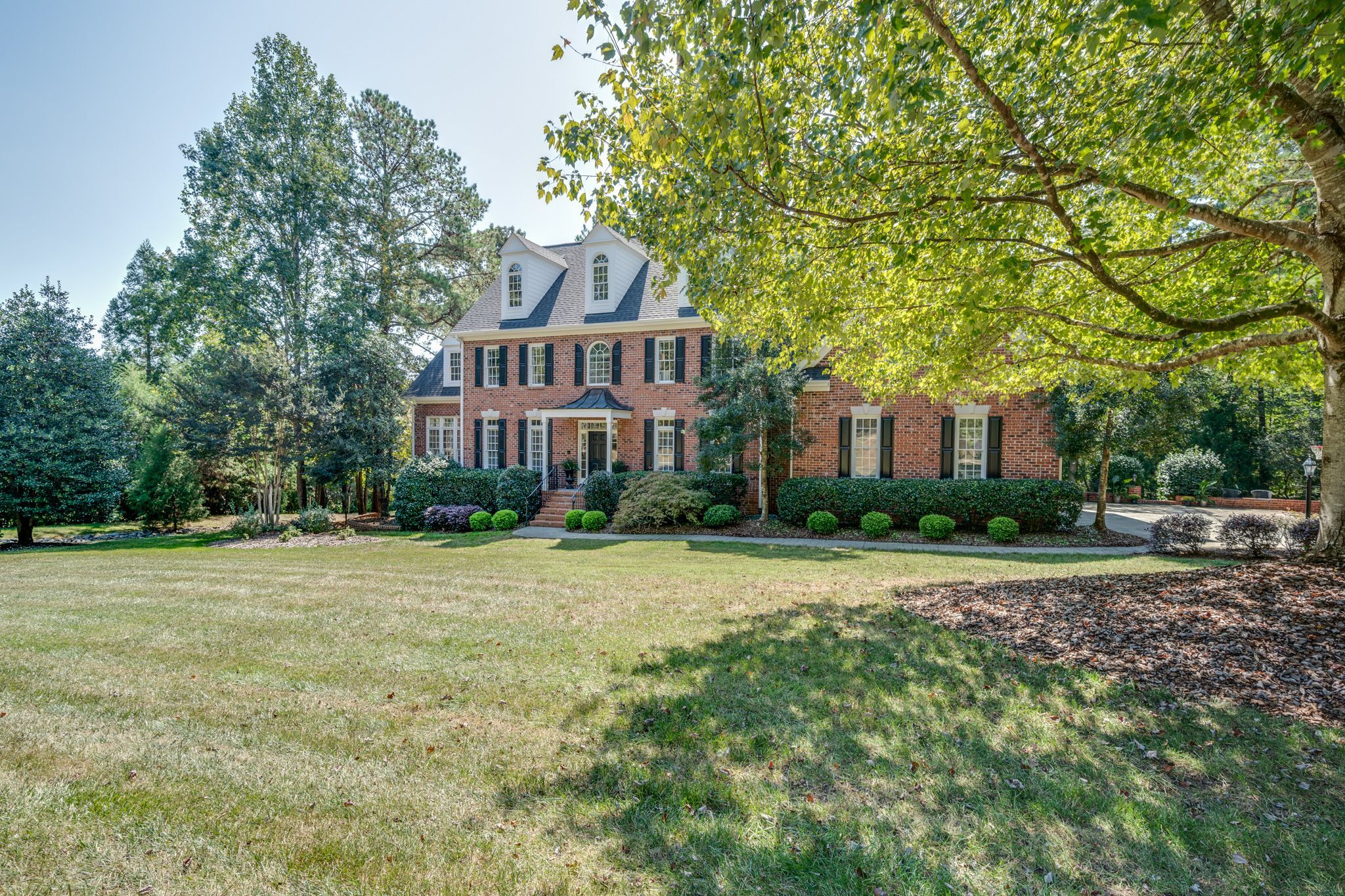 Find your new home
Search real estate and homes for sale