What Is A Brownstone? Learn About This Historic House Type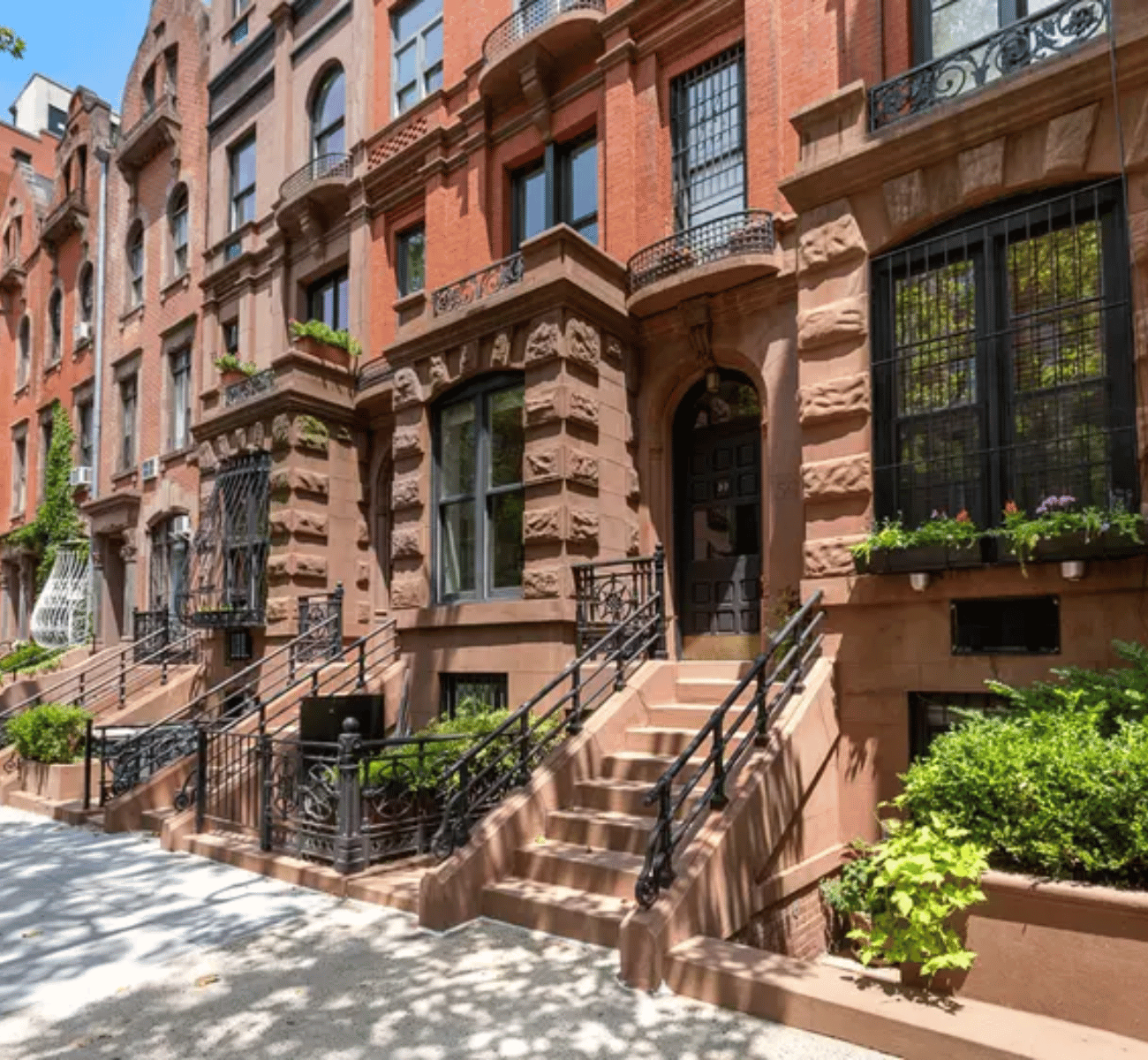 What Is A Brownstone?
What is a brownstone home? Read on to learn everything you need to know about brownstones, including their pros, cons and history!
Picking a home type that fits all your wants and needs is very important. There are many different home styles, and often people aren't aware of how they differ. 
This guide will focus on Brownstones, why they are unique, the areas you can find them in, and the benefits of living in one! 
History of the Brownstone 
If you've ever walked the streets of New York City and been mesmerized by the tall and beautiful rowhouses, you were most likely looking at a Brownstone. To be literal, "brownstone" refers to the brown sandstone used to coat the facades of brick rowhouses built for single, middle-class families in the early 19th century. Brownstone is mainly made up of small bits of quartz and feldspar combined with clays, iron oxides, and sometimes calcite or silica. 
Brownstone quickly became popular because it was easy and affordable to cut and carve with steam-powered machines. Typically, the brownstone material was sourced from the Portland Brownstone Quarry in Connecticut, put on barges, and set down the Connecticut river and Hudson River until it reached New York. 
Although they became popular, the brownstone material is unreliable; it's soft, close-grained, and liable to crack and crumble. Brownstones also have the reputation of not holding up with severe weather and exposure and needing to be restored.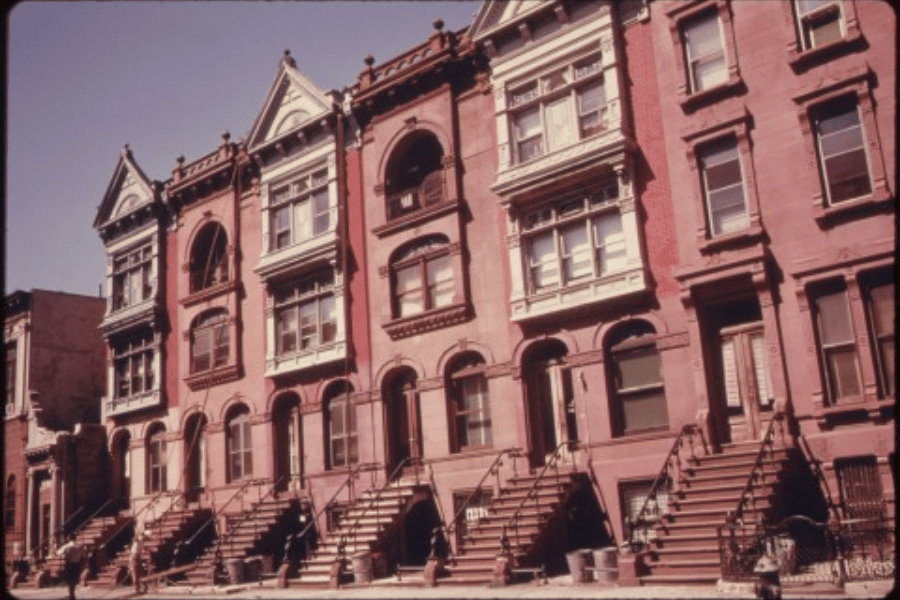 Five types of Brownstone
Apostle Island Brownstone
This type of Brownstone originated in Wisconsin in the 19th century. Wisconsin was the site of a quarry run by Bass Island Brownstone Company. Apostle Island Brownstone was then used in the construction of the first Milwaukee County Courthouse. 
Hummelstown Brownstone
The Humeelstown quarry (outside of Harrisburg, Pennsylvania) is the largest provider of Brownstone on the east coast. Today, numerous government buildings in West Virginia, Pennsylvania, New York, Maryland, and Delaware are faced entirely with Hummelstown Brownstone. 
Portland Brownstone 
AKA Connecticut River Brownstone comes from quarries located in Portland, Connecticut, and was used in several landmark buildings in Chicago, Boston, New York City, Philadelphia, New Haven, Hartford, Washington D.C., and Baltimore. 
New Jersey Brownstone 
New Jersey Brownstone once supplied most of the Brownstone used in New York City and New Jersey and came from the quarries in the Passaic Formation in northern New Jersey. 
South Wales Brownstone 
This type of Brownstone was made popular in South Wales during the Devonian age.
How Brownstones came to be 
Brownstone was not popular before the 1800s, which made it much cheaper. You were likelier to see materials like granite, marble, or limestone used to front brick rowhouses back then. 
It was with the arrival of Romanticism that brownstones became more popular. Romanticism is defined as an artistic and intellectual movement that idealized nature. The natural look of the Brownstone is what people strived for, and soon after, nearly 78% of New York stone buildings used Brownstone in their construction. 
"Moreover, during the industrial revolution, buildings went up in the city at a feverish pace, also largely due to romantic classicism. The movement was a kind of reminder that nature is not only essential but desirable as part of our everyday lives. Improved machinery empowered laborers to work safer, faster, and cheaper, wich boosted the construction of brownstones in the city."
Since the production of Brownstone was easy and affordable, it became perfect for the middle class. They were able to get a taste of luxury but at a lower price. 
Brownstones started to rise in price due to scarcity. The Portland Brownstone Quarry - where the material was sourced from - closed down in 2012. From then, the style of home became scarce. Although there were other places that sourced Brownstone, it was never the same. There were only a few places left with genuine and original brownstones - the upper west side, fort green, park slope, carroll gardens, etc. 
What is a Brownstone, and what do they look like? 
Think of Carrie Bradshaw's beautiful home in West Village on Sex and the City.
Brownstones are townhomes or rowhouses that, are brick structures with grand stoops, tall windows, and unique windowsills. Brownstones are at least two floors, typically ranging from three to four floors. A true Brownstone is built of brick; only the facade is made of Brownstone. Brick is used for the home's structure because Brownstone is too soft to use in building construction. 
Facade: defined as the front or 'face' of a building. From the French word of similar spelling, it is the primary side of a building or house that generally fronts the street on which it's built or the side one sees first upon coming near. 
Jack Pontes, a master craftsman, brownstone conservator, and owner of J.Pontes Inc., said, "the structural walls of brownstones are also brick. The stone is a veneer which is attached to the front brick wall with raw metal ties."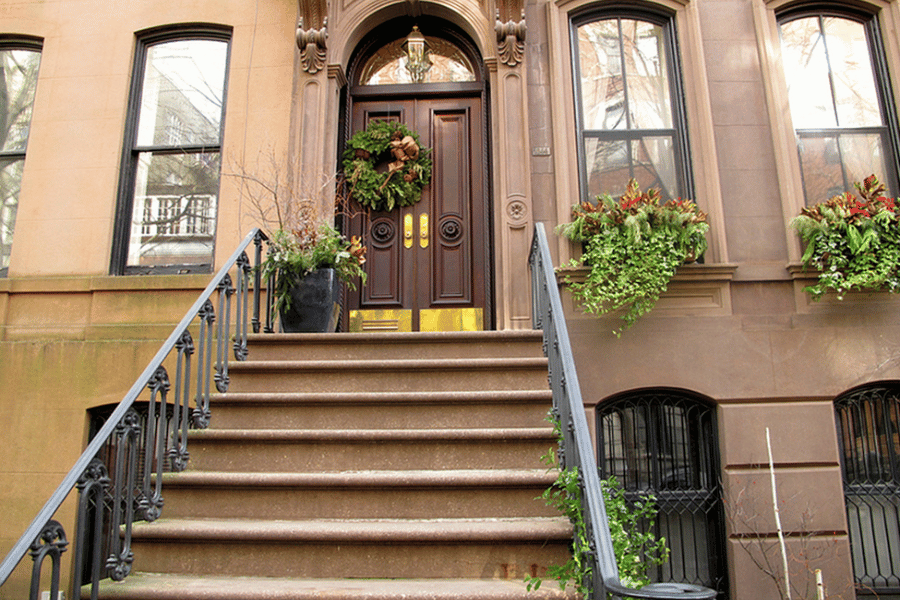 Upon entering a brownstone, you will likely be met with an expansive parlor designed for welcoming guests, a long rectangular dining room, and a foyer connecting the two. The layout is typically more open than other home styles, and the tall windows allow abundant natural light. Brownstones also have hand-carved details throughout the walls, windows, and doors. Most of the brownstone floorings are still the original hardwood, antique tiles, or parquet style, and there is beautiful crown molding, door frames, and elegant mantlepieces. 
A true brownstone typically includes: 
Brown, red, or tan stone facade
Brick building material interior 
Stone stoop
Italianate details on the facade
One or more rented or purchased units 
No space between buildings (rowhouses) 
The Stoops of a brownstone are beautiful, but they are not designed for the looks. The stoops of a brownstone are more practical than anything. Initially, the stoop protected brownstone owners from piles of horse manure that lined the city streets. Luckily, that's not the problem in today's world, so the stoops remain a place to relax outside with friends and neighbors. 
Stoop: "a small porch" comes from Dutch stoep (meaning: step/sidewalk, pronounced the same as Enligh 'stoop"); a porch, platform, entrance stairway, or small veranda at a house door. 
Brownstones in Raleigh, NC 
Over the last couple of years, brownstones have begun popping up around Raleigh. Let's dive into a few neighborhoods. 
The "brownstones at Bentley Ridge" - Bentley Ridge in North Raleigh is a collection of 15 luxury townhomes on a private cul-de-sac street. 
Trinity Brownstones: located just two miles from the PNC arena, Trinity Brownstones are the epitome of elegant living and sophistication associated with a true infill location. The community gives residents a lifestyle defined by convenience, sporting events, travel, healthcare, education, and maintenance-free living. 
Hargett Place Townhomes: Hargett place was one of the first neighborhoods of brownstones to pop up in Raleigh. The neighborhood in downtown Raleigh has 17 three-story luxury rowhomes ranging from 1,700 to 4,000 square feet with an additional 700 to 1000+ square feet of outdoor living space. The homes at Hargett place range from around $690,000 to 1.5 million. Each rowhome features a rooftop terrace, a kitchen balcony, a ground-level courtyard, and an oversized 1-car garage with parking for a second car. 
We hope to see more Brownstone-lined streets in the Raleigh area soon.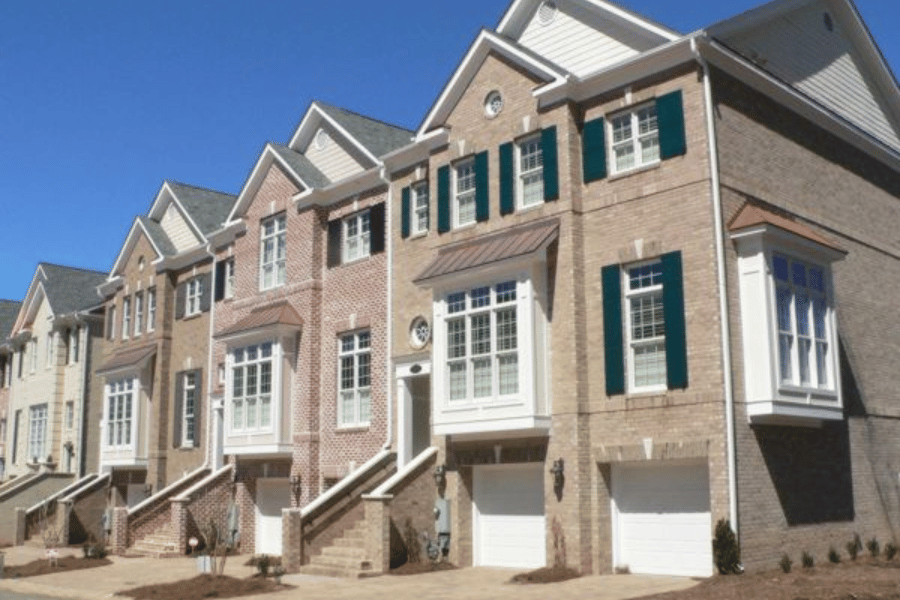 Pros of living in a Brownstone 
Space: brownstones are spacious, especially if you own and live in the entire Brownstone. However, even if you only have one unit in the Brownstone, they often span the whole floor or multiple floors. 
Charm: brownstones have the old New York charm and uniqueness. The tall windows bring in natural light, they have spacious stoops, and a sense of history. The Italianate features of the Brownstone are sought after.
Your landlord is nearby: most brownstone owners rent out their additional or unused units, meaning that your landlord could live above or below you. This is a pro when something goes wrong, and you need quick access to your landlord. It's also beneficial because you can create a close bond and relationship. 
Location: brownstones are typically in friendly neighborhoods that are tight-knit. The units are also in desirable locations and often near restaurants, shopping, entertainment, and more. 
Cons of living in a Brownstone 
Cost: because of the scarcity and the fact that demand exceeds supply, landlords can place a premium or have a higher rent for brownstones. Brownstones are also older buildings, so the cost of repairs can be increased. Some repairs you may come across as an owner or renter are: 

Worn or cracked plumbing 
Older appliances
Leaking roofs
Outdated insulation
Damaged flooring
Old gutter systems

No elevator: brownstones are known to have no elevator, so if your unit is on the fourth floor, you will take the stairs. 
Outdated: because genuine brownstones are old, most appliances and a/c units are old and outdated - unless they've been renovated. 
Maintaining a Brownstone 
Since original brownstones are older, they tend to require more upkeep. Some upkeep can be costly, and some can be preventative. Both are extremely important to preserve the building and keep it pristine. 
Maintain Flashing: the metal flashings help protect lintels' ornamentation, ledges, and other structures from absorbing water. The brownstone guide lists lead or lead-coated copper metal sheets as best in preventing corrosion and stains. 
Maintain the roof: roof damage must be addressed immediately. Your roof should also be inspected regularly and taken care of throughout the year.
Maintain cracks: water can penetrate walls, windows, doors, and other structures from cracks in the system. It's important to repair cracks so they don't weaken the building structure over time. The best things to use are high-quality polysulfide, butyl rubber, or acrylic latex caulk. 
Maintain gutters: This goes along with maintaining water cracks and the roof. If you keep the gutters, you have a higher chance of preventing water damage. 
Brownstone vs. Townhouse 
A townhouse is defined as a dwelling unit constructed in a row of two or more attached units. Each dwelling unit is located on an individual lot or parcel and shares at least one common wall with an adjacent unit. While these two styles often get confused or lumped together, fundamental differences exist. The main difference is the brownstone material used and the living arrangements. Townhouses are single-family homes. In a brownstone, there will often be multiple apartments, duplexes, and side-by-side townhouses. 
"a townhouse can be a brownstone, but a brownstone is not always a townhouse." The terms brownstone and townhouse get thrown around loosely, and many homes are called brownstones even though they are not. It's important to understand that a brownstone is only a brownstone if the facade is lined with genuine Brownstone. Even some real estate agents sometimes get it wrong, so thoroughly research before deciding to rent or own one! 
My Final Thoughts on Brownstones 
Brownstones are truly one-of-a-kind homes that have been around for decades. The charm and historic feel they bring to big cities is something you can't find everywhere. Original brownstones tell a story and encompass a truly natural look. Newer brownstones in Raleigh don't have the same history but are just as beautiful. If you're interested in renting one in a city, make sure they're within your budget and fill all your wants and needs! 
Raleigh Realty is a local real estate company that specializes in helping those through the home buying and selling process. We'd love to assist you in finding a brownstone in Raleigh or your dream home! Feel free to contact us or visit our website to connect with an agent. 
If you found our brownstone guide useful, share it with friends and family, or leave us a comment!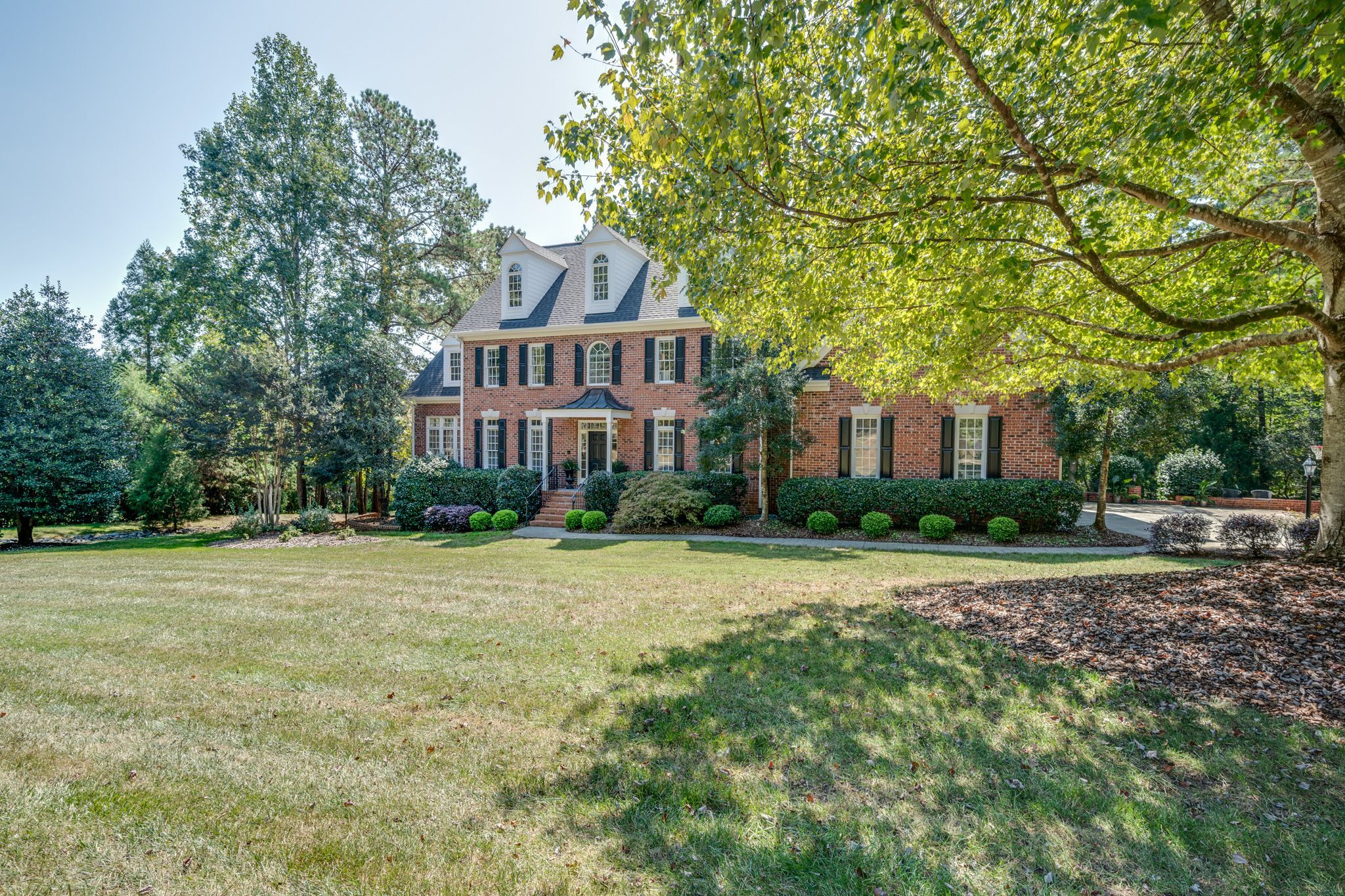 Find your new home
Search real estate and homes for sale