Close popup
Durham Homes & Real Estate
Search the newest homes for sale and real estate in Durham, NC! Durham is one of the most popular cities in the Triangle and a city our Realtors know well. Homes in Durham have appreciated faster than any other city in the Triangle due to the large economic growth which is only expected to continue. Contact us today (919-249-8536), so we may help you find a home that fits your lifestyle or help you sell a home. Our Durham Realtors are ready to help you with your real estate needs!
Current Real Estate Statistics for Homes in Durham

October 04, 2023

1,027 Properties Found. Page 2 of 22
5 Bed

4 Bath

3,256 Sqft

0.16 Acres

4 Bed

3 Bath

1,650 Sqft

0.23 Acres

3 Bed

2 Bath

1,104 Sqft

0.12 Acres

3 Bed

3 Bath

1,987 Sqft

0.24 Acres

0 Bed

0 Bath

3,048 Sqft

0.36 Acres

4 Bed

3 Bath

1,879 Sqft

0.29 Acres

3 Bed

3 Bath

2,228 Sqft

0.46 Acres

3 Bed

3 Bath

2,210 Sqft

0.36 Acres

2 Bed

2 Bath

1,108 Sqft

0.04 Acres

3 Bed

2 Bath

1,024 Sqft

0.58 Acres

4 Bed

3 Bath

2,498 Sqft

0.69 Acres

3 Bed

3 Bath

1,705 Sqft

0.28 Acres

3 Bed

3 Bath

2,040 Sqft

0.3 Acres

4 Bed

3 Bath

2,590 Sqft

0.74 Acres

3 Bed

3 Bath

2,696 Sqft

0.16 Acres

2 Bed

2 Bath

1,545 Sqft

0.14 Acres

3 Bed

3 Bath

1,849 Sqft

0.12 Acres

3 Bed

3 Bath

3,070 Sqft

0.62 Acres

2 Bed

2 Bath

2,162 Sqft

0.15 Acres

2 Bed

1 Bath

780 Sqft

0.2 Acres

3 Bed

3 Bath

1,703 Sqft

0.05 Acres

2 Bed

2 Bath

1,092 Sqft

0.03 Acres

3 Bed

2 Bath

1,790 Sqft

0.5 Acres

3 Bed

2 Bath

1,686 Sqft

0.34 Acres

4 Bed

2 Bath

1,528 Sqft

0.32 Acres

2 Bed

2 Bath

1,079 Sqft

0.36 Acres

6 Bed

6 Bath

7,007 Sqft

0.76 Acres

3 Bed

3 Bath

1,955 Sqft

0.05 Acres

5 Bed

3 Bath

2,849 Sqft

0.34 Acres

2 Bed

2 Bath

1,115 Sqft

0.12 Acres

3 Bed

2 Bath

1,077 Sqft

0.53 Acres

2 Bed

1 Bath

1,296 Sqft

0.17 Acres

3 Bed

3 Bath

1,786 Sqft

0.1 Acres

3 Bed

3 Bath

1,835 Sqft

0.5 Acres

5 Bed

3 Bath

2,824 Sqft

0.17 Acres

3 Bed

3 Bath

2,054 Sqft

0.04 Acres

3 Bed

2 Bath

1,451 Sqft

0.11 Acres

0 Bed

0 Bath

1,172 Sqft

0 Acres

3 Bed

3 Bath

2,583 Sqft

0.32 Acres

4 Bed

3 Bath

2,874 Sqft

0.31 Acres

4 Bed

3 Bath

3,085 Sqft

0.51 Acres

3 Bed

1 Bath

1,085 Sqft

0.12 Acres

3 Bed

1 Bath

931 Sqft

0.25 Acres

3 Bed

1 Bath

1,752 Sqft

0.93 Acres

3 Bed

2 Bath

1,292 Sqft

0.46 Acres

4 Bed

2 Bath

2,300 Sqft

0.41 Acres

3 Bed

3 Bath

1,338 Sqft

0.05 Acres

2 Bed

2 Bath

1,380 Sqft

0.12 Acres
Durham Real Estate and Homes for Sale
Durham, NC is the type of city that won't stay under the radar much longer. You can view homes for sale in Durham below, as well as learn more about what the city has to offer. It's quickly developing into one of the top cities in North Carolina! With a strong backbone in Duke University and a fast-growing downtown area, Durham is going to experience some serious growth over the next decade.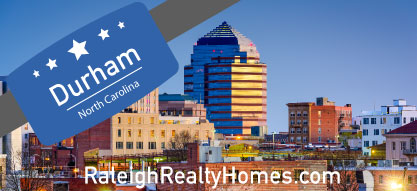 The city of Durham, North Carolina is home to over 250,000 Triangle area residents and is conveniently located to Raleigh, Chapel-Hill and Research Triangle Park. Durham has received numerous awards from being ranked as the 4th best city to live in 2014 to the tastiest town in the south! One of the best spots to check out in Durham is the historic Brightleaf square.
Durham is an incredible place to live, work, play and EAT! It's also the third most educated city in America (Raleigh is the second) and home to Duke University. Intelligent people live in the Triangle area with Raleigh and Durham combining for two out of the top three spots. It's no surprise though with the public schools and Universities located in the Triangle, there is a heavy importance placed on education. We will discuss Durham public schools further down on this page. Research Triangle Park is located in Durham, as well as some of the finest restaurants here in the south. There is always something going on in Durham.
Some of the best properties in the Triangle are located in Durham, NC. It's one of the fastest growing areas in the country and is located close to Raleigh, Cary, and Chapel Hill, along with Research Triangle Park. Most of the relocation happens from people who are moving from the northeast to Durham, Raleigh or Cary. Durham is one of the trendiest cities in the country and his home to many art galleries, cultural exhibits, and parks that create a diverse community.
Moving to Durham
If you're planning to relocate to Durham, NC we recommend you give us a call to chat. You don't want to 'just move to Durham' without understanding the neighborhoods and areas that will be the best fit for you. If you do move to Durham, be prepared to become a Duke Blue Devils fan, it's inevitable.
The energy and passion surrounding the Blue Devils are great. You'll most likely become a fan of the minor league baseball team the Durham Bulls as well. One of the most popular minor league teams. For you foodies and coffee lovers, you will LOVE Durham. Food isn't something you consume for energy, and coffee is anything but a beverage, they are fine arts.
Schools and Education in Raleigh-Durham
The education and schools in the Raleigh-Durham area are among the best in the nation. With universities like Duke University, and University of North Carolina, and North Carolina State University leading the way, it's easy to understand why so many well-educated people are moving to the Raleigh-Durham area. Durham is one of the leading cities for technology and medical research in the country.
The public school system in Durham county consists of 46 schools and is the eighth largest school district in North Carolina. The University of North Carolina, and Duke University both have schools in Durham that are affiliated with each university, The North Carolina School of Mathematics and Science (a University of North Carolina affiliate school) and The Duke School (a Duke University affiliate school beginning in preschool). North Carolina Central University located in Central Durham is ranked as top HBCU and received #1 ranking honors by U.S. World News in 2010 and 2011.
Top Durham, NC Realtor®
When selling or searching for available homes in Durham you'll want to make sure you are working with a great Durham Realtor®. Choosing the wrong Realtor® to help with your home search, or to sell your home in Durham could cost you thousands of dollars, time, and headaches. You'll want to focus on the best neighborhoods in Durham. Since buying real estate is typically one of the largest transactions of one's life you'll want to make sure you spend your time finding the right Realtor® to help you.
Whether you are buying or selling your home in Durham, a strong Durham Realtor® will be able to procure a ready, willing and able buyer. There are many different types of sellers, and understanding your current goals will be important in determining an appropriate list price that will cause your home to sell. The local real estate market numbers play a big part in what your home should be priced at. You'll want to ensure you're using a Realtor® who understand the local market and can talk to you about how the statistics and trends will impact your sale.
Durham Real Estate Market
One of the healthiest real estate market's in the country is in Wake County. At a growth rate of 62 people per day Wake County doesn't experience the same volatility as most other large markets. With the population expected to grow by 50% between 2015 and 2030, the Triangle area is preparing for the continued explosive growth. If analysts, numbers, and trends are correct, then buying a home in Durham is one of the best decision you can make. Appreciation in the area is expected to average 4% per year between 2015 and 2020, so working with a good local Realtor® will help ensure you experience that equity growth!
Homes for Sale by Durham Neighborhood
With so many great Durham neighborhoods it makes sense to select a few and start with those. By typing in the neighborhood in our search feature you will be able to view all of the available real estate listings in that area. For instance, if you select Durham under the 'cities' category and type in the neighborhood 'downtown' it will show you all the homes for sale in downtown Durham. This functionality gives you the benefit of only searching the areas you're interested in vs. looking at everything that's available and hoping it's in the right area.
Old West Durham, Trinity Park, Woodcroft, Duke Forest, are among some of the top neighborhoods to check out in the Durham area. If you want to give us a call we can help you find the perfect neighborhood for you. Once we understand more about you, your family, and your interests we will be able to point to a few areas that you may want to check out based on your criteria.
Buying a Home in Durham
When preparing to buy a home in Durham you'll want to ensure you have a great understanding of how to buy a house. This guide will help you through of the 10 most important steps in your real estate purchase from education, to closing, we cover each major hurdle. Buying a home is a roller coaster ride, working with the right Realtor® for you will help make things a bit smoother in the process.
On our website, you will find all the homes for sale in the greater Raleigh-Durham area. Our data is imported directly from the Triangle MLS, and updated every 15 minutes to ensure all real estate listings are accurate for our web visitors. On our website, you will see a lot of different types of functionality to help you find the perfect home. We spent many hours developing search functionality that makes it easy for you to search for a house by the school district, zip code, luxury, new construction and many more options!
Selling my home in Durham
Working with a top Realtor® when listing your home for sale in Durham is extremely important. The best Realtors® use selling strategies that help sellers net the largest profits, and every homeowner wants to make the most money for the sale of their home! Understanding the local market in your neighborhood will help you accurately determine a list price, your Real Estate Agent will help you with this. If you're considering selling for sale by owner on your home in Durham you'll want to check out this guide to help you. Additionally, you may want to learn more about if selling with a Real Estate Agent will make you more money on the net profits.
Either way, it's a great time to be a seller in Durham as inventory levels are low, and the pool of buyers is high. The low-interest rates are giving buyers even more purchasing power. It's a perfect storm for anyone selling their home in Durham.
Luxury Real Estate Listings in Durham
In Durham, you will find a variety of houses on the market, and for the affluent a great selection of high-end real estate listings to choose from. From multi-million dollar farms sitting on 20+ acres, to 10,000 square foot mega homes, to amazing locations in Downtown Durham there is certainly a variety of luxury estates.
Working with a Luxury Durham Realtor® will go a long way when buying or selling real estate in Durham. A strong Realtor® will have proper processes for both purchasing and selling high-end homes that will have you feeling great about your transaction. With Research Triangle Park in close proximity, a lot of executives make the move to the Raleigh-Durham area in search of a luxury estate to match their high-end lifestyle.
Durham New Construction Homes
One of the best spots for builders and developers right now is Wake County, NC. So it's no wonder there are so many new construction homes for sale in Durham. There are a lot of neighborhoods in Durham that are being developed into luxury neighborhoods, with amenities such as golf courses and homes with a lot of square footage. Lennar, Royal Oaks, Standard Pacific, MiHomes are all great builders
When buying a new construction home you'll want something to help guide you through the process. One of our clients asked how buying a new home or an existing house was different, so we wrote an article on the new construction home buying process. When you're ready to buy a newly built house you'll want to make sure you work with a top local Realtor® that has experience in working and negotiating with the sales reps and builders. Creative negotiations on appliances and upgrades go a lot further than trying to lower the price.
Homes for Sale in Durham by Zip Code
Another feature a lot of buyers asked for was the ability to search all available real estate listings by zip code. This gives anyone searching for a house a convenient tool for ensuring you're only viewing available properties within that zip code. In Durham, there are a lot of zip codes to choose from, and typically, someone would use this tool to remain within a certain proximity of work, schools, or friends and family.
Durham, North Carolina Overview
Durham is a great city with lots of job opportunity, great educational opportunities and a ton of things to do. It's a very friendly city and especially to dogs! Every time I'm in Durham showing homes to clients I am constantly driving by outdoor restaurants with dogs hanging out on the patio, or running through one of the many parks in Durham. If you're considering a move to the Triangle, Durham is definitely an area to check out!
Aside from the many parks in Durham, there are constant events going on in Downtown Durham. There are many new construction homes and condos for sale in the downtown area where you can find some top of the line apartments.
Popular Home Searches in Durham

Communities in Durham

Other Cities