13 Best Bars In Cary, NC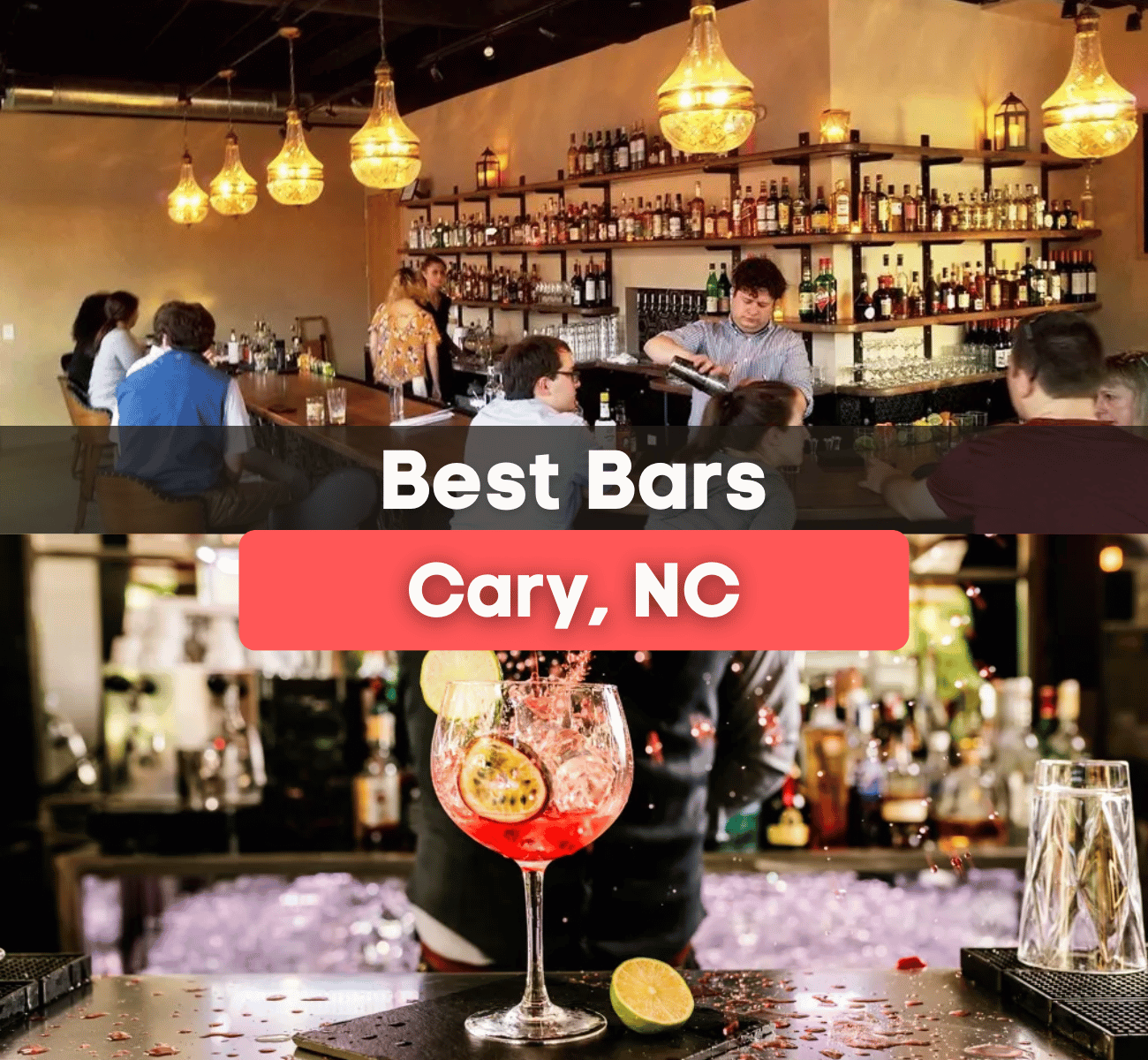 Your Cary, NC Nightlife Guide 
Have you been looking for the best bars in Cary, NC? Continue reading to find the best place for your next night out! 
Cary, NC, is a beautiful town with many things to do, including nightlife! In this guide, we have put together a list of the best bars and breweries so that you don't have to! Cary, NC, has various places to enjoy a night out, a girls' night, a special occasion, a celebration, and so much more. Let's get started! 
SideBar
SideBar in Cary is an upscale bar with a stylish, vintage vibe offering classic and unique house-specialty cocktails.
The menu at SideBar includes classic cocktails, house cocktails, staples, wine, bourbon, single malt, and more! One of my favorite house cocktails is the Lion's Share, made with sesame oil-washed vodka, yuzu ginger cider reduction, stare anise, sidebar lime cordial, and Montenegro! 
For an upscale experience in Cary, we highly recommend this bar! 
Open on: 
Tuesday, Wednesday, & Thursday from 4–11 PM
Friday from 4–12 PM
Saturday and Sunday from 3–10 PM 
PBR Cowboy Bar 
Opening on February 9th, PBR is the newest cowboy experience in Cary, NC! At PBR, you will get an authentic country experience featuring a mechanical bull, ice-cold beer, friendly staff, and more. PBR fuses the spirit with nightlife and unrivaled entertainment to create the ultimate night out. Your night at PBR will include bull riding, line dancing, cold beer, hard cocktails, Buckle Bunnies, and BBQ! 
PBR is also available to rent out for your next event! They are open for birthdays, bachelor/bachelorette parties, cocktail parties, concerts, fundraisers, happy hours, holiday parties, and more. 
PBR is open Thursday - Sunday from 8 PM - 2 AM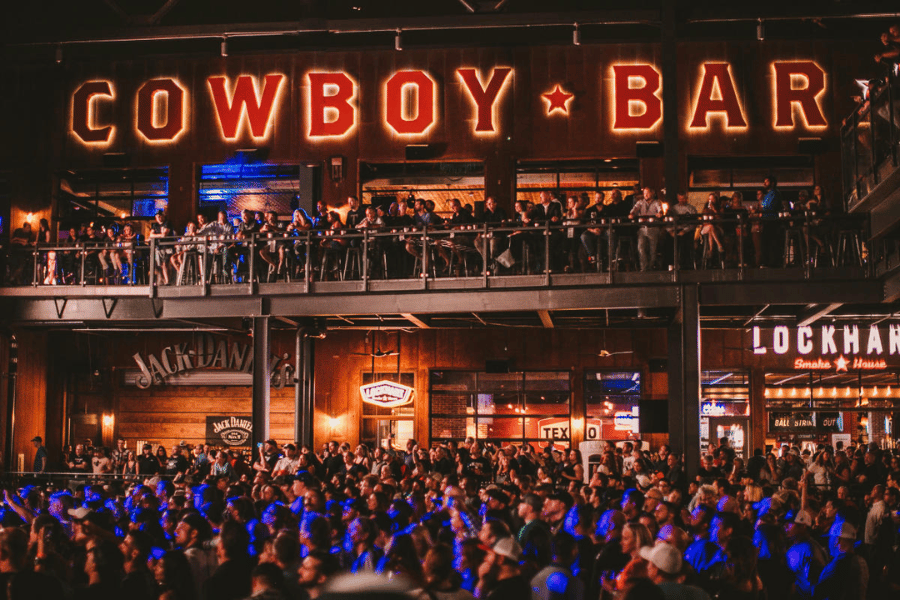 Dram & Draught 
If any whiskey fanatics are reading this, I highly recommend Dram & Draught. Their drink menu features over 300 whiskeys from around the world, so you are sure to find your new favorites! Aside from whiskey, they serve hand-crafted cocktails, draught beer from Raleigh and beyond, and wine! Luckily enough, they are open seven days a week, so they're ready for you whenever you stop by! 
Dram & Draught is located in the new Fenton Shopping center and is open on: 
Monday from 4–11 PM 
Tuesday - Thursday from 3–11 PM
Friday from 3–12 PM
Saturday and Sunday from 12 PM - 12 AM 
Brewster's Pub 
Brewster's Pub is one of the go-to sports bars in Cary! They have large TVs to catch any sports game, themed nights, bar games, pool tables, and more! Brewster's has 24 draft beers and premium & domestic bottles and cans to choose from. If you don't like beer, they also serve mason jar cocktails! My favorite is the Naughty Elf, made with orange vodka, light rum, captain morgan spiced rum, peach schnapps, cranberry juice, sour mix, and topped with sierra mist. It's delicious! 
To make it even better, Brewster's Pub has fantastic food. Their menu includes starters, soups & salads, sandwiches, wings, mac & cheese, burgers, quesadillas, and hot dogs! 
Brewster's Pub is open seven days a week and serves food and drinks from 11 AM - 2 AM. 
Upper Deck Sports Pub 
The Upper Deck Sports Pub is your local neighborhood bar. They pride themselves on having the best wings in the triangle and a diverse food menu, so we highly recommend checking it out! They have 28 rotating beers on tap, 17 dart boards, pool tables, indoor cornhole boards, ping pong, and a ton of TVs! It is the perfect place to stop for a quick bite, play games, enjoy a few beverages, eat delicious food, and more! 
One of my favorite starters on their menu is the Super Nacho Platter, made with warm tortilla chips, topped with queso, diced tomatoes, onions, lettuce, and jalapenos, with your choice of chili or grilled chicken. In addition to starters, they have salads, wings, burgers, sandwiches, wraps, and platters.
The Upper Deck Sports Pub is open daily from 12 AM - 2 AM.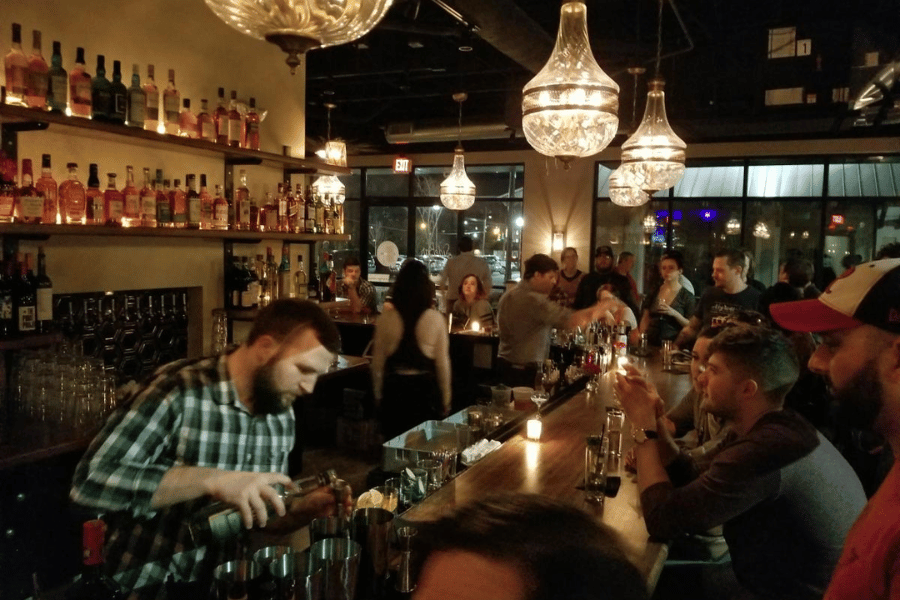 The Parkway Tavern 
The Parkway Tavern is perfect for a nightcap or a fun weekly event! They host music bingo every Monday night, trivia every Tuesday night, and karaoke every Wednesday night! So, if you want to show off your fun facts or sing your heart out to your favorite sone, Parkway Tavern is the place to be! 
Parkway Tavern has hired the best bartenders in the area to make sure your experience is even better. They will hand you something delicious if you're craving an ice-cold beer or a mixed drink. My favorite cocktail on the menu is the Pina Colada Martini, made with rum, cream of coconut, pineapple juice, grenadine, and a cherry garnish. It's the perfect cocktail to make you feel like you're sitting on a tropical Island! 
Additionally, they have an extensive menu of delicious food. They serve starters, salads, burgers, sandwiches, cheesecake, wraps, and wings! 
The Parkway Tavern is open on: 
Monday - Thursday from 11 AM-midnight 
Friday from 11 AM - 1 AM 
Saturday from noon-1 AM 
Sunday from noon-midnight 
High House Billiards 
High House Billiards aims to be your home away from home. While you're plating countless rounds of pool with your friends, you can sip on beer, wine, liquors, mixed drinks, and more! While waiting for your turn at the table, you can stay entertained with their numerous big-screen TVs across the bar. If you consider yourself a professional pool player, check out their American Pool Players Association League nights every Monday-Thuesday! 
If you're out with your friends but don't enjoy pool, they also have dart boards, corn hole, golden tee golf, giant Jenga, and more. 
High House Billiards is open 365 days a year from 1 PM - 2 AM
Macgregor Draft House 
Eat well, drink happy! Macgregor Draft House is another excellent place for a nightcap or drinks with your colleagues after work. They have finning room seating for families, two outdoor patios, and a large bar. Macgregor Draft House has excellent food, cold beer, yummy cocktails, and friendly staff. 
The beer menu includes ales, strong ales, amber, wheats, IPAs, seasonals, lagers, pilsners & Kolsch, sours, ciders, seltzers, and stouts! No matter your preference, you will find something you love! To keep you full while you drink, they have appetizers, fresh salads, sandwich plates, panini plates, wraps & tacos, beef, veggies, & birds, house specialties, featured styles, wings, and desserts! 
Macgregor Draft House is open on:
Monday from 11 AM - 10 PM 
Tuesday - Thursday from 11 AM - 11 PM
Friday & Saturday from 11 AM - 12 AM 
Neighborhood Sports Bar and Arcade 
Neighborhood Sports Bar and Arcade began with two friends, Mike and Jared, who had the idea to create a place that brings everyone home. They take pride in being a place that brings everyone back to the feeling of their favorite neighborhood, from their friendly staff, welcoming patrons, and fantastic community. The combination of food, beverages, and games ensures that everyone who visits will have a great time. 
Neighborhood Sports Bar and Arcade have many weekly specials ranging from $6 neighborhood juice on Mondays, $5 wine and wells on Wednesdays, $4.50 16 oz beers on Thursdays, $5 mimosas on Sundays, and more! 
They also cater special events, including birthdays, corporate parties, wedding parties, and more. 
Neighborhood Sports Bar and Arcade is open on: 
Monday - Thursday from 3 PM - 2 AM 
Friday - Sunday from 11:30 AM - 2 AM 
Raleigh Improv 
The name may be deceiving, but Raleigh Improv is located in Cary! At Raleigh Improv, you can enjoy comedy from headlining acts and delicious food and drinks. You can join their mailing list to stay current on upcoming events! Some include: 
Marlon Wayans: February 17-19, 2023 
Desi Banks: March 3-5, 2023
Tracy Morgan: March 30-April 2, 2023
Aj Wilkerson: April 13th, 2023
Raleigh Improv serves snacks/appetizers, pizzas, entrees, and desserts! They also have an extensive drink menu, including specialty cocktails, draft beers, bottles & cans, white wines, red wines, and bubbles! 
You may also use the Raleigh Improv venue for your next event. They can comfortably seat hundreds of guests for wedding receptions, business meetings, fundraisers, and more. 
Raleigh Improv is open on: 
Thursday from 5–8 PM
Friday from 5–10 PM
Saturday from 4–10 PM
Sunday from 5–8 PM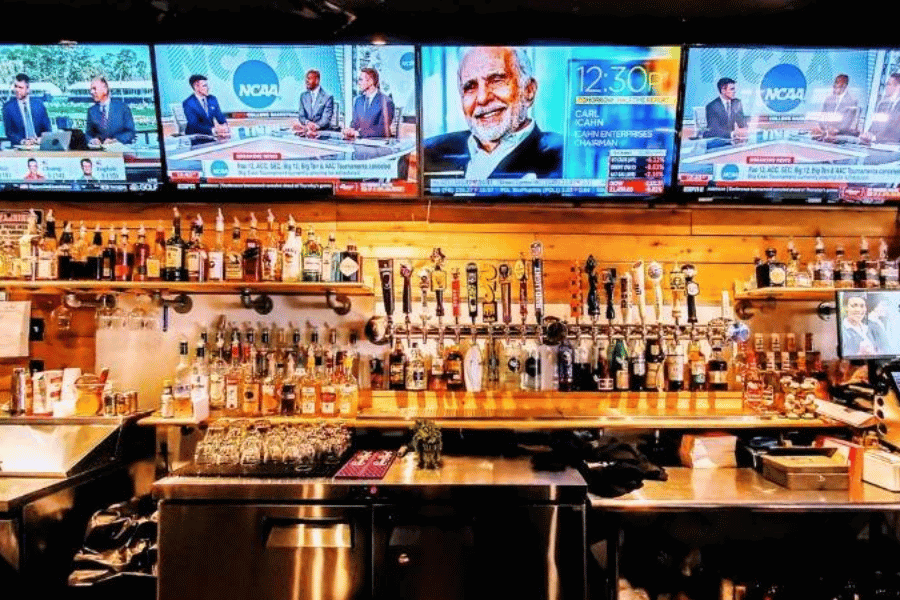 Bottledog Bites and Brews 
Bottledog Bites and Brews mixes two unique concepts, delicious food, and yummy beer. They have 12 rotating taps and over 60 choices of beer to take home. They also have a Crowler machine that allows you to take home a 32-ounce aluminum can filled with your favorite draft beer. 
The menu at Bottlegod Bites and Brews includes appetizers, poutine, mac & cheese, vegan and vegetarian options, hot dogs, specialty items, "meatatarian" options, doggy treats, flatbread pizza, and desserts. The poutine is delicious, and my favorite is the Le Mexican which is traditional poutine served with jalapeno peppers, tomatoes, sour cream, and guacamole. 
The beer on tap are Citra mole down, wicked pitch of the yeast, rocket surgery, rainbow roundabout, rainbow sherbet, coco loco, shadow clock pilsner, wrongfully mine, peach guava sour, the game of thrones castle black, manila mango, and showtime. 
Woody's Sports Tavern and Grill 
It's a trend in Cary to have local sports bars at every corner, and Woodys is another excellent option. The atmosphere at Woody's is amazing from their exceptional staff, delicious food, thirst-quenching beverages, themed nights, sports games, and more! 
They have weekly drink specials, an extensive draft list, bottles & cans, and cocktails & shots. My favorite cocktail is the Sugar Cookie Martini, made with vanilla Smirnoff, amaretto, bailey's & half & half, frosting, and a holiday sprinkle rim. 
A few drink specials include: 
Monday: $4 fireball shots
Tuesday: $ seltzers, ciders, import & microbrew bottles/cans 
Wednesday: $5 craft drafts
Thursday: $10 bud light, miller lite, and Yuengling pitcher
Friday: $6 flavored vodka and Jager bombs
Saturday: $3.50 16oz Coors light cans 
Sunday: $4 house bloody mary's 
The menu at Woody's includes the original Philly, signature burgers, wings, subs & clubs, hot dogs, salads & wraps, starters, a lunch menu, late-night snacks, and sides. 
Woody's is open on: 
Monday - Wednesday from 11 AM - 12 AM 
Thursday - Saturday from 11 AM - 2 AM 
Sunday from 11 AM - 12 AM 
Fortnite Brewing 
Fortnite brewing is a brewery in Cary that only has the vision to brew the best beverages. At Fortnite, they are dedicated to building an exceptional portfolio of beverages. They are using traditional methods to create old-school core styles to modern techniques to produce a wide range of new styles and flavors. They invest in the best ingredients, equipment, and staff to have the highest quality beverages. 
You can purchase various cans to take home, draft beers, ciders, and on-site food trucks! 
Fortnite Brewing is open on: 
Monday - Thursday from 3–10 PM
Friday - Saturday from 12–11 PM 
Sunday from 12–9 PM 
Nightlife in Cary - Final Thoughts 
It's safe to say that Cary is the place to be if you're looking for a friendly and welcoming sports bar! All the bars in Cary have something unique to offer, whether arcade games, pool tables, or trivia & music bingo nights. The nightlife in Cary is perfect for nightcaps, drinks with colleagues, a girl's night out, special celebrations, and more!
While we only listed a few bars in Cary, there are many more that you are sure to love, and hopefully, our list was able to give you some new recommendations! 
Exploring Cary is something we love to do here at Raleigh Realty. If you're interested in moving to Cary, please contact us or visit our website to connect with one of our agents!
Raleigh Realty is a local real estate company specializing in home buying and selling. While that is our primary focus, we also love to provide you with helpful guides to your area, like the best bars in Cary! Check out our other local area guides on our website!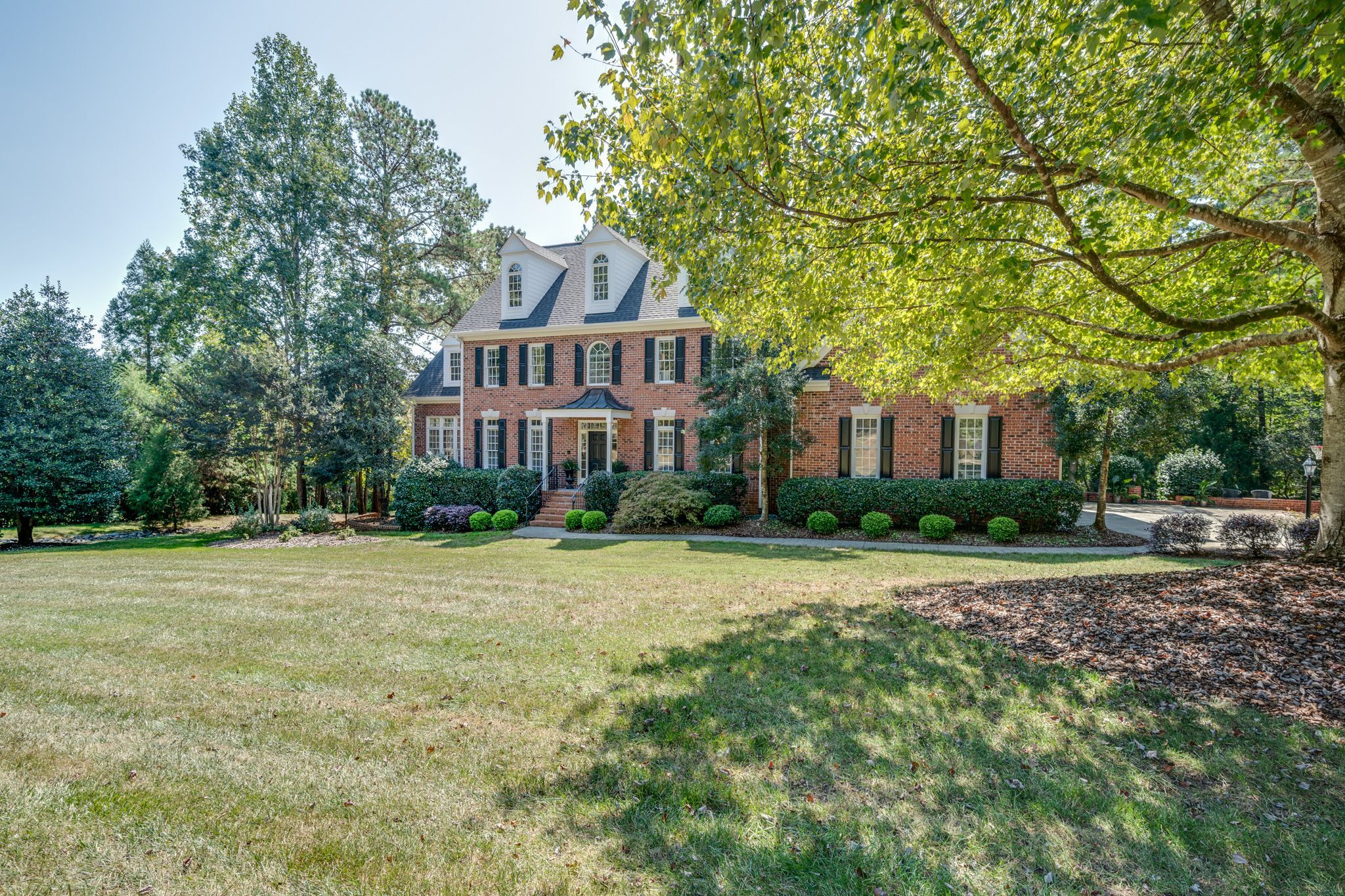 Find your new home
Search real estate and homes for sale