Close popup
Raleigh Homes & Real Estate
Current Real Estate Statistics for Homes in Raleigh

February 03, 2023

1,680 Properties Found. Page 1 of 35
3 Bed

3 Bath

2,243 Sqft

0.07 Acres

$1,295,554

UNDER CONTRACT

4 Bed

4 Bath

3,793 Sqft

0.79 Acres

3 Bed

2 Bath

1,719 Sqft

0.36 Acres

2 Bed

3 Bath

2,003 Sqft

0 Acres

5 Bed

4 Bath

3,563 Sqft

19 Acres

5 Bed

4 Bath

2,961 Sqft

18 Acres

4 Bed

3 Bath

2,272 Sqft

0.15 Acres

4 Bed

3 Bath

2,433 Sqft

0.13 Acres

5 Bed

4 Bath

3,680 Sqft

0.31 Acres

4 Bed

3 Bath

2,000 Sqft

0.5 Acres

3 Bed

3 Bath

1,528 Sqft

0.1 Acres

3 Bed

2 Bath

1,593 Sqft

0.35 Acres

6 Bed

5 Bath

6,261 Sqft

0.44 Acres

4 Bed

3 Bath

2,100 Sqft

0.1 Acres

4 Bed

2 Bath

1,638 Sqft

0.44 Acres

3 Bed

1 Bath

988 Sqft

0.4 Acres

3 Bed

3 Bath

2,340 Sqft

0.46 Acres

3 Bed

2 Bath

1,325 Sqft

0.24 Acres

3 Bed

3 Bath

2,180 Sqft

0.12 Acres

3 Bed

2 Bath

1,394 Sqft

0.7 Acres

3 Bed

4 Bath

1,695 Sqft

0.03 Acres

2 Bed

2 Bath

1,215 Sqft

0 Acres

2 Bed

3 Bath

1,234 Sqft

0.03 Acres

4 Bed

3 Bath

2,110 Sqft

0.74 Acres

0 Bed

0 Bath

3,710 Sqft

2.33 Acres

2 Bed

3 Bath

1,292 Sqft

0.04 Acres

4 Bed

4 Bath

3,156 Sqft

0.06 Acres

5 Bed

4 Bath

4,576 Sqft

0.21 Acres

3 Bed

3 Bath

1,528 Sqft

0.03 Acres

5 Bed

3 Bath

2,300 Sqft

0.26 Acres

4 Bed

5 Bath

3,658 Sqft

0.2 Acres

3 Bed

3 Bath

1,346 Sqft

0.08 Acres

3 Bed

2 Bath

1,644 Sqft

1.03 Acres

4 Bed

4 Bath

1,856 Sqft

0.04 Acres

4 Bed

4 Bath

1,889 Sqft

0.04 Acres

3 Bed

4 Bath

1,920 Sqft

0.14 Acres

3 Bed

3 Bath

1,573 Sqft

0.04 Acres

4 Bed

3 Bath

2,902 Sqft

0.25 Acres

3 Bed

2 Bath

1,019 Sqft

0.22 Acres

4 Bed

4 Bath

4,000 Sqft

1.45 Acres

3 Bed

3 Bath

2,273 Sqft

0.95 Acres

5 Bed

6 Bath

5,496 Sqft

0.87 Acres

6 Bed

7 Bath

5,831 Sqft

0.33 Acres

4 Bed

4 Bath

4,098 Sqft

0.92 Acres

3 Bed

3 Bath

1,691 Sqft

0.05 Acres

2 Bed

2 Bath

992 Sqft

0.02 Acres

5 Bed

3 Bath

2,718 Sqft

0.14 Acres

3 Bed

2 Bath

1,987 Sqft

1.2 Acres
Search the newest homes for sale in Raleigh below! Our website has access to all Raleigh real estate listings, with properties updated every 15 minutes via the Triangle MLS. Houses in Raleigh have become some of the most desirable in the country, with the city's affordability and growing economy. An international medical care and research center, Raleigh is home to one of the country's best public school systems and top-notch universities. With mild weather, plentiful economic opportunities, excellent golf courses, and hundreds of restaurants downtown, Raleigh regularly appears on lists of America's ten best cities to live, work, and play.
Information About Raleigh Real Estate & Homes for Sale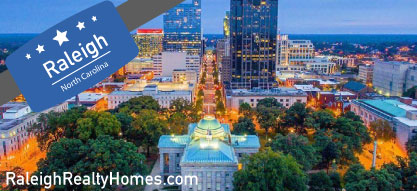 Regarding homes for sale in Raleigh, they offer some of the best value in the country! You can view all Raleigh Real Estate Listings from this website from any city. Above, you will find all the available Raleigh homes for sale, with new data updated every 15 minutes!
Raleigh isn't just one of the best cities to live, work, and play in. It's also one of the best places to own a home. Raleigh's Real Estate market doesn't experience the volatility that most markets do, and industry experts are projecting almost a 25% appreciation in home values between 2015 and 2020.
The secret is out, Raleigh is one of the best cities in the United States. Raleigh has all the ingredients if there was a recipe for a fantastic city to grow up, live and retire in. From some of the best elementary, middle, and high schools in the country to nationally recognized universities like Duke, University of North Carolina, and N.C. State University. Upon graduating, you're already living in the #1 city for jobs, and the growth is not slowing. It's no wonder Forbes ranks Raleigh as the fastest growing city - In the year 2000, Raleigh was home to approximately 276,000 residents; by 2013, it had grown 43% to 432,000. The greater Raleigh area is home to over 1.2 million people. The growth began to take off in 1959 when the Research Triangle Park was formed.
Raleigh is the cornerstone of the 'Triangle' North Carolina area, which includes the cities of Durham and Chapel Hill. In 1959 Research Triangle Park was formed, and today the Triangle area is home to over 2,000,000 residents. Today, Raleigh is the second-largest city in North Carolina.
What makes Raleigh so unique is the people that live here. The city of Raleigh is large enough to be considered a city and small enough to keep that small-town charm. After a few months of living here, you will instantly start to recognize people and run into them in North Hills, Downtown, or in one of the suburbs. Raleigh offers numerous escapes for those who enjoy the water, a short drive to the beach, or any lake.
Homes for Sale in Raleigh by School District
If you've already selected what school district you want to live in, you'll want to search Wake County homes for sale by school. On this page, you will be able to view all of the schools in Wake County, and you will be able to choose a school and search what homes are for sale in that district. You can explore elementary, middle, and high schools here in Raleigh.
It's an incredible search feature that took us a long time to create for our web visitors. We hope you'll find it helpful to buy a home near wake county school.
A lot of our clients like to find a school before they go searching for homes because good schools are their top priority. If this sounds like you, we encourage you to contact us to discuss great schools here in Raleigh and how we can help you find the perfect home in that district. Among the best resources for searching homes for sale by school district is the address lookup feature on the wcpss.net website.
Homes for Sale by Raleigh Neighborhood
Know what neighborhood you want to buy a home in? Here is an article we wrote for people moving to the area who want a better understanding of great neighborhoods in Raleigh. With so many great communities in the area, feel free to give us a call to figure out which ones will work best for you.
Finding the perfect Raleigh area neighborhood can be tough if relocating to the area. Many people will ask about renting for a year before buying a home. This can be a good idea for some. Spending $2,000/month over a year is $24,000 of equity you could be building in your home. If you're hesitating about buying because you're unfamiliar with the neighborhoods, you need to call us. Our Realtors® are experts in Relocation, and we ask you to set aside at least 5 minutes for a phone conversation. Once our Agents learn about you, and your family, we will know what neighborhoods in Raleigh are best for you!
Here are some of the top neighborhoods that appear in home searches:
Luxury
If you're looking at luxury homes for sale in Raleigh, NC, you'll want to start by visiting our luxury real estate page. This is an excellent resource for those who are seeking a resource to assist them in buying a house in a higher price range. When purchasing a more expensive home, there is less room to make a mistake because a few small percentage points, or buying the wrong luxury home could cost you tens of thousands of dollars. Luxury properties are also harder to sell because there is a smaller pool of buyers for those homes.
New Construction
At a growth rate of 62 people per day, Wake County is one of the fastest-growing cities in the United States. For this reason, builders focus on developing homes and communities in the Raleigh area. This gives anyone relocating or looking to buy new construction real estate in Raleigh a great selection to choose from. To assist our clients and people looking to buy new homes we wrote an article on tips for buying a new construction house. The article is an excellent resource for anyone looking at new homes for sale in the Raleigh area because it comes with high-quality information that can be applied to your buying process. The article also features an easy-to-read infographic that touches on the 11 significant steps when buying a brand-new property.
A lot of the new construction developers are building townhomes and condos in the Raleigh area. There is a variety of Raleigh townhomes and condos to choose from. Whether you're looking to buy a brand new home or an existing one, Raleigh has a lot of condominiums and attached housing options for you to search. Some things to be wary of would be HOA fees and neighborhood association policies when buying an attached unit. The reason is that if you want to live a particular lifestyle, it may not be possible with the strict rules HOAs sometimes have. It is in your best interest to work with a top Raleigh Real Estate Agent who will help you find the perfect home to buy.
Homes for Sale in Raleigh by Zip Code
If buying a house in a specific zip code is essential to you, you should check out our Raleigh zip code page. This page allows you to search real estate in Raleigh by zip code, matching your search to a specific zip code and displaying only properties for sale in that area. An example would be if you're looking at real estate in southwest Raleigh and want to search homes for sale in the 27606 zip code, or maybe you're looking in the North Raleigh area, 27609. You'll see in the example links that you can search Raleigh homes for sale by zip codes, making it super easy!
Find a Home for Sale!
If you're considering a move to Raleigh NC you've picked a great place to relocate :). We love it here in Raleigh, and it appears the secret is out! There is an expected growth of 70+% population growth between 2015 and 2030.
One of the best things about Raleigh is the people. The Homes for Sale in Raleigh, NC are also a huge plus, especially with the number of new communities being built in the area. If you want to learn more about the Raleigh Real Estate market, visit our blog! Several helpful articles will teach you all about buying and selling real estate. It's our pleasure to provide precious content to our consumers in hopes we will win their business!
Work with the Best Real Estate Agents in Raleigh:
We have the best Realtors in Raleigh, and we don't want you to take our word for it; we want you to check out our reviews and experience it by filling out the form on our website. Our team of local Agents will call you as soon as you ask to be called, and we will then provide you with a high level of real estate service throughout the process (long after your closing). We don't just tell you that we appreciate your business. We show you that we appreciate your business.
Popular Home Searches in Raleigh

Communities in Raleigh

Other Cities