Holly Springs Homes & Real Estate
Current Real Estate Statistics for Homes in Holly Springs

November 27, 2022

318 Properties Found. Page 1 of 7
4 Bed

3 Bath

2,901 Sqft

0.16 Acres

3 Bed

2 Bath

2,011 Sqft

0.69 Acres

3 Bed

2 Bath

1,275 Sqft

0.17 Acres

4 Bed

4 Bath

4,214 Sqft

0.34 Acres

3 Bed

3 Bath

1,620 Sqft

0.14 Acres

4 Bed

4 Bath

2,744 Sqft

0.2 Acres

5 Bed

3 Bath

2,580 Sqft

0.32 Acres

3 Bed

3 Bath

2,421 Sqft

0.95 Acres

4 Bed

3 Bath

2,834 Sqft

0.26 Acres

5 Bed

6 Bath

3,542 Sqft

1.15 Acres

4 Bed

3 Bath

3,251 Sqft

0.25 Acres

3 Bed

3 Bath

2,493 Sqft

0.46 Acres

5 Bed

3 Bath

2,580 Sqft

0.25 Acres

3 Bed

3 Bath

2,149 Sqft

0.32 Acres

3 Bed

3 Bath

1,813 Sqft

0.18 Acres

3 Bed

2 Bath

1,838 Sqft

0.17 Acres

3 Bed

2 Bath

1,135 Sqft

0.1 Acres

3 Bed

2 Bath

1,100 Sqft

0.23 Acres

4 Bed

3 Bath

2,779 Sqft

0.19 Acres

4 Bed

5 Bath

5,002 Sqft

4.2 Acres

5 Bed

4 Bath

3,413 Sqft

0.32 Acres

2 Bed

3 Bath

1,395 Sqft

0.04 Acres

4 Bed

4 Bath

2,914 Sqft

0.18 Acres

4 Bed

4 Bath

2,833 Sqft

0.17 Acres

4 Bed

3 Bath

2,222 Sqft

0.05 Acres

4 Bed

6 Bath

4,181 Sqft

0.55 Acres

3 Bed

2 Bath

2,162 Sqft

0.16 Acres

3 Bed

2 Bath

1,300 Sqft

0.59 Acres

4 Bed

3 Bath

2,532 Sqft

0.15 Acres

5 Bed

4 Bath

3,030 Sqft

0.25 Acres

3 Bed

3 Bath

1,605 Sqft

0.04 Acres

4 Bed

4 Bath

3,260 Sqft

0.46 Acres

3 Bed

3 Bath

1,429 Sqft

0.03 Acres

5 Bed

4 Bath

5,190 Sqft

0.33 Acres

3 Bed

2 Bath

1,150 Sqft

0.43 Acres

3 Bed

3 Bath

2,318 Sqft

0.32 Acres

4 Bed

3 Bath

2,171 Sqft

0.11 Acres

5 Bed

3 Bath

2,706 Sqft

0.22 Acres

3 Bed

1 Bath

1,025 Sqft

0.73 Acres

5 Bed

5 Bath

3,857 Sqft

0.27 Acres

6 Bed

6 Bath

6,187 Sqft

17.48 Acres

5 Bed

4 Bath

3,015 Sqft

0.24 Acres

4 Bed

3 Bath

2,180 Sqft

0.12 Acres

4 Bed

3 Bath

3,133 Sqft

0.37 Acres

4 Bed

4 Bath

3,976 Sqft

0.93 Acres

4 Bed

4 Bath

3,577 Sqft

0.78 Acres

4 Bed

3 Bath

2,620 Sqft

1.81 Acres

3 Bed

2 Bath

1,184 Sqft

0.31 Acres
Real Estate & Homes for Sale in Holly Springs
Homes for sale in Holly Springs have become some of the most desirable in NC! That's why so many folks have been moving to Holly Springs. North Carolina offers some great places to live and Holly Springs is one of the top up and coming cities. In large part thanks to the new construction and some great neighborhoods and schools.
Information About Holly Springs and Homes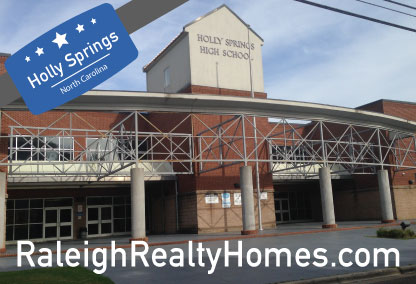 Homes have recently seen some great appreciation thanks in large part to the great schools, and hefty price tags of the towns next door. The town of Holly Springs is located in Wake County and holds a population of just over 25,000 which is 2.5 times its population in 2000. Below you can view the available homes in Holly Springs.
The schools in Holly Springs help make the case that it's one of the best cities to relocate to in the Raleigh area with some great real estate listings available. Located just south of the Apex-Cary area, and north of Fuquay-Varina, Holly Springs is conveniently situated next to I-540 giving travelers an easy commute to places like Raleigh and Durham. Did you know that Bloomberg Businessweek named Holly Springs the best place to raise kids in North Carolina. There's always something going on in Holly Springs!
#popular-holly-springs-searches#
As one of the fastest-growing cities in NC, Holly Springs is attracting all sorts of builders and developers to the area. They just built a brand new minor league baseball stadium in the city. It's awesome, except it's tough to figure out the reason behind naming the team the Holly Springs Salamanders!
It's a great time to relocate to the town of Holly Springs with the amount of affordable real estate options available. In the past 20 years, it has transformed into one of the Research Triangles' most appealing communities. You are sure to find both small businesses and multi-national firms in this area. In Holly Springs you can find homes to fit almost any budget accompanied by great amenities for all of your interests.
With almost 7,000 families calling Holly Springs home out of its population of nearly 25,000 people, over 50% of homeowners have families here. A suburb in North Carolina's Research Triangle, Holly
Springs is close to the area's best academic institutes while still maintaining a more relaxed pace of life. Starter families, first time home buyers and many more are looking to purchase affordable houses are heading to the area.
If you're planning to buy a property in the town of Holly Springs you'll want to make sure you find a top, local Holly Springs Realtor® that can assist in your home buying process.
Top Holly Springs, NC Realtor®
With so many Holly Springs homes for sale how do you know which one to choose? Even better... Did you know that there are almost 8,000 Realtors® in the Raleigh area? With so many options to choose from it's important that you make the right selection on what Realtor® is best for you. Many Realtors® work in the real estate industry as part-time professionals and may not have the time required to best assist you. In the Holly Springs market, you want a Realtor® who is going to be able to help you instantly.
When a new listing hits the market, if it's a great deal, it won't last long in Holly Springs. With the low number of homes for sale in Wake County, it is causing frustration for buyers who are shopping for houses in the area. You need a great Holly Springs Realtor® you can be confident in who will help you throughout the buying process.
If you're selling your home in Holly Springs, it's equally important, if not more important to find the best local Realtor® you can. You want someone who knows the real estate statistics for the neighborhood and who will employ the top marketing techniques to sell your home for the most money. Determining the proper list price for your home is going to be something the neighborhood will dictate, as well as your current circumstances.
If you're in no rush to sell and the current absorption rates are favorable you should have no problem pricing your home in the high range. If you're facing foreclosure or anything that may cause you need to sell your home fast, you will want to price it in a spot that will cause the market it to absorb it faster.
Real Estate Listings by Holly Springs Subdivisions
On our website all you have to do is type in the name of a Holly Springs subdivision in the top right corner of this page and you'll have the ability to search available real estate listings by neighborhood. You can view all Holly Springs homes for sale on this page by subdivision!
Luxury Homes for Sale in Holly Springs, NC
Holly Springs luxury homes are considered 650k and up. If you're searching for a luxury home for sale in Holly Springs there are some great options available. Our suggestion is to begin your home search by reading, tips for buying high-end real estate in Holly Springs. Being that it's a little further out from the city than it's counterparts Apex and Cary, you'll receive a little more bang for your buck in Holly Springs. It's a great place to buy luxury real estate, at an affordable price, in a city that has a great future ahead of it. Holly Springs mansions are some of the best homes I've ever seen in, and most are fairly new.
Your higher priced estate will come with amenities most other homes don't have such as a lot of privacy from the neighbors and the road, as well as space to move around, and high quality throughout the entire home. A lot of the luxury real estate listings are built as new construction homes.
New Construction - Holly Springs Homes for Sale
The builders and developers in the Holly Springs area are working hard to keep up with the demand for new construction homes and communities. The growth Holly Springs is experiencing right now is incredible and part of it is spreading to it's southern counterpart Fuquay-Varina. The new construction homes for sale in Holly Springs are affordable, quality properties. A great place to buy a new estate and raise a family.
Townhomes and Condos for Sale in Holly Springs, NC
With all of the new construction homes being built, it only makes sense for the builders to construct townhomes and condos as well. In Holly Springs you will find a large variety of real estate for sale including Townhomes and Condos that are either existing homes or have been recently constructed.
Foreclosures, Bank Owned, REO Homes for Sale, Holly Springs
If you're looking for any type of government or bank-owned property in Holly Springs, NC there aren't many, there are some though. Let us know if you'd like us to make sure you're notified the instant a home matching your criteria goes on the market and will reach out to you.
Homes for Sale by Holly Springs School District
In Holly Springs there are a number of great schools, and some of them have capped limits that may impact anyone relocating to the area. Check out the Holly Springs School District website to learn more about education in the area. With that being said, we still offer you the ability to search for Holly Springs real estate by school. The search allows you to look by elementary, middle and high school in Holly Springs. If you have any questions about a certain address the Wake County School Website offers a great address lookup resource.
Some of the best subdivisions in Holly Springs are also in the best school districts in the city, make sure to let a Realtor® know what area you're interested in so you can remain up to date on accurate real estate listings near Holly Springs schools!
Buying Real Estate in Holly Springs
If you're moving to the Raleigh area you should check out Holly Springs! It's a great city and it is up and coming, even more so than a lot of the Triangle area. Holly Springs offers great schools in the Raleigh area, at an affordable cost that has many of our clients at Raleigh Realty focused specifically on the area.
The homes for sale in Holly Springs start a more affordable rate than it's northern neighbors Cary and Apex. It's a terrific area for families moving to the Raleigh area that is focused on schools, affordability, and quality of life.
Selling Holly Springs Homes
Hiring a top Realtor to assist with the sale of your home in Holly Springs is super important. It can easily help you keep tens of thousands more dollars in your pocket as well as fewer headaches. Holly Springs Realtor, Ryan Fitzgerald has written an article on the best techniques Realtors use to sell homes for the most money and fast, as well as the common mistakes sellers are making these days.
A lot of the sellers in Holly Springs are selling their first home. This is because the city is loaded with young professionals settling down to begin families. A lot of them stay in Holly Springs and simply upgrade their lifestyle to a new place while selling the first home that they have outgrown. Having a top Raleigh area Realtor sell your holly springs home will make a large financial difference!
The Future of Real Estate in Holly Springs
Holly Springs has an excellent future ahead of its growth-wise. Slowly but surely an incredible foundation is being built in the city, and with its neighbors had already exploded, people are looking for the more affordable substitute. The real estate in the area offers great value thanks to the strong economy and education.
Popular Home Searches in Holly Springs

Communities in Holly Springs

Other Cities