13 Breweries in Raleigh NC: Your HAND-CRAFTED Guide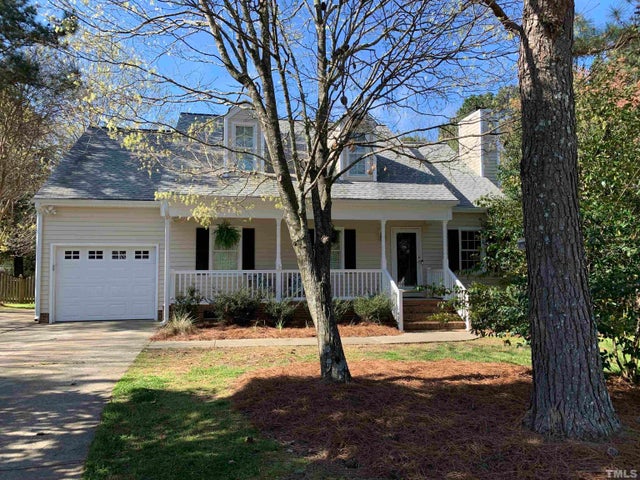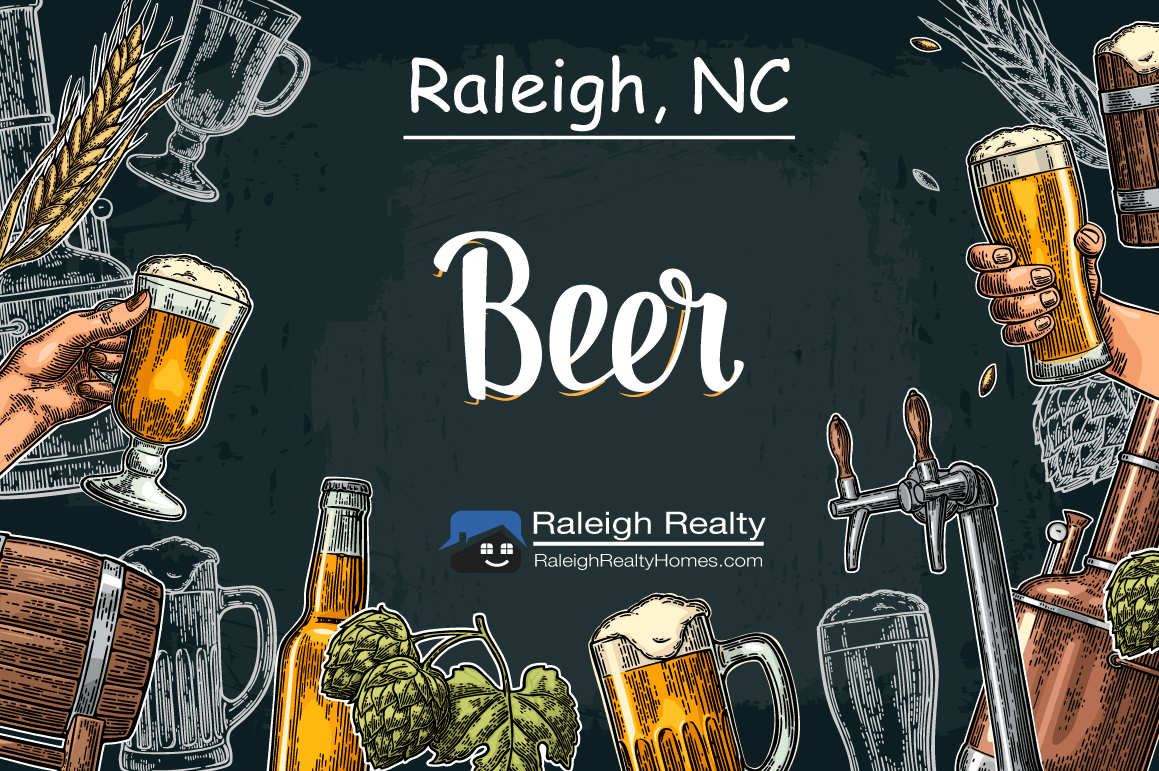 Don't drink and blog they said, whoops... Just kidding. So we hit a local Raleigh coffee shop, which also happens to serve Trophy's Trophy Wife Pale Ale, and crafted this blog on some of the best breweries Raleigh has to offer! We also wrote an article on the best restaurants in Raleigh (if you want to read that after!)
While we our committed to helping clients find great homes for sale in Raleigh we also LOVE to produce local content. This is a fun article to write, and we hope you'll enjoy it as much as we enjoyed drinking writing it! 
With great beer comes great responsibility...
Trophy Brewing
Website and Directions
With locations on Maywood, Wilmington, and Morgan, Trophy Brewing has become a staple in the Raleigh beer scene.
Each location has a little something different. The location at 656 Maywood is the actual brewery and taproom while the other locations offer a variety of food. The original location at 827 W Morgan is far and away our favorite of the three Trophy spots with a combination of brewery and pizza restaurant. The location at 225 Wilmington (the former busy bee cafe) adds a bit of a Southern-inspired culinary theme to the menu, along with some of Trophy's favorite brews. 
Wednesday's Trophy offers a run club at the Morgan street location for a nice jog around Downtown Raleigh and finishing back at Morgan street for some 12 oz curls.
Crank Arm
 Website and Directions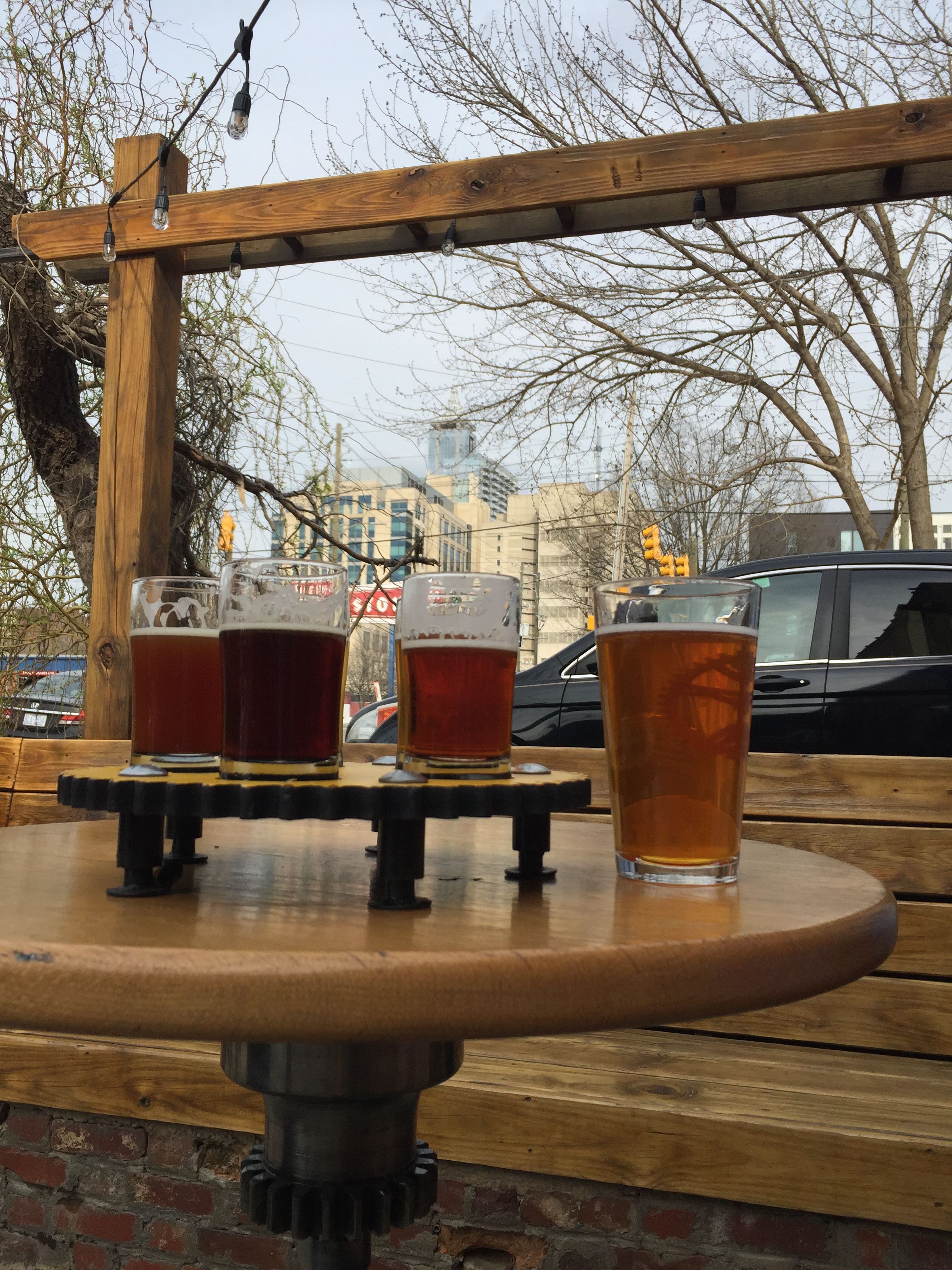 Bikes and Beer. Two passions that turned into a popular Raleigh brewery known as, Crank Arm. Crank Arm is located in Raleigh's popular and fast-growing Warehouse District at 319 W Davie Street and is a must try.
Our photo to the right was a late-winter, early-spring photo we took displaying a Crank arm flight, a unicycle and the downtown Raleigh skyline in the background.
Across the street from Crank Arm is a popular bar/arcade known as Boxcar. Both are two fun spots to check out if you're looking for something a little different. Popular food nearby includes Humble Pie, The Pit and Videri chocolate is next door!
Raleigh Brewing Company 
 Website and Directions
The name says it all. Raleigh Brewing Company. The mission of RBC is to embrace everything the City of Oaks has to offer from the ingredients in the beers, to the naming of each brew. With 32 taps flowing 7 days a week, you'll always have the opportunity to swing by for a cold one.
With 32 taps flowing 7 days a week, you'll always have the opportunity to swing by for a cold one. If you can't make it to the RBC location no worries, you're bound to find their beer in one of the 200+ locations around the Triangle extending all the way to Wilmington! 
Neuse River Brewing Co.
 Website and Directions
Neuse River Brewing is a popular, neighborhood spot for those living in the five points area and is well worth the trip if you're coming from anywhere! With a commitment to local ingredients wherever possible, Neuse River pays homage to the traditional foundations of craft beer while adding some of their experimental contemporary concepts.
A popular spot for friends, family, and new connections, Neuse River Brewery is a meeting place for good times, good music, and great beer!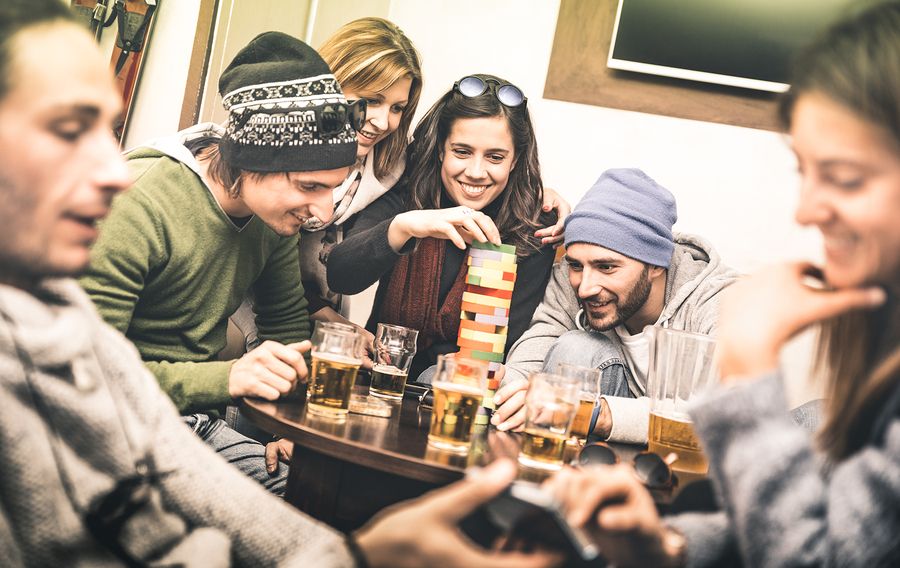 Next door to Neuse River Brewing is another popular spot, Nickelpoint.
Nickelpoint
 Website and Directions
Another popular five points area brewery is Nickelpoint. Conveniently located next door to Neuse River Brewing, Nickelpoint is another Raleigh Brewery committed to high-quality craft beer with European roots. It's a great local spot to check out, especially since you will have options with Neuse River Brewing right next door and a handful of others within a 5-minute drive.
A lot like their fellow brewery's in Raleigh, Nickelpoint stays committed to local ingredients wherever possible. The brewery offers outdoor seating as well as barstools and indoor tables. You'll find Nickelpoint served at a lot of local bars and restaurants around the Raleigh area!
Lynwood Brewing Concern
 Website and Directions
"Brewing quality craft beers isn't our business... it's our life!"
Lynwood Brewing Concern, also known as LBC, is one of our personal favorite breweries. There are a lot of dog-friendly breweries around Raleigh and LBC is one of the best for our four-legged friends. Lynwood Brewing is a popular spot every day/night of the week. It's a casual spot with board games, outdoor seating and conveniently located minutes from Downtown Raleigh.
The Lynnwood Grill was established in 2004 and quickly grew into a local favorite. Our passion for giving our customers what they want led to the addition of a small craft brewery in the back of the grill. Lynnwood Brewing Concern was born, driven by our dedication to serve our regulars the finest brews in the Triangle.
Born in the back of Lynwood Grill... Lynwood Brewing found out just how popular their beer was and immediately looked to expand. Today, they have multiple locations, the tap room is spacious, and the beer is some of the best!
Big Boss Brewing Company
 Website and Directions
Big Boss Brewing Company was started in 2006 and shipped it first beer in the 2nd quarter of 2007 in the triangle area of North Carolina. It was formed as a collaboration between Geoff Lamb, a UNC graduate, who returned to North Carolina in 2006 to join forces with Brewmaster, Brad Wynn, who has 12+ years of brewing experience including several years with Victory, Wild Goose and Native Brewing Company.
Former warehouse turned brewery, Big Boss Brewing is one of the best breweries in Raleigh, NC and will likely become a favorite of yours. You can take a 30-minute guided brewery tour on the second Saturday of each month. With plenty of great brews you're sure to find something you'll enjoy. 
Clouds Brewing
Website and Directions
Industrial-chic pub with a wide choice of global craft beers, New American bites & self-serve taps.
A popular new-ish brewery/restaurant in Raleigh, located just off of Glenwood south with a great atmosphere is, Clouds Brewing. A cousin of Trophy Brewing, Clouds offers a bit of a different take on the brewing process while keeping that same foundation and commitment to local ingredients.
A nice patio allows customers to enjoy the outdoors, with a comfortable interior. Clouds is unique in the fact that it is both a restaurant/sports bar and brewery so keep that in mind if it's game day or if you're hungry!
The brewery itself is open on weekends with limited availability though they offer private events, you can learn more about it here.
Lonerider Brewing Company
Website and Directions
"Lonerider opened its doors in Raleigh, North Carolina on January 23rd, 2009 with a beer and a dream.  Today, Lonerider is distributed in nine states and is counted amongst top 150 breweries in USA. An Inc. 5000 and CED Top 25 winner, with an eye for quality, Lonerider crafted each of its beers with the highest quality ingredients. As a result, Lonerider has a portfolio of award winning beers, including medals from the Great American Beer Festival."
This is easily one of the best breweries in Raleigh and of the top 150 breweries in the U.S.! You may have heard of Lonerider before reading this article because you can find their beers everywhere, including grocery stores. Tons of bars and restaurants all around the Triangle serve Lonerider brews so you are bound to find them wherever you go.
Lincoln Brewing
 Website and Directions
"I am a firm believer in the people. If given the truth, they can be depended upon to meet any national crisis. The great point is to bring them the real facts, and beer." - Abraham Lincoln
An Abraham Lincoln inspired brand committed to serving great beer for the people. A lot like Lincoln you'll find transparent ingredients in these craft brews because with great beer comes great responsibility. Lincoln Brewing lives up to the name and we are sure you will enjoy the brewery as much as we did!
Bond Brothers Beer Company
Website and Directions
Bond Brothers Beer Company is a great local brewery in Cary, NC - just west of Raleigh. They are one of our favorites in Cary and well worth the trip if you appreciate great craft beers! A lot of people who have purchased homes in Cary enjoy both Bond Brothers Beer as well as Fortnight Brewing (see below).
"Bond Brothers decided to make historic downtown Cary their home. They chose downtown Cary based largely on the revitalization movement taking place there. Their recently completed industrial modern space is quickly becoming a popular epicenter in the downtown community. With over 9000 square feet of brewery, taproom and beer garden to enjoy, they have built a destination that matches the quality of their beers. 
There are 14 unique beers on tap, a robust barrel sour program, monthly guided brewery tours, and a kid/dog-friendly environment. Bond Brothers Beer Company has created a must see destination in the heart of the Triangle."
If you want to join a run club, Bond Brothers Beer might be a great spot for you to check out!
Fortnight Brewing Company
Website and Directions
Hand-crafted English Inspired ales in the heart of Cary. If you haven't been paying attention breweries in Cary, NC are sprouting up right and left. Between Bond Brothers and Fortnight, Cary's craft beer game is growing strong (so is Holly Springs for that matter, more on that later).
"Fortnight Brewing Company is a Craft Brewery and Pub located at 1006 SW Maynard Rd, Cary, NC 27511. We reproduce tastes of UK beer styles that some of our partners drank in their native England. Our current core range of English Ale, Porter and ESB use only English grown ingredients and yeast. We also offer a Blonde Ale, Coffee Amber and an IPA that is a fusion of English and American IPA styles. An English IPA and seasonal releases will be available in the near future."
White Street Brewing Company
Website and Directions 
White Street Brewing Company, a brewery located in Wake Forest that launched in 2012. A former car dealership turned brewery is one of the main attractions in Wake Forest, NC!
A unique taproom with exposed brick beams, and entirely exposed brewhouse. There are no walls to separate you from the sight or the sounds of the action inside the Wake Forest Brewery.
"White Street Brewing Company focuses on authentic, classically styled beers. Each batch is expertly crafted with knowledge built on centuries of traditions. It's rewarding to know that when you drink anything from White Street, you are tasting the exemplary flavors of the beer as they were intended. Do you want to know what a Kölsch is supposed to taste like? Or a stout? Or an IPA? Then first taste ours."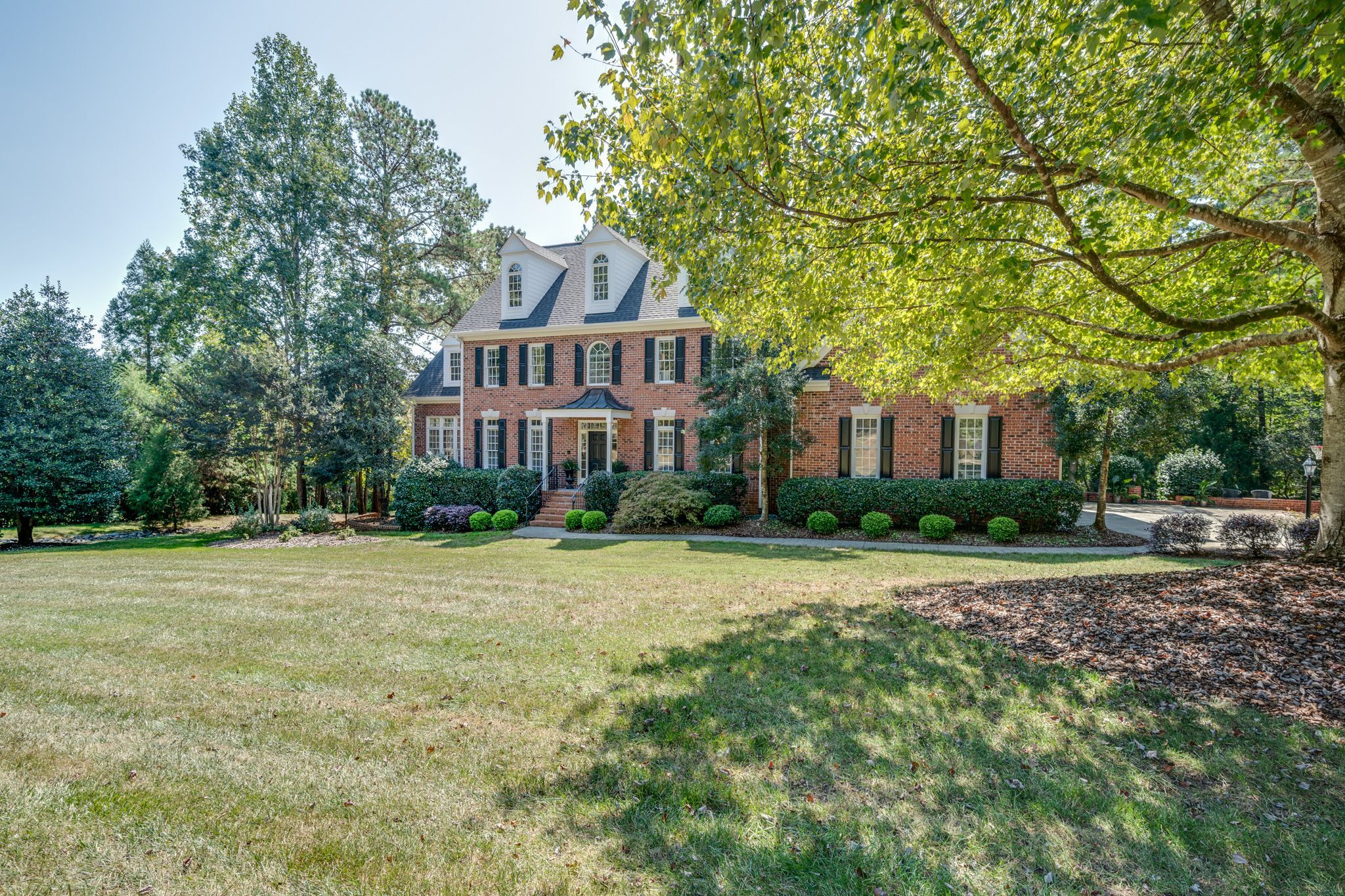 Find your new home
Search real estate and homes for sale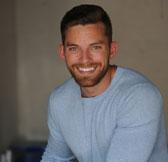 Ryan Fitzgerald
Hi there! Nice to 'meet' you and thanks for visiting our Raleigh Real Estate Blog! My name is Ryan Fitzgerald, and I'm a REALTOR® in Raleigh-Durham, NC, the owner of Raleigh Realty. I work alongside some of the best Realtors in Raleigh. You can find more of my real estate content on Forbes, Wall Street Journal, U.S. News and more. Realtor Magazine named me a top 30 under 30 Realtor in the country (it was a long time ago haha). Any way, that's enough about me. I'd love to learn more about you if you'd like to connect with me on Facebook and Instagram or connect with our team at Raleigh Realty. Looking forward to connecting!