What's the Cost of Living in Durham, NC?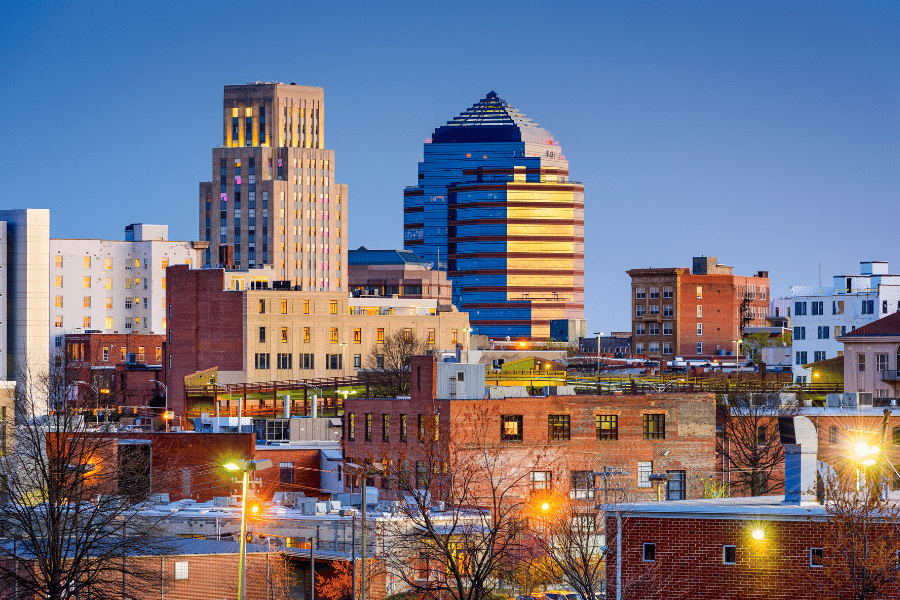 What's the Cost of Living in Durham, NC?
Are you planning your next move and considering Durham, North Carolina? Let's expand on the cost of living.
Over the years, Durham, North Carolina, has grown to be one of the largest cities in North Carolina. Durham is the perfect place for you if you want to move to a city with great views, vibrant city life, an exceptional housing market, and highly-ranked education.
People from all over the nation choose to relocate to North Carolina, specifically Durham, for its suburban feel. The city is complete with schools, an abundance of restaurants, shops, parks, greenways, and more! In 2021, Durham was ranked 25th in the top 100 places to live in North Carolina.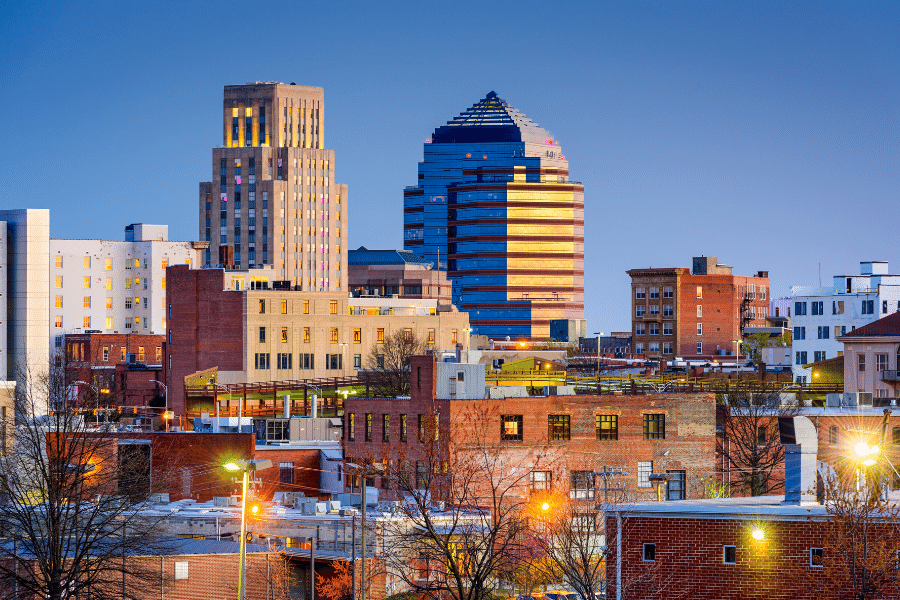 So why is Durham perfect for you? Location is everything. Durham is located in the center of the Triangle area and is known to be the hub of economic growth. Due to its location, the commute to neighboring towns -Raleigh, Chapel Hill, Cary, and Apex - is under 20 minutes. In this guide, we'll dive into the cost of living and why Durham, North Carolina, would be an excellent fit for you and your family!
The Origin of "Bull City"
The nickname "Bull City" dates back to the 1850s when tobacco production was souring. John Ruffin Green, the Durham tobacco producer, wanted a name and trademark to help distinguish his brand and make an impact. He came upon the idea of a bull from a well-known mustard brand, and his tobacco soon became known as "Bull Durham."
Cost of living in Durham
The cost of living in Durham, NC, is 11% lower than the national average. Depending on where you're moving from, the cost of housing, necessities, food, transportation, etc., will differ. Compared to the neighboring town of Chapel Hill, the cost of living in Durham is around 2% higher. Using the most recent data from Payscale, we have compared the cost of living in Durham to the national average.
| | | |
| --- | --- | --- |
| Cost of Living Item | Durham, NC | National Average |
| Annual Income | $36,136 per person* | $35,384 per person* |
| Mortgage Payment | $1,464* | $1,621* |
| Rent | $1,098* | $1,096 |
| Natural gas (therm) | $1.23 | $1.57 |
| Electricity (kWh) | $0.11 | $0.14 |
| Food (Gallon of milk) | $3.57 | $4.33 |
| Transportation (Gallon of gas) | $3.40 | $3.84 |
| Income tax rates | 5.25% | 13.3% |
*Denotes median rather than average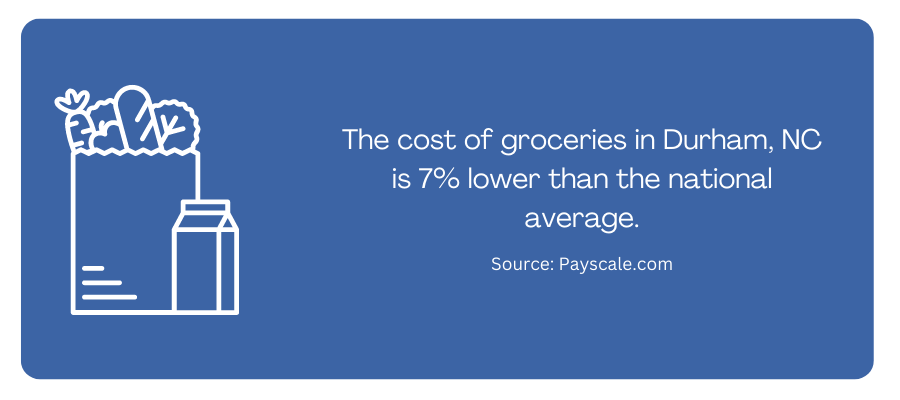 Income
Income data from Durham residents shows that the median annual income per person ($36,136) is $752 higher than the national average ($35,285). According to the most recent US Census, the Durham poverty rate is 14.2%, while the national poverty rate is 11.6%. The unemployment rate In the Durham-Chapel Hill area is around 3% as of May 2022.
Housing Costs
As housing costs continue to rise in most areas, the median price of homes in Durham, NC, is around $300,000. The housing market in Durham is sought after due to its low mortgage rates.
Brightleaf at the park neighborhood was recently built on the Raleigh-Durham line. This prime location offers a quick commute to Research Triangle Park, Downtown Durham, and Downtown Raleigh! The area offers multiple amenities, including a community pool, clubhouse, and more! The average price of homes in this neighborhood is around $550,000.
Another great neighborhood in Durham is Grandale. This neighborhood has begun to attract residents because of its walk-friendly community and proximity to Research Triangle Park and Southpoint mall. The median price of homes in Grandale is similar to that of Brightlead at the park, at around $600,000. Houses may list for closer to $1 million, so it's essential to do your research.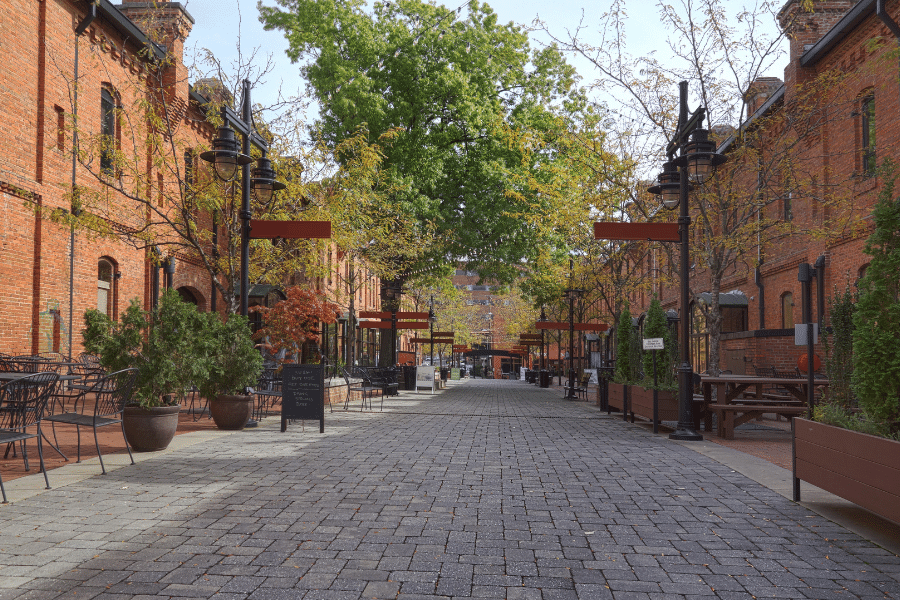 Utilities
Water, gas, electricity, and waste management are often forgotten when you're planning to move to a new city. Once you've decided on an area and found a home, it's essential to research and set up your utilities ahead of time to ensure a smooth and stress-free move-in. Below we have provided a breakdown of the leading service providers in Durham, along with their rates/fees.
Water
The City of Durham provides water and sewer services to the residents of Durham, NC. To charge customers accurately, the City of Durham uses a tier system based on monthly water usage.
| | |
| --- | --- |
| Tier (per 100 cubic feet - ccf) | 2022 Rates |
| Tier 1 (0-2 ccf) | $2.09 |
| Tier 2 (>2-5 ccf) | $3.15 |
| Tier 3 (>5-8 ccf) | $3.45 |
| Tier 4 (>8-15 ccf) | $4.51 |
| Tier 5 (>15 ccf) | $6.75 |
Rates are doubled for residents outside of city limits.
Electricity
The primary electricity provider in Durham, North Carolina, is Duke Energy, as they are one of the country's most reliable economic development utility partners. They are headquartered in Charlotte, NC, and provide electricity services to a 91,000 square mile service area across six US states.
| | |
| --- | --- |
| Monthly facilities charge | $14.00 |
| Billing for the months July-October | $0.116 |
| Billing for months November-June | $0.10659 |
Natural Gas
Like most of the Triangle area, natural gas in Durham, NC, is provided by Dominion Energy. They are one of the nation's largest producers and deliver natural gas to customers in 20 states.
| | |
| --- | --- |
| Facilities charge | $10.00 |
| Charge for November-April | $1.2668 |
| Charge for May-October | $1.18775 |
Waste Management
The City of Durham provides curbside garbage, recycling, and yard waste pickup to all residents. They also offer services to residents who cannot roll their trash to the curb on their own and have no one else in the household.
Transportation
As the City of Durham grows, they are looking for solutions to reduce single-occupancy vehicle trips. Solutions include transit, ridesharing, walking, biking, and telework.
GoDurham is a transit service that offers safe, reliable, convenient, and accessible transportation to residents and visitors of Durham. They operate 24 bus routes and the Robertson Scholar Express route for GoTriangle. To make it easier to get around, GoDurham is fare-free until June of 2023.
Taxes
Taxes are an important topic of discussion when planning on making a move. Here are some essential things you should know about the taxes in Durham.
| | |
| --- | --- |
| Tax Type | Tax Rate |
| Local Sales Tax | 2.75% |
| State Sales Tax | 4.75% |
| Income Tax | 5.25% |
| Combined Local and State Property Tax | 0.88% |
FAQ
Is it expensive to live in Durham, NC?
As the cost of living rises everywhere, the cost of living in Durham, NC, is still lower than the national average.
What is Durham, NC, known for?
The City of Durham is known as the "City of Medicine" as healthcare is a significant industry, and there are more than 300 medical and healthcare-related companies.
Find your dream home in Durham, NC
Durham is a fantastic place to consider when planning your next move, often referred to as the "Silicon Valley" of the east coast. With its proximity to Research Triangle Park, the job market is booming and continues to provide new opportunities daily. Along with jobs, Durham offers a wide variety of bars and restaurants, luscious parks, gardens, and forests, a low cost of living, and diverse culture.
When you're ready to make your move, Raleigh Realty can help you find the perfect home. When searching for homes for sale in Durham, reach out to one of our knowledgeable Real Estate Specialists. Contact us today to kick-start your home-buying journey!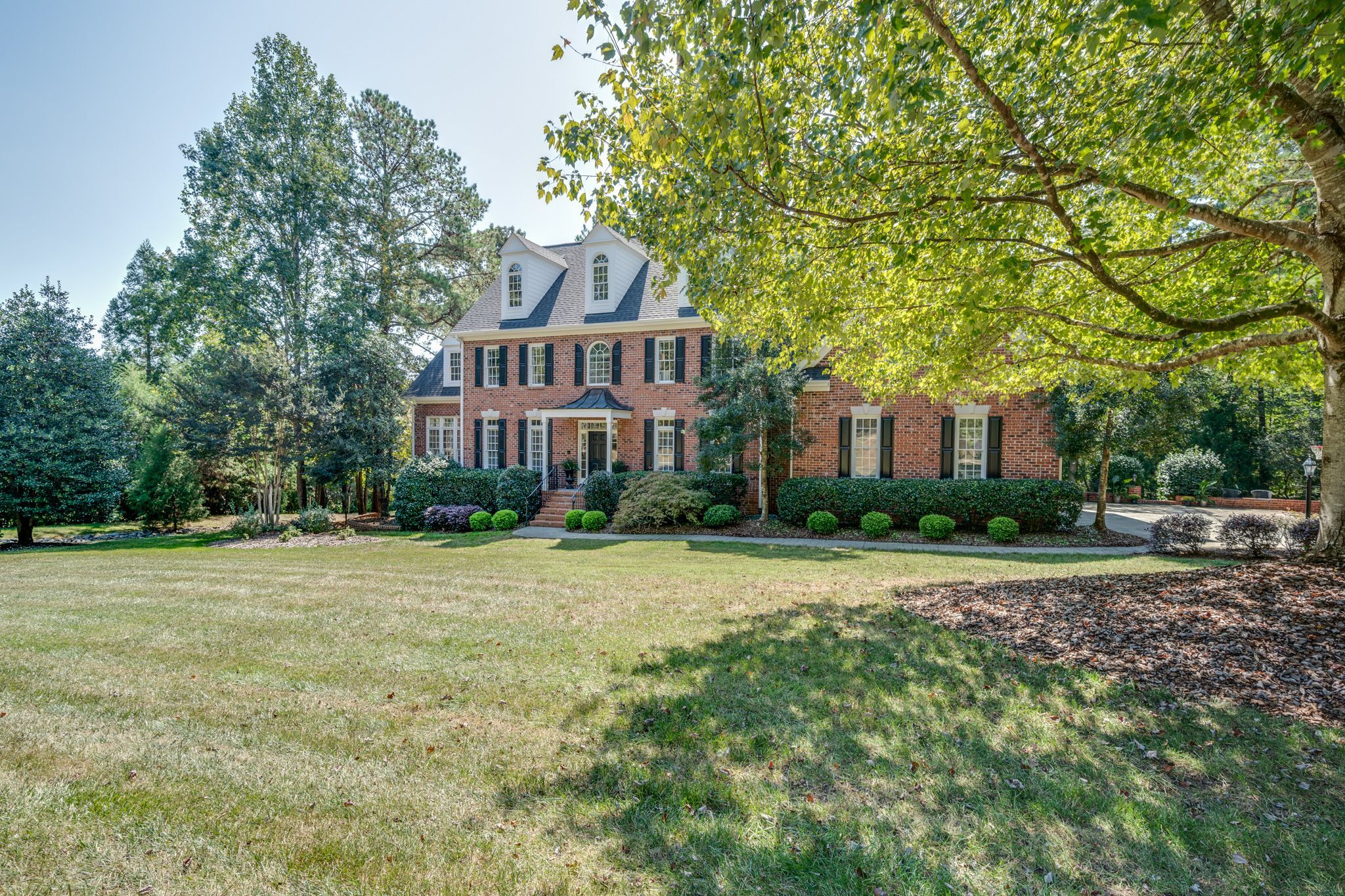 Find your new home
Search real estate and homes for sale