12 Best Bars In Chapel Hill, NC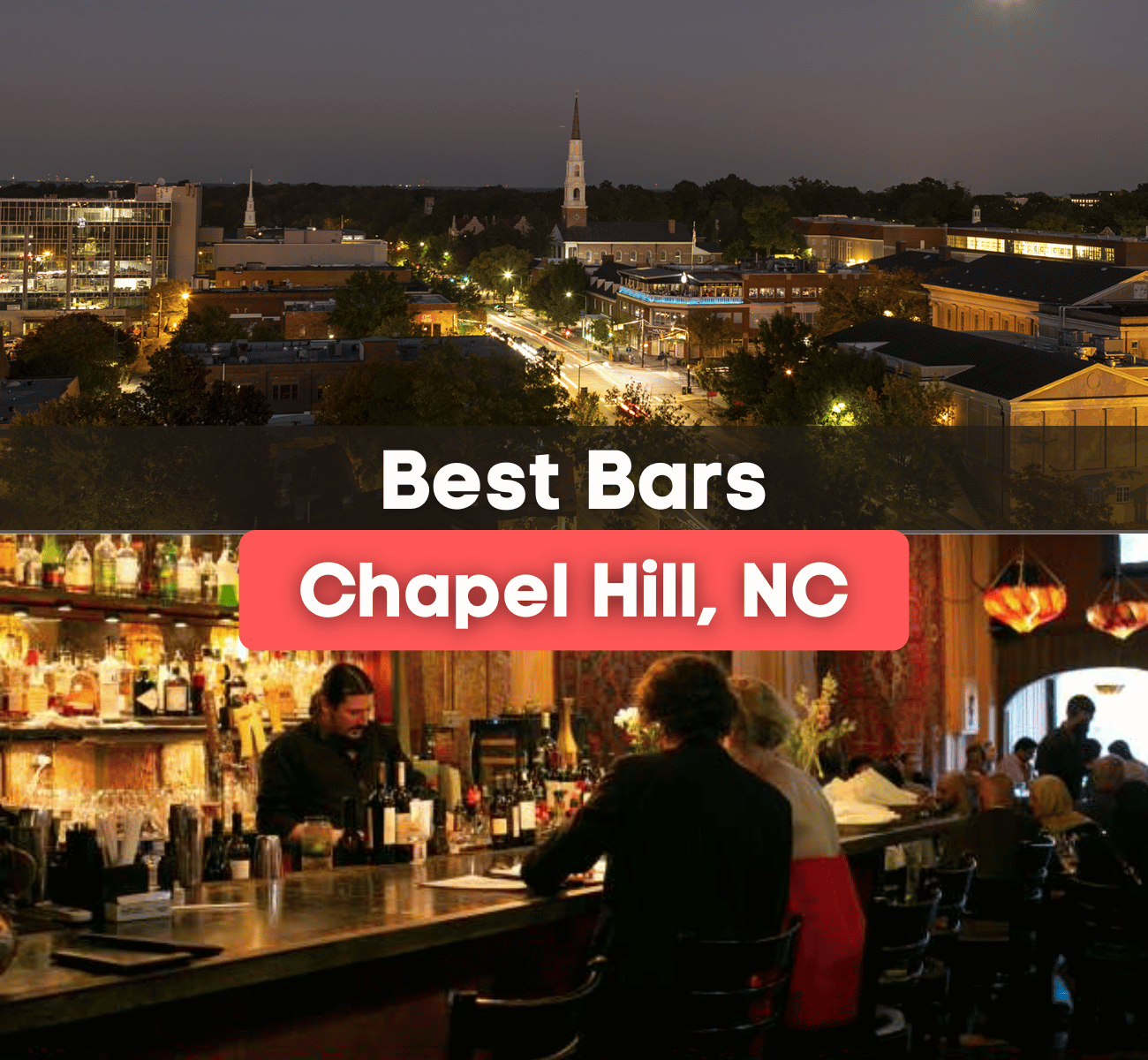 Best Bars In Chapel Hill: A Nightlife Guide 
Have you been looking for the best bars in Chapel Hill, NC? Continue reading to find the best place for your next night out! 
Chapel Hill is a beautiful town in Orange County, North Carolina, primarily known for its college scene due to the University of North Carolina at Chapel Hill. Because of its popularity and continuous growth, there is always something to do, including nightlife! 
In this guide, we have put together a list of some of the best bars, clubs, and breweries so that you don't have to! Chapel hill not only has beautiful homes for sale, but it also has various places to enjoy your night out, whether you're celebrating a birthday, a special occasion, or simply spending time with your friends. Let's get started! 
1. Carolina Brewery 
Location: 460 West Franklin St., Chapel Hill, NC 27516
"Carolina Brewery is here to celebrate the journey - to share each discovery, every wrong turn, and every crazy story. For each stream, harbor, or road less traveled in your Carolina life, we'll be there with a compass, a map, and some truly great beer!"
Carolina Brewery in Chapel Hill is the oldest craft brewery in the Triangle. It's a place to gather with friends for delicious drinks, enjoy brunch, and genuine hospitality. 
Their beer selection consists of cans and drafts from North and South Carolina and Eastern Tennessee. Some beers they offer are Sky Blue Kolsch, Copperline Amber Ale, American IPA, and Costero Mexican Lager. If you're interested in more information on the beer, check out their website! 
Hours: 
Sunday: 10 AM - 10 PM 
Monday - Thursday: 11 AM - 11 PM 
Friday: 11 AM - 12 AM 
Saturday: 10 AM - 12 AM 
2. Linda's Bar & Grill 
Location: 203 East Franklin St., Chapel Hill, NC 27514
At Linds's Bar & Grill, you will enjoy delicious traditional American cuisine and icy cold drinks! Their menu includes deep-fried brussels sprouts, nachos, chicken tenders, sandwiches, soups, wings, desserts, and so much more! You will also experience tasty house cocktails and a rotating draft list at Linda's. One of my favorite cocktails is the Sour Patch Kids, made with gin, watermelon pucker, sour apple pucker, lemon juice, lime juice, simple syrup, and lemon-lime soda! 
Additionally, if you venture downstairs, you will find Linda's Downbar. The Downbar is located below street level and is perfect for hosting events, drinking yummy cocktails, and having a great time with friends. You can even host your own private trivia on Sundays and Mondays! 
Hours: 
Tuesday - Saturday: 11 AM - 2 AM 
Sunday Brunch: 11 AM - 4 PM 
Monday: 4 PM - 12 AM 
3. Stilllife 
Location: 159 E Franklin St., Chapel Hill, NC 27514
Stilllife Chapel Hill is an upscale club scene like no other. Here you can experience live DJs, live bands, special events, special guests, VIP treatment, and more. At Stilllife, you have the club space, drink bar, sky lounge, and loft area. Each room has its own bar. The loft area is the perfect place to host private events, whether that be wedding receptions, sorority/fraternity events, birthdays, graduation parties, etc. 
VIP tables and bottle service gives you and your guest easy entry into the club, an exclusive seating area with fantastic views of all performers, and a premium beverage package served by your cocktail server. 
Stilllife Chapel Hill is highly recommended for fun nights with friends, events, performances, and more! 
Hours: 
Wednesday - Sunday: 10 PM - 2 AM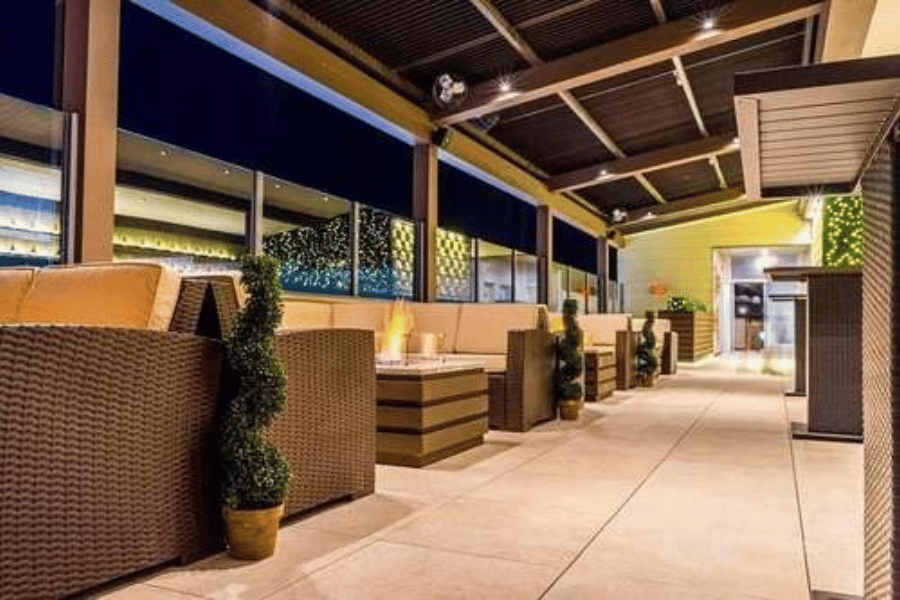 4. Four Corners 
Location: 175 East Franklin St., Chapel Hill, NC 27514
Four Corners is known to be Franklin Street's premier destination for casual dining and the Carolina sports scene. They serve house-made dishes using only the freshest ingredients & locally sourced products, and cold beverages. 
Four Corners has a great selection of beer, wine, cocktails, and spirits. The beer list includes bottles and drafts, with two that rotate for the season. A few year-round drafts include Guinness, Blue Moon, Red Oak Amber, and Landshark Lager. They also have house wine, seasonal wine, signature cocktails, mules, margaritas, whiskey, rye, and scotch. 
The food menu at Four Corners includes appetizers, soups & salads, wings, burgers, entrees, sandwiches, and desserts! 
Hours: 
Monday - Wednesday: 11 AM - 11 PM 
Thursday - Saturday: 11 AM - 12 AM 
Sunday: 11 AM - 10 PM 
5. The Crunkleton 
Location: 320 West Franklin St., Chapel Hill, NC 27616
The Crunkleton serves signature cocktails and an unrivaled collection of curated spirits served with style and finesse. The Crunkleton aims to be mentioned in the same breath as the finest cocktail bars in the world but with a honed approach to hospitality that is distinctly southern. They achieve this goal by hiring only the best bartenders well-versed in the techniques and quality ingredients. 
Cocktails on their menu include the old-fashioned, the French, the Roycroft, dusty cactus, and more. My favorite is the Elderflower Sour, made with Cognac, London Dry Gin, Curacao, lemon, and Champagne. 
The Crunkleton has been featured in The New York Times and The Bitter Southerner and named one of the "Best Bourbon Bars in the South."
Hours: 
Daily: 4 PM - 2 AM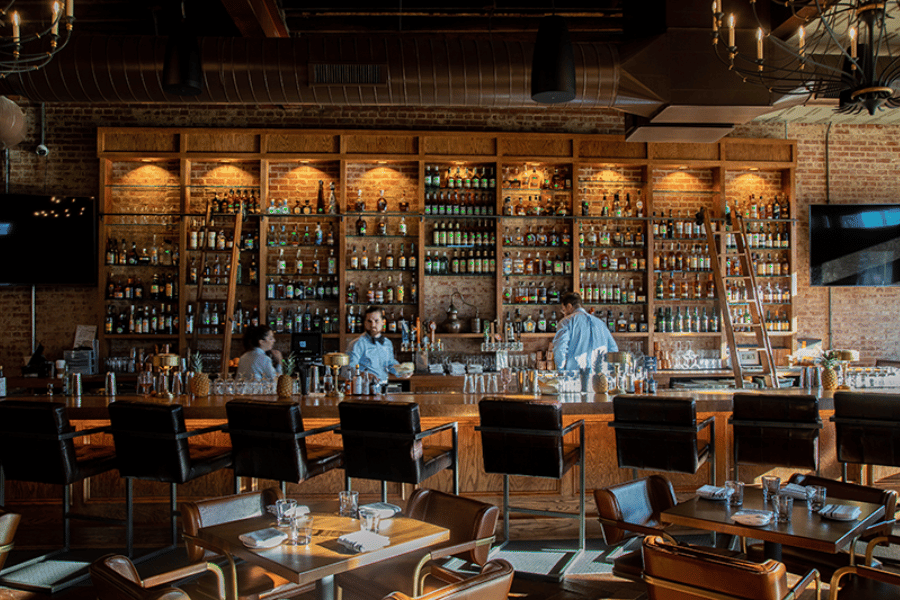 6. The Northside District
Location: 403 W. Rosemary St., Chapel Hill, NC 27516
The Northside District is open every day from 5 PM - 2 AM and is the perfect place to visit with friends and colleagues or meet new friends! They serve beer, wine, cocktails, and food! The menu at the Northside District is small, but it's made up for in flavors. 
Their food menu consists of roughly ten options to choose from. Some options are Northside noodles, adobo tacos, mac n G's, beet salad, etc. 
They have various beers, eight wine selections, and eight specialty drinks. The wine options are: 
Masi Modello Pinot Grigio
Lan Jioja Crianza
Segura Viudas Cava Brut
Pere Et Fills Syrah Grenache
Sean Minor Pinot Noir 
Verdeo Torres Verdejo 
Laurant Miguel Rose 
Negori Sake (bottle only) 
Hours:
Every Day: 5 PM - 2 AM 
7. Beer Study 
Location: 106 North Graham St., Chapel Hill, NC 27615
Beer Study was founded by James Deal, who worked tirelessly to create a bottle shop that stocked only the finest ales, lagers, and wine. After making a list he was proud of, he opened Beer Study to the public. Today, many people stop by to shop, drink, and enjoy. 
They currently have 24 drafts on tap. They have Unseen Creatures Edge of Existence, Trillium the Essential: Hatcher, Fremont Golden Czech, New Anthem Steez, Faction Ryes Above, etc. 
Beer Study is always available for keg purchases for your next event. Since they don't keep any kegs in stock, they require at least a 48-hour notice to receive your keg and deliver it to you chilled. 
Hours: 
Sunday - Monday: 12 PM - 10 PM
Tuesday - Saturday: 12 PM - 12 AM 
8. The Baxter Bar and Arcade 
Location: 108 North Graham St., Chapel Hill, NC 27510
The Baxter Bar and Arcade is a nerd-chic atmosphere filled with pop art, TV/movie props, and toys. They have over 50 vintage arcade games that adults and children can enjoy every Sunday and Saturday from 12 PM-6 PM or during the week from 3 PM-6 PM. A card-carrying member of The Baxter must accompany children or young adults under 21. 
They also have a full bar, and you can enjoy your beverage of choice in their outdoor space, two indoor lounge areas, the high-top table area, or at the bar itself. 
Hours: 
Sunday: 12 PM - 2 AM 
Monday - Friday: 3 PM - 2 AM
Saturday: 12 PM - 2 AM 
9. Downtime 
Location: 201 East Franklin St., Chapel Hill, NC 94158
The Downtime Nightclub and Pizza Bar was opened by UNC graduates who wanted to create a good-vibes-only atmosphere with detail-oriented craft cocktails and great food! 
Specialty cocktails: 
Tito's fishbowl 
Pink Motorcycle
Red bull lemonade
Trash Can 
Darius Margaritas
Downtime mules 
One of my favorite cocktails on their menu, especially the name, is the Phuck It, made with FJF champagne, vodka, grenadine, lemon, and gummy bears! 
All cocktails are served with their unique liquors, and most are available in different flavors. 
Hours: 
Sunday - Monday: CLOSED 
Tuesday - Saturday: 6 PM - 12 AM 
10. Dead Mule Club 
Location: 303 West Franklin St., Chapel Hill, NC 27516
Dead Mule Club is a little white house on Franklin St. that opened its doors in 1994. The Dead Mule has a full bar with over 70 whiskeys, 50 beers, several local drafts, ciders, and sodas. They also have local NC food, brews, and spirits. 
Their Sunday brunch menu includes various delicious dishes that every breakfast lover appreciates. Some dishes include eggs florentine, french toast, eggs benedict, biscuits & gravy, and more. 
The Dead Mule Club has a large deck with plenty of outdoor seating for beautiful days and cozy indoor seating by the fireplace or in the back room. 
We recommend visiting Dead Mule Club for late nights and trying new things! 
Hours: 
Every Day: 3 PM - 2 AM 
11. Goodfellows 
Location: 149 1/2 East Franklin St., Chapel Hill, NC 27514
Home of the perfect pint! 
Goodfellows is a laid-back hangout spot that offers a variety of beer, regular trivia nights, karaoke, and DJs. A fun feature of Goodfellows for those that drink is their Pickleback Club. Customers earn one point for each Pickleback they drink, and 100 points grant you a plaque on the wall. 
A fantastic program in this college town that Goodfellows takes part in is the Ask for Angela program. The program allows people at risk of sexual assault to ask the bartenders for Angela. A Goodfellow employee will then take them to the back of the bar to assist them in getting home safely. 
Hours: 
Sunday: 7 PM - 2 AM 
Monday: CLOSED 
Tuesday - Saturday: 7 PM - 2 AM 
12. Might as Well 
Location: 206 W Franklin St., Chapel Hill, NC 27616
Might as Well is one of Chapel Hill's best sports bars and is the top bar for fresh, quality food. They serve many drink specials, including happy hour and weekly specials. 
Drinks include specialty cocktails, craft bottles and cans, draft beer, and more! The food menu consists of salads & larger plates, jumbo wings, sandwiches & more, pizza, burgers, small plates, and desserts! 
"If you're going to spend the night out in Chapel Hill having a good time, watching the game at the local bar & grill, you Might as Well do it with great food, friendly service, and the BEST DRINK SPECIALS IN TOWN!"
Hours: 
Sunday: 12 PM - 2 AM 
Monday - Thursday: 4 PM - 2 AM 
Friday - Saturday: 12 PM - 2 AM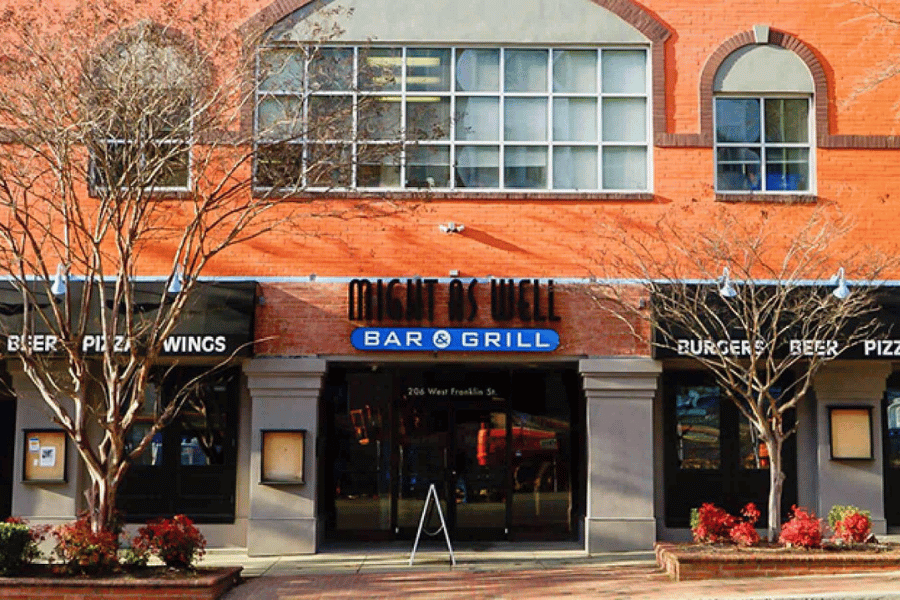 Best Bars In Chapel Hill, NC - Final Thoughts 
The University of North Carolina at Chapel Hill plays a massive role in why Chapel Hill is filled with so many excellent bars, restaurants, breweries, clubs, and things to do. The school brings in an abundance of new people to the town yearly, and in turn, they fall in love with Chapel Hill and choose to stay. Who wouldn't? The nightlife in Chapel Hill is perfect for students & young adults, watching sports games, dancing, mingling, and making memories. 
Exploring Chapel Hill is truly a unique experience. You will be met with countless opportunities to try new things and a welcoming community. 
If you're interested in moving to Chapel Hill, Raleigh Realty would be happy to help! Raleigh Realty is a local real estate company that specializes in helping those through the home buying and selling process. Feel Free to contact us or visit our website to connect with an agent! 
Check out our other local area guides: 
Local Real Estate Trends in Chapel Hill 
Best Restaurants in Chapel Hill 
Best Coffee Shops in Chapel Hill 
Best Apartments in Chapel Hill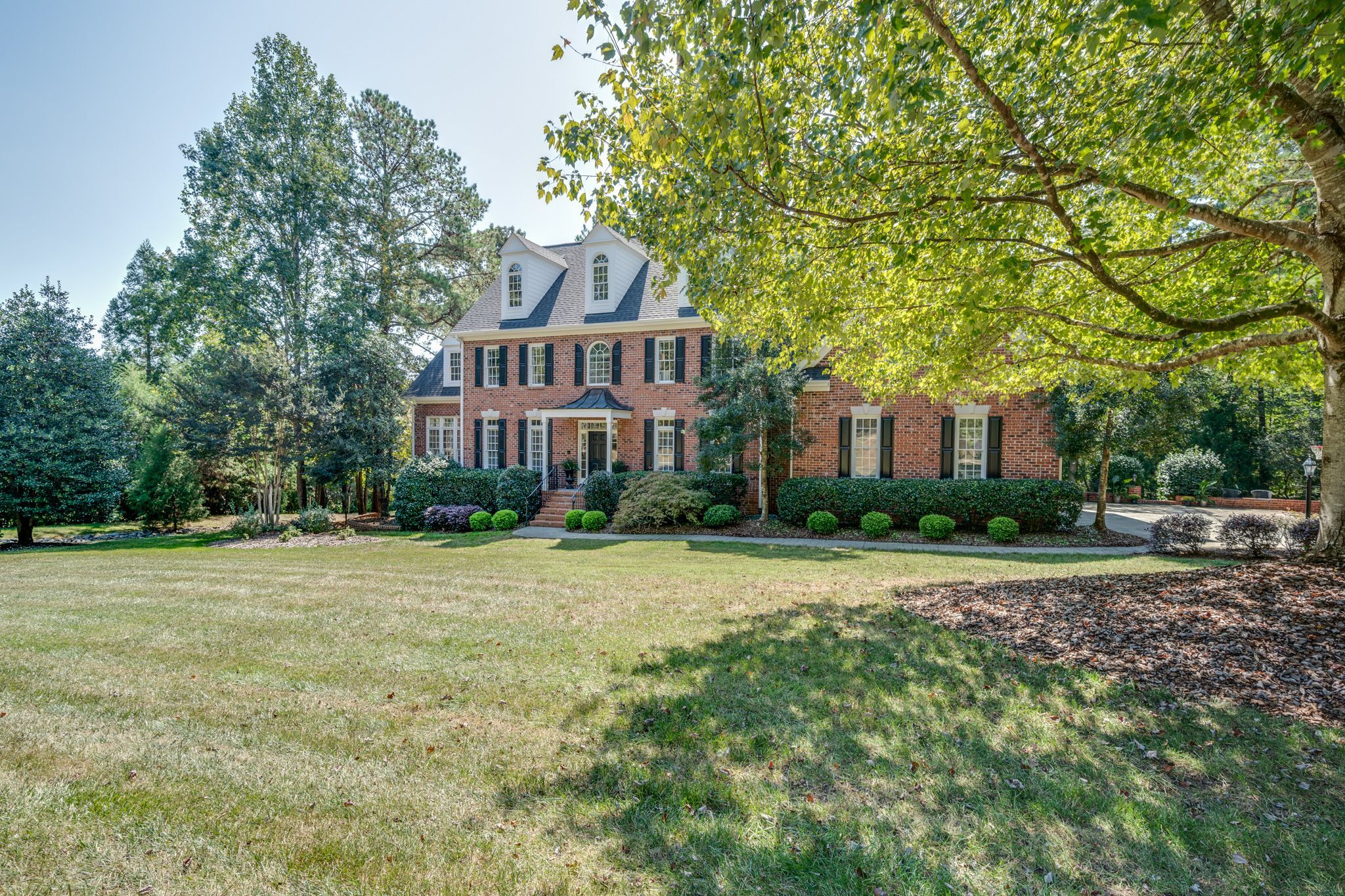 Find your new home
Search real estate and homes for sale