Close popup
Luxury Homes for Sale in Raleigh, NC
Current Real Estate Statistics for Homes in Luxury

October 04, 2023

505 Properties Found. Page 1 of 11
3 Bed

3 Bath

2,144 Sqft

2.01 Acres

5 Bed

5 Bath

4,255 Sqft

0.51 Acres

3 Bed

4 Bath

3,576 Sqft

2.55 Acres

0 Bed

0 Bath

2,650 Sqft

0.5 Acres

4 Bed

6 Bath

4,574 Sqft

0.34 Acres

4 Bed

5 Bath

4,419 Sqft

1.88 Acres

5 Bed

6 Bath

5,189 Sqft

0.92 Acres

2 Bed

4 Bath

1,716 Sqft

0.03 Acres

4 Bed

4 Bath

3,407 Sqft

1.65 Acres

5 Bed

6 Bath

4,273 Sqft

0.12 Acres

5 Bed

6 Bath

4,611 Sqft

0.23 Acres

4 Bed

4 Bath

3,703 Sqft

0.76 Acres

5 Bed

5 Bath

4,854 Sqft

1.95 Acres

5 Bed

5 Bath

3,926 Sqft

0.28 Acres

3 Bed

3 Bath

2,000 Sqft

0.2 Acres

4 Bed

3 Bath

2,572 Sqft

0.3 Acres

3 Bed

3 Bath

2,220 Sqft

0.01 Acres

4 Bed

3 Bath

3,453 Sqft

0.41 Acres

4 Bed

5 Bath

4,443 Sqft

1.63 Acres

5 Bed

6 Bath

6,573 Sqft

0.34 Acres

5 Bed

5 Bath

6,238 Sqft

1.35 Acres

$1,699,000

UNDER CONTRACT

4 Bed

5 Bath

4,950 Sqft

0.76 Acres

$1,800,000

UNDER CONTRACT

3 Bed

4 Bath

2,777 Sqft

0.74 Acres

5 Bed

5 Bath

4,789 Sqft

0.39 Acres

4 Bed

3 Bath

2,849 Sqft

0.09 Acres

4 Bed

4 Bath

3,693 Sqft

1.39 Acres

5 Bed

5 Bath

4,362 Sqft

0.25 Acres

4 Bed

4 Bath

3,043 Sqft

0.25 Acres

5 Bed

7 Bath

4,700 Sqft

0.35 Acres

3 Bed

2 Bath

1,585 Sqft

0.27 Acres

5 Bed

5 Bath

4,017 Sqft

0.26 Acres

2 Bed

3 Bath

1,716 Sqft

0 Acres

4 Bed

6 Bath

7,552 Sqft

1.06 Acres

3 Bed

3 Bath

1,510 Sqft

0.13 Acres

0 Bed

0 Bath

-- Sqft

0.34 Acres

3 Bed

2 Bath

2,624 Sqft

0.65 Acres

3 Bed

3 Bath

2,468 Sqft

1.82 Acres

5 Bed

6 Bath

4,516 Sqft

0.37 Acres

3 Bed

5 Bath

5,172 Sqft

0.19 Acres

5 Bed

6 Bath

5,757 Sqft

0.58 Acres

3 Bed

4 Bath

2,929 Sqft

0.56 Acres

$1,039,000

UNDER CONTRACT

4 Bed

4 Bath

3,237 Sqft

2.35 Acres

6 Bed

5 Bath

5,282 Sqft

0.32 Acres

5 Bed

4 Bath

4,176 Sqft

0.68 Acres

3 Bed

3 Bath

2,620 Sqft

0.11 Acres

0 Bed

0 Bath

4,818 Sqft

0.4 Acres

4 Bed

3 Bath

2,204 Sqft

0.37 Acres

4 Bed

3 Bath

3,270 Sqft

0.37 Acres
Popular Home Searches in Raleigh
Communities in Raleigh

Luxury Homes for Sale in Raleigh, NC
Uncover the best Raleigh luxury homes for sale & Raleigh real estate below! For up-to-date information on Raleigh luxury real estate or to schedule a private tour of the many Raleigh over $700,000 homes available to purchase today, contact Raleigh Realty today.
In the Raleigh area, luxury real estate is defined as a home priced upwards of $700,000, in some cases $750,000. On our website, you can search luxury homes for sale in Raleigh as well as in the surrounding cities. On the navigation bar to the right you'll have easy access to search luxury homes in cities like Cary, Apex, Holly Springs, Durham, Chapel Hill and more!
Advanced tips when Buying Luxury Homes for Sale!
We have created easy-to-use search functionality for you to pin point your search for a highly desirable estate by city, and by location with our map feature. High-priced homes in Raleigh give a great return on your dollar since the average price per square foot is lower than most cities.
Shopping for expensive homes is different because there is a limited quantity of high priced real estate. This means your strategy for buying a luxury home and negotiations will be different from purchasing a property that is less expensive.
Below you will find the search functionality for your home and more information related to Luxury Raleigh Realtors, real estate information, and strategies to buy a home for the affluent.
Luxury Raleigh Real Estate
Shopping for expensive homes is different because there is a limited quantity of high priced real estate. This means your strategy for buying a luxury home and negotiations will be different from purchasing a property that is less expensive.
Here is an infographic that will help with some of the top tips when buying luxury homes for sale!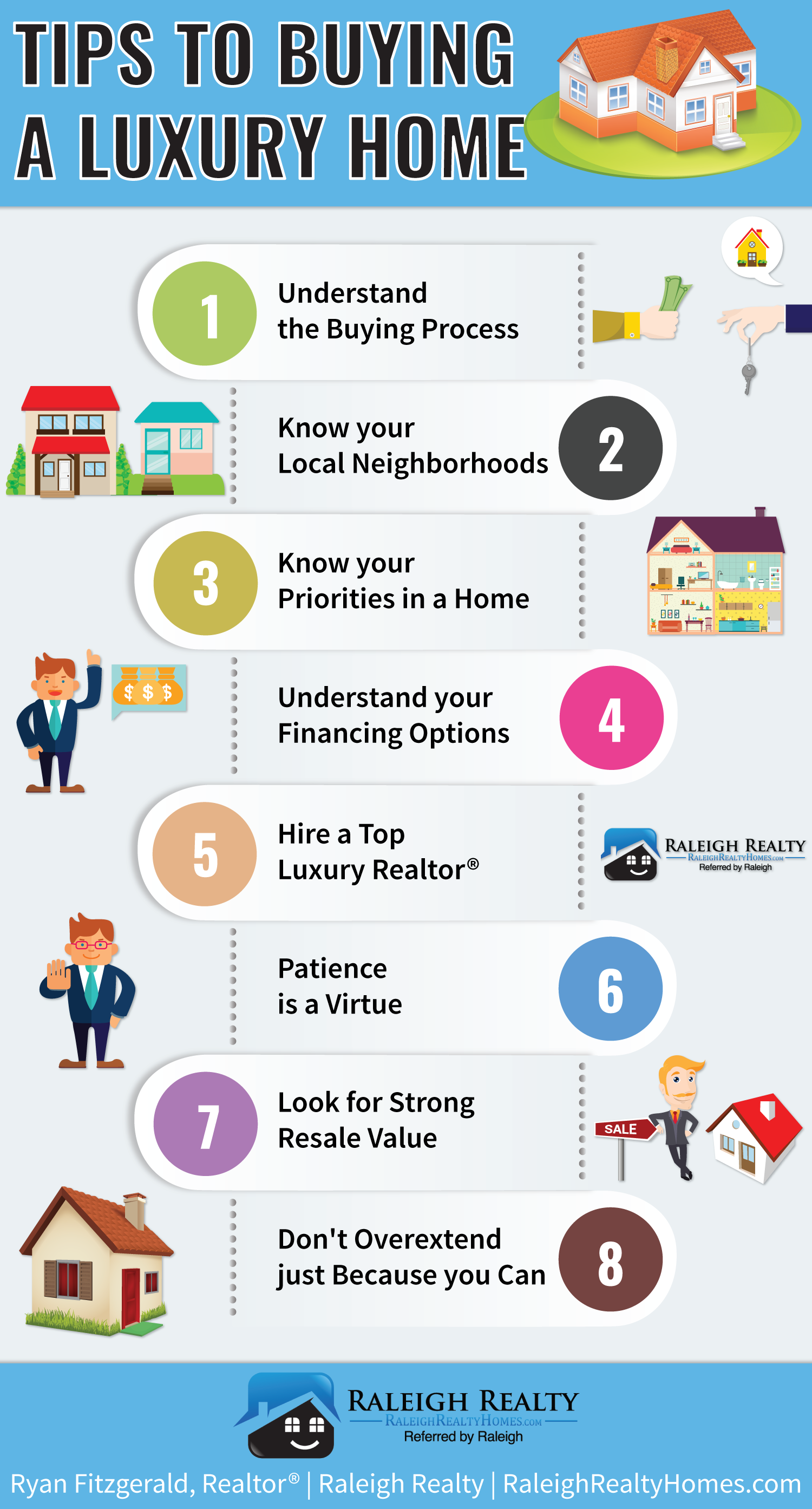 Luxury Raleigh Realtor®
If you're buying or selling a luxury home in the Raleigh area you want to ensure you use a top local Realtor®. A few percentage points on a million dollar home is tens of thousands of dollars. Ensuring you use a Realtor® who understands the luxury home buying process and sells luxury homes in the area is critical to your success. Luxury estates require a different technique, negotiations, and set of circumstances that lower priced homes do not. The reason for this is because of the limited quantity of high priced real estate in Raleigh. A luxury Realtor® will ensure their clients know of a home that matches their criteria the second it hits the market. Discovering the motivation for the homeowner to sell is a great way to help yourself land a good deal on a million dollar home.
A local luxury Realtor® will have a good understanding of affluent neighborhoods that match your needs. The saying 'location, location, location' rings true when searching for a high priced estate. Whatever your search criteria is, you'll want to find the more expensive neighborhoods that you like before you search homes. The reason for this is because you don't want to buy a luxury home simply because you fell in love with the house only to find out you don't like it's location or neighborhood amenities.If you're looking for great schools you wouldn't by an expensive home in sub par school district, or one that is two hours away from your office. Finding the luxury community or neighborhoods you like are more important than finding the perfect home. Once you find a few of the affluent areas you like it's time to find your luxury home.
Before you find a local Realtor® to help you find a great luxury home, you'll want to do your research on the agent. Some real estate agents will come across as strong Realtors® however you want to ensure they have your best interest in mind and not something else on their agenda. Do they encourage you to interview with more than one real estate agent, or do they tell you not to? A top Real estate agent will be confident enough in both their abilities, and the fact they have your best interest in mind that they will want you to interview as many as you can. That person wants you to make the best decision for you, not the best decision for themselves. This translates to buying a luxury home as well.
Is the Realtor® you're working with going to encourage you to buy a million dollar home when you have a budget of nine hundred thousand? If so, run. You don't want to work with a real estate professional who doesn't respect your budget. When working with a luxury Realtor® they should be professional, respectful, patient, and the hardest worker in the room. You also want a real estate agent who understands how to use technology because if they don't understand what a web browser is they may not be able to present you luxury homes as fast as a technologically capable Realtor®. This is equally important to someone who is selling a luxury home as it is to someone who is buying one. It's a huge financial decision so finding the right agent to work for you will put you in a successful position.
Before you jump into your luxury real estate search you'll want to ask yourself these questions.
Luxury Home Buying Questions to ask:
How do I buy a luxury home?
What are the affluent neighborhoods in the Raleigh area?
Is the Luxury home for sale in a good school district?
Are you looking for the best deal possible on a luxury house or are you comfortable with paying more for the perfect estate?
Are you committed to a specific luxury neighborhood or area?
Can you afford a more expensive home and live comfortably?
What amenities would you like in your neighborhood and community?
Are there specific features you want in your luxury estate?
Do you want a brand new luxury home or an existing one?
Understanding how to buy a luxury home will help ensure you save time, money, and any future headaches that could come from a lack of knowledge. You want to arm yourself with as much information as possible, this type of education gives you ammunition to use in your decision making process when buying an extravagant property. Understanding your own priorities will help when searching for affluent homes for sale in the Raleigh area. If schools are a top priority you wouldn't buy a high priced estate in a bad school district.
Questions to ask the Sellers of Luxury Estates:
Why are you selling your home?
Where do you plan to go next and why?
What is it about the neighborhood that you didn't like?
What should we know about your home?
When are you hoping to have it sold by?
If your home doesn't sell what would you do?
The motivation of the seller is important to your negotiations. Are they heading for foreclosure, have they already purchased another house or simply looking to upgrade? If you're buying a luxury home you'll want to know everything you can about what is causing the seller to put the house for sale. This gives you information, and knowledge is power when purchasing real estate, especially when it's at a higher price. You don't want to make the seller feel uncomfortable or as though you're interrogating them with questions, so it's important you ask for their permission before jumping in. A simple way to ask for permission would be "Do you mind if we ask you some questions as to why you're selling the property?" - if they want to sell their home, they will oblige and help you.
Luxury Community and Neighborhood
Some of the popular more expensive neighborhoods include:
There are a lot of great luxury communities in the Raleigh area. Whether you're looking for a home in Cary, Apex, Holly Springs or in up and coming cities like Wake Forest, Fuquay-Varina, Morrisville and Garner you'll want to ensure the neighborhood is one you love. There area a lot of new construction homes being built in the Triangle area of North Carolina. The greater Raleigh area is the number one area for new homes, and some new construction communities are building for the wealthy. For those with a high budget you'll have many options to choose from in highly desirable areas.
Once you determine the neighborhood that meets your search criteria you'll want to understand more about the homes for sale in the particular community. A lot of luxury estates go up for sale and sit on the market for longer than less expensive homes, simply because there are less buyers with high budgets.
Some amenities that are typically found in an affluent neighborhood would be a country club that offers social gatherings, great golf, pools, and other activities such as swim teams. Preston, MacGregor and Lochmere are three of the luxury communities in Cary that we specialize in. These three expensive Cary neighborhoods offer great amenities for their residents that begin with their respective country club communities. Prestonwood Country Club, MacGregor Downs Country Club, and Lochmere golf club are three of the best golfing neighborhoods in the Raleigh-Cary area. If you're looking for a Realtor® in one of these luxury neighborhoods you'll want to make sure they know the area and inventory of homes for sale.
Luxury Home Amenities Buyers Want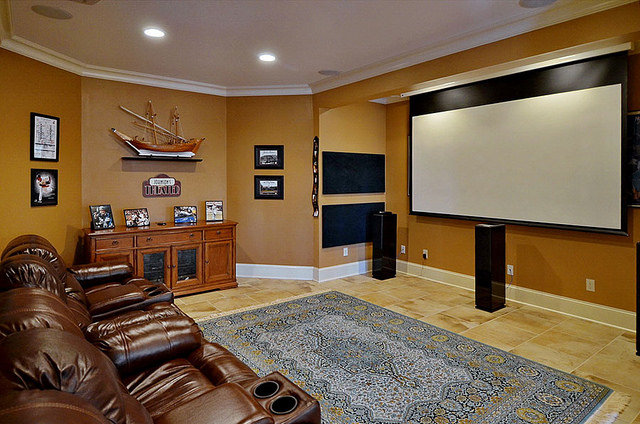 It's common for mansions to include top of the line amenities such as:
Incredible location
Breathtaking views
Land and privacy
Great entertaining features
Top of the line safety and security
'Intelligent' home appliances
The best quality homes
The most important aspect of any home is the location. If you're paying more for a higher quality home, you'll want to make sure that the location is one you like. You are also paying for other features that typically come with the higher price range such as safety and security and privacy. Some other great amenities that typically come in the upper price range is a floor plan made for entertaining and extravagant backyards with room to move around or host parties.
While these are some great amenities the rich look for in a home, it doesn't necessarily mean it's what you need. Prioritize what is most important for you and assign a ranking to each. Divide your priorities into three different categories 'must haves,' 'want to haves' and 'would be nice to have.' Take these priorities and apply them to the luxury homes for sale in the particular area you'd like to buy. Understand that if the house has a high percentage of what you're looking for it's a strong candidate, there is most likely not going to be a property that has everything on your list.
Start searching and looking at homes for sale in affluent communities before you begin seriously looking. By spending ten to fifteen minutes a day looking at the available luxury homes for sale will give you a great understanding of what to expect when you're ready to buy. Our luxury buyers are set on an automated email program that sends them homes for sale on a regular basis. This gives our clients an opportunity to look at what is for sale, and compare their likes and dislikes in each of the properties.
If you'd like to register for automated updates that will send you all of the luxury homes for sale that match your criteria let us know. We can customize your search for a home in the higher price range and email you with the results. This will give you a great understanding of each local luxury real estate market that you're looking to buy in.
Advice for Buying Luxury Real Estate to Takeaway
Location is key. You can change the condition of the home all you want, it's location is not something you'll be able to fix. Prioritizing your 'must haves,' your 'want to haves,' and your 'would be nice to have' will help you determine what affluent neighborhoods you want to live and will ultimately help you find the home you're looking for. Buying a luxury property is a large financial commitment. If you buy a luxury home and decide it wasn't the right house for you, there's a good chance you didn't work with a top Realtor® who helped you to understand how to avoid luxury home buying mistakes others have made in the past. By placing your education first and foremost, and working with a local luxury Realtor® you will be have a successful real estate transaction!
To learn more about each area please visit our communities page which gives the descriptions of each city. If you're looking for all the homes for sale in Raleigh you'll want to search here.