23 of the Best Downtown Raleigh Restaurants in 2023
Raleigh has some of the best restaurants in the country, so it's hard to narrow down the favorites, even if we're zeroing in on only Downtown Raleigh.
While Raleigh Realty is focused on helping people find great homes for sale in Raleigh we love to write about things that interest people who may want to learn more about our great city.
So which Downtown Raleigh restaurants should you try next? This article is going to give the folks who are visiting Raleigh (and locals alike) the opportunity to try some of the best food in Raleigh.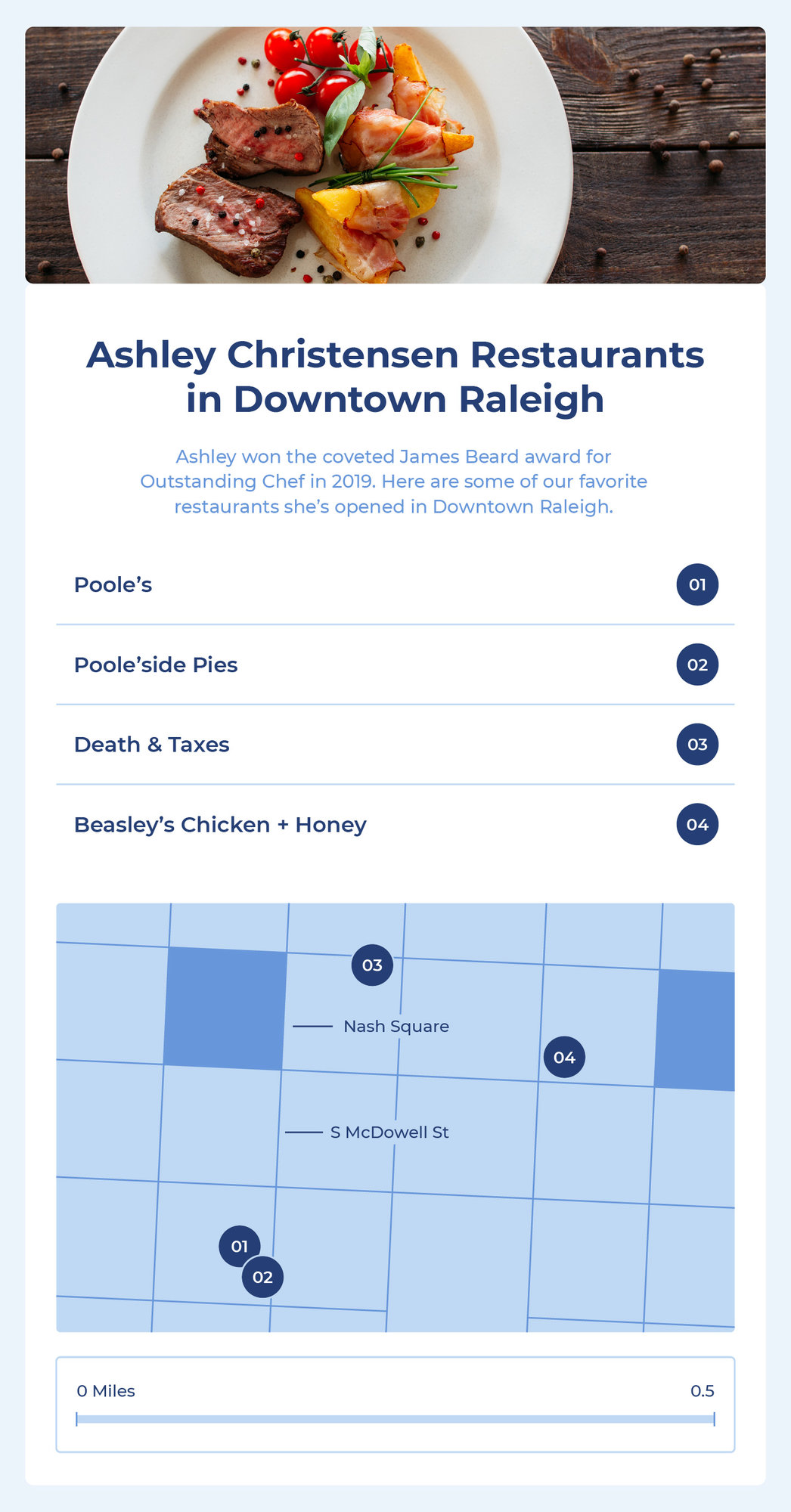 Poole's
Price: $$
Specialty: Comfort food
Ashley Christensen won the James Beard award for the most Outstanding Chef in the United States in 2019. This is why we're kicking off our list with a couple of her restaurants. Poole's is Ashley's first Downtown Raleigh restaurant and one of my personal favorites.
The menu is constantly changing with the seasons, though the Macaroni Au Gratin is a favorite you can always order. Poole's diner offers that true diner feel with bar seats, tables, and booths. Poole's has great wine and great food so you can't go wrong... just be sure to get there early because they don't take reservations.
Poole'side Pies
Price: $
Specialty: Italian cuisine
If you're not following Poole'side Pies on Instagram, you should be! This pizza place is the product of years of studying what makes a pizza great. She brings Italian classics like Margherita Pizza to Raleigh while elevating dishes with new twists like her Pork Belly Pies.
At Poole'side Pies, you'll find some of the best pizza in Raleigh. Our second Ashley Christensen pick, this restaurant was inspired by Ashley's Italian travels and her desire to bring some of her favorite cuisine back to Raleigh.
Beasley's Chicken + Honey
Price: $$
Specialty: Southern cuisine
When my friends come to visit, you can be sure we're doing brunch, lunch, dinner, or maybe all three, at Beasley's Chicken + Honey at some point while they're here. There's something on the menu for everyone and the quality of chicken is always A+.
This is always a favorite of my friends who come to visit. Sometimes they even ask to go back over trying a new spot. The Chicken and Waffles are a must-try and I always order Mac and Cheese on the side.
Death & Taxes
Price: $$
Specialty: Steak and seafood
Lauren Ivey and Ashley Christensen teamed up to bring us Ashley's last spot on the list, Death & Taxes. This is their Downtown Raleigh steak and seafood restaurant.
What sets Death & Taxes apart is that the whole menu is wood fired. From oysters to steak to rabbit, this restaurant is equal parts unique and adventurous.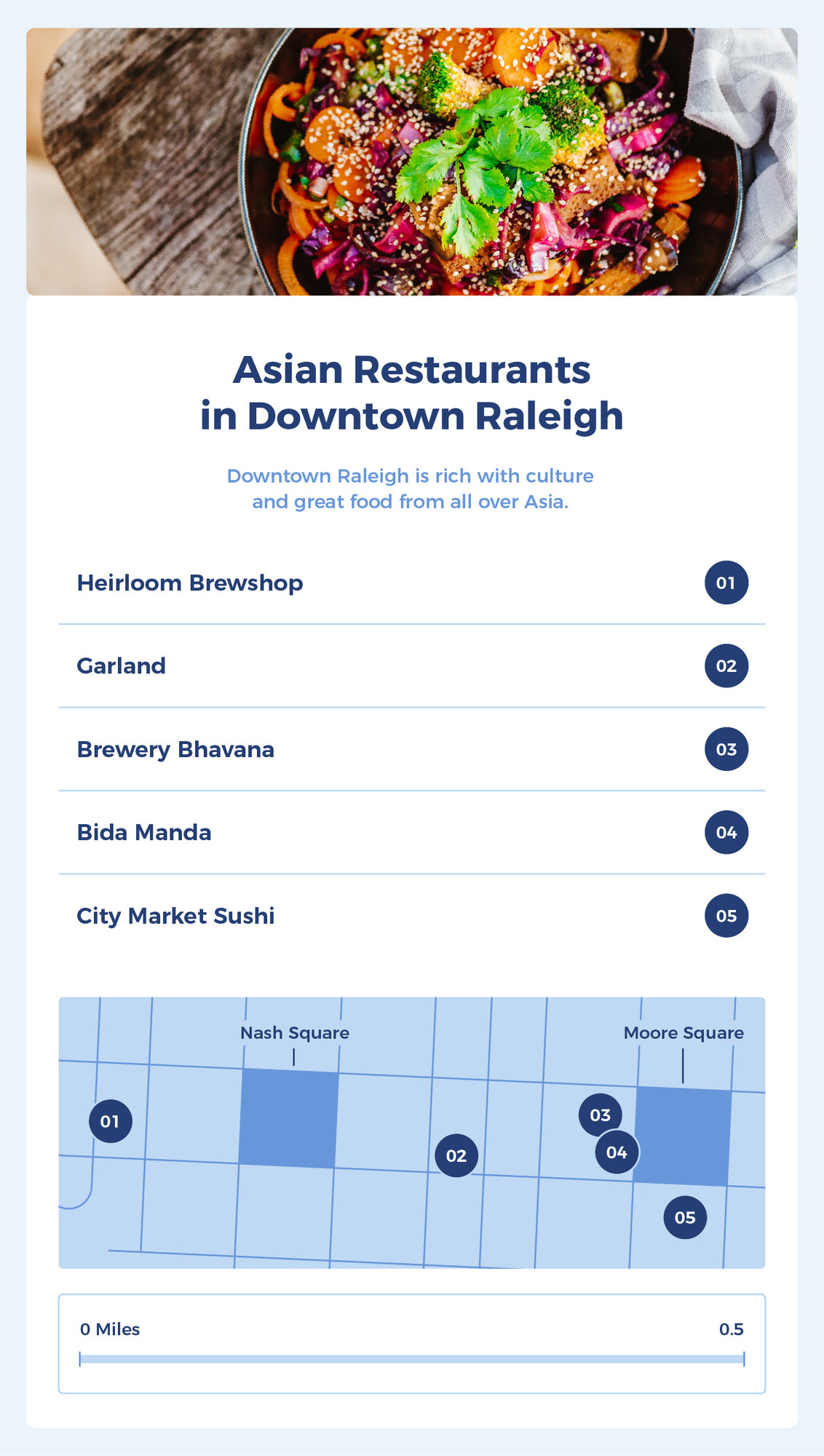 Brewery Bhavana
Price: $$
Specialty: Dim sum
Brewery Bhavana was named one of the coolest new restaurants in the world in 2018 by Forbes. With only a few restaurants in the United States making that list, it's great to see Brewery Bhavana receive the recognition it deserves.
This is the type of restaurant people in Raleigh can't get enough of. You'll want to make a reservation for this spot to ensure you get a chance to try their famous Xiao Long Bao (Soup Dumplings), especially if you're planning on dinner. But if you walk in and throw your name on the list, you can still enjoy some great craft beer at the bar while you wait.
What separates Brewery Bhavana from other restaurants is its unique approach to providing more than just food. They're also a brewery, flower shop, and book store!
Bida Manda
Price: $$
Specialty: Laotian cuisine
Bida Manda is a Laotian-inspired restaurant that has something on the menu for everyone and will hit taste buds you didn't know you had. The Pork Belly Soup is a must-try.
Whether you choose to split it as an appetizer or order it as your meal, it's one of the reasons people refer to Bida Manda as one of the best downtown restaurants. I also love their unique cocktails — where else can you find a Chocolate Piña Colada?
City Market Sushi
Price: $$$
Specialty: Sushi
City Market Sushi is exactly what you would have guessed — it's a sushi restaurant located downtown in the City Market. At City Market Sushi, you can really taste how high-quality ingredients make better sushi.
They've provided Raleigh with some of the best Sushi in town since 2016. I recommend checking out their Black Tiger Roll. It's a fan-favorite roll topped with fried potato for some extra crunch.
Garland
Price: $$$
Specialty: Indian southern fusion
Garland is an Indian and Asian cuisine inspired by a Southern spirit and flare. The seasonally driven menu includes locally sourced ingredients influenced by flavors from India, Asia, and the South.
The menu is extensive with a number of innovative creations that are truly unique to the taste buds (like the Masala Kettle Corn). Garland is one of the best Downtown Raleigh restaurants for a reason and one we feel confident you will enjoy.
Heirloom Brewshop
Price: $
Specialty: Laotian, Taiwainese, and Japanese cuisine
Heirloom serves up breakfast, lunch, and dinner, making it perfect to stop by any time of day while you're downtown. Their drink menu also has something for everyone, offering specialty coffee flavors, handcrafted tea blends, and sake cocktails.
I come here whenever I'm looking to spice up my morning coffee with unique flavors like Ginger Rosewater. Check Heirloom out if you're looking for a restaurant with variety — whether you're stopping by to get some work done or sitting down for dinner.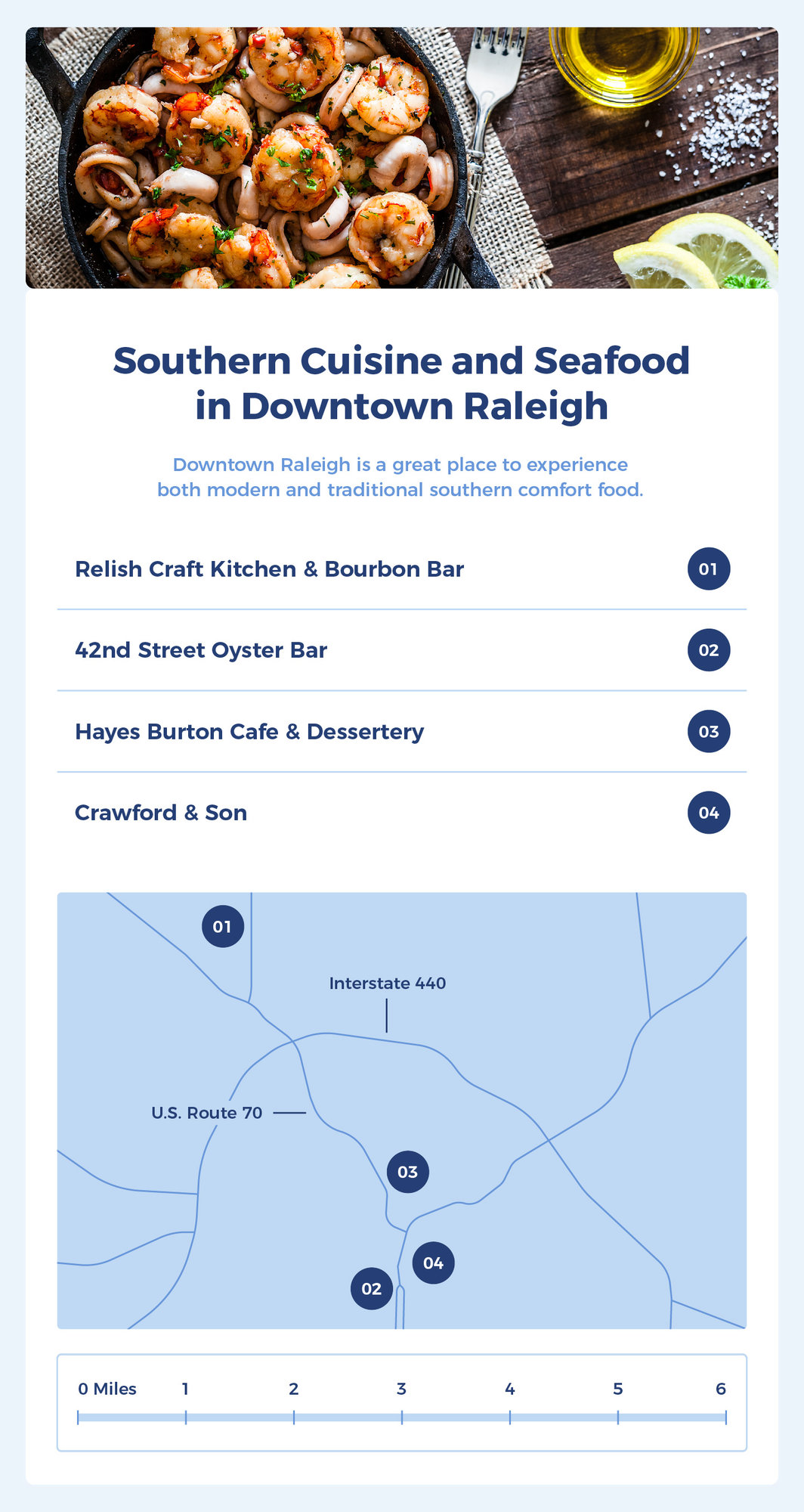 Crawford & Son
Price: $$
Specialty: Modern southern cuisine
Crawford & Son is a neighborhood restaurant located in Oakwood offering an elevated twist on familiar Southern comfort food. Diners rave about the Manchego-Herb Biscuits, which many people chow down on even without butter.
Crawford & Son brings fresh and unexpected elements together, like preserved lemon aioli on a Pork Schnitzel, so you can fall in love all over again.
42nd Street Oyster Bar
Price: $$$
Specialty: Seafood
42nd Street Oyster Bar is a staple in Downtown Raleigh. It's been around since 1987, long before most of these downtown restaurants opened their doors. 42nd Street Oyster Bar combines some of Raleigh's freshest seafood dishes along with steak, chicken, and pasta entrées.
The menu is loaded with fan-favorite dishes making it nearly impossible to choose just one (let's be honest, I've been known to choose two). I recommend stopping by for the Hush Puppies and Raw Oysters (they're shucked to order!) If you decide to visit 42nd Street Oyster Bar while downtown, I'm sure you'll find yourself going back again and again.
Hayes Barton Cafe & Dessertery
Price: $$
Specialty: Dessert
Hayes Barton Cafe & Dessertery is known for its classic diner-like menu, but the real magic here is the housemade cakes and desserts. They rotate their dessert options daily, so there's always something new for you to try. Their Chocolate Raspberry Cake is my favorite, but you'll be happy with any of their cakes or pies.
You can also order cakes and desserts ahead of time for everything from family dinners to weddings. They get a lot of these requests, so try to book a reservation at least a couple of months ahead of time for any big events where you'd like to serve their desserts.
Relish Craft Kitchen & Bourbon Bar
Price: $$
Specialty: Southern comfort food
Relish Craft Kitchen & Bourbon Bar is all about taking classic Southern favorites and leveling them up with farm-to-table ingredients (just take a look at their 8 types of Mac and Cheese). For bourbon lovers, the menu is chock-full of options for the perfect pairing to your meal—and the servers are happy to help, too.
Not a bourbon fan? Don't worry, there's plenty more to love on the cocktail menu. After dinner, be sure to check out The Kitchen Table next door for board games and drinks.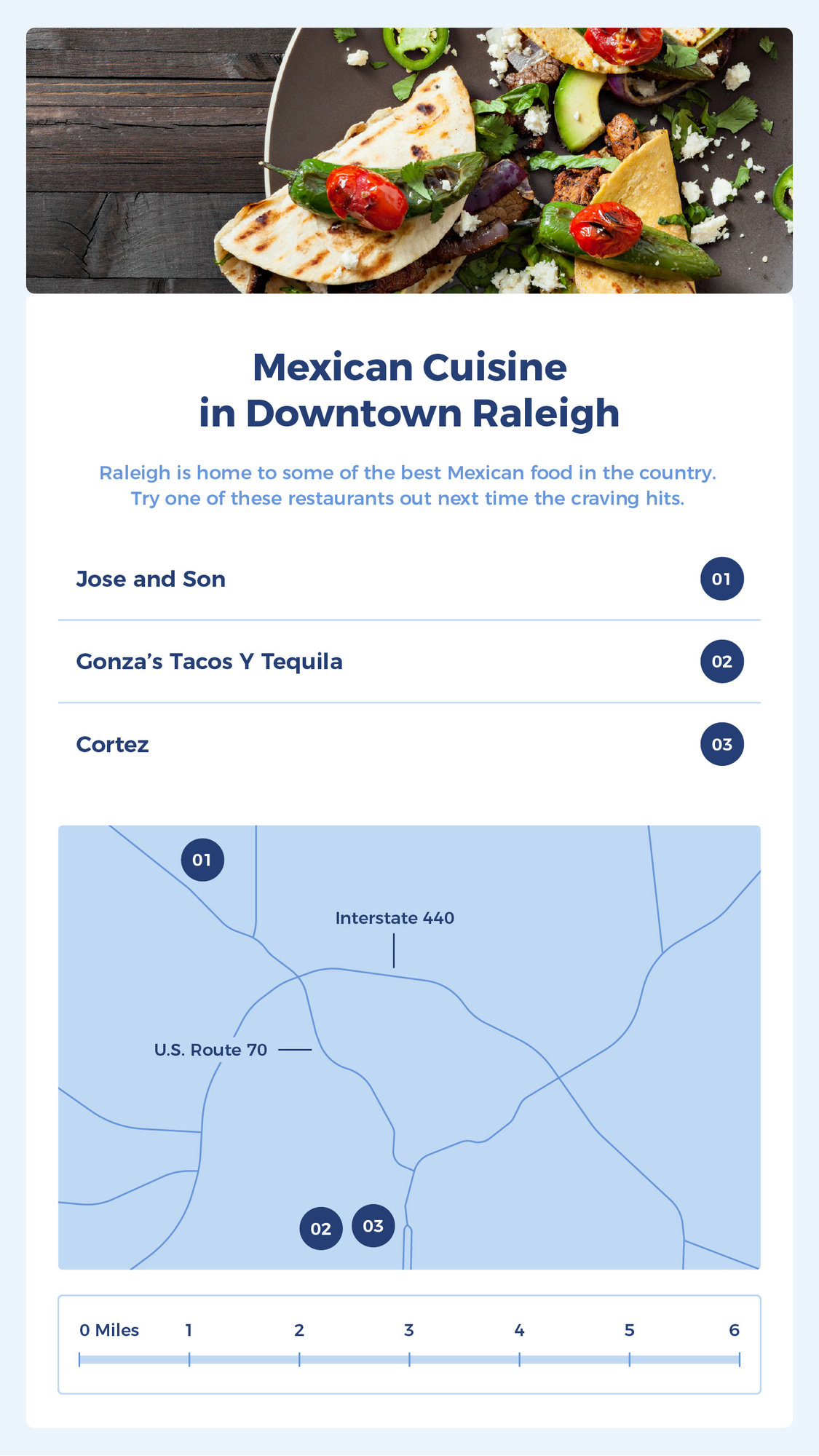 Cortez
Price: $$
Specialty: Seafood
Cortez is a great Mexican-American restaurant in Raleigh where you'll find fresh seafood, plates to share, and tropical-inspired cocktails. Oscar Diaz, the executive chef at Cortez, scours local markets for local seafood each week for top-tier ceviche.
At Cortez, you'll always know that the food is fresh. Stick around after the kitchen closes Friday and Saturday and watch the atmosphere transform to a bar where you can mingle and sip on your new favorite cocktail like the Cortez Paloma — it adds pear and cinnamon to this classic drink.
Jose and Sons
Price: $$
Specialty: Mexican cuisine
Jose and Sons is one of the best places to eat in Raleigh. Whether you're waking up on a weekend looking for a great brunch spot or planning a night out on the town, Jose and Sons is a must-try.
A Mexican restaurant in Raleigh with some Southern flair, Jose, and Sons provides some of the city's best food and patrons always rave about their Queso. This Downtown Raleigh restaurant is sure to please anyone who enjoys Mexican and is looking for a little taste of local flavors with fusion dishes like their Southern Fried Whole Fish.
Gonza's Tacos Y Tequila
Price: $$
Specialty: Colombian and Mexican cuisine
Gonza's Tacos Y Tequila is an award-winning restaurant that's sure to please any taco lover. Dine in to enjoy the colorful and eclectic ambiance with Latin favorites like fresh Ceviche.
After winning titles like "Best Taqueria in the Triangle" and "Best Tacos in North Carolina," you won't be disappointed in anything your server brings to the table here.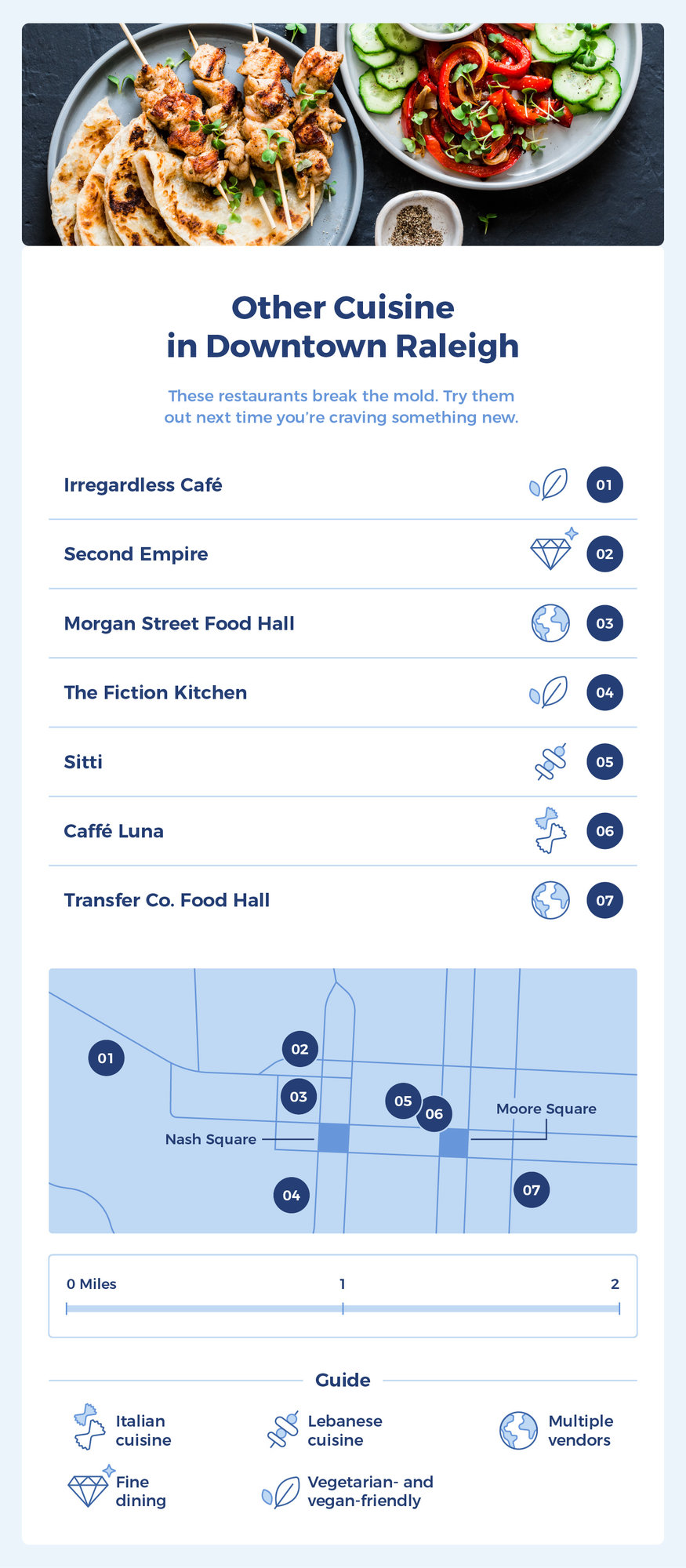 Caffé Luna
Price: $
Specialty: Italian cuisine
Since 1996, Caffé Luna has been providing great food, great wine, great service, and a commitment to high-quality ingredients. Caffé Luna began as an 80-seat restaurant, growing to over 200 seats to accommodate all of the guests.
The restaurant has survived the ups and downs of the last 20+ years, making it a staple in the Downtown Raleigh food scene. What sets Caffé Luna apart from other restaurants is the family environment fostered by the owner, Parker Kennedy.
When you visit Caffé Luna you will see first-hand how passionate Parker is about his restaurant and creating a great experience for his guests. It's not common to see a restaurant where you can interact with the owner so often. This type of passion is contagious and is one of the reasons why Caffé Luna remains a Downtown Raleigh favorite.
Transfer Co. Food Hall
Price: $
Specialty: Multiple cuisine types
Downtown Raleigh offers a couple of different food halls that have something for everyone. The Transfer Co. Food Hall gives you a unique opportunity to sample some of the best food in Raleigh and really brings the Raleigh community together with great food and drinks.
Whether it's breakfast at Benchwarmer's Bagels, lunch at Dank Burrito, dinner at Locals Oyster Bar, or dessert at Captain Cookie & the Milkman... you'll never run out of options here.
Morgan Street Food Hall
Price: $
Specialty: Multiple cuisine types
When you're looking for a quick bite without reservations look no further than the Morgan Street Food Hall.The hardest decision you'll have to make is wondering, "Where do I eat? All these places look so good!"
Cool off with the Raleigh Popsicle Company or a tea from Boba Brew as you check out the local vendors and favorites like Wicked Taco at the Morgan Street Food Hall.
Second Empire
Price: $$$
Specialty: Fine dining
Second Empire opened its doors to Raleigh residents in 1997 and has since grown to one of the top restaurants in Raleigh. The restaurant is far and away, the fanciest on our round-up of the best restaurants in Downtown Raleigh.
Located in the elegantly restored Dodd-Hinsdale house (Circa 1879), Second Empire combines gourmet cuisine with some of Raleigh's history. From steak to duck to seafood to great drinks, there's something at Second Empire for every palate.
After dinner, parade onto the main streets of Fayetteville and Glenwood if you're looking to continue the night after dinner and grab drinks at a speakeasy or rooftop bar.
The Fiction Kitchen
Price: $$
Specialty: Vegan and vegetarian cuisine
The Fiction Kitchen is a vegetarian restaurant with a commitment to fresh ingredients and in a great location. With options like their vegan Charcuterie Board, you'll forget that Fiction Kitchen doesn't serve meat.
Fiction Kitchen doesn't take reservations, so I recommend heading over for an early or late dinner to minimize your waiting time. Although the restaurant is vegetarian and vegan, the menu is sure to please diners of all tastes.
Sitti
Price: $$
Specialty: Lebanese cuisine
Sitti is named after the Lebanese word for "grandmother." In Lebanese culture, grandmothers are caretakers who are responsible for teaching other family members Lebanese culture and tradition.
Sitti lives up to this name and specializes in all your Lebanese favorites. Its well-rounded menu offers classic entrées like kabobs, fresh-baked flatbreads, and Lebanese liquor.
Irregardless Café
Price: $$
Specialty: International cuisine
Irregardless Café is a favorite among vegans, vegetarians, and celiacs due to the extensive options for these diets but there's something for everyone on the menu. Irregardless serves up everything from Chorizo Puffball to Lamb Shank and has dishes inspired by cultures all around the world.
Be sure to stop by and try their Spanakopita — it's been a staple on their menu since they opened in 1975. Irregardless is also a popular brunch spot where you can order classics like Shrimp and Grits.
Final Thoughts
There's a reason Downtown Raleigh is one of the city's best neighborhoods for foodies. If you take anything away from this article, take this — Raleigh's food scene is the best-kept secret in the City of Oaks!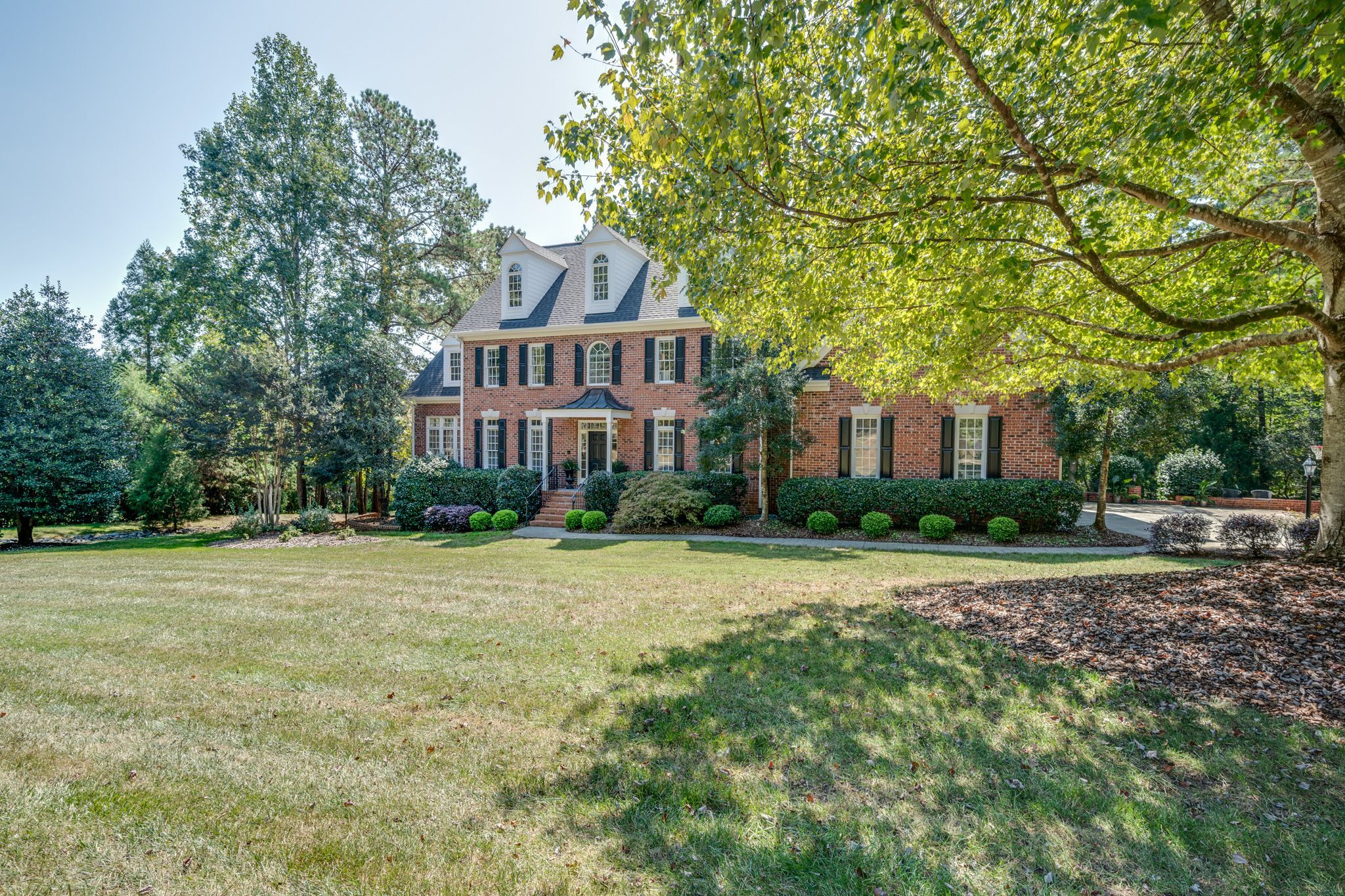 Find your new home
Search real estate and homes for sale