7 Home Improvement Projects That Add Value to a Home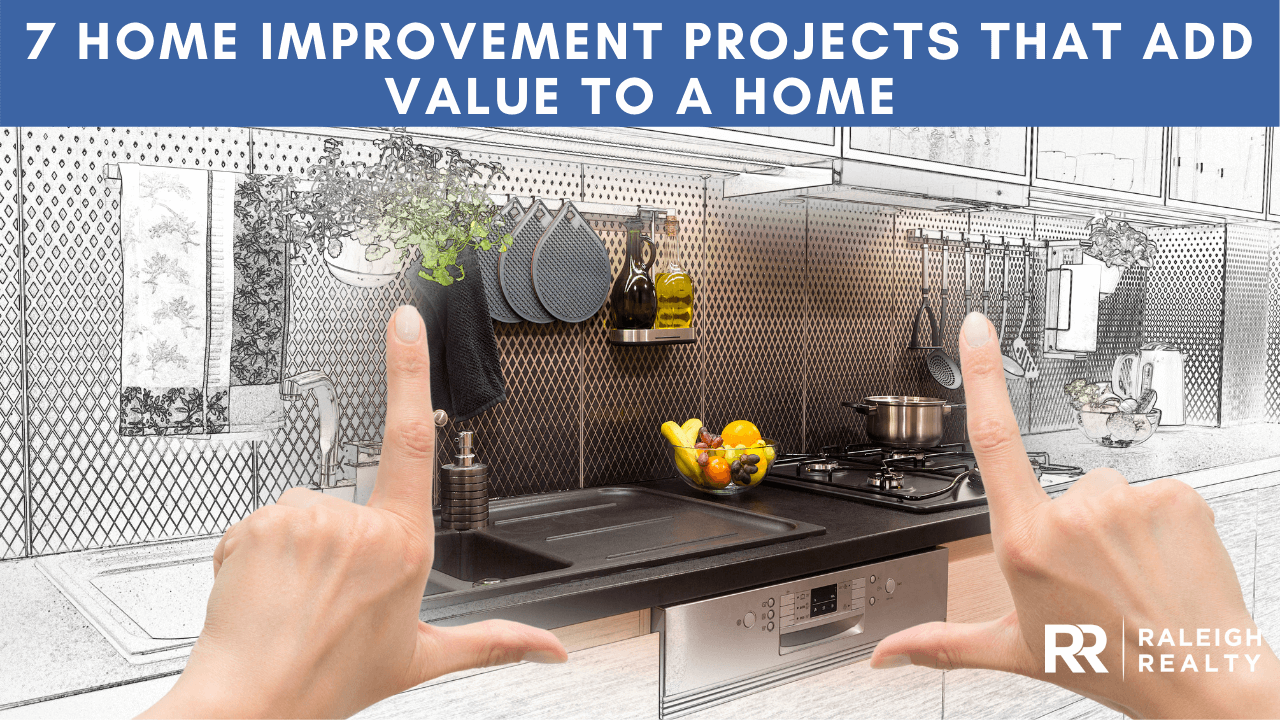 7 Home Improvement Projects That Add Value to a Home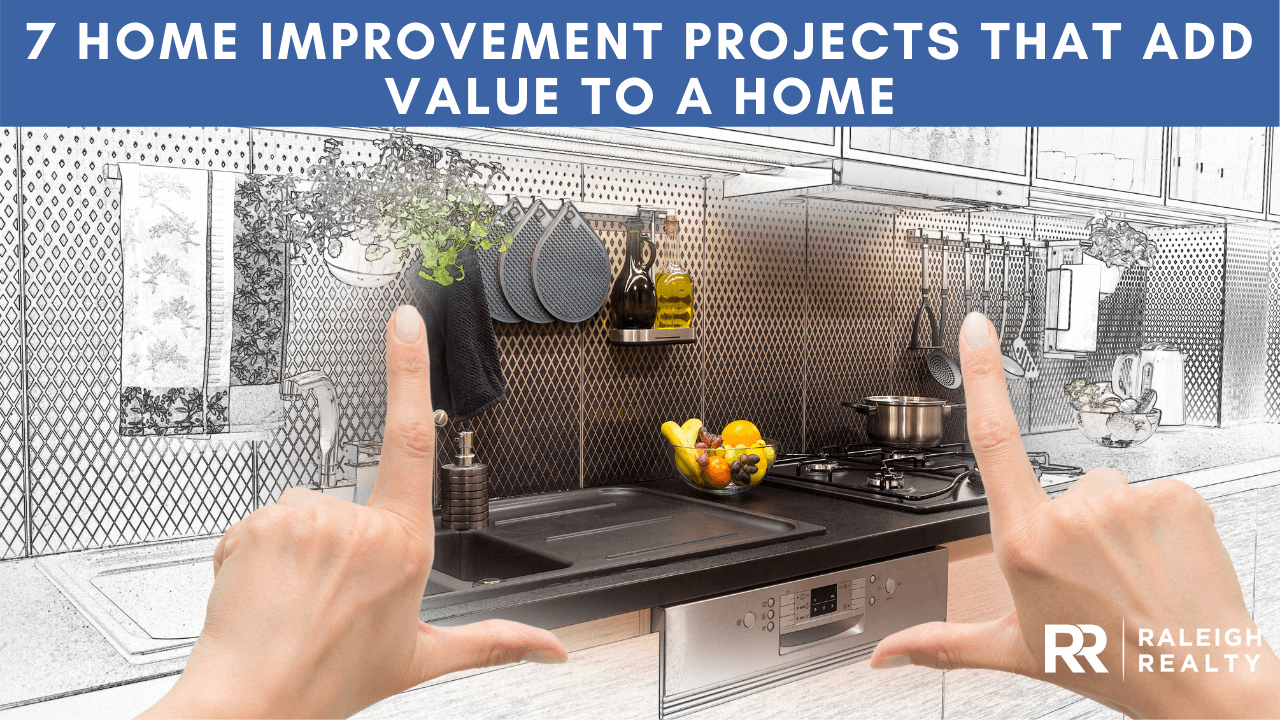 Home improvement projects are one of the best ways to add value to a home. Every year, Americans spend more than $400 billion on repairing and renovating their residential homes. Not all home improvement projects will add value though so place close attention to the ones that are likely to do so!
Whether you are looking to make upgrades for yourself and your family to enjoy or you are doing so before putting your house on the market, an important consideration is a return on investment. From curb appeal to kitchen remodels to the best flooring options, we are going to dive into all the ways you can add value to your home with home improvement projects!
So, which home improvement project can help you to sell your house for a higher price? Let's take a look at seven home improvement projects that add value to your home.
Home Improvement Projects that Add Value
Make the House Feel More Spacious
One of the most important things that buyers are looking for in a home is whether or not it had enough space. The folks moving to the area are looking for space as their top priority. Especially those who are relocating from highly expensive areas. The priority for space has only increased with the outbreak of the Covid-19, coronavirus pandemic, and the reality that many people are being forced to spend more time at home. Time to create more space!
Open up the Floor Plan
If you want to make your house seem more spacious but you can't actually add any square footage, you might consider opening up the floor plan. This can help to allow for more natural light and create an open environment. It's important to put a lot of consideration into which walls you are knocking down, though.
Finish Your Basement
Depending on your location and price range of your home, certain upgrades might be more or less common.

For example, a finished basement is particularly popular with high-income buyers in the Pacific Northwest, Northeast, and middle Atlantic states.

While the cost of renovating a basement is going to vary, on average, people recoup up to 70% of the cost that they invest in this upgrade.
Add a Bathroom
Another important thing that buyers are looking for in a new home is how many bedrooms and bathrooms there are.

If your home only had one bathroom, you might consider adding another. This is not a particularly cheap home improvement project, however, it is estimated that the return on investment is between 80% and 130% for this type of project.
Convert the Attic
Not all homes are suited to have a bedroom in the attic, however, for some structures, it might make sense. You'll need to make sure that your HVAC system and structure can withstand the load of another room.
Converted attics had the greatest return on investment on the West Coast, where the ROI was 105%. In the Midwest, on the contrary, the ROI was only 82%.
Another upgrade that people might choose to make it is to add a mother-in-law suite. These are appealing spaces that are detached from the main house that serve as an additional living area.

This is increasingly appealing to people in the time of the coronavirus pandemic, where family members are working from home and more space is needed. Adding this type of accessory dwelling unit can be an expensive update, but many people choose to do so rather than adding onto their home.

It's important to understand that adding an accessory dwelling unit requires that you check into your zoning laws, local building codes, and neighborhood association rules.
Remodel the Kitchen
It is quite common for prospective homebuyers to be looking for kitchens that are updated and modern. A Kitchen remodel will increase your final sales price and it will also increase your home appraisal!

That being said, it's important to determine what makes sense for your space. You do not want to invest nearly the same amount in remodeling your kitchen as your house is worth, for example.

On average, you can expect to recoup between 62% and 81% of your investment. It may only be worth it to do a full kitchen remodel if the kitchen is completely outdated. In lieu of doing a full remodel, you might consider replacing hardware, cabinets, and other small updates.
Improve Energy Efficiency
The reason that energy-efficient homes are still healing is that buyers believe that they will help them save money on their future utility bills. You can therefore increase your home value by updating different aspects of your home.
Purchase Energy-Efficient Appliances
Appliances that are considered energy-efficient tend to be seen as either desirable or essential by moderate-income homebuyers. Your appliances such as dishwashers, refrigerators, clothes washers, and dryers can be replaced with Energy Star compliant products.
Install Energy-Efficient Windows
No one wants to heat or cool a house only to have all the air escape. Replacing windows with energy-efficient windows can recoup roughly 74% of the cost.
Replace Toilet With Low-Flow Fixtures
Another energy-efficient upgrade you can make is replacing the toilet with low-flow fixtures. This can help to reduce how much water is used with each toilet bowl flush.
Enhance Your Curb Appeal and Exterior
When it's time to sell your house, one of the most important things is to make a good first impression. A prospective homebuyer is going to see the outside of your house first, and it will therefore color the way they see the house from then on. It is for this reason that curb appeal is such an important part of the home selling process.
Get a Steel Door
Replacing an entry door with a steel door is appreciated by buyers because they are low maintenance, cold blocking, and energy-efficient. This can recoup between 69% and 91% of the cost at resale.
Add Stone Veneer
This upgrade can recover about 96% at resale. If you are looking to increase your curb appeal by replacing existing vinyl siding, you can replace the bottom third of the side of the house that faces the street with a manufactured stone veneer.
Replace Your Garage Door
Replacing the garage door will typically fetch you a 95% return on investment. That is if you reuse the existing motorized opener.
Touch Up Exterior Paint
Repainting the entirety of your home can be a pricey endeavor. Luckily, you don't necessarily have to retain your whole house to really improve its condition. You can have the exterior pressure washed and have the paint touched up. You also might consider taking only the trim in the front door.
Spruce Up the Landscaping
While it might not exactly count as a home upgrade, you'll want to make sure that your yard is lush and green and well-kept. You'll also want to be sure that any bushes or shrubs are pruned.

There are endless things that you can do to your landscaping to boost your curb appeal. Whether you put down mulch, that your lawn, line your driveway with planters, or install exterior lighting, it's amazing how much of a difference in some outdoor work can make.

Whether or not you are planning on engaging in large home improvement projects outside your house, it's incredibly important that the outside of your home is inviting and clean. He should be sure to clean up your yard, front porch, and driveway so that they look as desirable as possible. Creating a positive first impression is one of the most important things you can do to help swing the odds in your favor.
Add a Porch, Patio, or Deck
Depending on where you live, adding an outdoor space like a patio, porch, or deck, the return on investment can vary widely.

Typically, though, the return on investment for this upgrade is quite high. This is because they do not cost as much to build per square foot but they increase the living area of the home.
Keep in mind: When it comes time for a home inspection, this is one of the top things home inspectors will look for to be up to code.
Reduce Maintenance Hassles and Add Value to Your Home With These Upgrades
Upgrades are not just about the aesthetics of the house. Homeowners are looking to know what they're getting into in terms of future maintenance and replacement.
Redo the Roof If Necessary
While replacing a roof is a big project, it can recover, on average, 107% of its cost at resale. Having your house on the market with a new roof will certainly make it more appealing and such a higher price than the same house with a 15-year-old roof.
Fix Any Siding Problems
You want to make sure that your siding is in good shape before listing your house. He also want to look into which brand of siding your house has and the dates that it was installed. There have been some issues with certain brands, and you might find that it is better to replace your siding been to sell it as is. Replacing your siding tends to recoup between 63% and 76% of the cost of replacement at resale.
Look Into Your HVAC System
Depending on how old your HVAC system is, you might consider replacing it. Buyers will find a newer HVAC system appealing. This can recoup roughly 85% of the cost of replacement.
Budget Home Improvement Projects That Can Increase Home Value
You might be looking for ways to make your home more valuable that don't break the bank. There are a number of things you can do that are not as major as some of the options listed here.
Do a Minor Remodel
You might consider remodeling your kitchen or your bathroom in a minor rather than a major way. Actually, during a minor kitchen remodel can have a better return on investment been a major, upscale kitchen remodel.

One thing that you might do to save money is to replace cabinet fronts while leaving the cabinet boxes in place.

For doing a minor bathroom remodel, you might consider replacing the fixtures and putting in ceramic tile floors.
Swap Out Bathroom and Kitchen Fixtures
It is quite amazing how much of a difference upgrading features such as faucets, knots, and drawer pulls can make. You want to check in with your real estate agent about what the local trends are.
Refinish Hardwood Floors or Install Hardwood Floors
Hardwood floors are appealing to a large percentage of homebuyers. When you refinish your hardwood floors, it typically recovers 100% of the cost at resale. Installing new hardwood flooring recruits 106% of the cost.
It's important to understand that how much money any project recoups has to do with your house price range in the current condition of what it is that you are replacing or upgrading.
Repaint in Neutral Tones
There are few things that can spruce up the house as much as a fresh coat of paint.

However, if you're going to be selling your house in the near future, you won't want to paint your walls anything to crazy or bold. Instead, you'll want to stick to a neutral color palette.

When it comes time to show your house to prospective buyers, the most important thing is that they can envision themselves living in the space with their own belongings. A neutral color palette can help prevent a blank canvas to them on which they can picture their future in your home.

If the paint choices you make are too creative and "out there," it can be more difficult for an individual to really picture themselves living in your home.
When choosing a neutral paint color, another thing you will need to decide is whether you want a pain with a warm, cool, or neutral undertone. All paint colors have an undertone that impacts how the paint looks in a different light and in relation to different teachers in your home.
Home Improvement Projects: Which Projects Will You Undergo Before Listing Your House?
Choosing which home improvement projects are worth doing and which ones are not can be a difficult decision. Whether or not it is worth making upgrades can depend on whether you are selling your house right away or if you're planning to live there for several years before listing your house on the market.
If you purchased a new construction home there's a chance some items may still be under warranty
Are you looking to sell your house in the Raleigh or Charlotte, North Carolina area? If so, fill out our form to receive a free home evaluation!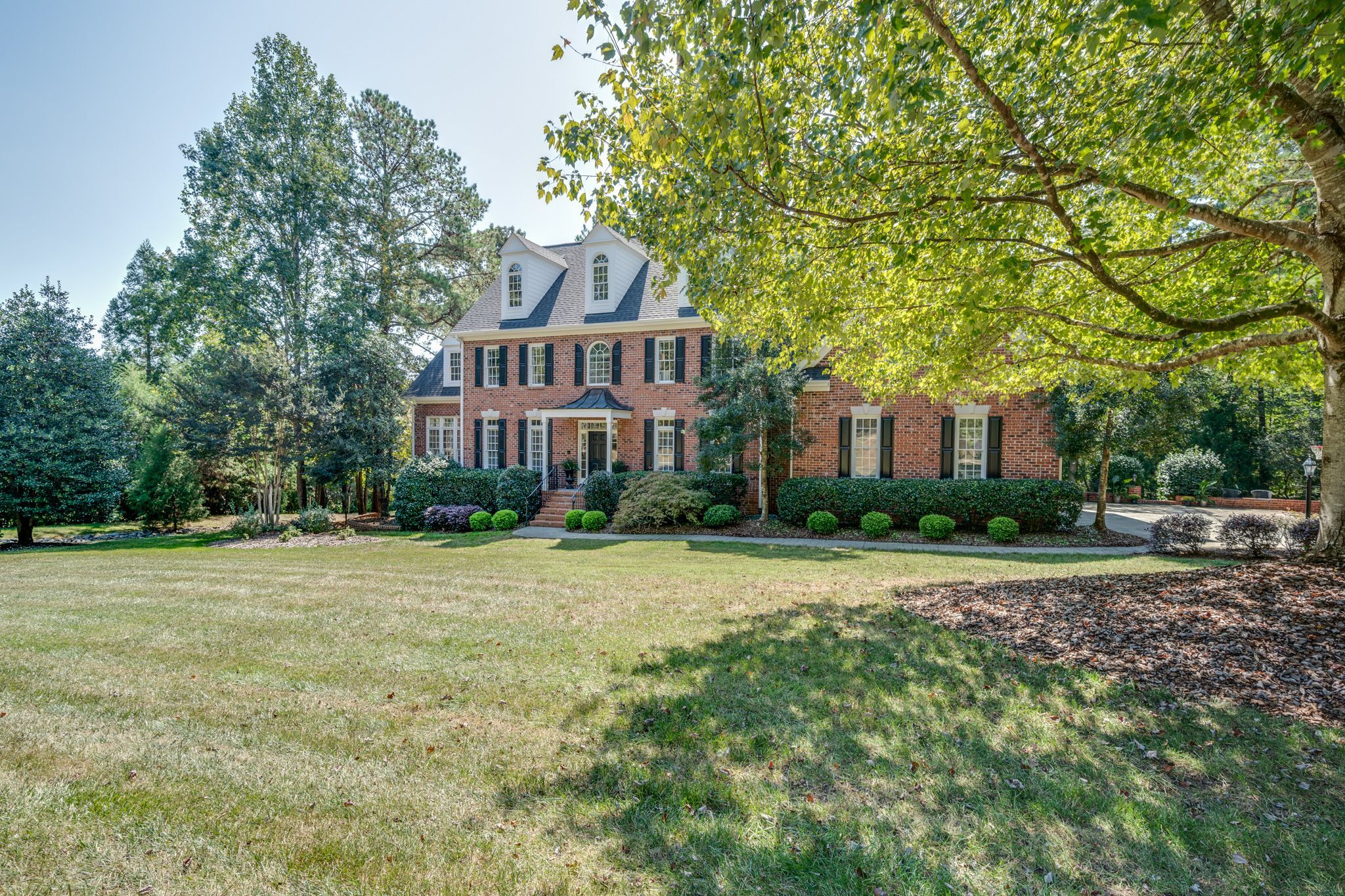 Find your new home
Search real estate and homes for sale