What Is A Townhouse? Everything You Need To Know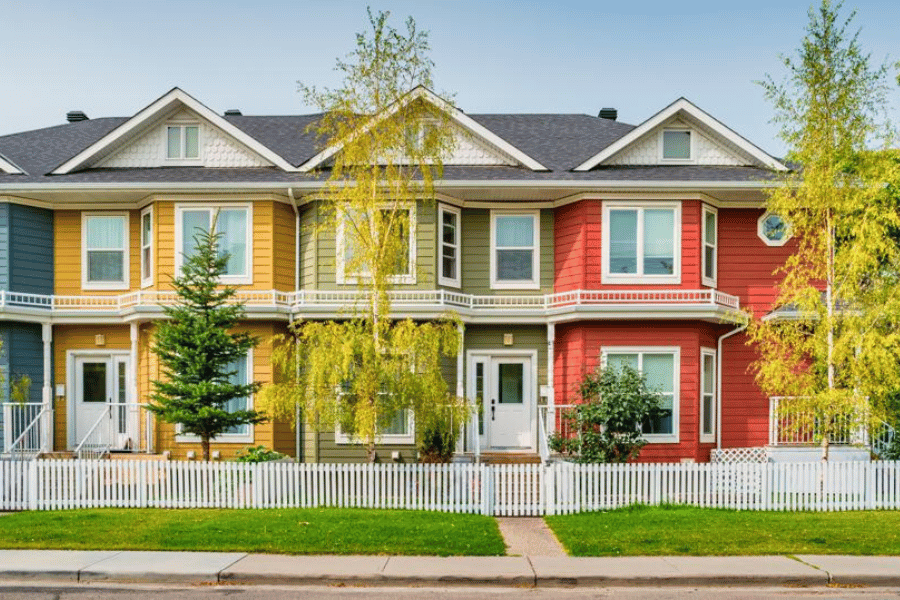 What Is A Townhouse? 
Are you considering moving into a townhouse and want to know more about this house type? Follow along as we discuss the pros and cons of living in a townhouse, steps to buying a townhouse, and more! 
A townhouse is a prevalent housing type, with popularity increasing more and more throughout the last few years. New townhouses continue to be built throughout different areas and are perfect for single families, purchasing your first home, investing, renting, and more!
In this guide, we're going to discuss everything you need to know about townhouses before you take the next step in purchasing or renting one. Let's get started!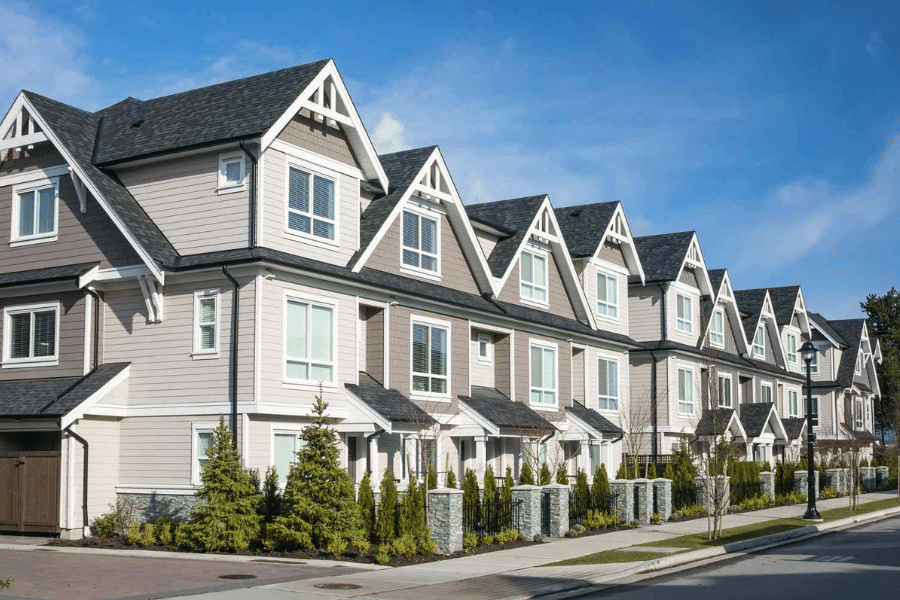 What Is A Townhouse? 
A townhouse is defined as a dwelling unit constructed in a row of two or more attached units. Each dwelling is located on an individual lot or parcel and shares at least one common wall with an adjacent unit. Each townhouse has its own entrance and often a small front lawn, backyard, or side lawn. A house is not considered a townhouse unless it sits alongside another unit. Although these units are attached, each unit is individually owned and may be part of a homeowner's association. 
History 
Townhouses originated in London and Paris in the 1600s and eventually came to the cities of North America - Boston, Philadelphia, and New York. In 202, townhouses comprised 11 percent of single-family new construction, down from nearly 14 perfect in 2008, according to the National Association of Home Builders. Then, in 2021, the number of new-build townhouses increased by over 28 percent over the previous year. 
Townhouse vs. Condo vs. Apartment 
Townhouses are most notable for their attachment to its neighbor. Every townhouse shares a "party wall." A party wall is defined as a shared wall between two separately owned residences. When you purchase a home with a party wall, it can come with a pre-decided agreement. Agreements can include your rights and responsibilities, upkeep obligations, modification procedures, and other essential matters. 
A condo is a housing or residential complex with separate units, each unit owned by an individual. When you rent a condo, you rent directly from the owners. Condo owners are responsible for what goes on inside their individual units. Aside from that, they will pay a regular fee to a condo association to maintain landscaping, common areas, etc. Condos differ from townhouses because they are located in a building with other condos above and below them, often within a complex that contains several of these buildings - sometimes within a gated community. A townhouse can be a condo if it's part of a condominium community with the associated rights or planned-unit development. 
An apartment is a room or set of rooms fitted especially with housekeeping facilities and usually leased as a dwelling. Essentially, apartment living refers to living in an individual unit within a larger building or complex.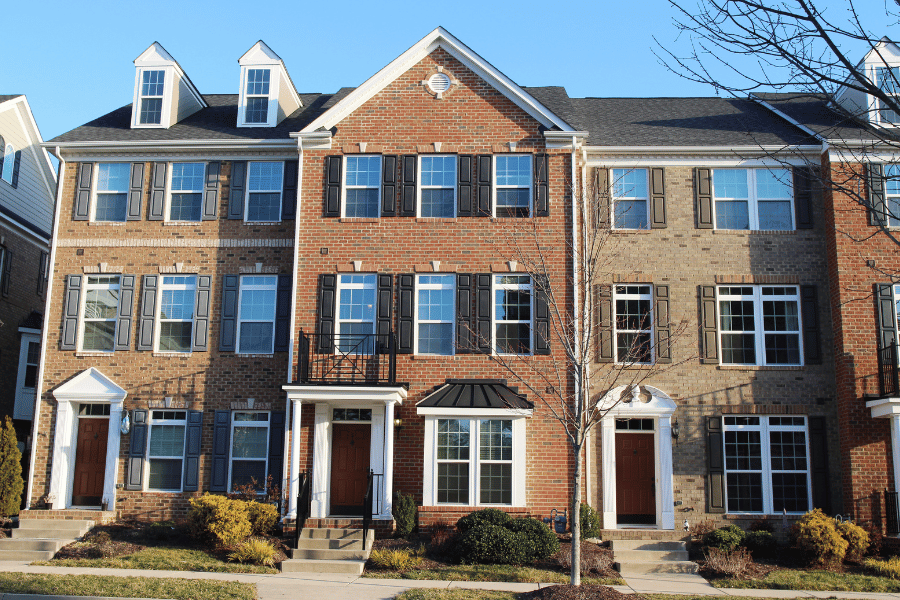 Townhouses in an HOA
An HOA, also known as the Homeowners Association, is a community comprised of varying units, either condominiums, townhouses, or single-family homes. The homeowner's association is a non-profit organization made up of volunteers and a governing body that makes and enforces rules for the subdivision of homes, condominium complexes, and planned unit developments (PUD). 
If you purchase a townhouse that is part of an HOA, you are automatically required to pay dues and officially become a member. You will be invited to vote for the board of directors, including maintaining and caring for all shared amenities, collecting fees, and enforcing rules. 
Rules of an HOA typically include restrictions on landscaping choices, acceptable plants and trees, restrictions on the exterior color of your home, front door, and shingles, fencing height requirements, limitations on outdoor structures & pools, maintenance standards, and so much more! You must sign and agree to abide by these legally binding rules upon becoming a member.  
HOAs also require a monthly or annual fee that you are required to pay. This fee covered the maintenance of all shared amenities and areas in the community. These fees will be disclosed to you before you become a member. In addition to the monthly or annual fees, the HOA may charge a one-time home transfer fee when you purchase your property. To hold you accountable for your fee, your lender will include the HOA fee in your monthly mortgage to ensure you won't forget, miss a payment, or go over budget. 
Cost
Typically, townhouses are far less expensive than single-family detached homes. However, the area can be a significant factor in the price. A townhouse in Raleigh is going to be more reasonably priced than a townhouse or brownstone in New York City. When considering the price, you'll want to look at the following:
Location
Size
Market demand
HOA costs
Financing
Amenities 
Based on the 428 townhomes for sale on the Raleigh Realty website, the median list price is $394,349. These townhouses spend an average of 79 days on the market and average $223 per square foot. 
Pros of living in a Townhouse 
Typically less expensive: townhouses tend to be a happy medium between owning a condo and owning a single-family home. They are typically smaller in size, so they tend to be less expensive. 
Financing: townhouses are eligible for mortgage financing, much like other home types. You can choose from the same types of home loans as you would if you were buying a standalone single-family home. 
Amenities: townhouses generally provide various amenities, especially those in an HOA. Some amenities include a community clubhouse, pools, study rooms, lounges, etc. 
Less personal upkeep: townhouses require less personal upkeep than single-family homes. Typically, maintenance is included in your HOA fees. The homeowner's association will typically hire professionals to handle landscaping needs like mowing, mulching, and weeding. 
Privacy: although townhouses don't offer the same privacy as single-family homes, they provide more privacy than living in a condo or apartment. In a townhouse, you only have someone residing beside you, sharing at least one wall. You won't deal with the hassle of neighbors living above and below you, causing disturbances, etc. 
HOA: an HOA can be seen as a pro and a con. If you enjoy a close-knit community, walking space, pools, clubhouses, maintenance, and more, you will enjoy an HOA!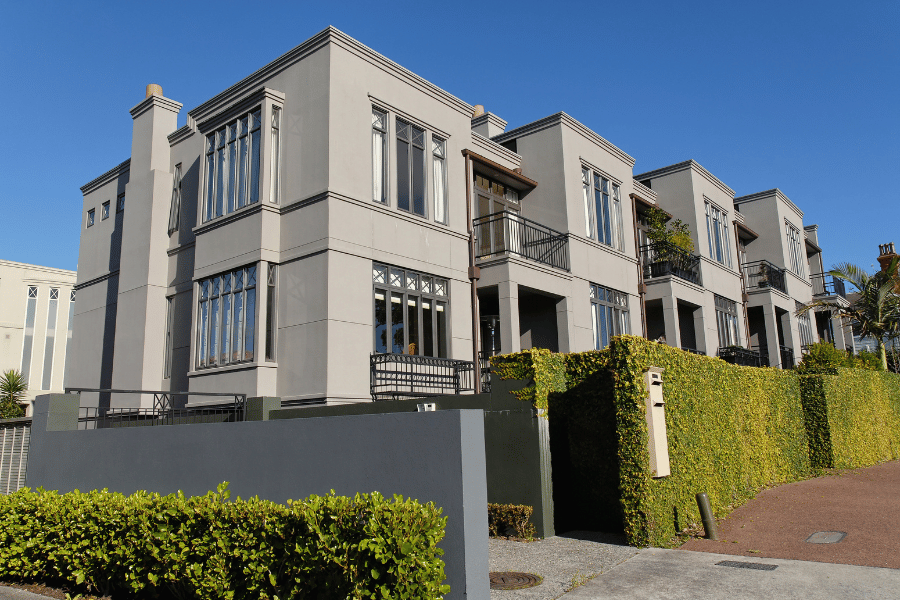 Cons of living in a Townhouse 
HOA: Many people will see having an HOA as a disadvantage. An HOA is in charge of regulating and enforcing rules. This can be a con because you have to follow said rules whether you agree with them or not. You don't have as much freedom when living in an HOA community. 
Accessibility: if stairs are not your friend, we don't recommend living in a townhouse. Townhouses are multi-level buildings with at least two stories. If you or someone in your family requires single-story living, consider a single-family home or a condo/apartment with elevator access. 
While townhouses may be more affordable, they have far less space. A townhouse's floorplan is open less than a traditional detached home. 
Privacy: privacy is also a double-edged sword. While a townhouse offers more privacy than a condo or apartment, you get far less privacy than a detached home. You can often hear your neighbor's voices or loud noises with a shared wall. 
Steps to buying a Townhouse! 
1. Figure out your budget 
The first step you'll want to take when purchasing a townhouse, or any home, is to plan and figure out your budget. As previously said, townhouses tend to be less expensive than other home types, but you still need to ensure you have to appropriate funds. Additionally, you might need to take out a mortgage to finance your home and need to consider if you can afford the monthly mortgage payments, as well as other expenses like HOA fees. 
2. Write out your wants and needs
When purchasing a home, it's crucial that you plan ahead and write down your wants and needs. A need should be considered something that is absolutely necessary for you to have in your future home, your "must-haves." A want should be regarded as something that would be ideal, but you could live without it. Here are some questions to help you plan: 
Do you want to live in a gated community? 
How many cars do you have, and do you need multiple parking spots?
What amenities do you want in your community?
Do you need lawn care, or can you take care of that yourself?
Do you mind being a part of an HOA?
Are you okay with sharing walls with your neighbors?
While there are other factors to be considered, like the number of bedrooms and bathrooms you prefer, these are used to get you started and moving in the right direction!
3. Finance
Before you start your search, we recommend securing financing first. If you plan to pay cash, look at your budget and see how much you can afford or how much you're willing to spend. If you need to take out a mortgage, start the lending process to see how much you can afford before falling in love with a home that's out of budget. It's ideal that you speak with multiple lenders and compare your options. It's also an excellent idea to prequalify with several lenders to see what different loan amounts you could potentially be approved for. 
Next, you'll want to apply and get preapproved. You'll need to provide financial documents and undergo a hard credit check to get preapproved. From there, you'll receive a preapproval letter if everything goes through with the amount you've been approved for. 
4. Search 
After you've completed all your preapproval requirements, you can start searching! We recommend you handle financing first because most sellers often prefer seeing a preapproval letter with your offer to ensure you have appropriate funding. When searching, you'll want to refer back to your list of wants and needs, explore different areas, contact a buyer's agent to help you, and narrow your search until you find the perfect property!
5. Make an offer and close! 
The last step in purchasing a townhouse is submitting an offer and getting to the closing table! Once you've found your dream townhouse, you'll make the best offer your see fit. If the seller accepts your offer, you will need to get final approval from your lender before moving forward. Once everything is settled, and the appropriate documentation has been addressed, you can proceed with closing. You will need to review your closing disclosure, pay your closing cost, perform any due diligence you would like during that period, and get all the paperwork and keys that are needed!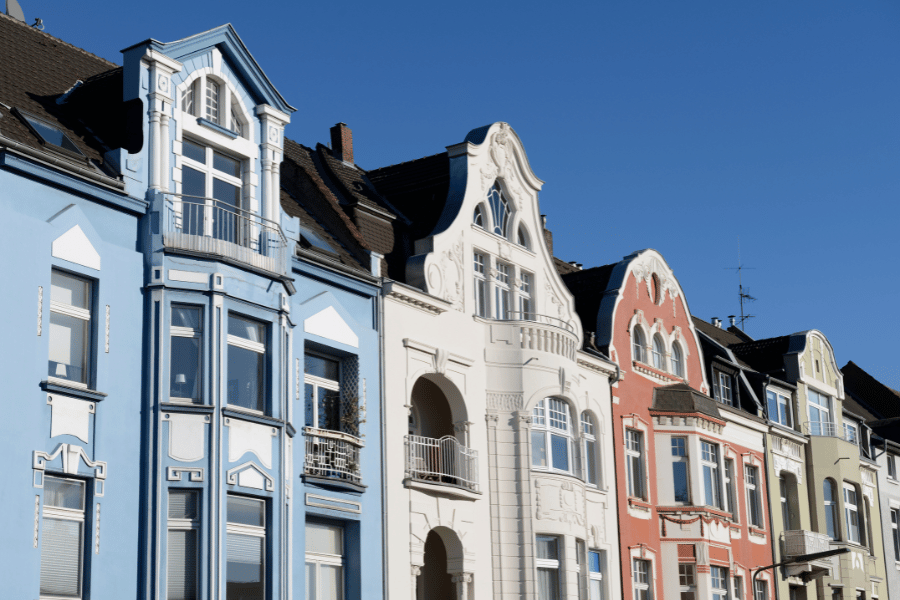 Living In A Townhouse - Final Thoughts
Townhouses are great starter homes, great family homes, great rentals, significant investments, etc. They are less expensive than most home types and still offer plenty of space, the occasional outdoor area, friendly neighborhoods, HOAs, community amenities, and so much more! While there are many added benefits to living in a townhouse, there are also cons. Consider your lifestyle. With close proximity to neighbors hinder any day-to-day activities? Will shared walls create problems in the future? Is it spacious enough for you, your family, your pets, etc.? There's a lot to consider when purchasing a home, but once you take the time to plan, you can move forward in finding your dream home! 
So, are you interested in buying at a townhouse in Raleigh or any surrounding area? Let our real team help you throughout the purchase of your new home! Here at Raleigh Realty, we specialize in the home buying and selling process and would be more than happy to help. Contact us or visit our website for more information or to be connected to one of our outstanding agents! 
If you found our guide helpful, feel free to leave us a comment or share it with friends and family!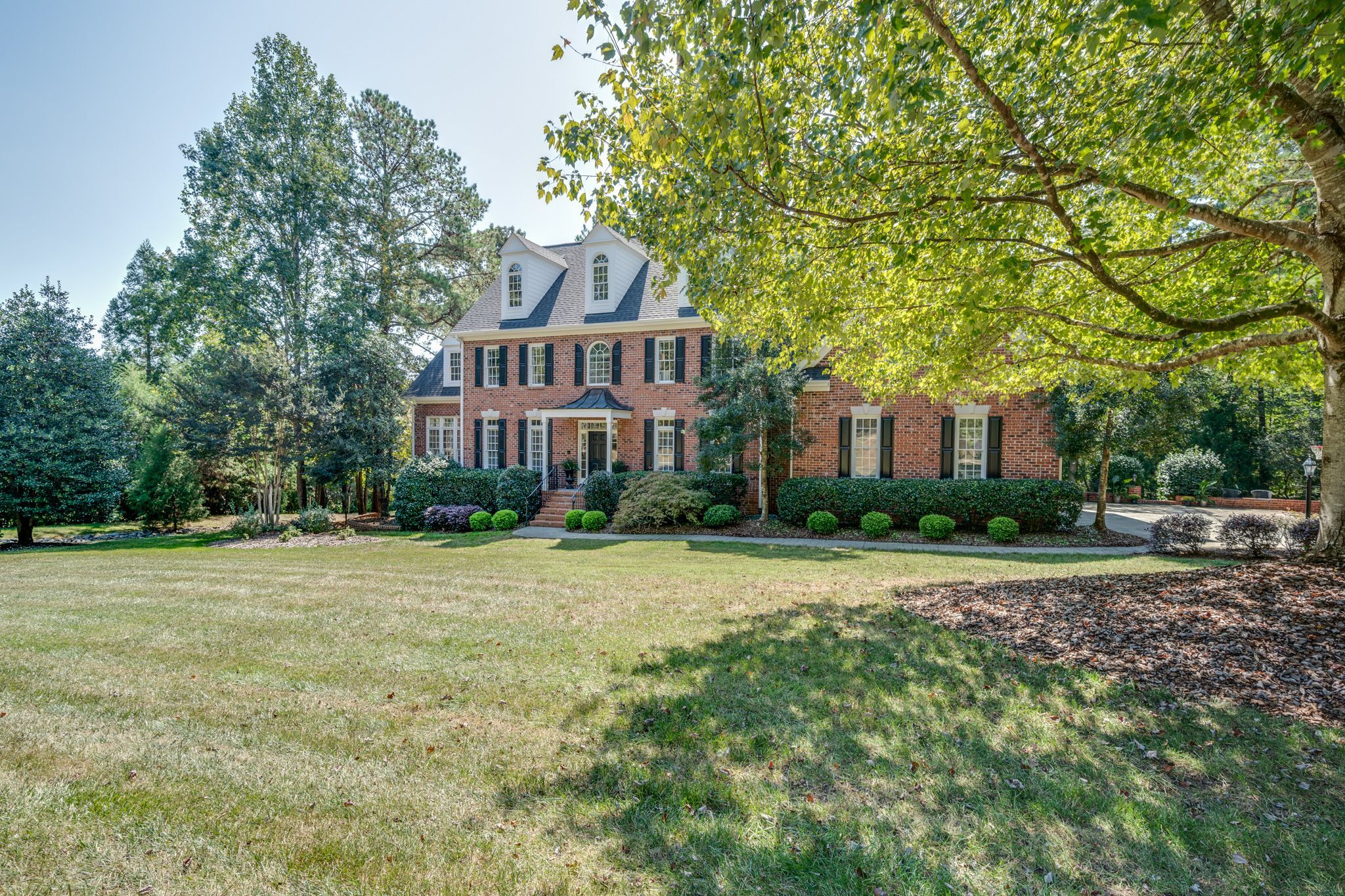 Find your new home
Search real estate and homes for sale