9 Surprising Tips to Use When Negotiating Real Estate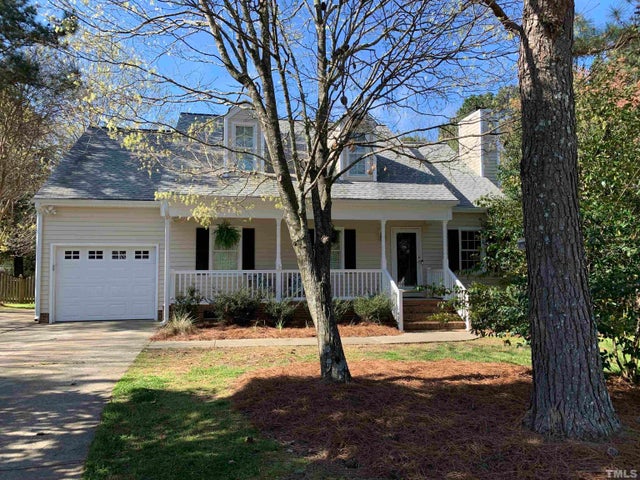 Whether you are a buyer or a seller you will want to use these tips when negotiating on real estate. When making an offer on a home, you will want a Realtor to help you understand the market and what type of negotiations are appropriate. If you're buying a home in Cary, NC or buying a home in Charlotte - you are stepping into highly competitive real estate markets, whereas if you're looking at new construction you may have the opportunity to negotiate things like appliances, blinds, and an upgrade allowance. It really all depends on what type of real estate you are buying and what your unique situation is like.
Many folks who are shopping for homes in today's market understand just how competitive it is. When it comes to negotiating your Realtor will want to use tactics that might not include sales price, it may include the seller paying or contributing towards your closing costs or other hidden costs when buying a house.
Negotiations are just one of the many things Realtors do for buyers and sellers.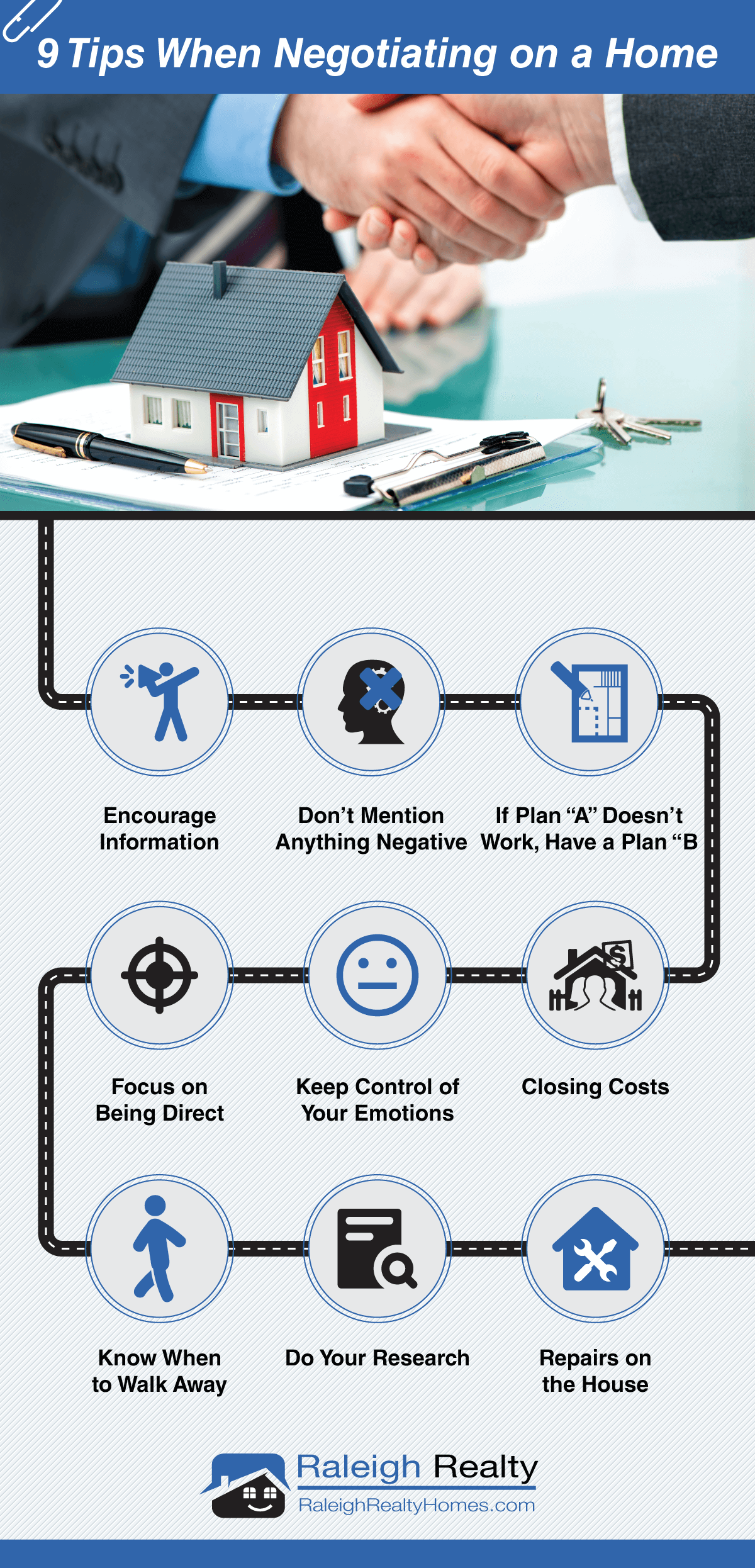 You finally found the home that you have been searching for! Even though you are already picturing unpacking boxes and settling in, the purchasing process is not over just yet. It is time for you to make an offer on that home! As soon as the sellers receive this offer, that's when the "fun" begins. It's time for negotiations.
There are plenty of different tactics and ways of negotiating. There are also different times to negotiate different things whether it's the purchase price, closing costs, or negotiating repairs from the inspection report. An important key is being aware of who you are going up against from the beginning. Ask yourself: What kind of market am I in? Is this a buyer's market or a seller's market? Maybe it's neither and it is an even market. Whether you are the buyer or the seller, you want to stand your ground in order to negotiate a successful deal. However, keep in mind that all of the parties involved just want to close! Staying focused on the end game will help you get through this process!
Often times in real estate, a buyer's first offer is counter offered by the seller. This sparks the negotiations and offers that are communicated by the buyer's and the seller's respected agents. Some buyers automatically accept the seller's terms and agree to the sale, leading to closing. However, this doesn't always happen because both parties involved want the best deal possible so you must be ready and prepared for a negotiation process. Let's jump right into some important tactics to remember while negotiating!
Don't Speak First
As important as your opinion is - in fact, it really is the only one that matters - it would be wise to let the other party begin the negotiations. This is a common tactic that you may have already used when discussing terms in previous transactions. When you let the other party make the first offer, then you have the upper hand right off the bat. You get to see where their starting point is and you can use that to your advantage.
When negotiating, you are trying to find a point that both parties agree on. This amount tends to be somewhere around the middle of each party's first offer. Therefore, when you receive the other party's first offer, you will know right away where the negotiation will head. This is greatly beneficial to you as long as your counteroffer isn't too low or too high! Sometimes, but very rarely, the first offer may be perfect for your situation and you accept that deal. Although this doesn't always occur, it shows how influential the first offer can be in a negotiation. Like playing a game of chess, your entire strategy will be based on your opponent's first move.
Don't Mention Anything Negative
Buying and selling homes is an emotional process for both the buyers and the sellers. As a buyer keeps in mind the sentimental value this home has and the number of memories it includes. Tread lightly when it comes to saying negative things about the home to try and negotiate a better deal. Here's why:
That fence in the backyard that's falling apart and needs desperately to be fixed was built by the seller and his Father on weekends and it took them two months. Even though it's lost all of its paint and looks terrible. Say nothing. Offer your price and stick to it. Don't mention the fence, they already know it needs to be fixed.
Additionally, there are going to be other things about the home that is unsatisfactory to you that do not need to be mentioned as it relates to the property directly. When you're negotiating stick to being positive and how great of a home it is, you're far likely to win the best deal if you can win over the seller's emotions!
If Plan "A" Doesn't Work, Have a Plan "B"
Plans don't always work out how we expect them to or want them to. Most of the time, we have to put in the work to get things to go our way. In negotiations, this still tends to be true. Don't be afraid to fail. You will learn more from your mistakes and failures than you do from your successes. As much as we hate to lose or fail, we tend to overlook the lessons we are learning at the moment. Even though you may have set up a great plan for negotiating with the other party, it is smart to always have a backup plan in case the process doesn't work out the way you envisioned it. Having a backup plan reduces stress and keeps your mind at ease. You will be able to keep your emotions in check and calmly get through the negotiating period.
Closing Costs
Closing costs are always fun... not really. Homebuyers typically are the ones that pay the closing costs in order to transfer title, however, they may ask for some help from the sellers. Typically, when a buyer does this, they end up paying a higher price for the home in order for the seller to help with closing costs. This is a smart negotiation tactic to make the seller satisfied that you are willing to pay their asking price and you will get to save some money when it comes to paying off the title insurance and home warranty. 
The closing costs may be paid by either party, this is agreed upon while negotiating. Whether it's origination fees, surveys, taxes, discount points, appraisal fees, etc. there will be closing costs that must be paid before the title can be transferred to the buyers.
Keep Control of Your Emotions
One of the most critical points to take out of this is learning to control your emotions. Don't be too quick to respond after getting an offer. Take your time to think it over and discuss it with your agent and others who you trust to have helpful input. These people are not emotionally attached to the property like you are, so they won't give any advice based on stress or emotion. When you respond to an offer right away, you are letting the other side know how eager you are, giving them an advantage. You want them to think that you are still looking at other options whether you have other offers on your house, or you are a buyer and have other homes you are interested in. Be patient and take your time before responding to the other side's proposal.
When you are in a highly stressful situation such as trying to buy or sell a home, it's easy to let your emotions get the better of you. Instead of letting this happen, take control of your emotions. You do not want to make any irrational decisions, especially if it means making a bad investment. It is best to get other opinions and hear why you might be making the wrong or right decision. Always remember that there are other options out there so don't feel like this deal is your last chance during negotiations.
Focus on Being Direct
Nothing is worse than someone beating around the bush. No one wants to be dragged along and kept out of the loop. Be straight forward and mention what you desire during negotiations. Some negotiations can feel like a tug of war with offers constantly going back and forth, rejection after rejection. This can be very stressful and irritating to both parties. Keep in mind that being direct will help speed up the process and you may get to acceptance and close much faster. If you aren't telling the other side exactly what you want, how will you ever get it? You won't. When you don't ask, you don't receive it. Simple as that. Be direct and focus on getting what you want out of the negotiation process.
Some people prefer when buyers and sellers negotiate directly without using any agents. Although there is nothing wrong with that, agents are there to catch any red flags that you may not have noticed when you are about to send over an offer. They are experienced and will let you know if your offer is too little or too high. They will also make recommendations for you that they have learned from other negotiation transactions that they have taken part of. It is always wise to have someone on your side with experience for these matters.
Know When to Walk Away
An extremely important factor is knowing when the deal on the table is not a good one. Remember, emotions can get in the way of your decision making. The house can be beautiful and the only one you've LOVED since you started searching for a house. From the seller's point of view, you may not be getting any offers on your home and you have finally found someone interested. Ultimately, both sides need to remember to take their time before rushing into a decision. You do not want to accept an offer if it is going to end up hurting you in the long run. If you end up paying too much for a house that ends up getting appraised at 10% less than what you paid for, or if you sold your home and you realize you've made a bad deal, you will be hurt financially. You must keep an open mind if it is a wise decision to walk away from a deal in search of a better one.
Do Your Research
Finding the right home is one of, if not the most important steps. Doing your research on the market and the area you are looking in will help you get a better idea of what it is you are searching for. You don't want to go into negotiations with no knowledge of the surrounding area. Doing the research on your own time is helpful, but hiring professionals to do inspections and appraisals for you is even better. Getting all of the information about the home and neighborhood will give you more ammo to use when making an offer. Putting an offer together is the easy part, but you want to make sure that your offer isn't going to affect you negatively in the long run.
There are many ways for you to find certain details of homes for sale or neighborhoods online by searching through the local real estate listings and any public records. Knowing as much about the property and the surrounding homes will give you a better idea of where to stand when making an offer. It is also important to try and get some information from the other party. Why are the sellers moving out? Why is the buyer looking to buy and how motivated are they? When you have knowledge of the other party it puts you in a better position to walk away with a winning deal, so make sure you do your research first!
Repairs on the House
You may think that you have found the perfect house, but it may not be that simple. Many homes have hidden flaws that are hard to catch. You will want to make sure to have a buyer's agent when buying a home. It is important because they are able to find red flags when seeing a home along with many other things they will be able to help you with. If a home needs a ton of repairs, then you will want to take that into consideration when you are making an offer. You don't want to have to spend a fortune after just purchasing a house to repair it. If this is the case, let the seller know that you are asking for a lower price, as you will need help to afford all the repairs that need to be done.
Most times, lenders require certain repairs to be handled before they will loan any money out. This will slow down the process and the seller is usually stuck with having to repair any problems with the home. A speedier route that some sellers tend to take is offering the buyer a credit when the home is sold so that the buyers can take care of the repairs themselves. They will save money on the purchase of the home from the credit they receive to go towards the repair cost.
When buying real estate be prepared to negotiate in many different ways using many different strategies. The best Realtors are always the ones who can get creative on what matters to you most while ensuring your real estate goals are met.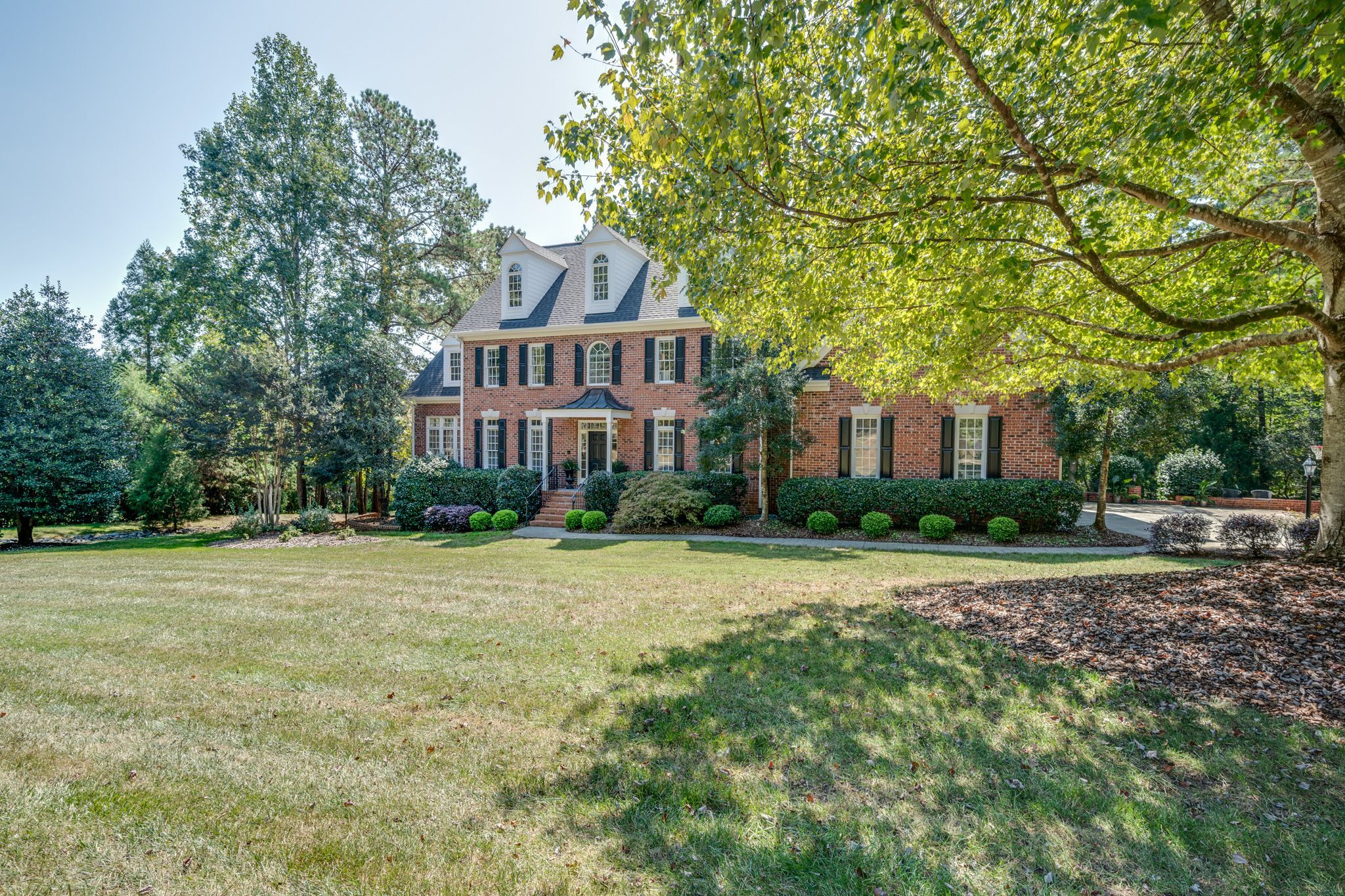 Find your new home
Search real estate and homes for sale