The Complete Guide to Buying a Home As a Government Employee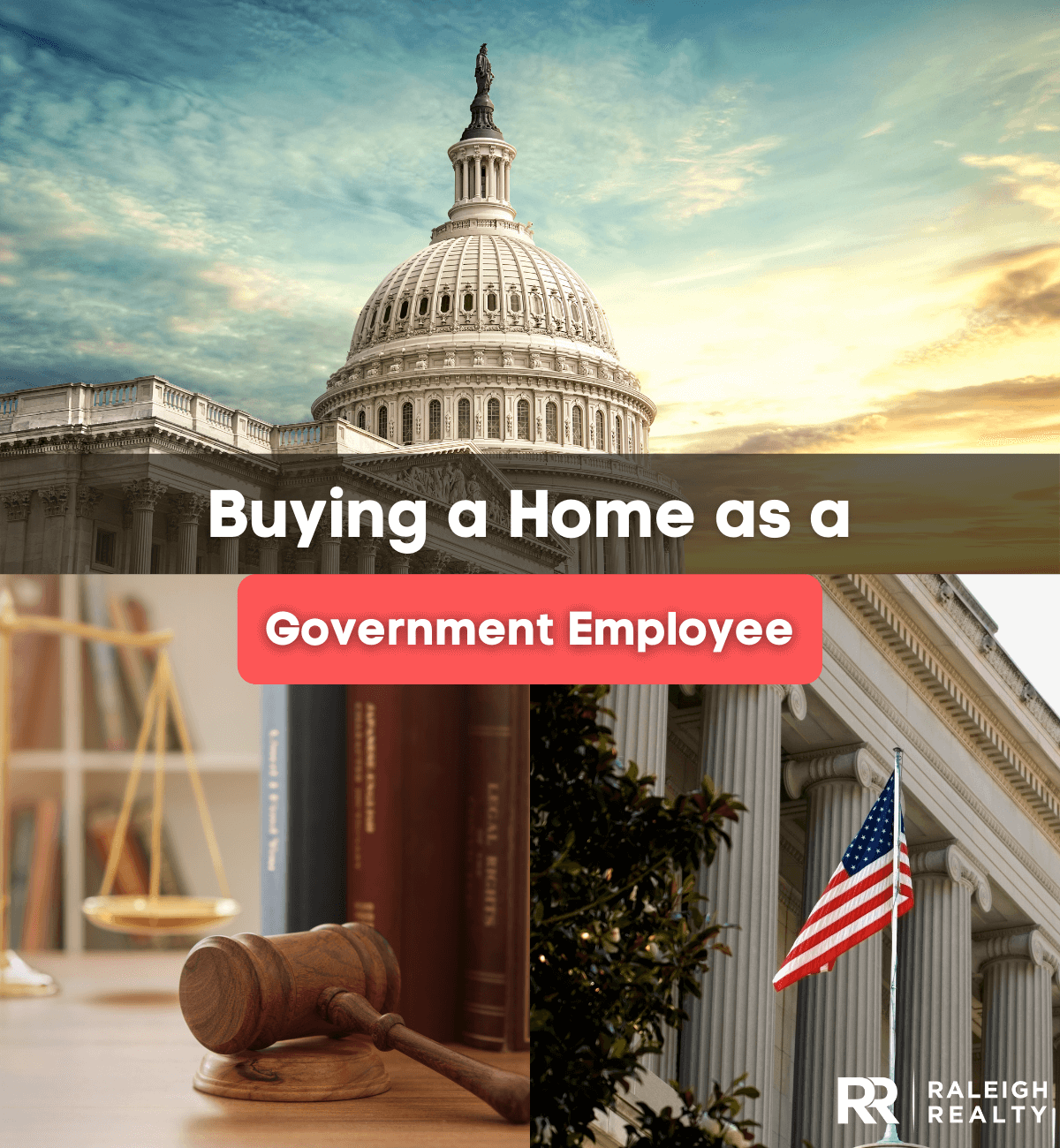 Buying a Home As a Government Employee
Are you a government employee preparing to buy a home? The process of buying a new home may sound intimidating. With the right resources, you can ensure a successful investment and one in which you may save tens of thousands of dollars thanks to being a government employee. Let's dive into all of the home buying resources you have when working for the government!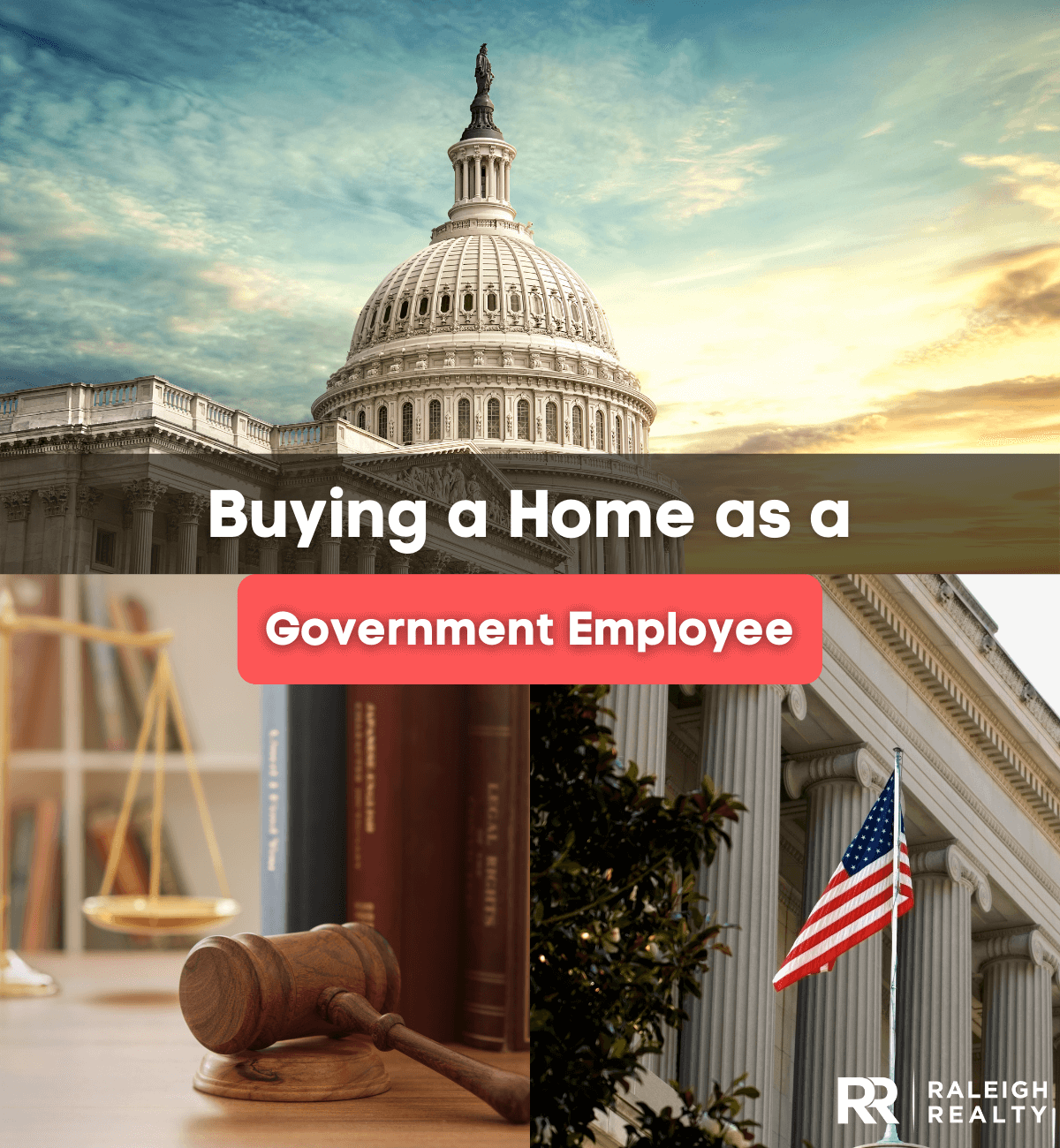 Our real estate company is based in the state capital of North Carolina, Raleigh. We are no stranger to helping those who work for the government find great homes and use the resources available to them! Especially if you are a first-time homebuyer.
Here is the complete guide to buying a home as a government employee!
The Unique Challenges a Government Employee Faces 
Government employees are people who work in local, state, or federal government agencies. While working in this area can be rewarding, it also brings financial challenges. Income limitations or frequent moves can make homeownership seem out of reach - that's what we are here for! To help make your home purchase easy and successful.
Who Is a Government Employee?
If you work in public education, health care, or disaster management, you may be a government employee. Mail carriers and military personnel also qualify as government employees. The same is true for employees in national parks or select housing organizations. 
It's easy to assume that most federal government employees work in the nation's capital. But 85% of federal government employees work outside of the nation's capital. 
Salary Limitations May Limit Your Options
In some professions, the paycheck may put a government employee at a financial disadvantage. Working in food preparation or janitorial services, for instance, might make saving money hard. These government jobs may mean that you lack the resources to afford the down payment for a home.
Government jobs may pay less than jobs in the private sector. You can expect to have predictable hours, but your bank account may not grow as much. 
Your Job Location May Change Frequently
If you work in the military or another branch of defense, you may need to change locations often for your job. This means that it's harder to know a local neighborhood well before searching for homes.
Changing locations may make it feel like committing to a home isn't worth the effort, too. With everything from securing a loan to dealing with the home inspection, a home buyer has a lot to handle.
Remember that owning a home can help build your assets, though, and buying a home in the right location will set you up for future success. You can rent the home out to tenants who pay your mortgage and bills while you continue to build your asset.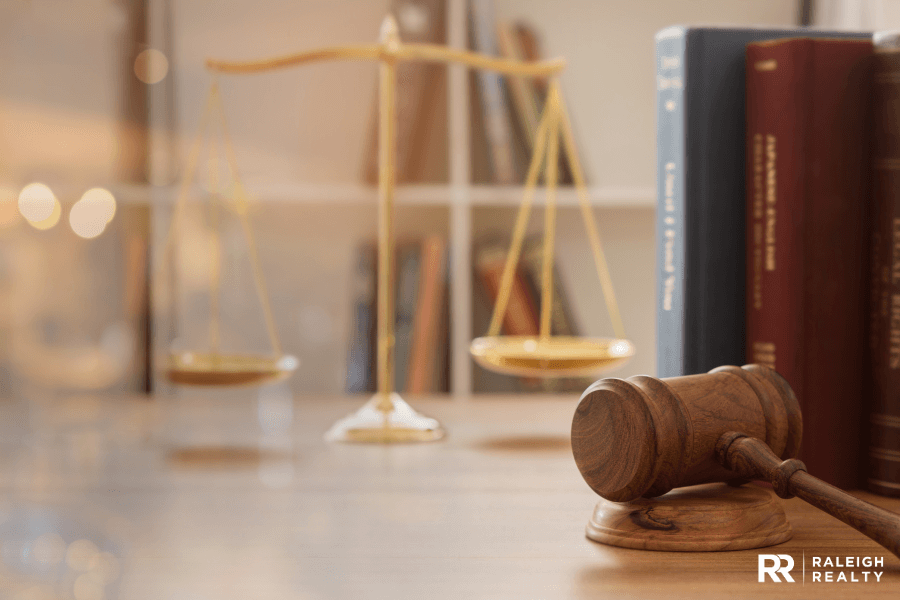 Know the Financial Benefits of Homeownership 
Homeownership may sound like it involves jumping through a lot of hoops. But it also brings tremendous financial benefits. From building wealth to making tax deductions, you gain a lot as a homeowner. 
Build Equity 
Every time you make a mortgage payment, you build equity in your home. Think of equity as the amount of money your home is worth after what you owe is deducted. 
When your home value goes up and you start paying off the loan's principal balance, that builds equity. Just remember that equity is not the kind of wealth that grows quickly.
Make Predictable Monthly Payments
When you're a renter, you're at the mercy of a landlord. You might see your rent prices go up each year. And you won't be building equity in the process.
As a homeowner, you have more control over how you map out the monthly payments. Whether you own a small home in the center of town or lakeside property, you always will know what your mortgage payment is. You may even be able to work with your lender to adjust it as rates change.
Sell Your Home for a Profit
When you purchase a home, the chances are good that you'll see your property value go up. This is especially true if you buy a home in a desirable neighborhood. And if you stay in your home for several years, you should be able to sell your home for a profit.
You can use that extra money to purchase a bigger home. Or you can stash it away for retirement. In either case, you'll be helping your financial situation when you invest in a home. 
Buying a Home as a Government Employee Offers Benefits
Being a government employee benefits you when it's time to buy a home. Your status may be able to help you secure a better loan, grant, or other useful deduction.
Know Your Eligibility 
Not every loan has the same requirements. Because of this, you'll need to review the qualifications before filling out any paperwork.
People working in corrections, human services, and public safety are likely to qualify for loans targeting government employees. The same holds for employees in veteran affairs or emergency management.
In some instances, you may need to hit an income requirement for a loan, too. Good lenders should be aware of this. They'll be able to check your eligibility for government programs.
If you have a lower credit score, that doesn't disqualify you from pursuing homeownership. Many government loans set lower standards for credit scores. Many also require lower down payments than conventional loans.
Deduct the Interest on Your Mortgage During Tax Time
Did you know that you can deduct the interest you pay on your home's mortgage? Yes, you can trim your taxable income by doing this simple step when you fill out your taxes.
Remember to deduct interest payments. This could mean you pay less to the government — and get a bigger refund check. While this isn't a perk specific to government employees, it can help you save money as a homeowner.
Ask About Refinancing
It's wise to ask a lender about refinancing options under government loan programs. Refinancing refers to when a homeowner replaces the current loan package with a new one. You'd be using your new loan to pay off what remains of the old loan.
Many homeowners choose to refinance to reduce their interest rates and save money on monthly payments. Check to see if you have a refinancing option with any loan servicer that you use. 
By refinancing, you may be able to get a longer repayment period. That will lower your monthly payments. As another benefit, you may be able to cash out some equity.
Determine Your Budget 
As you enter the home-buying process, one of the first steps is determining your budget. This step helps you know how much house you can afford. It also helps you make long-term plans regarding savings goals.
Total Your Monthly Income
Determine your monthly income by adding up the income of everyone who will live in the house. If you have a significant other, this means you'd have two incomes to work with. On the other hand, it could mean that you need to stretch one income if one person is unemployed.
The 28% rule is a common way to figure out what percentage of your monthly gross income should go toward a mortgage. Your gross income is the income before taxes. You should try not to spend more than 28% of it on home expenses. 
Consider Property Taxes
When you pay for your home, you'll need to pay other fees like property taxes and insurance. These fees can add a few hundred dollars to your monthly payments.
Your neighborhood may require homeowner's association (HOA) fees, too. Do the math to see what your ultimate monthly payment will be. Know that it will be more than just the cost of the mortgage payment!
Set Aside Money for Repair Costs
What if the furnace stops working in the dead of winter? That represents a significant cost that you'll need to address right away. Would you have the funds to cover it?
When you're buying a home, it's critical to budget for unknown costs. Make sure that you have money in the bank for new appliances, flooded basements, windows, or other costly repairs. You don't want to be in a situation where you have an urgent problem without the financial means to tackle it.
Learn How to Buy a Home 
Buying a home seems easy enough on the surface, but there are many details to consider. When you're busy working or raising kids, you can reduce a lot of stress if you hire professionals to help you through the process. 
Find a Lender
If you want to make an offer at any point, you'll increase your odds of being successful if you're pre-approved for a loan. Getting pre-approved tells the seller that you're serious. It also provides documentation indicating how much house you can afford.
Do this step early in the process — before you start the serious looking. And shop around for lenders.
There's a good chance you'll get different quotes from different lenders. Knowing how mortgage lenders make money will go a long way in determining who is the right fit for you. You want to choose the best price available!
Find an Agent
Yes, it does cost money to hire a real estate agent. But it saves you a tremendous amount of time and stress. With an agent, you get a professional who knows the ropes.
They'll be able to help you understand what kind of offer is reasonable. And the seller's agent will be happier to do business with a colleague in the field. Ask around for recommendations so you get an experienced agent who puts you first.
Assess the Home
Once you make an offer, enter the period of due diligence ready to go. Due diligence stretches from the time you sign a contract to closing. During due diligence, you'll need to hire someone to do a property inspection and appraisal.
Check for problems with the electrical system, roof, foundation, or septic tank. Also, ask about issues like lead paint. The last thing you want to do is spend a lot of money on a home with a lot of problems.
Find the Right Home for Your Family 
Before you start looking at real estate ads, it's important to know what you want. If you're growing your family, your needs will differ from those of a retiree. Take the time to plot out your preferences and know what to look for.
Know What You Want in a House
Do you need three bedrooms and a finished basement? Or is a roomy kitchen the bigger priority? Rank your top needs — and understand that you'll need to compromise at times. 
You may want to set a goal for square footage in a house, for instance. As another strategy, limit your search to a part of town closer to work. You'll cut down on the commute time and gas expenses!
Seek Out Loan Approval Early in the Process
If you find your dream home, you want to be ready to make an offer. But if you haven't been approved for a loan, you'll slow down the process. And if you're looking at a popular house, you could lose out to a more prepared buyer.
Talk to lenders to find out what loan is right for you as a government employee. Knowing what loans are available may help you narrow your focus to select neighborhoods, too.
Research the Neighborhood
The best-case scenario is buying a home in a neighborhood on the rise. The worst-case scenario is buying a home that declines in value while you own it. Be sure to research the prospects of the neighborhoods where you're looking.
Learn about the quality of the school district or job growth potential. Talk to people in the area or a real estate agent to learn about how the population has grown or stalled. And research the crime statistics for the area.
Check Out Programs from the Department of Housing and Urban Development 
When you're a government employee, where should you look for financial help? The Department of Housing and Urban Development (HUD) offers programs that may help you buy a home. 
What Is HUD?
HUD is a government agency that provides housing assistance to all Americans. Specifically, HUD aims to help those who don't have high incomes find a place to live.
Help comes in the form of rental vouchers and mortgage insurance. It also may include subsidized housing and partnerships with local communities.
You'll want to work with a HUD-approved real estate agent if you go the route of a HUD program. Most real estate agents will meet this criterion, but it's good to check first.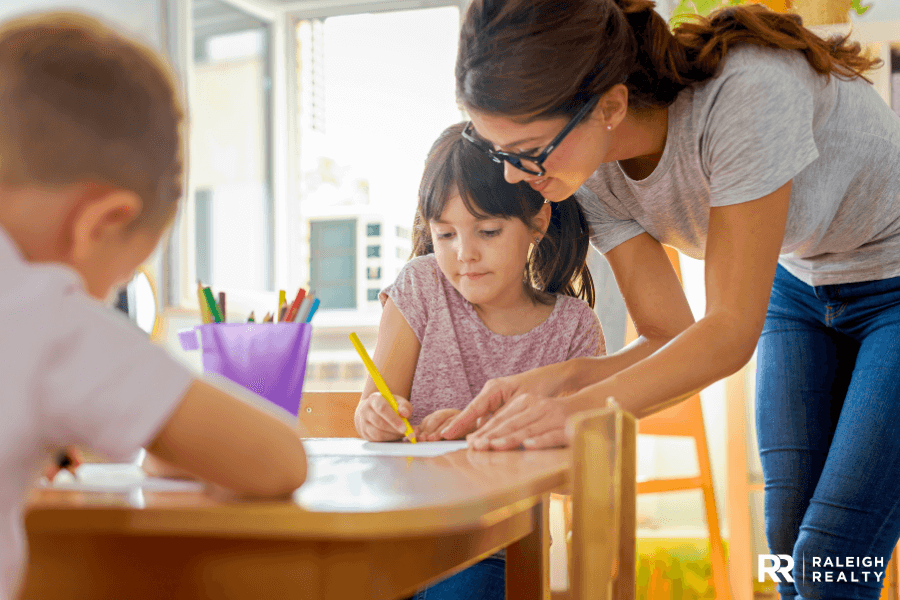 How Do You Qualify for HUD Programs?
Most HUD programs target low-income people. If you meet the requirements, you can take advantage of these programs. Many of them cover rental assistance or public housing.
Otherwise, look to the Federal Housing Administration (FHA). It is an arm of HUD that can assist those who don't meet qualifications for some of HUD's programs. If you're a teacher, firefighter, or another government employee, you may qualify for these programs instead.
The Next Step
You may be able to qualify for HUD programs by choosing to settle down in areas that aren't in demand. These may be urban or rural areas in need of revitalization.
The National Housing Act will make the designations for these areas. It considers factors like income or foreclosure density in a neighborhood. And the available homes tend to be much more affordable.
If you're willing to forgo living in the trendiest area, that can translate to big savings. Areas with lower incomes and more abandoned houses tend to make the HUD list. You'll need to commit to living in one of these areas for a few years, however. 
Check Out Other Unique Programs that Provide Affordable Housing 
If you're willing to take on a house that needs some love, the following programs may work for you. You'll need to do some renovations. But you won't have to spend a lot on the front end of the home-buying process.
Are You a Good Neighbor Next Door?
Do you work as an emergency medical technician, police officer, firefighter, or k-12 teacher? The Good Neighbor Next Door Sales Program could be your housing answer.
Through this HUD program, you can get 50% off the price of a home in an eligible area. You just need to commit to living there for 36 months.
These areas tend to be underserved. You'll be able to find a list of available properties in different states through the HUD website. As part of the agreement, you'll need to fill out a second mortgage for the amount of the discount. As long as you stay in the house for the agreed time, you won't need to make any payments on it.
All you need to do is submit the necessary paperwork. You could get a great house at a steep discount!
Dollar Homes May Help
Dollar Homes is another HUD program worth investigating. Through this program, you may be able to get a home for as little as $1!
The gist of the program is simple. Homes that are priced at $25,000 or less have six months to sit on the market. If they do not sell in that time, the price drops to $1.
These homes aren't exactly new construction, but they are a steal. Whether you're a government employee hoping to land a fixer-upper or a local non-profit, these homes are a big value. Some local governments will snatch up these homes to serve low-income people in their area.
Look into First-time Homebuyer Assistance Programs 
When you're a first-time homebuyer, you may be at a disadvantage. You might not have the ideal credit score or you might not have enough saved up. Fortunately, some federal programs can help you overcome these challenges!
FHA Loans Might Be the Right Choice
The Federal Housing Administration oversees FHA loans. If you make a modest salary, these loans won't gouge your savings. You can expect to pay a lower down payment — and your credit score doesn't need to be perfect.
In fact, you could make a down payment as low as 3.5%. With the standard down payment at 20%, this can help your short-term financial picture.
With FHA loans, you'll need to choose a lender that has the approval of the FHA. In other words, the FHA isn't the source of your loan. They just oversee the process.
You'll need to purchase mortgage insurance to go with your loan, too. The FHA will take payments for the insurance and use those as a safeguard against a default on the loan. This does amount to another cost, but it also enables you to secure the loan.
Military Personnel May Be Interested in VA Loans 
Did you serve in the military? VA loans may be the right choice for you. They're designed to ease the financial burdens for active military personnel and veterans who are often forced to move with new PCS orders.
What are VA Loans?
The Department of Veterans Affairs oversees VA loans. If you served in the military or are a military spouse, you may qualify for one of these loans. Private lenders handle VA loans, but the VA guarantees them.
VA loans permit a lot of flexibility, even if you don't have a great credit score or savings. After all, this program began in 1944 to help servicemen returning from World War II. These soldiers did not have enough saved money to buy homes. 
Purchase a New Home with a VA Loan
With a VA loan, you won't need to make a down payment on a new home. Better yet, you won't need to spend money on private mortgage insurance even though you're not making a down payment.
This differs from the standard for conventional loans. With conventional loans, you'll need to pay for insurance if you're unable to make a 20% down payment.
Refinance a Mortgage through the VA
The VA also offers ways to refinance existing mortgages. With the VA Cash-Out Refinance program, you can refinance a mortgage and get cash from the equity in the home. You don't need to have a VA loan already to do this.
Through the VA Streamlines program, you can refinance existing VA loans. The process may not require you to go through an appraisal of your home or income verification. As a result, the process is quick!
Finally, you can get help with energy efficiency changes, too. Hoping to add solar panels or upgrade your windows to be more energy efficient? The VA can provide loans to help offset these expenses, too.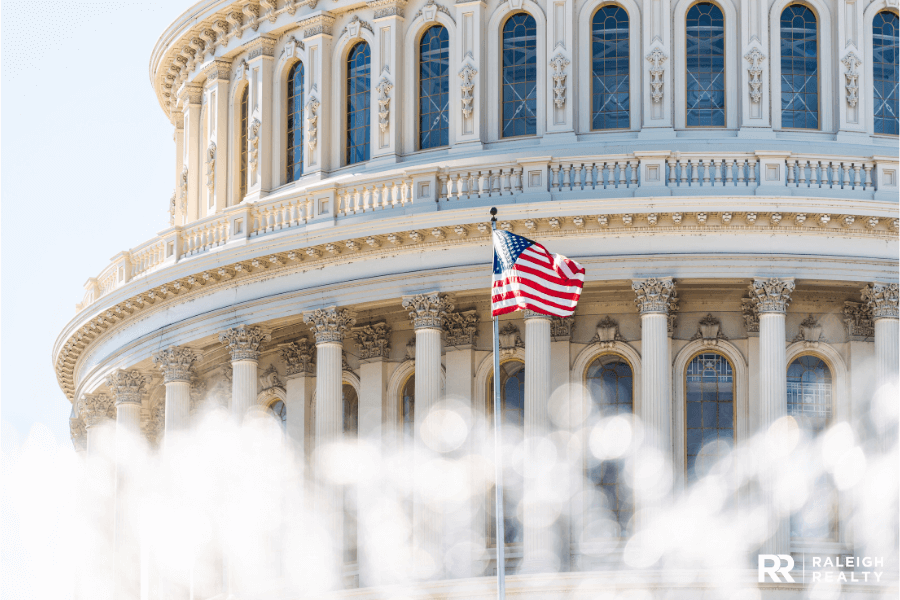 Pursue Other Federal Home Loans Available for Government Employees 
Check out these other federal programs when you're buying a home as a government employee. If you're willing to do a little renovation work on a property or live in a rural area, there's a program for you! 
USDA Loans Aren't Just for Farmers 
The U.S. Department of Agriculture (USDA) coordinates loans, as well. USDA loans are for those in the low to moderate-income bracket. You'll want to check the income limits in your area since the USDA adjusts them by region. 
With USDA loans, you'll need to live in a designated suburban or rural area. The USDA website will help you see if you're in a qualifying area. The USDA backs these loans, but you'll seek them out through a private lender.
You'll need to demonstrate the ability to repay loans based on your history over the past year. You should have a reliable income and meet debt-to-income requirements for your lender.
You may be able to take advantage of a 0% down option through these loans. And you'll have a low-interest rate for your mortgage!
The HomePath Ready Buyer Program May Work for You
This program through Fannie Mae can get you a great deal on a foreclosed property. The catch with buying a foreclosed property is that you get the property as-is. On the other hand, you may be able to get a home at a steep discount if you don't mind doing a few repairs.
As a bonus, the HomePath Ready Buyer Program can cover up to 3% of the purchase price in closing costs. You'll need to take a housing education course, too, as part of the program. 
Investigate EAH Programs 
Beyond the better-known federal programs, there are other sources of financial assistance. When you're a government employee, an employee-assisted housing (EAH) program could help you land a loan or grant.
EAH Programs Incentivize Living Near Work
EAH programs allow workplaces to help their employees afford housing near the workplace. This assistance can come in the form of down payments, grants, or loans. These programs may also include a homeownership education requirement.
Homeownership may not seem possible for government employees living in areas with a high cost of living. EAH programs can offer interest-free loans. These may make the difference between an employee setting down roots — or looking elsewhere.
Ask Your Local Government About Options Near You
To find an EAH program, start by talking with your local government. EAH programs can happen at the county, city, or town level. Because they vary by location, the requirements for eligibility will vary, too.
EAH programs may provide home loans for federal employees. In some towns, the requirements to qualify for an EAH program could be even tighter.
For instance, a program may apply only to teachers or police officers. This may be because a city is trying to lure more people in this profession to their area. 
Employers Gain a Lot by Participating
If you're an employee in an organization that's considering an EAH program, support the cause. These programs can elevate the work/life balance for a government employee. They also can help with the retention of good employees.
EAH programs offer tax credits, cut down on emissions, and help build better communities. You can reduce commute times for employees through an EAH program. This may help strengthen other local businesses at the same time. 
Also, EAH programs may cut down on the number of foreclosed properties. This is because they encourage employees to live near their workplace.
Get Help with Closing Costs 
When you've secured a home and agreed to a mortgage payment, you're not done spending money. Closing fees fall at the end of the process. And you'll need to have money ready to cover them!
What Are Closing Costs?
Closing costs are an additional set of fees that you'll pay when you close on your house. These can be fees for things like appraisals and escrow agents. The fees also cover loan origination fees, homeowners insurance, property taxes, and more.
Don't worry — you'll know about these fees before you seal the deal on a house. In fact, your lender has a legal obligation to spell out these fees and mortgage terms.
How Much Can You Expect to Pay?
You could expect to pay up to 5% of the loan amount in closing fees. This can add up to a few thousand dollars — or even more. You'll save yourself a headache if you make sure to have money set aside.
What Help Is Available?
As a first-time homebuyer, closing costs might be an unwelcome surprise. There are ways to get some financial support, however. Start by checking with state or local housing organizations to see what HUD-approved loans or grants are available.
In many instances, local housing authorities may offer grants to offset closing costs or down payments. You may need to meet credit score and income guidelines — and agree to live in the house for a set period. Additionally, you may need to attend a HUD-approved counseling session to help you with your finances.
Negotiate with the Seller
Another strategy is to ask the seller to cover some or all closing costs. Work with your real estate agent to insert this request into your negotiation efforts. It's a common practice and it could end up saving you money!
Buy the Perfect House
Buying a home as a government employee can you set you up for some big benefits. You have access to loan programs that won't require huge down payments. And with some research and persistence, you'll be able to get the home you want at a price that's manageable.
To find help with the home-buying process, contact us and we'll be at your side throughout the entire home-buying process!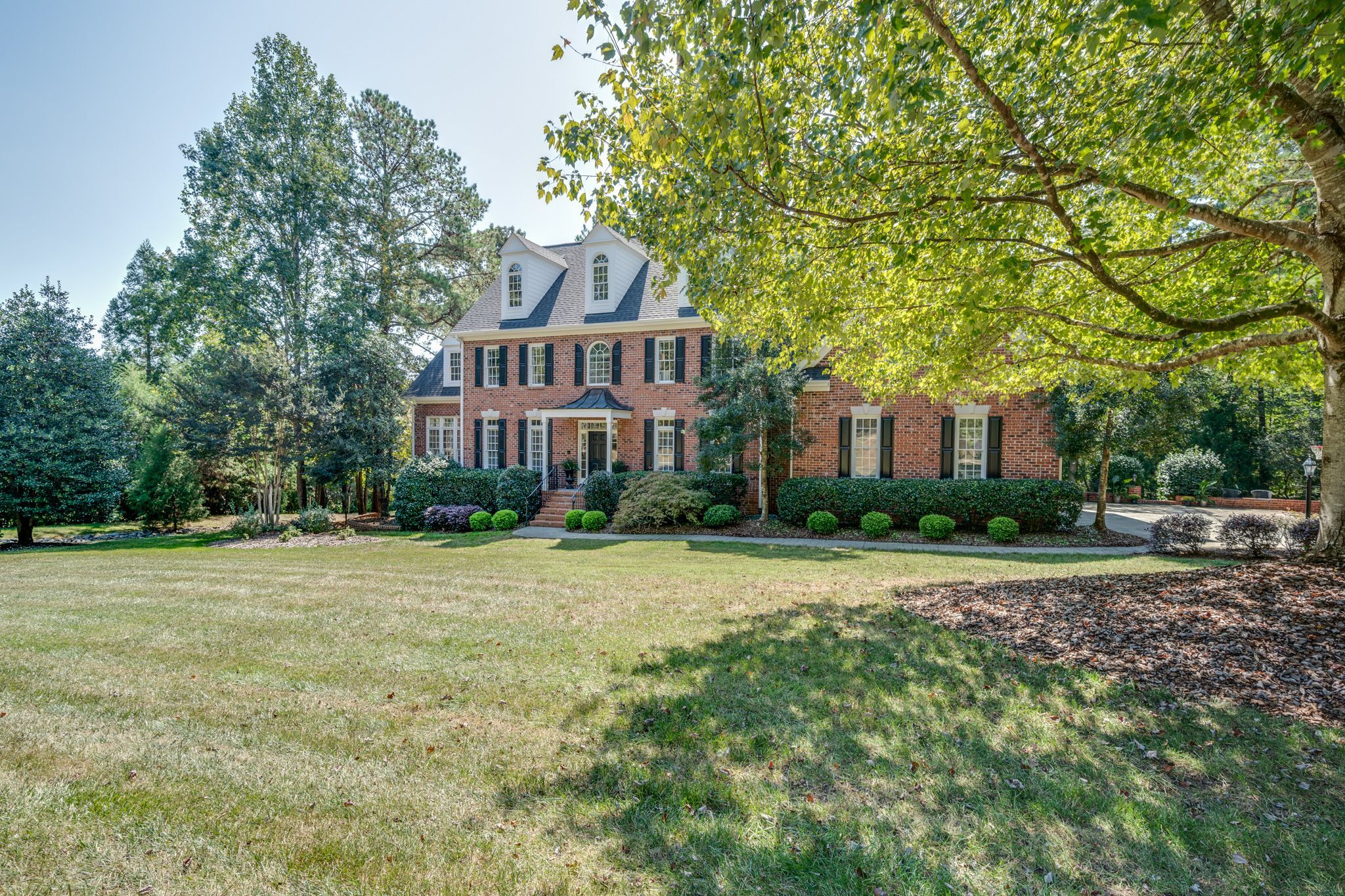 Find your new home
Search real estate and homes for sale