17 Things You Should Know Before Moving Cross Country!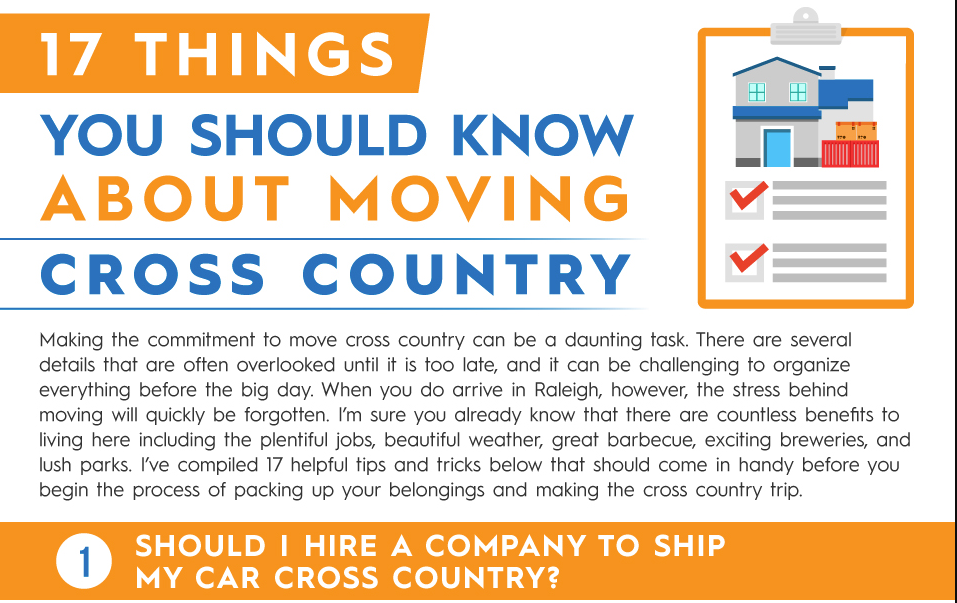 Making the commitment to move cross country can be a daunting task. There are several details that are often overlooked until it is too late, and it can be challenging to organize everything before the big day. When you do arrive in Raleigh or Charlotte, however, the stress behind moving will quickly be forgotten. I'm sure you already know that there are countless benefits to living here including the plentiful jobs, beautiful weather, great barbecue, exciting breweries, and lush parks. I've compiled 17 helpful tips and tricks below that should come in handy before you begin the process of packing up your belongings and making the cross country trip. 
Should I hire a company to ship my car cross country? 
Although this may seem to be an expensive endeavor, consider the cost of gas, hotels, restaurants, tolls, mileage, and wear and tear that will inevitably happen when driving your car 40+ hours cross country. Depending on where you are moving from, it may be more cost-effective and less stressful to ship your car and buy a flight into Raleigh verses driving several thousand miles. A few of our clients have done this and found it to be convenient, I myself, drove down when I made the move from Boston to Raleigh.
What should I know about shipping my car? 
Shipping companies transport vehicles on open or enclosed car carriers, which offer different options based on your needs and budget. There are a few differences between these two options:
Open carrier is the most common method when transporting a car, and I'm sure you've frequently encountered these carriers when driving. An open carrier typically holds about seven to nine vehicles and is a cheaper alternative to enclosed carriers. The downside to this method is that, because your car isn't enclosed, it will not be protected from inclement weather or debris. Companies such as www.uship.com compare the prices of various open carrier companies to provide you with an effective rate. I tested the price of shipping a 2019 Nissan Rogue from Los Angeles to Raleigh, and the cheapest option through their website was $1,544. 
This option is ideal for those with luxury vehicles, as enclosed carriers fully protect your vehicle from the elements. The downside is, this transport method is typically considerably more expensive than the open carrier option. I calculated the cost of shipping a 2019 Nissan Rogue in an enclosed carrier from Los Angeles to Raleigh through www.montway.com and the total came to $2,319, so it is a bit more expensive to go the enclosed route. 
Can I ship other items besides my car? 
You can ship smaller items via USPS, or you can ship larger items through companies such as uShip.com, which is the company I mentioned above that also offers open and enclosed vehicle carriers. 
When should I book my flights? 
I recommend using an app called Hopper to monitor flights and determine the cheapest time to move if you have some flexibility. I also recommend booking flights at least two months prior to your move date to take advantage of lower prices. This can come in handy whether you're moving to Charlotte, Boise, or anywhere in the United States. These two cities have seen huge population increases in recent years!
What should I know about hiring movers? 
I recently read an article about an illegitimate moving company that locks items away into their moving truck and then demands that the customer pays several thousand dollars more than the originally quoted price. If the customer doesn't pay what the scammers ask, their items are removed from the truck and left on the curb. This is of course an extreme case, but there are many companies like this out there. It is important to read reviews on Yelp and do thorough research prior to booking a company. Gather price quotes from several different companies – I don't recommend just going with the first one you find. Some companies might be more expensive, but they might also have four or five movers included in the price, whereas cheaper movers might only have two movers, meaning the process will take twice as long. 
If I decide to DIY my move, what options are available? 
If you don't have a lot of items, it might be cost-effective to rent a U-Haul and DIY your move. When doing so, I recommend preparing by buying or renting moving items such as dollies, packing tape, newspapers, and bubble wrap. Instead of spending money on cardboard boxes, I recommend looking online for local plastic bin delivery companies in your area. This is a much more environmentally sustainable solution and is often more cost-effective. For example, here in Raleigh we have companies such as SaveATreeMovingBoxes.com or LendABox.com. I also recommend taking your car for a thorough checkup to ensure it is in drivable condition. Let your mechanic know that you will be driving cross country so that he can ensure all necessary repairs are completed prior to the move.  
How do I stay on budget? 
Apps such as Daily Budget are great for keeping track of expenses and staying on-track when moving. If you prefer to write everything down, budgets can be purchased at an office supply store such as Staples or Office Max. Additionally, Microsoft Excel and Microsoft Word also offer great budgeting templates. Every budget will vary, but if you choose to hire movers, here are some items you should include: moving company fee and tip for movers, moving insurance, fees for additional services (such as moving a piano, etc.), professional packing (if you choose to hire professional packers verses pack yourself). 
If you are moving on your own, items to add to your budget include the price of the truck or U-Haul rental, gas/mileage, insurance, equipment rental (such as a dolly, loading ramp, furniture covers, etc.), hotels, restaurants, and tolls. 
What are some money-saving tips if I choose to move myself? 
When renting a van or truck, ask the company how many miles to the gallon you can expect so that you can properly budget. You can also calculate the cost of fuel by using the AAA fuel calculator.
Moving insurance might be covered under your credit card company, so contact them prior to purchasing. Also, it is advisable to add a bit of a cushion in your budget to allot for the price of gas going up or any incidentals that may occur during the trip. 
What is the process on purchasing moving insurance? 
If your credit card company doesn't cover moving insurance, sit down with an insurance agent and carefully review what the insurance does and does not cover. If you have several expensive items, it might be worthwhile to purchase a more comprehensive plan. 
What is the cheapest way to move? 
That's what friends are for! Offer to buy pizzas and beer for a few friends who are willing to help you load up your U-Haul or car. I recommend having friends come over in small groups and only ask them to help you for 2 – 3 hours at a time. Have one or two friends come by to help in the morning, another group in the afternoon, and – if needed – one more group in the evening. Having too many hands on deck will cause chaos and frustration and will slow down the moving process. Also, if friends know that they are only needed for a few hours as opposed to a full day, they will be far more inclined to pitch in and help. Give them at least a month's notice (or more if possible) when asking them to help you move so that they can hire babysitters. If you have young children, schedule babysitters ahead of time as well to ensure that your little ones are safely out of the house while heavy furniture and boxes are being moved. 
What else should I take care of before I move cross country? 
Raleigh has fantastic doctors, dentists, veterinarians, and more. However, moving is stressful and time-consuming, and researching new doctors and dentists while in the midst of moving cross country can be an additional burden. I recommend taking care of all doctor, dentist, and pet-related visits prior to moving if there is anything that can't wait a month or two. Transferring insurance records and getting set up with a new Primary Care Physician (PCP) can sometimes take several weeks, so it is not worth risking it and waiting until you are moved into your new home to take care of important medical visits. 
What are some document and account-related logistics I should think about? 
Pay all outstanding fines and transfer/cancel any gym memberships or any other accounts you have in your current area. Update your voter registration and change your address for your car insurance. When moving out of state, you will have up to 30 days to obtain a new registration and transfer your license plates. Keep all important documents such as birth certificates, passports, insurance forms, moving documents, and medical records in one folder or container so that they are accessible. If you have a lot of frozen food in your freezer, try to use up as much of it as possible and make meals out of the items in your pantry to make your move a bit lighter. If you have pets, get copies of their records, ensure that you have their ID tags, and get copies of their vaccines and registration. If you are renting your current space, get a head start on cleaning the house or apartment and spackle any holes to ensure you receive your security deposit back. 
One of the most important documents to update is your driver's license and registration. Take it from me when I say that this is extremely important and should not be put off until the last minute!
What should I bring and what should I get rid of when moving? 
Raleigh has fairly warm weather year-round, even in the winter months. January, February, and March typically don't get colder than about 55 degrees or so. If you are moving from an area with a cold climate and own a number of bulky parkas, snow boots, and various other winter items, you can probably donate or sell most of those. Hang on to one or two jackets and a pair of boots if you plan on traveling to areas with cold climates in the winter months, but you most-likely will not need as many cold weather items. 
Should I buy new furniture? 
Take careful inventory of the items you have in your house or apartment. Is that chair with the missing cushions that you've had for seven years really worth moving cross country? Or the beat-up dresser with missing handles? Unless you own expensive furniture that is in great condition, it might be easier, less-stressful, and cheaper to just buy new furniture when you arrive in Raleigh. 
But please don't throw your furniture away! There is more than 10M+ tons of furniture filling landfills according to the Environmental Protection Act, and there are many sustainable options for getting rid of furniture than just throwing it in a dumpster. Bring your furniture to a local vintage shop, Goodwill, or any other local donation service. Many donation companies will save you a trip and pick up the furniture for you, making it even easier. If you have trouble finding a donation company or shop that wants your items, try hosting a garage/yard sale or just leave the items outside with a 'Free' sign attached to the items you're trying to get rid of. Chances are that someone will need them!
I'm feeling overwhelmed by packing. How can I organize my items? 
There are several helpful apps and websites that will come in handy when beginning the packing process. An app called Magic Home Inventory will help you catalog all of your belongings by room. You can even estimate weight and cubic footage so that moving companies can provide you with a more accurate moving quote. 
To keep yourself and anyone else who is helping with the move stay on track, Google Keep is a great tool to stay on top of checklists. You can create a packing timeline, moving to-do list, chore list, and more as the big moving day comes near. As you check off tasks in Google Keep, everyone who has access to the document will receive updates to keep everyone on track.
Additional apps worth checking out include MyStuff, Sortly, Home Move Pro, and Home Inventory. 
What are some other options to get rid of 'stuff'? 
Host a "Take My Stuff" party! Gather together any items that you want to get rid of such as jars of spices, non-perishables, unfinished bottles of liquor, glassware, or any other items that you don't want to pay to move. Invite your friends over, make cocktails with the leftover liquor, and let them take any items that you don't have use for anymore. Remember: one person's trash is another person's treasure!
When is the best time to move? 
If your moving date is flexible, research the best/cheapest days in the month to move. Movers typically tend to be busiest at the beginning and end of the month, so if you can fall somewhere in between those days, you might be able to negotiate a cheaper deal with the moving company. 
It is also typically more expensive to move on weekends and in the summer months between Memorial Day and Labor Day.
Final thoughts on Moving Cross Country:
For those of you who are moving to our local area we have guides to help you understand each town or city better which you can find here by clicking any of the links below: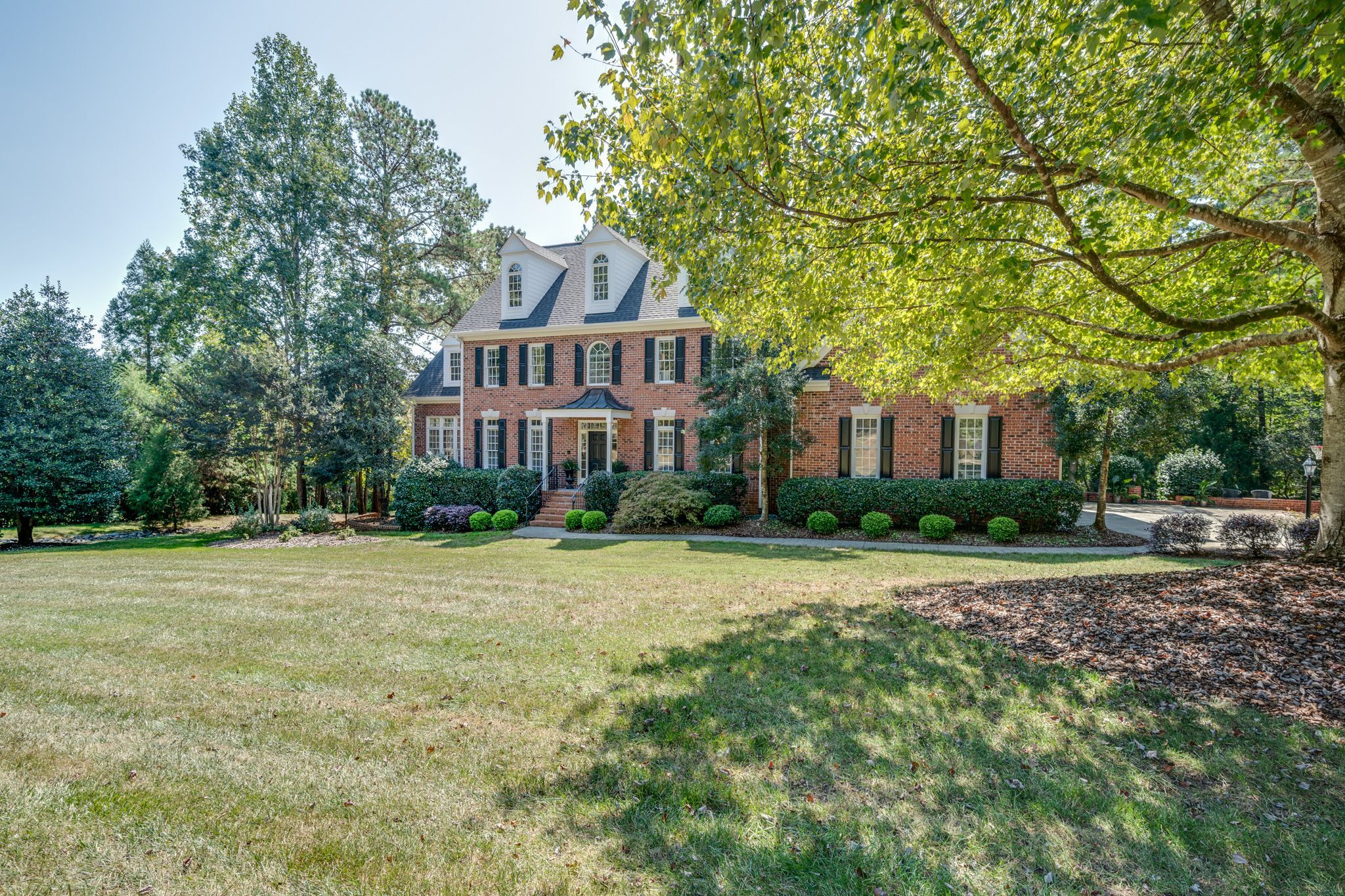 Find your new home
Search real estate and homes for sale